The macOS Sierra is a wonderful operating system- and easily the best for all Apple computers and laptops. If you have a Mac, then you probably cannot wait to get your hands on the Sierra- provided your system supports it. However, even if your Mac does support Sierra, there may be a few reasons as to why you may not be able to install it on your hard disk.
For starters, it takes around 8GB of storage space. While that is the minimum recommended by Apple, you will probably need a bit more to make use of it. In addition to that, if you are using an older Mac, then you will still face a few issues while running Sierra. You also have to backup the entire system before installing macOS Sierra, which is a must-do step in any update. For those who have a lot of data on their Macs, this can be a very lengthy procedure.
However- there is a solution to all of that. You can simply go ahead and install the macOS Sierra on an external hard drive, and then boot your Mac from that!
The Prerequisites
There is no doubt about the fact that you will save a lot of trouble and hassle if you install the macOS Sierra on an external drive. It will even let you use the same hard drive with multiple Macs, without updating to Sierra on each of those. However, to begin with this, you will need an external hard drive. Since Apple only requires you to have a little over 8 GB of free space, any hard drive, even one with 128 GB, will do just fine. For better performance, it is recommended that it be an SSD.
You will also have to download macOS Sierra from the Mac App Store. To do that, just open the App Store on your Mac, and search for macOS Sierra. You can also download macOS Sierra by directly clicking on the link from your Mac. If your Mac is compatible, then the download option will appear. Click on it, and the download will begin.
The download size is around 5GB, and the total time may vary depending on your internet connection as well as Apple's servers.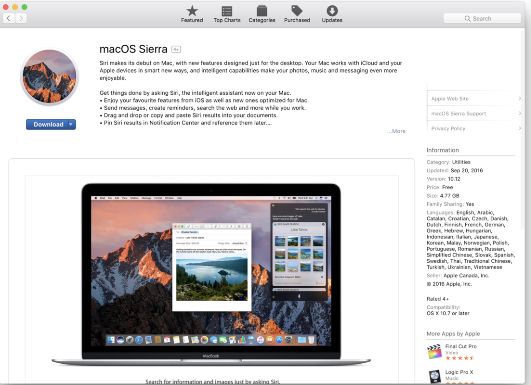 Once you have a hard drive, you can go ahead and follow the simple steps to install and use macOS Sierra from your external drive.
Installing macOS Sierra on the external drive
1. Preparing the hard drive for the installation
Before you install macOS Sierra on the hard drive, you will need to clean it. Ensure that there is no important data on your hard drive. Then plug it into your Mac, go to Finder and select Applications.

From Applications, go to Utilities and from there, find and double click on Disk Utility. In the Disk Utility tab, select the external hard drive that is connected to the Mac, and then click on Erase at the top.

Now rename it to something like sierra that you will remember, choose 'Mac OS Extended (Journaled) in the format and then click on Erase. Once the process completes, click on Done, and you are ready to begin installation.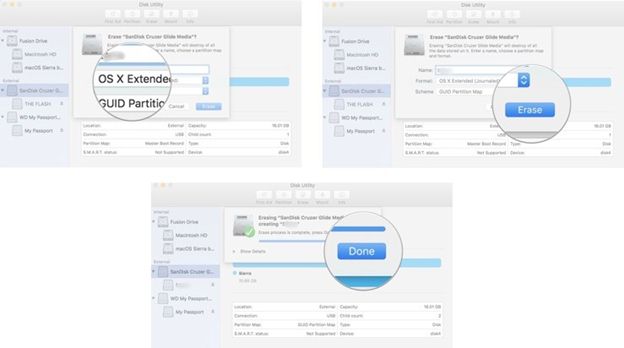 2. Creating the bootable drive
Once your hard drive is formatted, you will need to turn it into a bootable drive. Before you begin this, you will require the Administrator access on your Mac.
Step 1 Go to Finder to open the window, and from the left side, select Applications.

Step 2 From the applications Window, find and click Utilities, and from there, go to Terminal.
Step 3 Now, remember the name that you set for formatting your external drive (i.e. sierra). In case you named it something other than sierra, then make the appropriate changes in the following text. Once you are in the terminal, enter the following text, ensuring to use your drive's name wherever Volumes/sierra is written.
sudo /Applications/Install\ macOS\ Sierra.app/Contents/Resources/createinstallmedia --volume /Volumes/sierra --applicationpath /Applications/Install\ macOS\ Sierra.app –nointeraction
Step 4 When you tap enter, you will be asked the password for the administrator account. As you type the password, no text will be there in the terminal window. Depending on the drive, this process could take a while. Once the window reports 'Done', you can close the drive.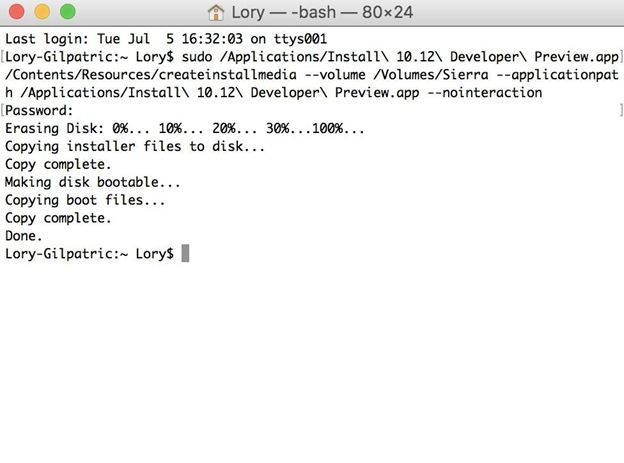 Using macOS Sierra with the Bootable Hard Drive
Once the above step completes, your external hard drive will be ready to run macOS sierra on any compatible Mac. First, you have to turn off the Mac on which you want to run Sierra from the bootable drive. Then, before switching it on, connect the drive through the Mac's USB Port.
Then turn on your Mac, and as soon as you hear the startup sound, press the Option key and keep it pressed. Within a few seconds, you will get a screen that asks you to select the appropriate hard drive for booting from. In this screen, select the one on which you have installed macOS Sierra, and you will soon have your Mac running Sierra!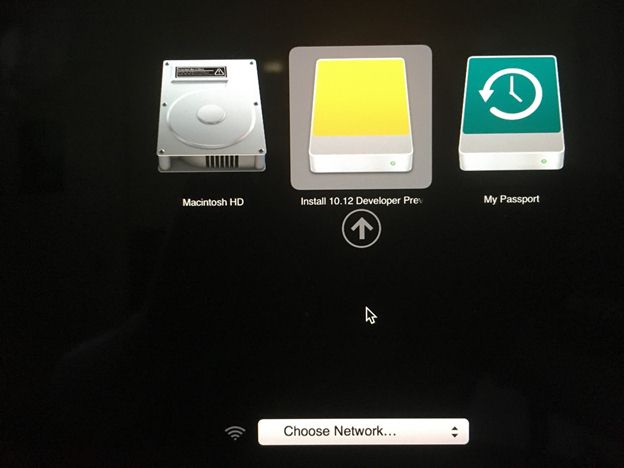 Thus, as you follow these simple steps, you will have configured the macOS Sierra to run from an external hard drive. You do not have to worry about how much free space there is in your Mac, or anything else of the sort. Through this approach, you can run macOS Sierra on any compatible Mac without having to separately download and install it on either one. In addition to that, since there are no backups of the mac's hard disk required, the process will involve comparatively less hassle.
Any changes or files that you make can be stored on your Mac as well, so you do not have to worry about where your data is. This can be a great way to have the same OS on your personal as well as work Macs. Thus, now, you do not have to bother about freeing up your Mac's drives or separately downloading it for every PC in the house- just configure it once on an external hard drive, and everything else is taken care of!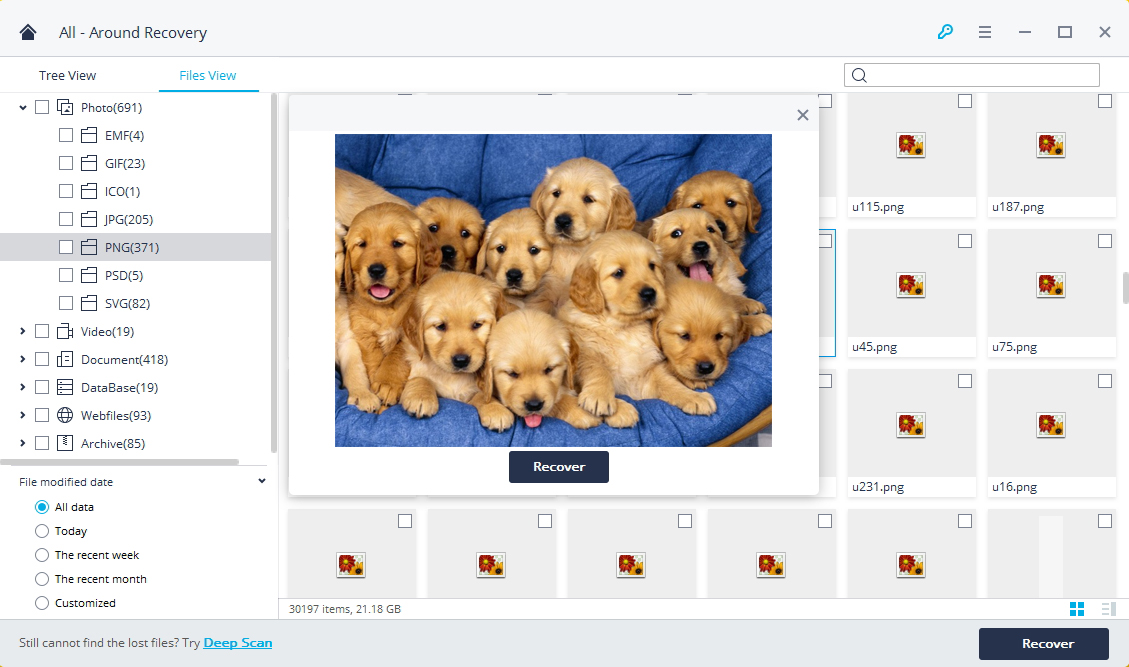 Recover lost or deleted files, photos, audio, music, emails from any storage device effectively, safely and completely.
Supports data recovery from recycle bin, hard drive, memory card, flash drive, digital camera and camcorders.
Supports to recover data for sudden deletion, formatting, hard drive corruption, virus attack, system crash under different situations.
Note: Recover Lost Mac Data under Mac OS X 10.13 (High Sierra)
Due to macOS High Sierra (macOS 10.13) requirement, Mac users are not allowed an access to the built-in system drive from any apps. Therefore, if you need to restore lost data from the system disk under macOS 10.13, please "disable System Integrity Protection" first.
How to disable "System Integrity protection"? Please follow the steps below.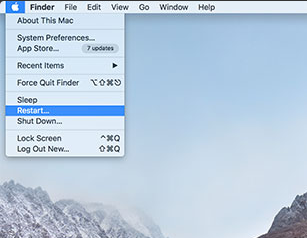 Step 1Reboot the Mac and hold down "Command + R" keys simultaneously after you hear the startup chime, this will boot OS X into Recovery Mode.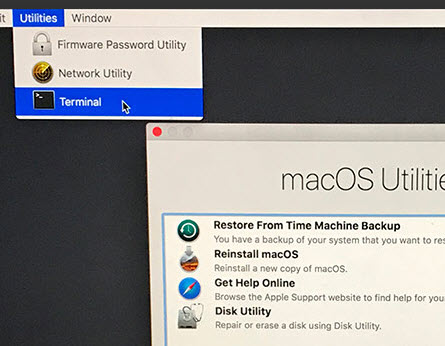 Step 2When the "OS X Utilities" screen appears, pull down the "Utilities" menu at the top of the screen instead, and choose "Terminal".
Step 3In the "Terminal" window, type in "csrutil disable" and press "Enter" then restart your Mac.