"How to make android broken screen data recovery? I dropped my android smartphone recently on the floor and shattered the whole screen of it. Now my phone isn't working, and I am unable to access my files inside. Can I recover my data? What are the ways to recover files more conveniently."
Breaking the screen of your Android smartphone is probably the worst outcome of any mishap that could occur and cause some damage to your Android smartphone. It not only ruins the exterior look of the Android phone but, more often than not, causes loss of data. Data recovery under that circumstance could get tricky, but we will show you the most precise and secure way to retrieve every lost file from the Android device, and one of them being the Recoverit Data Recovery Software. Read on and learn the method with our guide.
Part 1: Android broken Screen Data Recovery – Recover Data from Android Phone with Broken Screen Via a USB Cable:
If the screen of your Android phone has cracked, but if the phone is still working, then you can get your data to a safe location by connecting it with your computer through a USB cable.
Once you connect the Android phone with the PC, then all you have to do is access the files from the Windows File Explorer and relocate them to your PC by the simple procedure of "Copy" and "Paste."
---
Part 2: Android broken Screen Data Recovery – Perform Android Broken Screen Data Recovery with Recoverit Data Recovery:
If for some reason the USB cable method doesn't work, and your PC is unable to perform the file relocation method due to some sort of file deletion after the crash, then you can easily refer to Recoverit Data Recovery tool and recover those inaccessible files back, immediately!
With Recoverit, you can not only recover every kind of data but have the full opportunity to repair the video content if they get corrupted, after the screen crash. Here are some vital features of Recoverit that make it the best choice for data recovery, under any circumstances.
You can use it on any version of your Mac and Windows system.
It doesn't matter if you have permanently deleted your from the Recycle Bin or if the erased data was virus-infected, Recoverit will retrieve them back in full form without any prerequisite.
Please follow the essential three-step guide to perform data recovery after the screen of the Android phone gets broken, without any further delay:
Step 1. Select a location:
Connect your Android phone with a broken screen with a PC with a reliable USB cable. Run Recoverit and select the Android phone's icon from the interface before hitting "Start."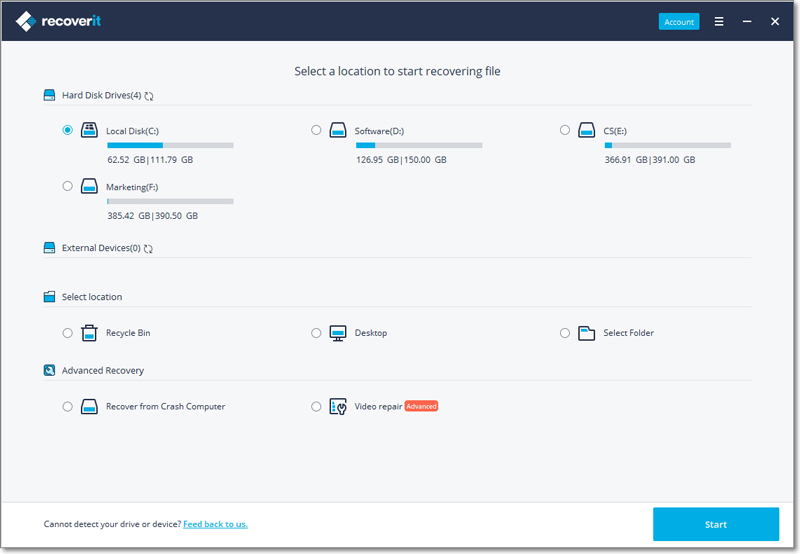 Note: Please do not utilize Recoverit data recovery software to recover deleted files from iPhone or phones without SD card.
So, users need to connect Android phone with SD card to PC and use it as an external storage device, or take the card off the phone and connect it to PC.
Step 2. Scan the location:
Recoverit will immediately start the scan, but you are required to be patient as the scan may take longer than usual due to the situation with the broken screen. Recoverit will notify you, and you will be able to preview the files under different categories.
Step 3. Preview and recover files:
Once you are satisfied with the validity of the recovered items, the next step is to select the valuable items and store them to a much safer location. You can do that by pressing the "Recover" button.
---
Part 3: How to Protect Your Smart Phone from Physical Damages?
There is no denying the convenience of a smartphone, as they have made our professional and personal lives more manageable. But, not everything is perfect in this imperfect world, as these smartphones, particularly the screens of these Android devices, are incredibly fragile, and they can break within seconds once you accidentally drop them on the floor or elsewhere if the mandatory protection procedure is not implemented. Here are some ways to keep your Android phone from getting damaged physically:
Always use a Screen Protector – These impact-resistant glass protectors are extremely durable and prevent any sort of damage to the screen of the smartphone, even if you drop them.
Get a Back Case – Back cases of Android phones are readily available and very vital if you have developed a habit of consistently dropping your Android phone on the floor. The back case prevents permanent damage to the outer shell of the phone with supreme efficiency.
Avoid using the phone under Extreme Conditions – It is crucial not to use the phone under high-temperature circumstances and always keeping it dry, away from any moisture.
---
Conclusion:
Accidents do not make an appointment, and they can occur at any time, especially if we take our digital data into account, as it is consistently under threat of deletion. It is vital to keep a backup of every necessary file and to arrange for protective measures for devices such as Android phones to keep them safe. But if every protective action fails and your data gets deleted regardless, then Recoverit will not let you down, as it promises to recover data under circumstances of every extremity.
Phone Solution
Phone Recovery

Phone Tips