Generic USB Hub driver issues are not very uncommon and of late users of Windows 7, 8, and 10 including Windows XP and Vista users have had cause to complain about generic hub driver issues. In this short article you will learn the process to fix this issue for free without the need to pay a dime to any system technician. We've got you covered.
Overview
When it comes to USB Hubs three different hub types come to mind. A root hub, a powered hub and a self powered hub. These hubs all have different capabilities but used for the same purpose which is to connect USB drives to a phone or computer. A Generic USB hub can be found in the Device Manager of your PC and what it does really is to split a single USB port into several ports as large as four to seven different ports. With a Generic USB hub you can connect your PC to several devices at once. While this feature saves you the stress of connecting and removing different drives, one major weakness it has is that devices connected through it cannot draw power of more than 100mAH. This can be a major problem that may lead to graver complications.
If you are having driver issues associated with your Device' Generic Hub below is a method to help you fix the problem.
Update Generic USB Hub driver manually
Microsoft is known to provide drivers for most of the different types of USB drivers in use today. From Windows update you can download the Generic Hub driver. Here are the steps
Tap the Windows key + R to open Run box
Type the letters "devmgmt.msc" then tap OK
Double click the Universal Serial Bus Controllers category to expand it
Right click Generic USB Hub (or "Unknown device" depending on your PC) and click to update the driver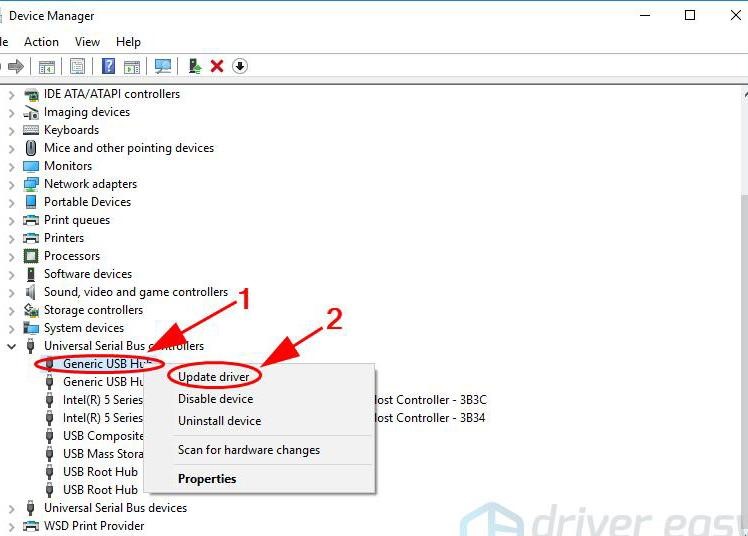 Choose the Automatic search option to driver software
Follow concluding instructions to complete the update
You may have to restart your PC for newly installed drivers to take effect depending on your PC.
If you follow these steps through and through all Generic USB Hub driver issues will be fixed immediately updated drivers are installed. If a manual update proves unsuccessful, try downloading an update driver program online and follow the instructions to update driver automatically.
USB Solution
Recover USB Drive

Format USB Drive

Fix/Repair USB Drive

Know USB Drive