The BitLocker encryption is a vital part of the Windows operating system that is used to provide an added layer of security and encryption on a drive. Even though it is used to make an entire drive more secure, it can also make the data inaccessible at times. If you have encrypted your drive and can't seem to decipher it, then it can lead to data loss as well. Don't worry - you can still recover files from BitLocker encrypted drive by using a special data recovery tool. The tips below will guide you on how to recover files from BitLocker encrypted drive.
---
Part 1. BitLocker Drive Encryption
BitLocker is a native feature of Windows that was first introduced in Vista and became an integral part of the Windows OS ever since. It supports full disk encryption by implementing the AES algorithm and CBS (Cipher Block Chaining). By encrypting an entire volume of the hard drive, the data becomes extremely secure. Users would need a 128 or 256-bit key to access it. You can also encrypt your drive by visiting the Control Panel < System and Security section.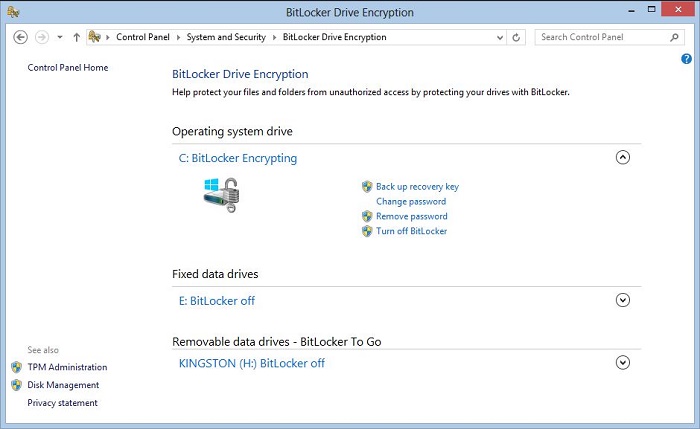 Even though BitLocker has tons of advantages related to Security, it can also make your data inaccessible. If you are not able to decipher the code, then you can lose your data on the entire volume. Therefore, you would need to take the assistance of a third-party data recovery tool to recover files from a BitLocker encrypted drive in this case.
Decrypting your Bitlocker Encrypted Drive can take a few minutes or a couple of hours depending on the amount of data you have in your drive.
---
Part 2. How to Recover Files from BitLocker Encrypted Drive with Known Password
If you want to get the lost files back from BitLocker Encrypted Drive, then you should take the assistance of Recoverit data recovery. 
It is an effective and reliable hard drive data recovery program, it can help you access the encrypted hard drive with a known password and get your data back.
Notice: Recoverit data recovery needs the password or BitLocker recovery key before recovering your lost files in BitLocker Encrypted Drive. Or you can also turn off BitLocker encryption first, then turn it on after recovering the data.
Recover lost or deleted files, photos, audio, music, emails from any storage device effectively, safely and completely.
Supports data recovery from recycle bin, hard drive, memory card, flash drive, digital camera, and camcorders.
Supports to recover data for sudden deletion, formatting, hard drive corruption, virus attack, system crash under different situations.
Free download and install Recoverit data recovery software on your computer, launch it and follow the next simple step to start recover files from BitLocker encrypted drive.
Step 1: On the interface of Recoverit, you can select the "Deleted Files Recovery" option to start your data recovery from BitLocker encrypted drive.
Step 2: Select the location where your files are stored. Click the "Start" button to process. You can choose to preview the files before starting the process.
Step 3: This drive data recovery will start a quick scan. If the software cannot find your files you can do a deep scan with the "All-Around Recovery" mode which will search your drive more deeply to recover more files.
Step 4: After the deep scan, you can preview the recovered files and click "Recover" to save.
Make sure to save your files to a different location from the encrypted drive.
---
Part 3. How to Recover Files from BitLocker Encrypted Drive without a Password or recovery key
If you cannot recover your files from an encrypted drive because you forgot your password, you can gain access to your files by requesting for a recovery key. Simply restart your PC then press Esc for Bitlocker recovery
When the BitLocker recovery screen comes up, write down the recovery ID that's been provided. Note that the recovery ID is displayed only for a short moment,make sure to note it down or type it fast.
Use another computer to log into your microsoft account Login here and use the recovery ID to get your recovery key. The recovery key is stored in your microsoft account.
Go back to the BitLocker window and key in the recovery. You can now start your computer and recover your files from the Bitlocker Encrypted drive.
---
Conclusion:
BitLocker is a great way to secure sensitive data in your computer. Once you get access to your BitLocker encrypted drive, keep your Recovery key in a safe location that you can easily access. This will prevent you going through a tedious process of recovering your data.
In the case you forget your Recovery Key, get in touch with data recovery experts who have will unlock your encrypted drive while protecting your data.
In the event that you have to reinstall your Window's operating system to remove the encryption, data recovery tools like Wondershare Recoverit will help you restore data that was lost when you reinstalled the Operating system
Computer Troubleshooting
Win System Crash

Windows Tips

Computer Problems

Blue Screen Errors
Other popular Articles From Wondershare