Q. I think my SD card is corrupted because it just always shows me a black screen. Do you think it can be fixed and is there any way I can get my pictures and videos back?
Answer. We all are aware of what an SD card is and how it has become so important in our day to day life. More and more people are becoming SD card, or memory card users.
A black screen is a sign of a corrupted SD card. But it surely is not the end of the world as you can repair your SD card as well as recover your data with a data recovery tool. Read on the instructions given below and see whether your data is recoverable or if you will have to format your card.
Summary
SD cards are little pieces of plastic but very useful at that. They are the most convenient way of storing data, especially photos and videos. They are mostly used by people who have more to store than possible.
So many of our digital devices such as mobile phones, cameras, tablets, and music players make use of SD cards to get an expanded feel of data storage. Similarly, SD cards can also be connected to computers and laptops with the help of an SD card reader.
SD cards are particularly prone to damage, accidental formatting or corruption. This corruption or damage can lead to loss of vital data, photos, videos, and audio files. Anything can be stored on an SD card and any kind of damage to it will lead to damage or loss to data.
This post will take you through four different ways of formatting your corrupted SD card. Not just this, if you are unwilling to let go of your data, you can also make the use of Recoverit Data Recovery software to retrieve all you data.
Part 1. What Are The Major Signs When SD Card Gets Corrupted?
Almost everybody you ever happen to come across not only knows what an SD card is but will have used or are still using one of these. And not o surprisingly, some of them must have also faced the problem of a corrupted SD card.
An SD card is more often than not used in mobile phones and cameras to keep a better record of your information. If you are somebody who has a lot of data to store especially in terms of photos and videos, then getting an SD card is probably the best idea.
However, since your SD card is full of so many important things, one can only imagine how difficult it is when your SD card gets corrupted.
Here are some of the most common signs of SD card corruption that you should look out for:
Black Device Screen –

In some cases, when your SD card is almost out or is about to corrupt to its peak, then you will see your electronic device's screen as black in colour. It is like one day you open your device and there is nothing on the screen, except that it is black, then more probably than not, it is the fault of your SD card.

Miscellaneous Messages of Error –

When a SD is corrupted partly and is on the verge of breaking through completely, you will start seeing messages such as 'access is denied' and similar ones.

Read / Write Failure –

In case you are unable to save new files into your SD card, also called write failures, then it might be a sign of a corrupted SD card. Also, if you are unable read a SD card and not see any of its components, then it also points towards a corrupted SD card.

Shows Incorrect Information –

If you have certain things in your SD card and also some folders, but your SD card does not show anything in the card or shows wrong or incorrect bytes, then your SD card is definitely corrupted.

Missing Files –

When an SD card is corrupted, the most thing you will notice is that your SD card will start missing out on certain files now and then. You might see a file one day but it disappears the next day, and returns back a few days later, then it is a clear sign of corruption.

SD is not Recognized –

Another common thing that happens in the case of a corrupted SD card is that your computer does not recognize your SD card.

Unknown Files Appear –

If you witness any unknown files in your SD card, then you should know instantly that your SD is corrupt and needs to be fixed.

CRC Error During File Transfer or Copy –

A CRC error, also known as Cyclic Redundancy Check appears on your SD card to make you aware of a bad spot on it. It might be a file or a folder and should be tended to on time.

SD Card Becomes Extremely Slow –

Another one of the signs that your SD is corrupted is that it becomes extremely slow. The pictures take a long time to load or your phone / camera takes time to read your SD card. It might also show some photos as black and then they get back to normal.
---
Part 2. How to Format Corrupted SD Card with DiskPart?
Many a times you will find yourself at a point where your computer will deny you to format your SD card. While most people believe that this is a situation that cannot be remedied, it does, indeed, have a remedy.
The simplest way of going through it is with the help of a tool called DiskPart which is available for Windows, 8, 7, Vista, and XP devices.
Here are the steps you can follow to repair your SD card with the aid of DiskPart:
Step 1 – Press Windows + R keys
Step 2 – Type diskpart in the space on the pop up & press Enter

Step 3 – Type list disk in the black window & press Enter

Step 4 – Find your SD card, type select disk & enter the number of the SD card

Step 5 – Once you have found your SD card, type clean or clean all if you have more than one partition

Step 6 – Type create partition primary

Step 7 – Type select partition 1 & enter command active

Step 8 – Type format fs=fat32 quick.
---
Part 3. How to Format Corrupted SD Card Using Windows Disk Management?
Disk Management is a built-in, easy to access tool in Windows. You can undertake a lot many desired and needed actions with Windows Disk Management. One important action you can undertake with it is formatting a corrupted SD card.
If you sure about formatting your SD card using Windows Disk Management, then here are the steps you can follow to bring you to your desired consequence:
Step 1 – At CMD, run diskmgmt.msc
Step 2 – Once the Disk Management appears, find the SD card you wish to format
Step 3 – Right click on 'menu' and select format

Step 4 – After the format window opens, customize allocation unit size, file system, and volume label

Step 5 – Also choose whether you want to perform quick format or compress them
Step 6 – Click OK
Step 7 – You will see a warning saying 'Formatting this volume will erase all data on it. Back up any data you might want to keep before formatting. Do you want to continue?' Click OK
---
Part 4. How to Format Corrupted SD Card through Windows Explorer?
Windows Explorer is another one of the in-built features in Windows that help you format corrupted SD cards.
Here are the steps you can follow:
Step 1 – Press Windows + E
Step 2 – Right click on the partition in the Windows Explorer
Step 3 – From the GUI menu, select format

Step 4 – Choose the allocation unit size and file system from the new pop up. Also, enter a volume label & select quick format

Step 5 – Click on the start button
Step 6 – You will see a warning 'Formatting will erase ALL data on this disk. To format the disk, click OK. To quit, click CANCEL. Click on OK
Once you have followed the steps written above, you will find that your corrupt SD card has been formatted. However, you still might find yourself in a position where your corrupt SD card remains unformatted even after thoroughly following the steps.
The most probable reason for the incomplete process is caused by the RAW file system. It is also possible that the drive letter has been assigned the removable disk instead of being assigned to partition.
Under such circumstances, Disk Management can be of help to you.
---
Part 5. How to Format Corrupted SD Card via USB Disk Storage Format Tool?
Here are the steps you can follow to format a corrupt SD card via Disk Storage Format tool:
Step 1 – Press Windows + R
Step 2 – Type CMD to launch Command Prompt Window
Step 3 – Enter diskpart in the window & enter list disk
Step 4 – Enter select disk 1 or any other number your SD card is
Step 5 – Type clean and press 'Enter' on your keyboard
Step 6 – Enter Create partition primary
Step 7 – Type format fs=fat32. This will start the process of formatting
---
Part 6. How to recover and repair data from corrupted SD Card?
A powerful data recovery software that is most famous and well known amongst the technicians and commoners is Recoverit Data Recovery Software. This software helps you get back all your valuable audio files, documents, videos, photos, and emails, quickly and certainly from internal hard drive, laptop, external storage devices, recycle bin, and even a crashed computer. Another added feature of the Recoverit Ultimate is that it helps you recover a fragmented, corrupt, damaged or broken video and repair it back to its almost original look and feel.
Step 1. Select a location from where you want to start recovering your corrupted files.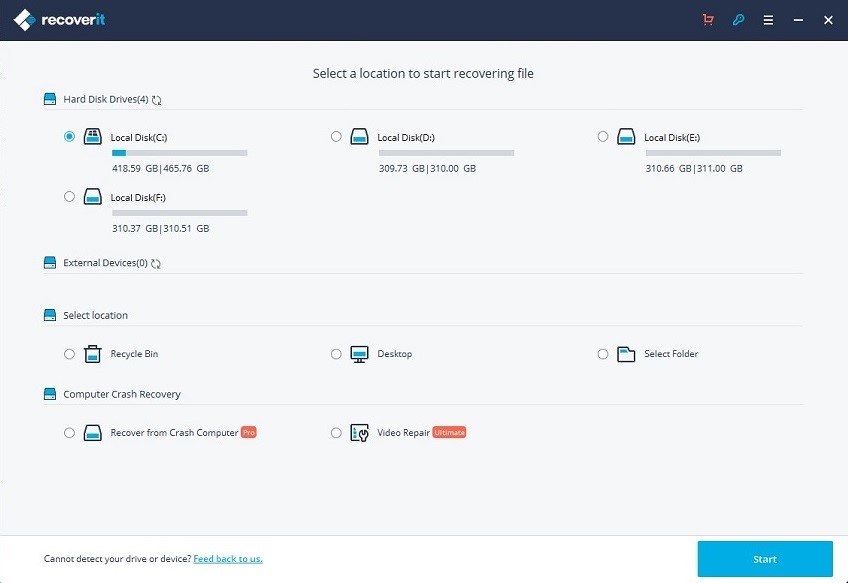 Step 2. Scan the location for all the files that are corrupt. You can select multiple files at once.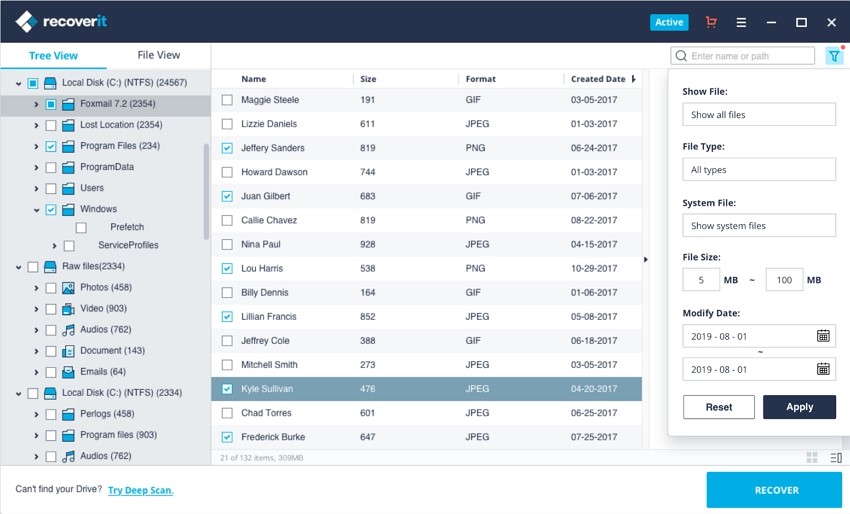 Step 3. Wait for scanning process to complete. Once the process is completed, click on the 'Got it' tab to close the pop up.
Step 4. Preview the file / files that have been scanned. Once you preview your file / files and are satisfied, click on the recover tab.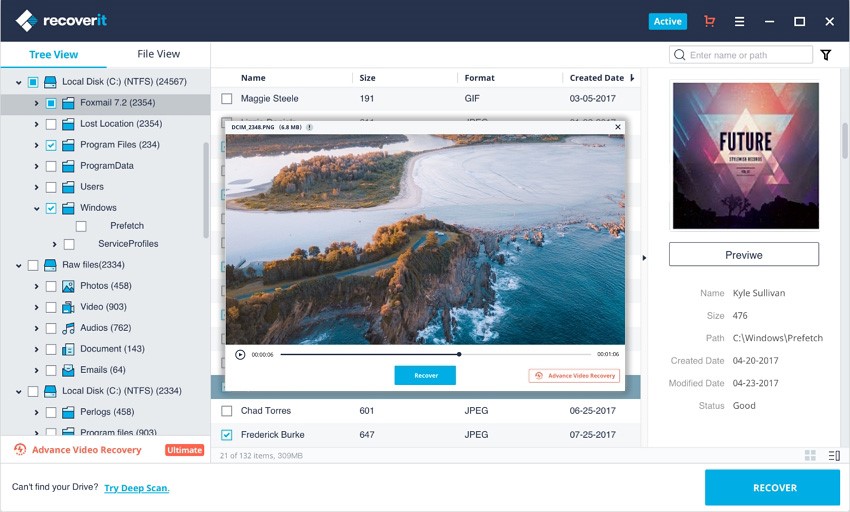 Introduction to Advanced Video Recovery function of Recoverit
Advanced Video Recovery feature of Recoverit Data Recovery Ultimate scans, gathers and matches the wreckages of your corrupt videos. In doing so, it ensures most of your videos are recovered from your device including Dashcams, Digital cameras, camcorders, SD card, DSLR, PC, Drones, HDD, Action Cameras, etc.
Here are some things you will experience when you use Recoverit's Advanced Video Recovery function:
Scan and match your video fragments
Merge the fragments from the same video
Recover your videos and keep 95% of them intact
Recover unlimited video files without corruption
Just click Advance Video Recovery option to recover fragmented video file easily.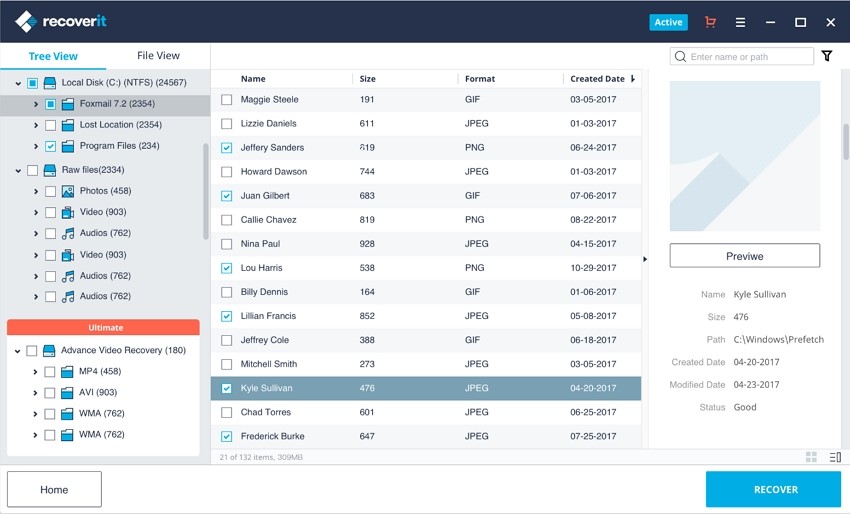 Steps to Repair Corrupted Video with Recoverit
Recoverit's Video Repair is a prevailing and dominant video repair software that is used for repairing broken, damaged or corrupt FLV, MP4, 3GP, MKV, MTS, M2TS, AVI, and MOV file formats.
Two repair modes are supported by Recoverit Video Repair:
Quick repair – Which is used to repair various minor video errors.
Advance repair – This feature can repair any corrupt video by analysing the data and technology of the video shot by the same device.
Important features of Recoverit Video Repair are:
Repair multiple formats of videos simultaneously
Free scan for corrupt videos and preview repaired videos before saving them
No limitations on size of Video files for repair
Repair any number of corrupt Video files
The steps written below will help you repair and recover your video in no time:
Step 1: Add your corrupted videos
Launch the application on your computer. To repair your corrupted video files, you can add it through clicking Add button or "Add video and start repairing" area.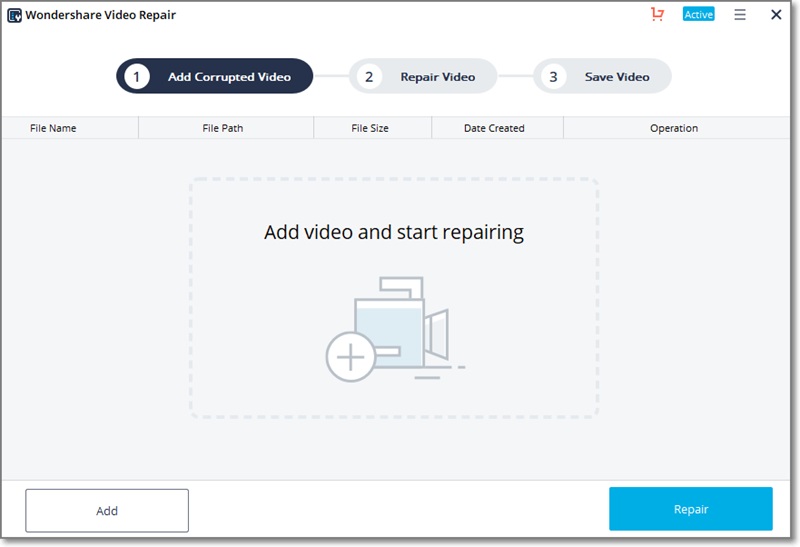 Step 2: Repair your videos
As soon as you have added all the corrupted videos, click on the Repair option to start the video repair process.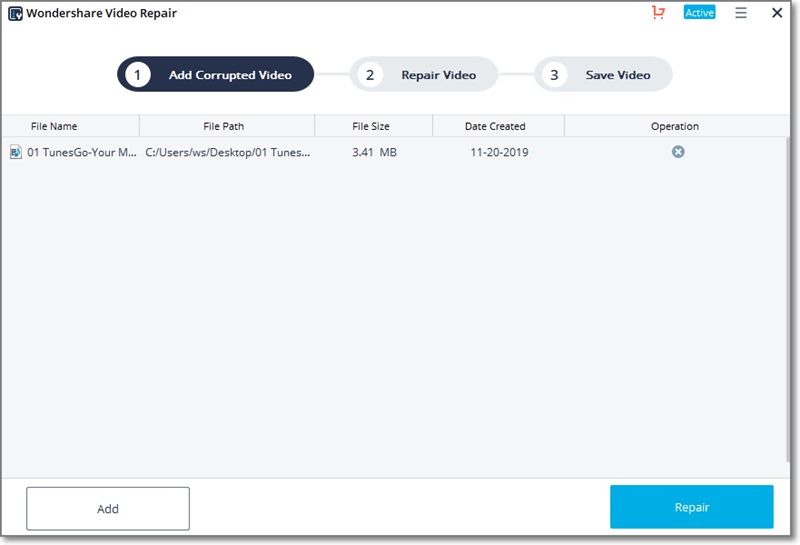 Step 3: Preview the videos
It will take some time to repair and once it has finished the repair process, a reminder showing info of successful fix will pop up on the screen. Press OK to close the operation.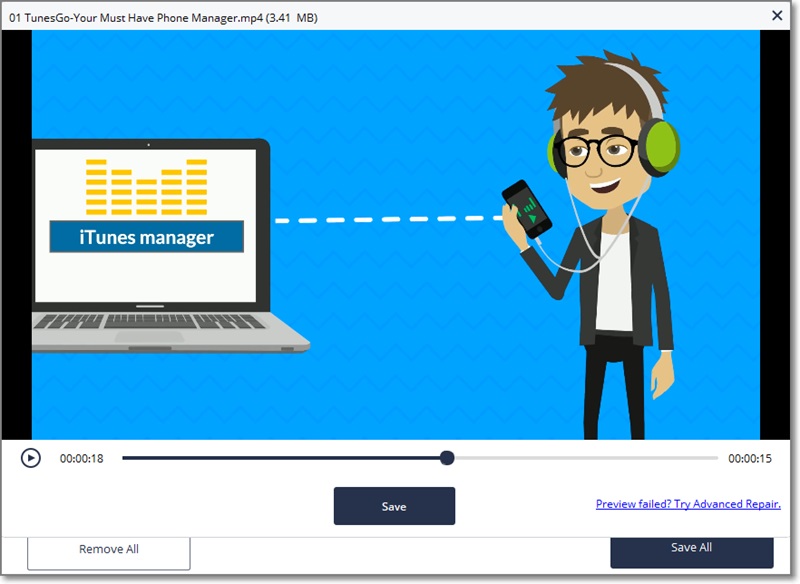 Step 4: Advance mode for severely corrupted video (optional)
If the videos are severely corrupted and not repaired successfully, please go to the advance repair mode. Just click Advanced Repair button.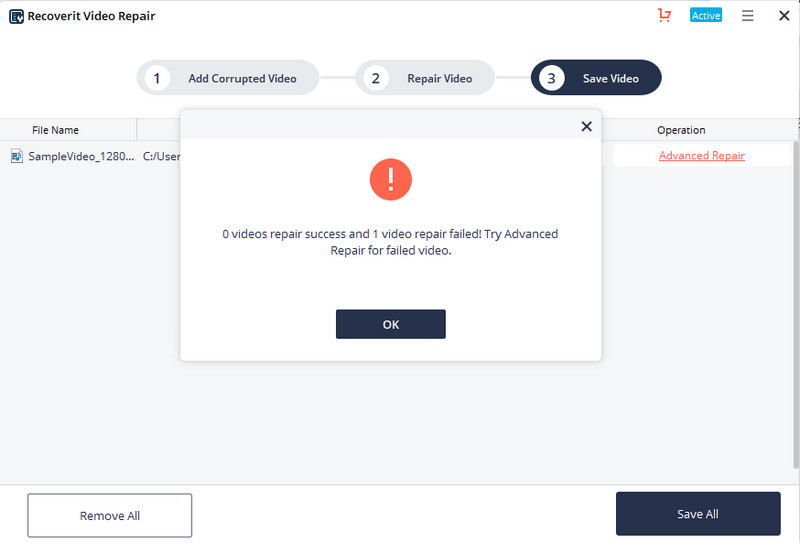 Then add a sample video and repair it now.
Step 5: Save repaired video
The advance repair will perform the repairing process and prompt a success message when the process is completely done. Now, you can play these videos and you will not see any error on the screen.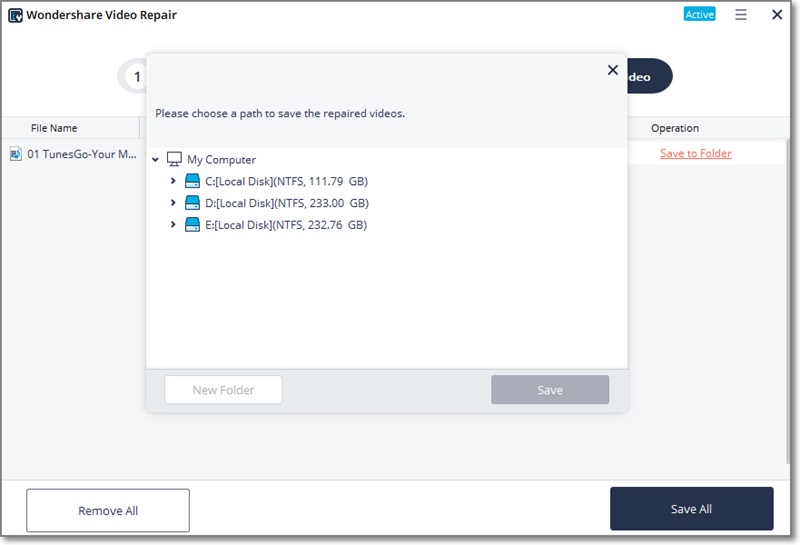 SD Card Recovery
Recover Card Data

Repair Card Errors