Memory cards are a very good tool for storing our data on a daily basis. It's a great idea to keep your information on a memory card, as it's easy to carry around. But as you can imagine, even a memory card will end up dealing with issues and damage at times. That's why it can be a very good idea to use software in order to recover files from memory cards. Recoverit is one of the best tools that help you perform free memory card data recovery fast and easy. Here are the things to take into consideration!
When an I/O error occurs, it indicates that the external hard drive has encountered a serious problem and has become inaccessible for file transfer. All of the files and data stored on the external hard drive are at risk of being lost permanently when Windows starts displaying an I/O error. In the following article, we will discuss how the best memory card data recovery help you to recover data from memory card including photos and videos recovery and also for corrupted memory card recovery.
Part 1: Recoverit Summary
Recoverit is a free memory card data recovery solution. This software is designed to help you recover any type of data you want from your memory cards. It can recover a wide array of file formats, starting with picutres recovery and ending with document recovery. Plus, the application uses a high standard recovery engine that makes it a lot easier to scan for data. As a result, you get to find the files you want a lot easier and the return on investment will end up being a lot better as well. With this free memory card data recovery tool, you can easily recover files from memory cards in no time. The return on investment can be huge, all you have to do is to figure out when and how to recover files from memory cards and results will be more than impressive in the end.
Part 2: How to Recover Deleted Files from Memory Card?
What you will notice about the memory card recovery process is that it's not as complex as you can imagine. In fact, you just need a good memory card recovery software and you then have to follow a few steps. It's actually quite easy to do, as long as you tackle this correctly and in a meaningful way. Just try to figure out which are the best options, so you can obtain the best experience in no time.
But what can you do in order to recover the memory card data safely? All you need is the right memory card recovery software that will help you achieve all of that. And that's where Recoverit comes into play. This is a great software designed to recover files from memory cards fast and easy.
Steps to follow when you want to use free memory card data recovery Recoverit program to regain your memory card data:
Step 1 Download and launch Recoverit
Download and start the Recoverit program. You just have to acquire it from the official website and install it. The process is very fast and convenient, and it will take just a minute or maybe a lot less than that depending on the situation.
Step 2 Select the right recovery mode
Select the "External Devices Recovery" from the recovery scenarios to process the next recovery step.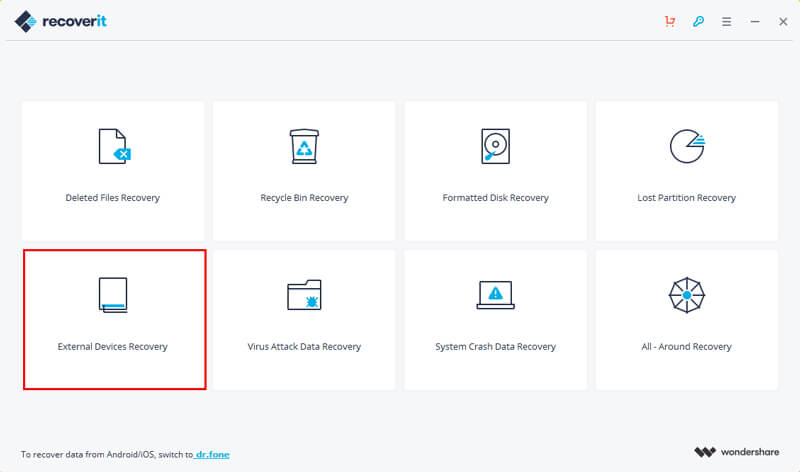 Step 3 Select the location of memory card
You will now have to insert the memory card. You should make sure that you didn't tamper with the memory card in any way after deletion. Choose the memory card location to identify where you want to recover files from memory cards.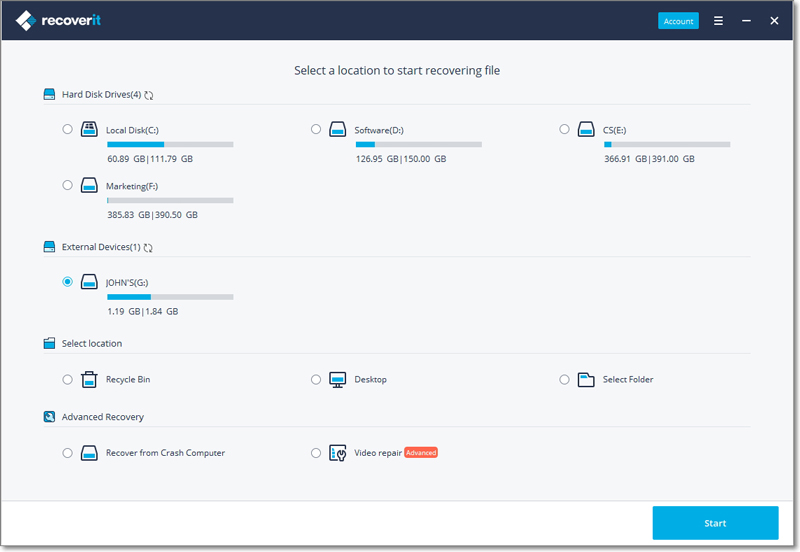 Step 4 Memory card scanning
Initiate the scan and wait for it to complete. Do keep in mind that it can take a while for the app to scan your memory card. That's why you need to take a bit of a break if you have a very large memory card. It may take a few minutes, it may also take an hour. Either way, it should be a great experience, and that's what really matters the most in the end.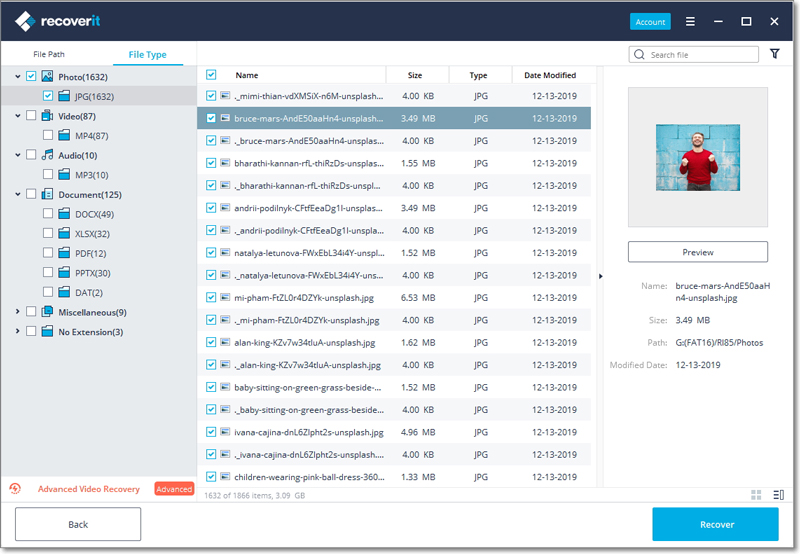 Step 5 All-around Recovery
In case you are unable to find the files you want after your first scan, you can opt for the All-Around Recovery mode. It will scan even more files on your memory card, which may help find your lost data!
Step 6 Preview and recover data from memory card
The scan will be complete at one point. When that happens, you will need to preview the scan results. Here you will see what files can be recovered. Pick the data that you want to recover and then select where you want to store all the recovered data. Make sure that you store it in a place where it's easy to access, so you can get the best experience.
Recoverit will recover your lost memory card data in a few seconds or minutes, depending on the file size. But one thing is certain, there's a very high chance that your memory card data will be integrally recovered without any issue. It's the best way you can regain control over your old data, and the process will be very simple as you can see above.
Part 3: How to Recover Data from a Corrupt Memory Card?
This is a bit problematic for most people. When a memory card is corrupt, chances are that you can't access data from it ever again. But if you do encounter such an issue, you will have to fix the memory card before you use Recoverit. Then you can recover files from memory cards without any hassle!
Hardware damage and physical damage in general can't be solved with software. However, logical issues such as data corruption are indeed possible to solve with the right memory card tool, so try to keep that in mind if you can. With help from the right free memory card data recovery solution you can easily recover your data from memory cards in no time!
If there are any logical issues, then you can use the All Around Recovery solution in Recoverit. The app will automatically recover data from the memory card while also fixing any logical issues that your car may be dealing with at this particular time.
Step 1

Download and launch Recoverit

Step 2

Connect your memory card and select All-around Recovery to recover files from memory card deeply

Step 3

Preview the results and recover data what you lost
Part 4: Reasons That Memory Card Data Loss Occurred
There are lots of situations when you can lose your memory card data. Unfortunately they can appear out of nowhere and you can't really prepare for them. But as you can imagine, there are lots of benefits you get from dealing with this sort of issue. For example, you can lose memory card data via accidental deletion. This happens to most people, as they just want to view the content and they delete it by accident. It's unfortunate, because it can be a huge issue if you have all the family photos or other relevant content in there. The main reasons to lost memory card data including:
Unsafe memory card removal
Improper formatting or partitioning
Damage from virus or malicious software
Memory card is not responding
Hardware issues
Unsafe memory card removal can be another issue. It's by far one of the major things to keep in mind here, as if you remove the memory card in an improper way, at one point it will delete all your data. So you need to pay a lot of attention when you remove the memory card. Just to be safe, use the simpler approaches to ensure that you always have the best results when you recover files from memory cards!
Improper formatting or partitioning can also lead to problems for the memory card. It will usually mean that your memory card will not be able to read data anymore. And that is obviously the type of thing that you need to avoid no matter what.
Damage from virus or malicious software can end up deleting data from memory card too. This happens often too, and the primary reason is because you connect your memory card to the computer while computer or memory card get infectted. Virus or malicious software will detect the virus on your memory card so that the files which are infected will be deleted by software.
Lastly, your memory card is not responding. Either it has multiple tasks on it at the same time, or it's just a lower quality unit and it won't function at all. No matter the situation, there can be some major problems to deal with here. Data loss being one of the primary issues in this perspective.
Recovering data from the memory card is a crucial aspect in this situation. You want to get your data back as quickly as possible, otherwise you can end up with complete data loss and at a point of no return. Thankfully, the right memory card recovery software will help you achieve those goals in no time.
With help from such a tool, you will get immediate access to the software you want in no time. The results can be more than impressive every time, and you won't have a problem accessing the best return on investment in this regard. Gone are the days when you had to worry about a lack of methods for data recovery. With the right memory card recovery tool, the results can be pristine and second to none all the time.
Part 5: Tips for Protecting Data on Your Memory Card from Any Future Loss?
The first thing you want to do is to clean the memory card often. The memory card will accumulate dirt, dust and it will also be subject to heat.
Store the memory card somewhere safe and don't keep it in the camera all the time. This assures you that the memory card will have a very long life, so try to keep that in mind.
Use card readers if you want. This way you will end up transferring your content without having to worry about the need or any other tool. It's a simple way to access your data, and you don't need to keep your card inside your device, which is a very important thing to keep in mind.
Be very careful when you format and delete pictures. Go with the idea of moving photos to a computer instead of a manual format.
Do not edit pictures on your card. It puts a lot of stress on the unit, and that's the last thing you want to avoid in such a situation. Download everything to the computer and perform all the modifications there. It will be a lot easier to complete the free memory card data recovery process this way.
Avoid shooting new photos in place of the deleted ones. This will make it very hard to recover files from memory cards a lot harder!
It's always a good idea to take care of your memory card if you want to manage your content in a meaningful way. On the other hand, you need to realize that memory card recovery can be very challenging to do on your own, so try to take that into consideration. It's important to focus on using a free memory card data recovery solution like Recoverit. Fast and convenient, this tool will make the recovery process a very quick and reliable one. So you should totally check it out and give it a try, especially if you want to recover all your data very fast!