How to Recover Files from Blank SD Card
How can I recover data from a blank SD card? The SD card is Blank and it keeps asking format, and the card with an error message "SD card is blank or has unsupported file system". The unsupported MicroSD card error usually makes the SD card data unreadable or undetectable. This issue mostly happens to Android phone MicroSD card, digital camera SD card, and other SD cards. In the following guide, you can learn the best way to recover data from blank MicroSD cards, and then the way to format the SD card to fix the blank SD card.
You need to get the powerful Micro SD card recovery software to help retrieve data back. We recommend Recoverit Data Recovery software, it is a reliable SD memory card recovery tool supports to recover lost data from blank SD card in easily.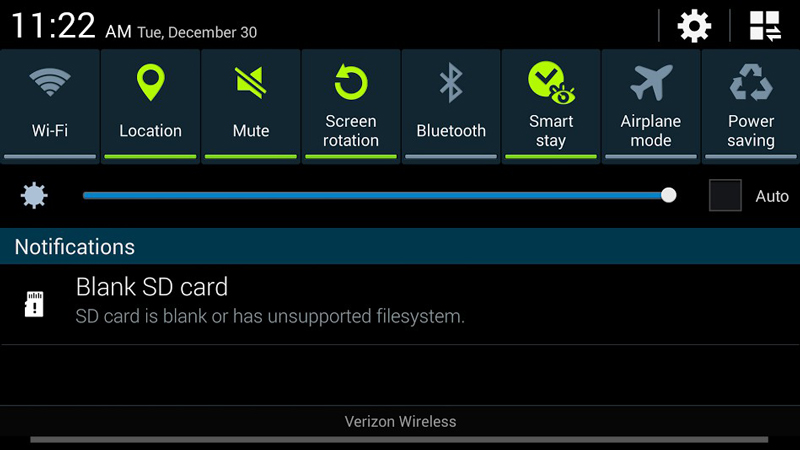 ---
Part 1: The Best SD Card Data Recovery Software
Recoverit Data Recovery is the best SD card data recovery software, it can help you recover any data from a blank SD card. Before you format your Android Micro SD card, you should get your data back with the Recoverit SD Card Recovery program.
Video Tutorial on How to Recover Files from SD Card
---
Part 2. How to Recover Data Files from Blank SD Card
Download and install Recoverit SD Card Data Recovery software on your computer, this guide we will focus on how to recover data from corrupted SD card. If you working on Mac, you can download Recoverit Data Recovery for Mac and go on.
Step 1. Select your Blank SD Card
Make sure your SD card is connected to the computer and next. Select your Android micro SD card and click "Start" button to process.
Step 2. Scanning the Android SD Card
Recoverit Data Recovery will start a quick scan to search your SD card. After the first scan, you can preview some recoverable files. If you cannot get your data, you can go to deep scan "All-Around Recovery" which will deeply search your SD card data.
Step 3. Preview and Recover SD Card Data
After the deep scan, you can preview some recovered files like photos and images. Select your data and click the "Recover" button to get your data back. ( Please save all recovered data files on your computer hard drive or a safe device. Do not save any file on the blank SD card.)
Get download Recoverit Data Recovery software to help you recover dead SD card easily. And you can also recover your formatted SD card.
---
Part 3. How to Fix Blank SD Card or Unsupported File System Error
If you are constantly coming across a "Blank SD card" or "Unsupported file system" error, you need to do something about it to make sure you never get this kind of message again and stop data loss cause of the error. Check out the solutions provided in the below sections:
Solution 1: Reboot your phone
Sometimes, rebooting the phone resets the disturbed routines running in the background of your device and this proves to be helpful in freeing your phone of the blank SD card error. In order to give it a try, carry out a simple reboot of your phone and see if it works.
Solution 2: Insert/remove the SD card repeatedly
Try removing and inserting your SD card repeatedly as this might also serve as a useful solution in this regard.
Solution 3: Run Check disk for fixing errors
Sometimes running the check disk utility offered by Windows also comes in handy to get rid of the blank SD card error. In order to do so, run the command prompt in administrator mode and type in the following command followed by the enter key:
Chkdsk n: /driveLetter
Solution 4: Check your SD card for hidden files
Sometimes the phone becomes unable to find any content on the SD card as it is hidden. In order to confirm the scenario, you need to connect your SD card to a computer using a card reader, go to the Folder Options and check on 'Show hidden files, folders and drives'. Now open up the SD card and delete any existing specialty files present on it. Reinsert the card into the phone and see if it works.
In order to summarize, it may be said that with the extensive use of SD cards in our devices, we now have to come across different kinds of error messages more frequently. There are different possible ways to get it resolved but none of them is guaranteed to work. Therefore, the best course of action is to recover its contents by making use of Recoverit Memory Card Data Recovery.
SD Card Recovery
Recover Card Data

Repair Card Errors
Other popular Articles From Wondershare