I lost photos on SD card. They are really meaningful for me. Does anyone know how to retrieve deleted pictures from SD card?
SD card is one of the best option to store important data and photos securely. However, they are very fragile to cause data loss in an unexpected manner. Memory cards come in different capacities ranging among their storage capacity, speed and application performance. The popular ones today are the Micro SD cards which work best with tablets, video cameras, digital cameras, and other mobile devices. So it will be troublesome if you lost data from Micro SD Card.
But if you accidentally remove pictures from Micro SD Card, is it possible to recover deleted photos from SD card completely? That is a common question for many people and yes, we will show how to recover photos from SD card completely and easily. Keep reading and you will know the answer and the solution on how to do a Micro SD card recovery.
Part 1: Can You Recover Deleted Photos from SD Card?
It is easy to get panic when you lost photos from SD card. Just calm down. It is possible for you to retrieve deleted photos from Micro SD card. The lost or deleted pictures will be available on your Micro SD card and can be retrieved them back as they do not actually disappear permanently from your Micro SD card. They just become inaccessible before new data overwrites them.
To increase the high success rate to restore deleted photos from Micro SD card, you need to stop accessing your SD card to avoid new data overwriting the deleted photos. Actually, the first thing you need to do is removing the SD card from your device to avert any further data loss.
When losing pictures from Micro SD card, many people might ask how to recover deleted photos from SD card without software. The answer is no. To restore deleted pictures from SD card, the only way is using an Micro SD card recovery tool. There is a high success rate to recover pictures from an SD card by means of SD photo recovery software, even though they have been erased, formatted or deleted.
---
Part 2: How to Recover Deleted Pictures from Micro SD Card?
As we said in the previous content, it is impossible to recover deleted photos from SD card without software. That's why you need to find a best SD card photo recovery tool for help. As technology is also advancing, retrieval of such data has been made possible with professional Micro SD card recovery software, for example, Recoverit Data Recovery.
1. Recoverit Makes SD Photo Recovery Possible
Recoverit is the most recommended tool as it has a user-friendly interface, provides high recovery success rate and also supports numerous file types. Another amazing part with this SD photo recovery app is that you are able to preview all the retrieved pictures before recovering deleted photos from SD card. Afterwards, you can opt to back up your retrieved pictures to your computer or other devices once the SD card recovery process is completed.
You don't have to be a tech savvy or IT guru. Recoverit allows you to take 3 steps to get your photos back from Micro SD card within a few minutes. The intuitive interface, improved searching options and error tips can help you use the software and restore pictures easily. No matter how you lost your photos and which formats of images you lost, Recoverit can absolutely help you out.
2. Video Tutorial on How to Restore SD Card Photos
How can I recover deleted photos from my SD card? The video ranges over the steps on recovering images from SD card. Spend one minute and you can do memory card photo recovery by yourself.
---
3. Text Guide: How to Recover Pictures from SD Card
This step by step guide will walk you through ways to recover lost photos from SD card. Let's begin to download and install the professional Recoverit memory card recovery and read on the clear steps below to recover pictures from Micro SD card.
Firstly, you need to make the connection using a USB cable. Also, you can use a card reader to connect your SD card to the computer. Launch Recoverit Micro SD card recovery to start the photo recovery from SD card.
Choose your Micro SD card to scan photo

s

SD card photo recovery will show you a list of devices. Once you pick your SD card and click "Start" icon, the scan process will commence.

Scan deleted pictures from SD card

The all-around scan will be firstly initiated. Waiting for minutes, you can see the scanning result menu and filter the data you deleted from Micro SD card.

Preview and recover deleted photos from Micro SD card

Recoverit Micro SD card recovery gives the option of previewing all the recovered data. You can, therefore, select all the targeted pictures and recover your deleted photos from Micro SD card by clicking on "Recover" button.
Please note that in order to effectively recover lost photos from SD card, you should evade further usage of the Micro SD card before doing a data recovery. Saving more data will cause a rewrite on the Micro SD card, which may lead to total loss of the currently present data.
---
Part 3: How to Fix Corrupted SD Card for SD Photo Recovery?
Expandable storage medium like Micro SD cards works awesomely. But what happens when your card suddenly goes dumb and you are not able to read or view any data? Believe it or not, there are some handy fixes to help you fix corrupted SD card and restore SD card photos. Let's check out some of these.
First, to check if your Micro SD card is truly corrupted, you can try to connect your SD card to another device as sometimes some devices cannot read an SD card or they can't be compatible with it. If it doesn't work, you can try the following methods.
Method 1: Use chkdsk command
1 Insert your corrupted or damaged SD card into a card reader for connecting it to your computer.
2 Go to the Windows taskbar, click "Start", input "cmd" and hit Enter.
3 Right-click "cmd. exe" in a list of programs and open the Command Prompt.
4 Next, type in "chkdsk /X /f SD card letter:" or "chkdsk SD card letter: /f ", for example,"chkdsk /X /f G:" or "chkdsk H: /f".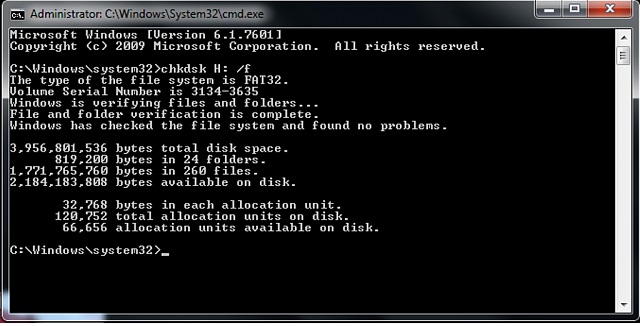 Use chkdsk command
After you finish the steps above, the file system of the SD card can be checked and fixed. You can fix your corrupted SD card here without formatting.
---
Method 2: Reinstall the driver
You can also perform corrupted SD card recovery for deleted pictures by reinstalling the driver to your device.
1 Right click on the "My Computer" icon, then select "Manage";
2 Go to "Device Manager" on the left side and click on it;
3 Pick on "Disk Drives" and click on "Uninstall" before winding up with the "OK" click button
4 Restart your PC and connect your Micro SD card using a card reader. Your computer will be able to detect it this time around.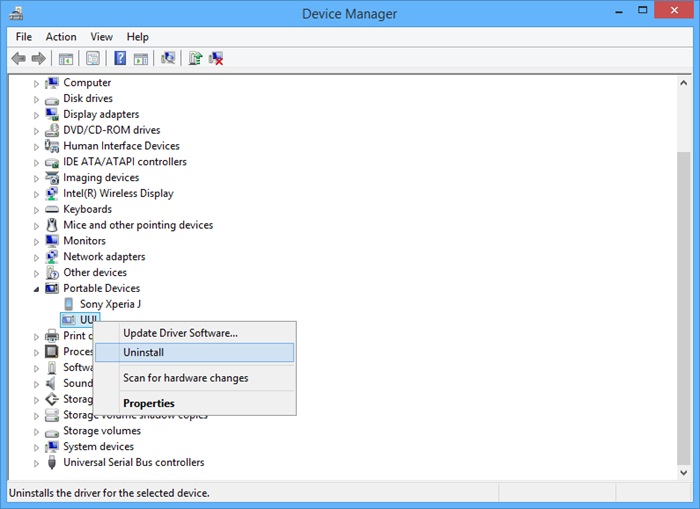 Reinstall the driver
---
Method 3: Change the drive letter
If the problem is related to the USB device itself, you should start by trying the device in a different port just in case. Then, follow these steps to reformat the USB Drive.
1 Change the drive letter after connecting your SD card to your computer via a card reader;
2 If you get the message "Please insert the disk into drive E", the card isn't readable;
3 Assign a new drive letter to your SD card while it's connected and try opening it again.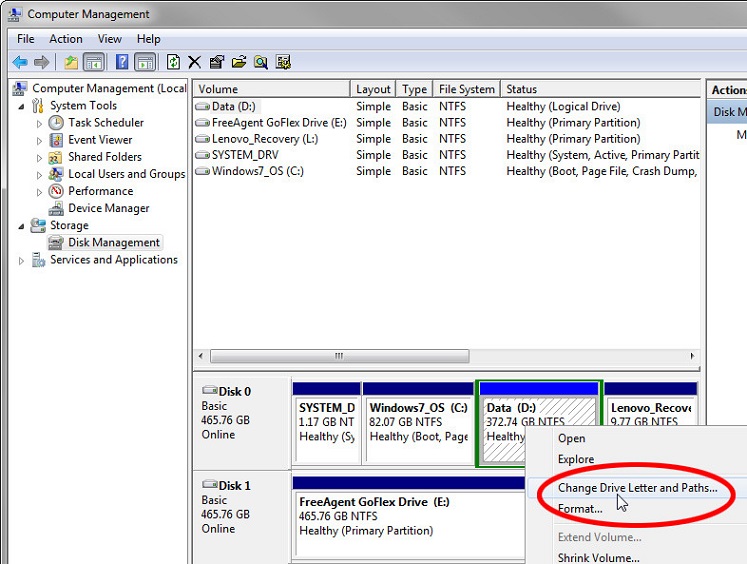 Change the drive letter
---
Method 4: Format your SD card
1 To format your SD card, double-click your computer to open the disk list;
2 Find and right-click your SD card, seeing a list of options;
3 Choose "Format" to erase all stored photos on SD card and get the damaged memory card repaired.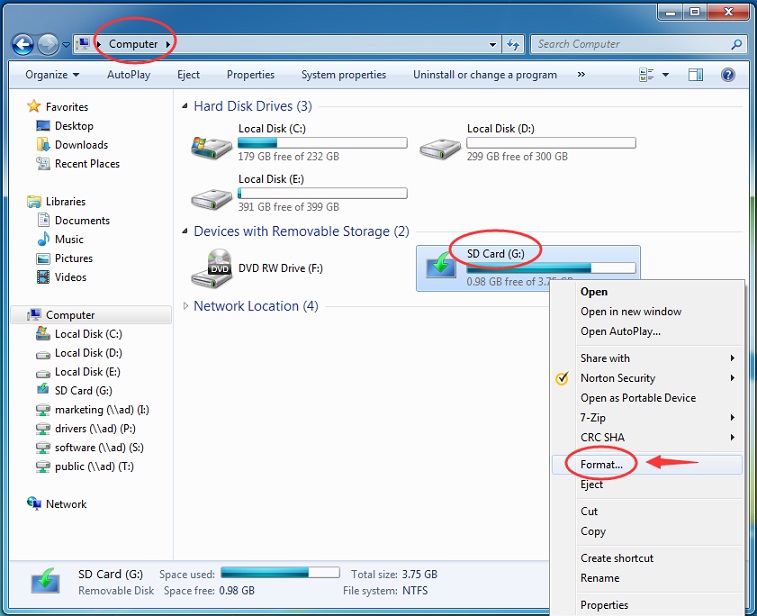 Format SD card
Note: As formatting will remove everything on your Micro SD card, please ensure that you have recovered all your files and backed them up to another device before formatting SD card.
---
Method 5: Remove bad sectors
Since some corrupted SD cards are defected from the factory, removing bad sectors may be the better option in a recovery of data. Do this by drive checking and restoring it.
1 Connect your Micro SD card to the computer;
2 Locate the SD card, right click it and choose "Properties";
3 Opt for the "Tool" tab and click on the "Check" button;
4 Let the inbuilt bad sector check tool to scan your Micro SD card;
5 Once the scan is finished, the logical errors of the SD card can usually fixed.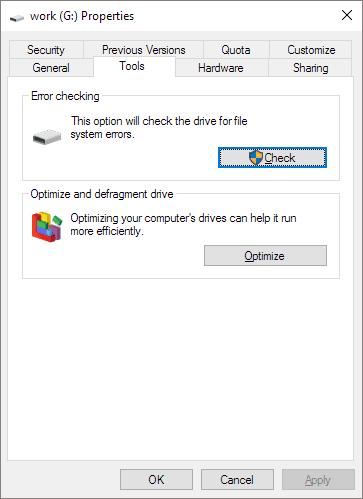 Scan to remove bad sectors
No matter which methods you use to repair damaged SD card, you can then take advantages of Recoverit SD Photo Recovery to recover pictures from SD card.
---
Part 4: Useful Tips After Memory Card Photo Recovery
1. Avoid Losing Pictures in the Scenarios
There are some scenarios that may result in our data loss from Micro SD card. The fact is that many people don't have a clue of what could lead to data loss. If you recently lost your pictures and wonder what happened, these scenarios may help you to understand what happened to data loss. You can have an idea how to avert losing photos from Micro SD card once again.
Accidental pictures deletion
Picture lost from SD card formatting
Virus attacks SD card
Micro SD card corrupted
Physical SD card damage result in pictures lost
Accumulating bad sectors within the SD cards
Pulling out the SD card incorrectly
2. Tips After Micro SD Card Recovery
Despite the fact that there are ways to recover deleted pictures from Micro SD card and repair damaged SD card, it is still important to look into avenues of data loss prevention. Data loss may throw you into an array of confusion, especially if you urgently need to use your data. These tips are therefore worthy to be noted.
Regularly back up important pictures:

You can opt to use automated external drives or cloud-based services for regular backups. This will promptly enable you to access your data even before you carry out a Micro SD card recovery.

Ensure that the antivirus is updated to prevent virus attacks

Computer viruses are harmful to your data because they can eat up all files without prior warning. The only medication is to do a regular antivirus update to deter them from multiplying.

Always scan to fix the errors to avoid failure

Do a scan for every external drive that you connect to your device. This will fix errors as well as prevent unnecessary data loss.

Always safely eject before pulling the card out of the reader

Avoid pulling the card out while it is still in use. Instead, do a safe ejection to prevent corruption or damage to the card.

Always ensure you keep the SD cards in a safe place

Physical damage is another threat that needs to be looked into. Keep your card in a safe environment to save yourself the agony of recovering photos from damaged SD card.
All in all, you'll be compelled at one time to recover deleted photos from your Micro SD card. Keep in mind that Recoverit SD photo recovery tool can be the most reliable option among the top SD card recovery software. It supports tons of file types and numerous operating systems, including the latest Mac devices. Besides, you can get to download it for free. Try the photo recovery software here and recover pictures from SD card.
Solve All Media File Issues
Recover & Repair Photos

Recover & Repair Videos

Recover & Repair Audios

Recover & Repair Cameras