I recently updated my Mac, but I am unable to see the hard drive of my Mac. Can anyone guide about how to fix my Macintosh HD?
Quick access to your Mac hard drive is helpful. It allows you to view and work on various folders, applications of your system that you require regularly. When your Macintosh HD not mounted, the access to your system becomes complicated. Are you experiencing the same? Nothing to worry! We will take you through the meaning of mounted and unmounted disk, as well as the various ways to fix unmounted Macintosh HD and recover lost files on Mac.
Part 1. Overview of Macintosh HD Not Mounted
Macintosh HD or Mac hard drive is the primary storage medium for Mac users. Sometimes the hard drive fails to mount because of various reasons and prevents you from using the system. Before learning further let's first understand what does it mean by disk mount and disk not mount.
1. What does it mean to mount a disk on Mac?
When a drive is available for reading and writing operations by the operating system, it is referred to as disc mounting. If the computer is working, the disk is visible in the left pane of the Disk Utility. You can even manually mount the disk if it is not accessible by the computer. It can be done by selecting the disk and clicking on the mount link. All this is possible only if the hard drive is detectable.
2. What does disk not mounted mean?
If you are unable to view the Macintosh hard drive in disk utility, here the disk is not mounted. As the hard drive becomes inaccessible, except the erase button, all other operations become disabled or are greyed out. It is also possible that your Mac stops working. There is a high possibility that Mac won't turn on if Macintosh HD not mounted. But why disk does not mount, let's find out the various reasons for it.
3. Why Macintosh HD Not Found
When you are unable to view the hard drive on the Mac, it can be due to various reasons:
Preference: To make your drive visible on your Mac desktop or finder, it is necessary to set it in preferences. Failing to do so can also make Macintosh HD not mounted.
Connector: If you are connecting hard drive to your Mac through the USB port, the port can be faulty. It is also possible that the cable connecting the drive to the Mac is damaged or non-functional.
Corrupted File system: There is also the possibility that the drive is corrupted because of logical errors, bad sectors, etc. Sometimes, the damaged file system of the hard drive can also make the hard drive non-mounted in the Finder.
Hard drive failure: If the drive is physically damaged because of a head crash or component failure, that also makes the drive non-mounted.
Disk Utility failure: The faults of disk utility make Macintosh HD not mounted.
---
Part 2. How to Fix Macintosh HD Not Mounted
Before you begin with fixing the Macintosh HD that is not visible in Disk Utility, ensure you have a backup of your hard drive. The backup will be beneficial because while troubleshooting the errors, the original data can be overwritten.
Solution 1. Repair in Recovery Mode
Fix the Macintosh HD not mounted with Disk Utility's First Aid. But it should be performed in the recovery mode.
Step 1.

Hold Command + R to boot the Mac system in Recovery Mode. Release the keys once you see a spinning globe or Apple logo.

Step 2.

After booting in the recovery mode, you will come across four options to troubleshoot Mac. Select Disk Utility from them.

Step 3.

Choose Unmountable Macintosh HD From The Left Panel And Click On First Aid. First Aid will repair cryptic disk errors of the hard drive.
Once the repairing completes, there are two possible outcomes:
Disk repaired successfully with Disk Utility. If the repairing is successful, log out from the recovery mode and boot into your system as usual.
Disk Utility can't repair the disk drive. Sometimes because of Disk Utility limitations; the corrupt drive doesn't get fixed.
If you fall in the second category, there is nothing to worry about as you can resolve the issue with the next solutions. If Disk Utility helps you mount Macintosh HD successfully but fails to repair other disk errors, turn to this guide - Fix "Disk Utility Can't Repair This Disk".
Solution 2. Fix Unmounted Mac HD with Terminal
If your Macintosh HD not mounted is not fixed with the disk utility, you can try it with Terminal.
Step 1.

First boot Mac in Recovery Mode. From the menu, click on "Utilities" and reach to the option "Terminal" from the list

Step 2.

Enter "diskutil list" and check Volume Identifier. The mentioned command will list available volumes. Check Volume identifier from the appeared table.

Step 3.

Enter "diskutil repairvolume /disk **". Here ** needs to be replaced with Macintosh HD's volume identifier.
Solution 3. Repair with FSCK Command
When Terminal was not able to fix the issue, repair the hard drive with FSCK command. Run it in single-user mode
Step 1.

Turn Off the Mac and restart it by holding Command + S Keys.

To repair the Macintosh HD with FSCK command, it is necessary to ensure that your Mac is in the shutdown state. Hold Command and S key of your Mac simultaneously when you restart it. Release the keys when you view the Apple logo. It will boot the system in single-user mode. From here, you can save your files by repairing the hard drive that fails to start-up.

Step 2.

Type the command - "/sbin/fsck –fy" and press "Enter"

The command line starts checking Macintosh HD volume. When the damaged disk is repaired, it shows the message "File system was modified." Retype the above command when you view this message.

When the message, "The Volume (name) appears to be OK", is displayed, your Mac's drive is fully repaired. After viewing it reboot the PC.

This method helps to repair minor cryptic disk errors.
Solution 4. Try Safe Mode
Rebooting your Mac in safe mode can also help fix the error, the operating system will scan and repair if find any errors during this process.
Step 1.

Shut down Mac and restart it by pressing "Shift" key. To start the Mac in safe mode, it is vital to shut it down entirely before restarting it. Start your Mac by pressing "Shift" key simultaneously.

Step 2.

Release Key when login window is visible. Once you can see the login window, release the "Shift" key as your computer has restarted in safe mode now.

If your Mac has started property, try to restart and boot it as usual.
Solution 5. Convert Your Unmounted Macintosh HD into External Hard Drive
By converting your failing drive to external hard drive, you can recover inaccessible files from the target disk. Complete the process with these easy steps.
Step 1.

Buy an external hard drive enclosure. It is necessary to have an enclosure before proceeding with the steps of conversion of Macintosh HD into an external hard drive.

Step 2.

Remove Macintosh HD from Mac. Safely remove the hard drive from your system. Consult an expert if you are unsure about how to remove it carefully from the Mac.

Step 3.

Slide the removed Macintosh HD into the matching context.

Place the removed drive into the enclosure by removing its cover. Close the casing by tightening all the screws that came with the enclosure. Cover the hard drive by putting back the plastic covers.

Step 4.

Connect the drive with the Mac. With the help of USB drive, connect the external drive which was earlier startup-drive to the Mac through the port of it.

Step 5.

Transfer files. Once the external hard drive (earlier start-up disk) is seen in the Finder, start with file transfer.
Solution 6. Reinstall macOS and Erase the Macintosh Hd
Does your Macintosh HD fail to fix after trying all the above steps? If it is still showing in an unmounted state, factory reset is the last option you are left with. Macintosh hard drive will be formatted and will reinstall the operating system on Mac. Before starting with a factory reset, make sure you have a backup, as all the data of your Macintosh HD will get deleted in this process.
Step 1.

Hold Command + R to boot the system in recovery mode. Release the keys once you see a spinning globe or Apple logo.

Step 2.

After booting in the recovery mode, select Disk Utility from macOS Utilities menu.

Step 3.

Select Mountable Macintosh HD and click on "Erase"

Step 4.

Update the parameters when prompted and then select Reinstall macOS

After clicking on the erase, you will be prompted to give vital information for formatting disk. It can be name, format, scheme, etc. of the disk. Click on Finish once you complete with it and go to macOS Utilities screen to select Reinstall macOS from the menu.
The moment you observe Macintosh HD not mounted error, save your important data immediately on the hard drive. If you fail to do, you can recover your data with the help of data recovery software.
---
Part 3. How to Recover Data from Unmounted Macintosh HD?
While fixing the unmounted Macintosh HD, if your data is lost or you fail to bring it in the mounted state, you need to recover your critical saved data from it. To help you, Recoverit Mac Recovery software can do it for you.
The leading data recovery software with the highest recovery rate will help you in retrieving the data quickly. Recoverit Mac HD Data Recovery supports above 1000 file formats for images, multimedia files, archives, and emails. Data recovery from laptop, internal hard drive, external storage devices, recycle bin/ trash and from crashed computer is easy with its three simple steps.
Dowload it to recover data from your macintosh hd not mounted with these steps:
Step 1. Select a Mac HD
To recover data from your non mounted Macintosh HD, select the location first. Select the drive to start the scan.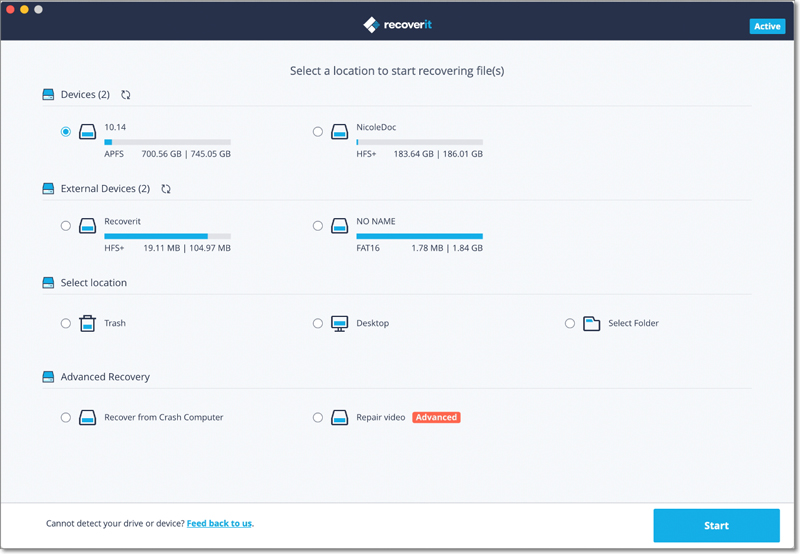 Step 2. Scan the Mac HD
Once you make the selection, Recoverit will start with the all-around scan. The scanning can complete in minutes or can take hours if the file sizes are large. During the scanning, you can stop or pause it in between for your convenience. If the files that you are looking for are not found with the all-around scan, you can go for a deep scan to let the software make a deeper search.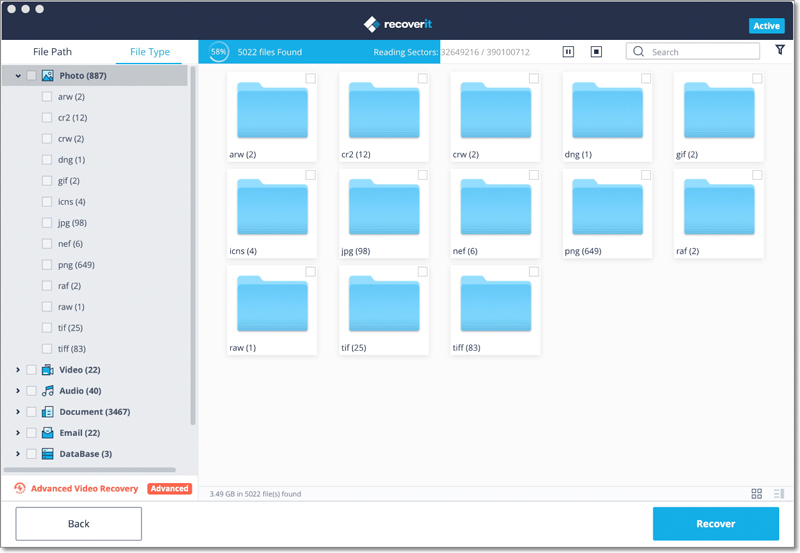 Step 3. Preview and recover lost HD files
Once the scan completes and provides you with the files found during the scan, the software allows you to preview them before recovering. It adds as a benefit as you can assure this way that you are recovering the right files. Click on recover after you preview the files and select the targeted ones.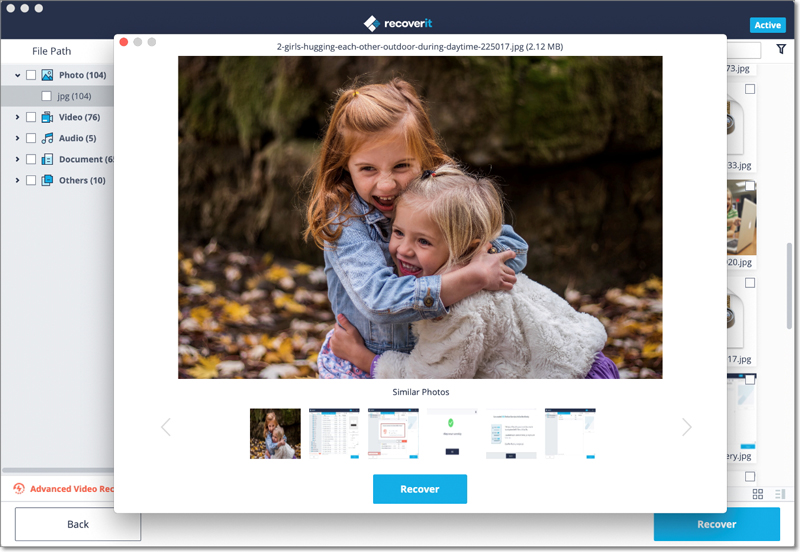 When you click on recover, after recovering the software will ask you to choose a path to save the recovered files. It is advisable here that you should always select the path different from the original one where they were saved before.
Regular backups of stored information are recommended. But if you forget taking a backup, quickly download and install the recovery software Recoverit and retrieve your data.
---
Part 4. Tips Against Macintosh HD Not Mounted
Here are the tips that help you to analyze whether the drive is at fault or the issue is arising because of any other reason. Try to fix it with the basic troubleshooting.
When your Macintosh HD is not mounted or does not show up, before you try any of the solutions, it is vital that you have stopped using your Mac. A backup of the hard drive is also necessary to avoid any data loss. Because any operation on Mac to fix non-mounting errors can result in writing new data or overwriting existing data. In the absence of backup, data needs to be recovered from dead or crashed hard disk.
Before concluding that hard drive is at fault, check the working of monitor once. Might be possible that monitor is causing a problem if it is not lighting up with grey boot screen. The broken monitor will never affect other functions of the Mac, like fan noise, backlit keyboard, etc. If your Mac also exhibits same, get your monitor checked once.
When you press your Mac's power button, verify to make sure your Mac is not having any power issue. Cross-check it with the light on your adapter, battery indicator on the left side of the computer. If you find something unusal like not hearing the startup sound that your Mac generally makes, then the problem is not linked to the hard drive. Even when the hard drive is not installed, Mac still boots and attempts to reach the grey screen. Sometimes the problematic part is the power adapter.
Unplug all external accessories that are not essential for Mac. It can be USB device, speaker, printer, etc. Quite possible that due to some faulty USB connection, Mac was not able to recognize Macintosh HD.
Reset SMC ( System Management Controller) as these settings on Mac can cause problems to boot procedure, power and may display signs which gives an impression that hard drive is problematic. By resetting SMC, these problems can be fixed. Shut down Mac and unplug it to correct SMC.
Closing Words
While booting up your Mac, if Macintosh HD fails to show up, check why it is not showing up. Is hard drive at the problem or the fault is with other parts. As discussed in this article look for the exact cause by following the tips and reasons mentioned here. If you are still not able to see Macintosh HD at startup, then fix it with the solutions listed above.
While fixing the Macintosh HD not mounted, if you lose your data, restore deleted or lost files with Recoverit data recovery software.
What's Wrong with Mac
Recover Your Mac

Fix Your Mac

Delete Your Mac

Learn Mac Hacks