How Can I recover deleted files on Mac?
I accidentally deleted the whole family folder on my Macbook Pro. I have many precious family videos and pictures on that folder. Any reliable file recovery software to help recover deleted folder on Mac? Best regards.
Is it possible to recover deleted files on Mac? Yes, it is. If you have made the backup of the folder with Time Machine, you can recover deleted folders from Time Machine. If you haven't, you don't have to be too worried too. Indeed, the deleted folder will be marked as inaccessible data on your Mac. So, as long as the deleted folder has not been overwritten by new data on your Mac, you can possibly restore it with the help of Recoverit Mac File Recovery software.
Part 1. The Best Deleted Files Recovery Software for Mac
Recoverit Data Recovery Mac is such a folder recovery program that helps you to recover deleted folder on Mac effortlessly, no matter folders on your Mac are lost because of deletion, formatting or even corruption. With the help of it, you can easily recover almost all file types from your lost Mac folder, including photos, audio files, videos, document files, archive files and more. Currently, this data recovery tool is fully compatible with Macbook Air, Macbook Pro, iMac, Mac Mini, etc.
Recover deleted or lost folders and files from MacBook easily effectively, safely and completely.
Recover lost folders due to accidental deletion, formatted hard disk, virus attack or system crash.
Recover deleted files and folders like photos and documents in all formats with a 96% success rate.
Supported OS: Mac OS 10.14, 10.13, macOS 10.12, OS X 10.11, 10.10, 10.9, 10.8; Windows 10/8/7/XP/Vista.
Video Tutorial on How to Recover Deleted Files and Folders on Mac
The next video tutorial will show you how to recover deleted files from Mac trash. Also you can check the specific steps to recover deleted folders on Part 2.
---
Part 2. How to Recover Deleted Folder and Files on Mac Even from Emptied Trash
How do I recover permanently deleted files?
Download and install Recoverit Mac Undelete software on your Mac computer. Please do not install the app on partition/volume that your folder is deleted from on your Mac. If you are wokring on Windows computer, you can check the guide and learn how to recover deleted folder in Windows.
Step 1

Select a Location for Deleted Files

Launch Recoverit Data Recovery Software. To restore deleted files on Mac, you need select a location or hard disk where your folder or files deleted or lost.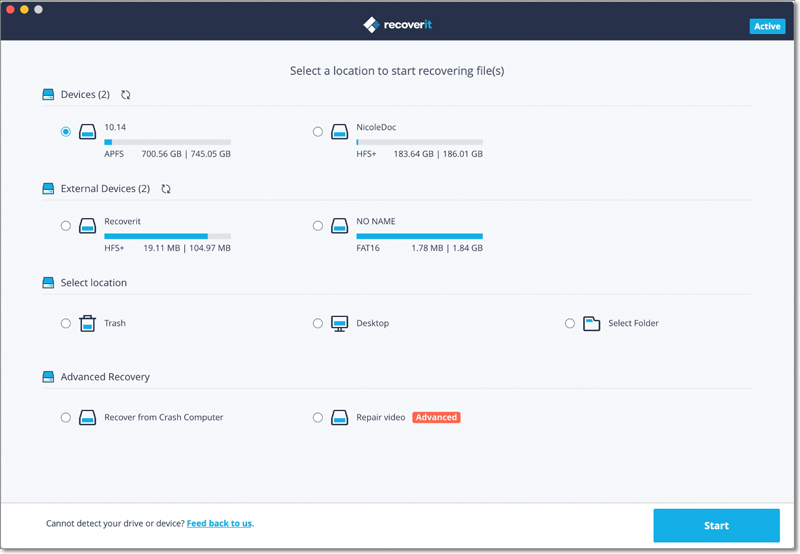 Step 2

Scan the Partition or Disk

Recoverit Mac File Recovery will start to scan the selected partition or hard drive to search for your deleted files and folders on Mac. During the scan, you can check the scanned files.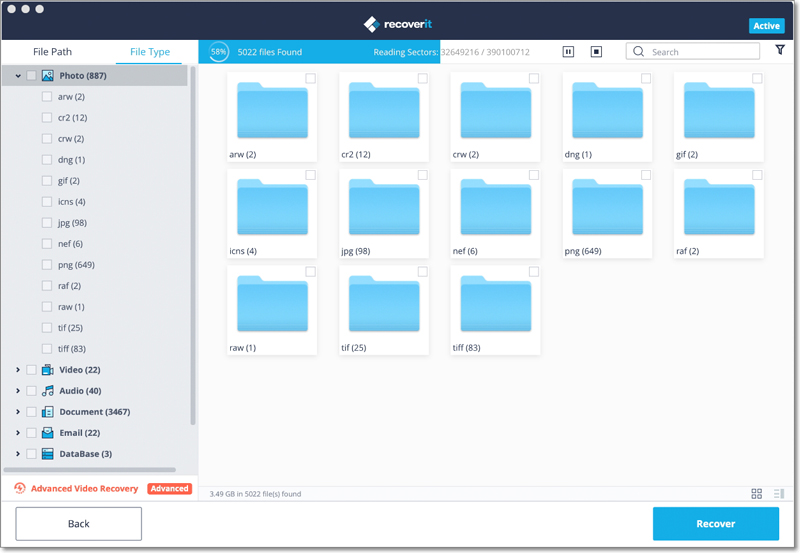 Step 3

Preview and Recover Deleted Folder from Mac

After the scanning, you can select recovered deleted folders and preview some recoverable files like photos, pictures and images. Then you just need to mark the folder or files you want to recover and click "Recover" to save them back to your Mac.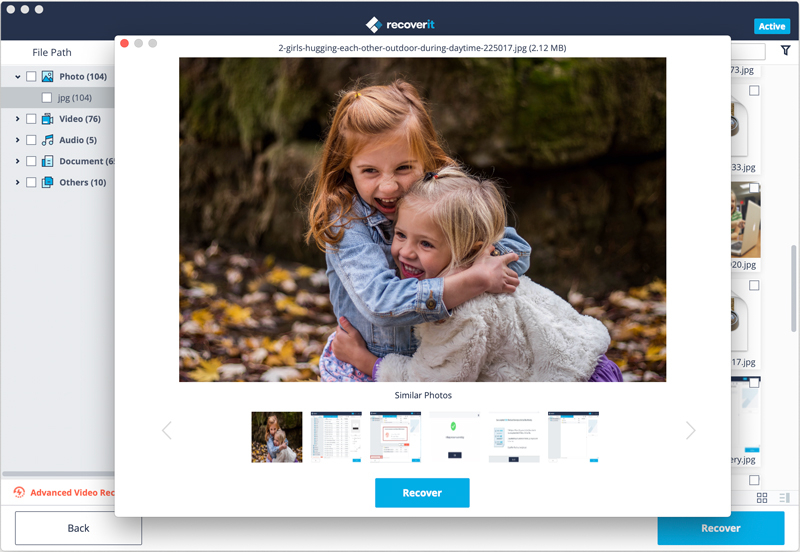 Note: To avoid data being overwritten, please do not save the recovered folder or files back to the original partition or volume.
---
Part 3. How to Recover Deleted Files on Mac Without Software
Besides the Mac data recovery software, we find 2 more native solutions on Mac, namely the Mac trash and Time Machine. Unlike Recoverit, they are not always workable and also time-consuming in the long run. But in some cases, they are really simple and prompt. Let's have a look at how they work and why they fail in recovering deleted files.
What Can Cause Deleted Files on Mac?
Drag the unwanted items to the Trash in the Dock
Select the file and press "Command-Delete" to remove the file
Select the item in the Trash and choose "Delete Immediately"
Empty the Mac trash to delete files and folders permanently
Use "Option + Command + Delete" shortcuts to delete files forever
Click the "Finder" icon in the Dock and select "Empty Trash"
Make the prefference settings: "Remove items from the Trash after 30 days"
Virus-attacked or system-crashed Mac can delete your files
---
Solution 1. Recover Files from Trash on Mac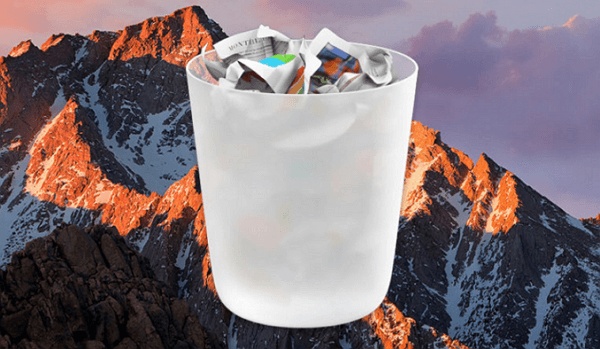 The simplest way for Mac deleted files recovery must be retoring from Trash, if the files are deleted by dragging to the Trash, using "Delete" or pressing "Command-Delete". Otherwise, Solution 1 is not a workable and feasible way to help you retrieve your permanently deleted files. Anyhow, you have three options to recover files from trash.
Option 1: Open "Trash" and drag the deleted items out of trash
Option 2: Open "Trash", select the items you want to restore and select "File" > "Put Back"
Option 3: Open "Trash", choose and copy the items, paste them to a safe and different location.
Following the steps, you can get back deleted files in a minute. How easy and simple it is, right? However, if you deleted files permanently and find the way unworkable, use Time Machine or Recoverit Mac File Recovery.
---
Solution 2. Restore from Time Machine Backup
Time Machine is another inbuilt program on Mac for data backup and restore. If you have regular backups of Mac files, you can always restore them from Time Machine, whatever makes your files deleted and lost.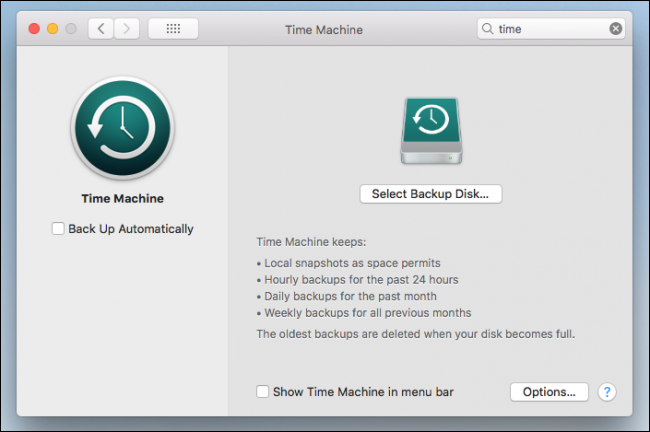 Ensure the Time Machine backup disk is connected and turned on.
Open the folder that stored deleted files and click the Time Machine icon.
Use the timeline, scroll the screen or use the search field to find the deleted files.
Select the files you want to restore and press "Spacebar" to make a preview of it.
Click "Restore" to restore files from Time Machine.
To Wrap Up
When you realized that the files or folders you want are deleted from your Mac or external device, you should first check the Trash or the Time Machine Backup, which can save you much time and effort. If the solutions don't work, turn to Recoverit Mac File Recovery immediately. It is your final resort to recover lost or deleted files on Mac. It supports Mac data recovery in all situations. Free download it now.
Note: Recover Lost Mac Data under Mac OS X 10.13 (High Sierra)
Due to macOS High Sierra (macOS 10.13) requirement, Mac users are not allowed an access to the built-in system drive from any apps. Therefore, if you need to restore lost data from the system disk under macOS 10.13, please "disable System Integrity Protection" first.
How to disable "System Integrity protection"? Please follow the steps below.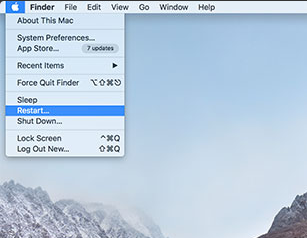 Step 1On hearing the startup chime, reboot the Mac and hold down "Command + R" keys simultaneously to boot OS X into Recovery Mode.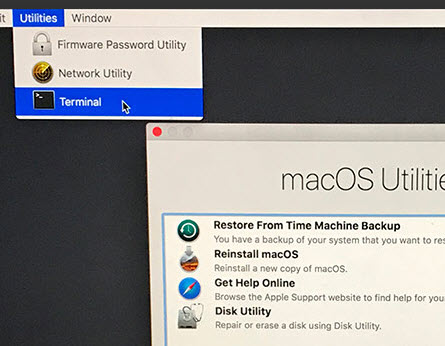 Step 2When the "OS X Utilities" screen appears, pull down the "Utilities" menu at the top of the screen instead, and choose "Terminal".
Step 3In the "Terminal" window, type in "csrutil disable" and press "Enter" then restart your Mac.