Sometimes it may happen that a volume of your drive may become RAW (get damaged) or you get an error message like "RAW error". You will find that the drive is not accessible and a message will appear on your screen "The disk in drive "*" is not formatted. Do you want to format it now?". If you click on "yes", you will lose all the data stored on the drive.So how to recover RAW to NTFS without losing data is our key topic to dicuss in below.
There are many people who will suggest to format the drive and convert it to NTFS, but they forget that this will erase all the data on the drive which you don't want. The correct procedure to convert RAW to NTFS without losing data is to recover the data from a RAW drive with the help of partition data recovery software and then convert the RAW drive to NTFS.
What Is RAW File System?
A RAW file system is not a regular file system of an operating system. The regular ones are NTFS/NTFS5 or FAT (FAT16, FAT 32). Basically, a RAW file system is a system error which signals a problem in device and makes the files inaccessible. SD Card, external HDD, USB drive, etc. can anytime become RAW. There are several reasons why a drive or device becomes RAW. Some of the most common reasons are: format failure, virus, accidently turning off the system, power outages, etc.
Before repairing/fixing RAW file system, it is important to first recover the data. If formatted prior to recovery, all the important files stored in the drive will be permanently lost. In such situation, only one thought comes to mind and that is, "Is there any raw file system recovery software which can recover all the corrupted data?" There is no need to be depressed because raw file recovery software from Recoverit can help you get back your files.
How to Recover RAW to NTFS without Losing Data
Recoverit Data Recovery can safely and effectively recover lost files in a RAW file system by performing RAW file recovery. It is the best RAW file recovery software which can completely get back deleted or lost photos, files, emails and media from RAW drive.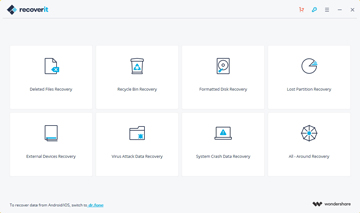 Recover lost or deleted files, photos, audio, music, emails from any storage device effectively, safely and completely.
Supports data recovery from recycle bin, hard drive, memory card, flash drive, digital camera and camcorders.
Supports to recover data for sudden deletion, formatting, hard drive corruption, virus attack, system crash under different situations.
Download and install Recoverit RAW drive recovery on your computer, launch it and follow the next simple steps to recover RAW to NTFS without losing data.
Select the recovery scenario you want to recover from RAW drive. While your RAW drive is an external devices, please select "External Devices Recovery". If it is an internal drive, you can select the option "Deleted Files Recovery" to next.

Select the RAW drive where your data stored in, click "Start" to process.

It will start a quick scan at first, if it cannot find your data you can go to "All Around Recovery" which will search more files but it will take more time than quick scan.

After the "All Around Recovery" scanning, you can preview the recovered files and click "Recover" button to save.
After you recover data from RAW drive, you can convert RAW file system to NTFS or FAT 32.
How to convert RAW file system to NTFS or FAT 32
1. Format RAW file system to NTFS or FAT32
On your desktop screen, right-click on My Computer/This PC and Select Manage.
Now, click on Disk Management and then, right-click on the RAW drive.
Select Format.
A window will open where you can change file system (NTFS or FAT32), reset the name. Then click on OK.
In few moments, format process will be completed and the device can be used again.
2. Using Command Prompt
Open search box, type "cmd" and right-click on command prompt, select Run as Administrator.
Type – "diskpart" and press enter.
Type – "list disk" and press enter.
Type – select disk 0 and press enter (0 should be replaced with your device or RAW disk's drive number).
Type – clean and press enter.
Type – create partition primary and press enter.
Type – format fs=fat32 or format fs=ntfs and press enter.
Type – assign E: (E: should be replaced with any drive letter you wish to give to the RAW device)
So, this is the correct way to recover data from a RAW file system and then convert it into NTFS and that too without losing all your important data. The satisfaction you will get after completing this procedure will be unmatchable.