Hard drives are machines with moving parts and just like all machines they are susceptible to wear and tear. Moreover, any physical damage sustained by the hard drive can also cause one or many of its component to breakdown. A broken hard drive is usually unable to function properly. If something inside the hard drive breaks, then it will start making some uncharacteristic noises during operation and you would feel a downturn in performance.
Can you recover data from a broken hard drive?
Continuing to use a broken hard drive can ultimately result in data loss and might even cause the drive to fail altogether. In such scenarios, the loss of data can be far greater and you might not even recover it too. You can use a broken hard drive recovery tool to recover data from broken hard drive.
Part 1. Free Download the Best Broken Hard Drive Data Recovery Program
Since using a broken hard drive can only worsen the situation, it is best to salvage data from the hard drive before all of its data becomes affected and unrecoverable. A reliable and safe broken hdd recovery tool can help you recover files from broken hard drive. However, there aren't many tools which fit these criteria. Recoverit Data Recovery is perhaps the only software which can be relied upon for recovering data from a broken hard drive in a safe and secure manner.
Recoverit is an effective broken hard drive data recovery tool which works equally as efficiently on Windows as it does on Mac OS. So, you can use it for recovering data from hard drives irrespective of which operating system you are using. Moreover, there are multiple scanning options available too that help you in recovering all of the important data from the broken hard drive. The best feature of this data recovery tool is that it is incredibly reliable. You can rest assured that no matter the reason for your broken hard drive, this tool can recover your files from it.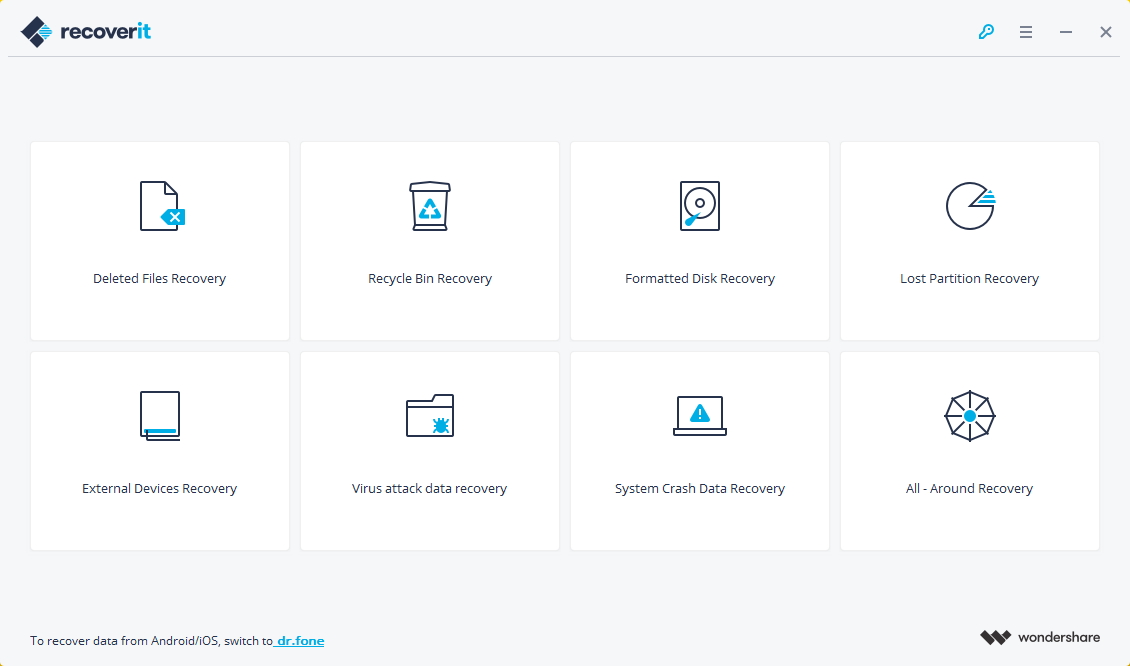 Recover lost or deleted files, photos, audio, music, emails from broken hard drive effectively, safely and completely.
Supports data recovery from recycle bin, hard drive, memory card, flash drive, digital camera and camcorders.
Supports to recover data for sudden deletion, formatting, hard drive corruption, virus attack, system crash under different situations.
Part 2. How to Recover Data from Broken Hard Drive
Here is a guide providing simple steps on how to retrieve data from broken hard drive using Recoverit Broken Hard Drive Data Recovery.
Select "Deleted Files Recovery"

Launch Recoverit data recovery software first. To recover data from broken hard drive, here you can select "Deleted Files Recovery" mode to start the broken hard drive recovery.

Choose the broken hard drive

Then you need to select a hard disk. All of the hard disk drives where the lost data might be present would be listed down for you. Just choose the option of the broken hard drive and then click the "Start" button.

Scan the broken hard disk

This broken hard drive recovery software will initiate a quick scan. It will round up most of the recoverable files from the broken hard drive. If you aren't able to locate the data you are looking for in this list, then you can opt for "All-Around Recovery". You can find the option for this scan at the bottom left of the screen.

Preview and recover data from broken hdd

You will have to wait for a while for a deep scan to complete. Once the deep scan finishes, you can preview the files that it has retrieved and then decide whether you want to recover them or not. You can recover the files you want to save by clicking the "Recover" button.
After the four simple steps on how to get data off broken hard drive, the files can usually be recovered from the broken hdd. Once you hit on the "Recover" button to recover files from broken hard drive, you should choose another safe storage location for the recovered files.
Part 3. What Causes Broken HDD
Broken hard drives result from a break in one of their many components. It is so important to learn the components and the causes of broken hard drive, if you want to fix the broken hard drive and avoid another hard disk break. Also, it can remind you of promptly recovering data from the hard drive that is a little broken and thus keep much more data intact. The following are some of the components of the hard drive which when physically damaged can lead to a broken hard drive.
PCB The PCB is the circuit board installed within a hard drive and its primary function is to send commands coming from the computer and to transfer the information. The hard drives available nowadays have PCBs which are optimized especially for their individual architecture. Thus, an issue with the PCB can make broken hard drive recovery quite difficult. The symptoms that your hard drive might have a broken PCB is inability of the drive to power up and a burning smell originating from the hard drive.
Platters The platters are the metal, plastic or glass coated plates on which the data is written on a hard drive. These platters spin at high rates thanks to a spindle. Information can be written on the platters only if they are spinning. So, if the spindle motor breaks down, it would be impossible to write on the platters. If you start hearing grinding noises from your hard drive, then it is highly likely that it has suffered a spindle failure.
Read/Write Heads Every hard drive has magnetic heads which are used for reading information from the platters and writing information on them. These heads are connected to an actuator arm which is responsible for sending them to the location of the platters from where the data is to be read or written. If one or more of the read/write heads of your hard drive fail, you will hear clicking noises. This noise might also be produced by a noisy actuator motor too.
If you experience any of the abovementioned symptoms, you might prepare yourself to deal with a broken hard drive. If you are hearing some kind of noises from your hard drive then there is a chance that it might be broken.
Closing Words
Since using a broken hard drive can be disastrous, it is important to salvage data from it as quickly as possible. Using a hard drive data recovery tool can prove to be quite effective in this regard. However, not any data recovery tool is going to work. You need to make use of a dependent and reliable data recovery software like Recoverit Data Recovery if you want to recover files from broken hard drive.