Often times, you might have noticed that the Snapchat app freezes when you start to record videos. This is a very common issue, especially on Android devices. You can avoid Snapchat video freezes by following a few simple steps that will be explained further. Using the methods given below, you will be able to easily resolve frozen Snapchat and videos.
Part 1. Why Snapchat Freezes When Recording Videos?
Snapchat is one of the most popular social media platforms and has billions of users around the world. Any app at the scale at which Snapchat is, will face a few issues over the course of their existence. The following are some reasons that may be responsible behind constant Snapchat video freezes.
1. Bugs
In terms of software, bugs translate to minor coding errors in the application that slip under the radar. These are mostly minor issues and can make certain features unusable. In order to resolve it, you need to take screenshots and report the whole matter to the support team in the report a bug section. Once read, these issues are quickly resolved.
2. Glitches
These are similar to bugs as they are also error of coding. But in order to trigger them, certain things have to be done within the app, suppose there is a camera app glitch where it crashes whenever you turn on the front camera. These issues are not noticeable in day to day usage hence finding them is more difficult than it seems. In order to resolve it, you will need to report it to the developers.
3. CPU overload
A lot of times, you phone becomes overloaded due to the presence of a lot of programs in the background. This is a common issue and can be easily resolved by clearing all the background apps and re launching the app.
4. Updates not installed
It is important to update the app whenever a new version is available. Apart from new features, developers also push out bug patches that make the application a lot smoother. If you are constantly facing issues like crashing of Snapchat on video recording, ensure that your app is up to date, if not, update is as soon as possible.
---
Part 2. How to Repair Frozen Snapchat and Record Videos?
A lot of Snapchat power users complain that their Snapchat video freezes a lot. This is a serious issue for users that spend a lot of time on the application. The following are a few ways that can help you to resolve these issues.
Method 1. Clear the data
When you use any application, it saves some of your settings, preferences and files so that you can easily access them whenever required. These data are meant to make your experience seamless and to make the application a bit faster. But if you don't clear these data at regular intervals, it may become a large chunk of unwanted files which will slow down your phone and may also hamper the performance of the application. The following is a step by step guide to help you clean the data.
Step 1. Open the setting option
Open the setting option of your mobile phone and search for application settings.
Step 2. Choose Snapchat from the application setting
In the application settings option, search for Snapchat and click on it to continue. You will find the clear data option on the main screen, click on it and re launch the app.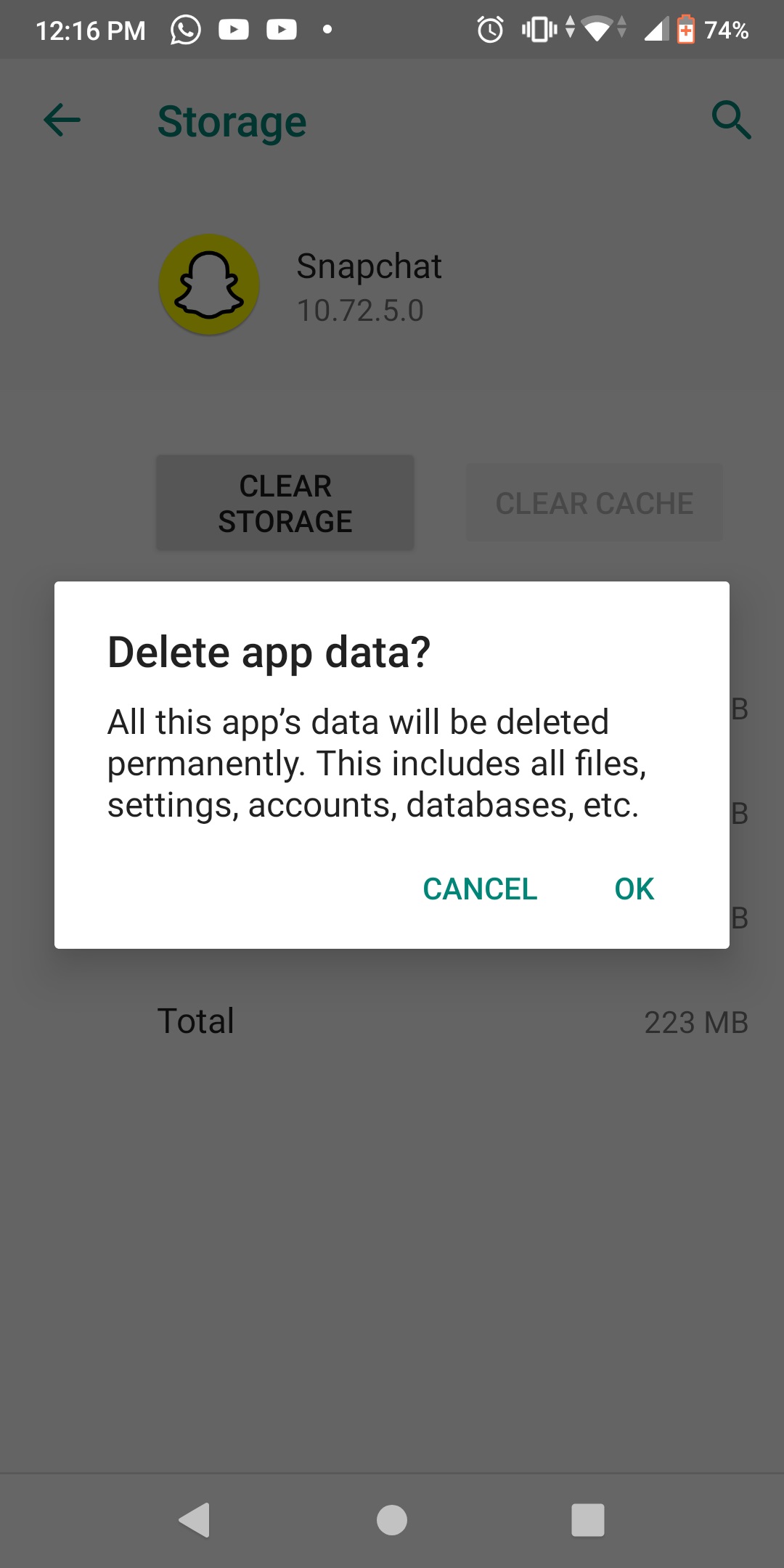 Your problems will most probably be resolved.
Method 2. Clear cache
Cache files are created by your phone in order to help you load certain apps a bit. Similar to data files, cache can also eventually become heavy for your device and may start affecting the performance of the device. If you don't know how to clear cache, the following steps will help you-
Step 1 Open the setting menu
Launch the setting option from the app drawer and open application setting option to continue.
Step 2 Search for Snapchat
Once you open the application setting, you will see a list of all the apps installed on your device. Search for Snapchat and click on it.
You will notice the clear cache button on your home screen. Click on it and all your cache will be deleted.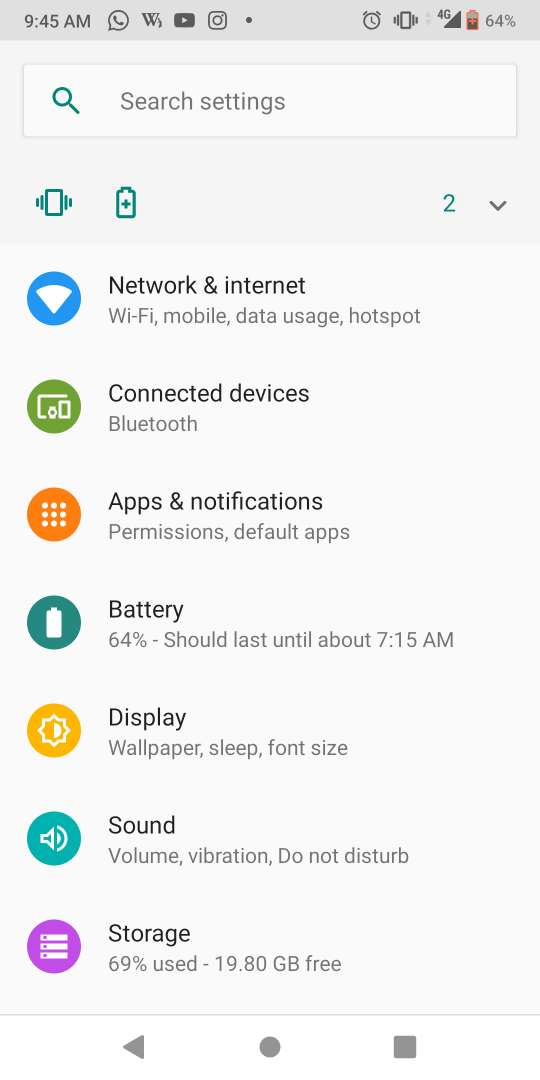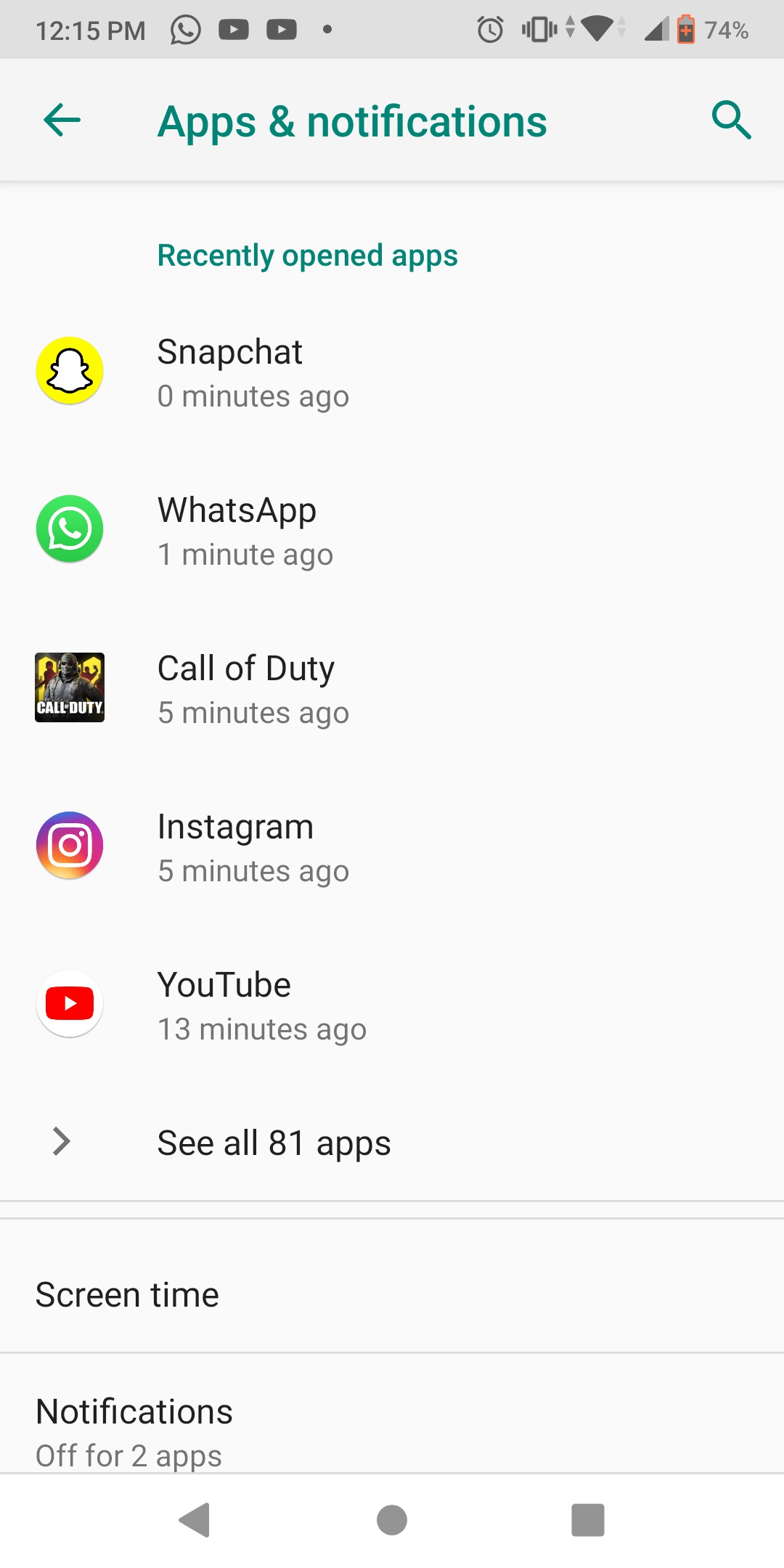 Method 3. Update the application
A lot of people skip updates of application as they think it can slow their phone down. As developers behind the applications send out these updates to resolve the issues that pop up in the application along with adding new features. If you skip updates, you might miss an important patch that may have already addressed your issue before everything else. This is why updating the applications regularly holds utmost importance. The following are the steps to do it-
Step 1 Open the playstore app
Launch the playstore application and click on the 3 parallel lines that you will see on the top left corner. From there, click on my app and games option.
Step 2 Scroll and search for Snapchat
After opening the "my apps and games segment" you will have to scroll down and search for Snapchat. Once you find it, click on it and you will get the option to update the application. Click on update and your application will be properly updated.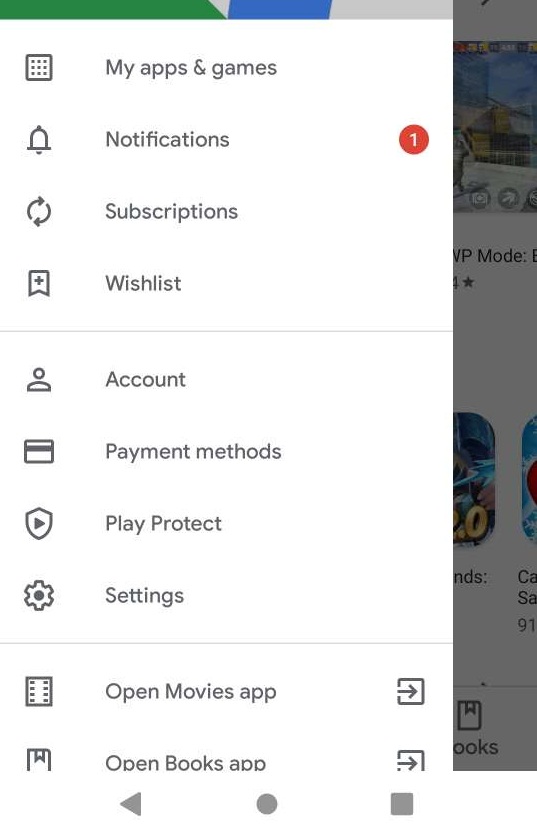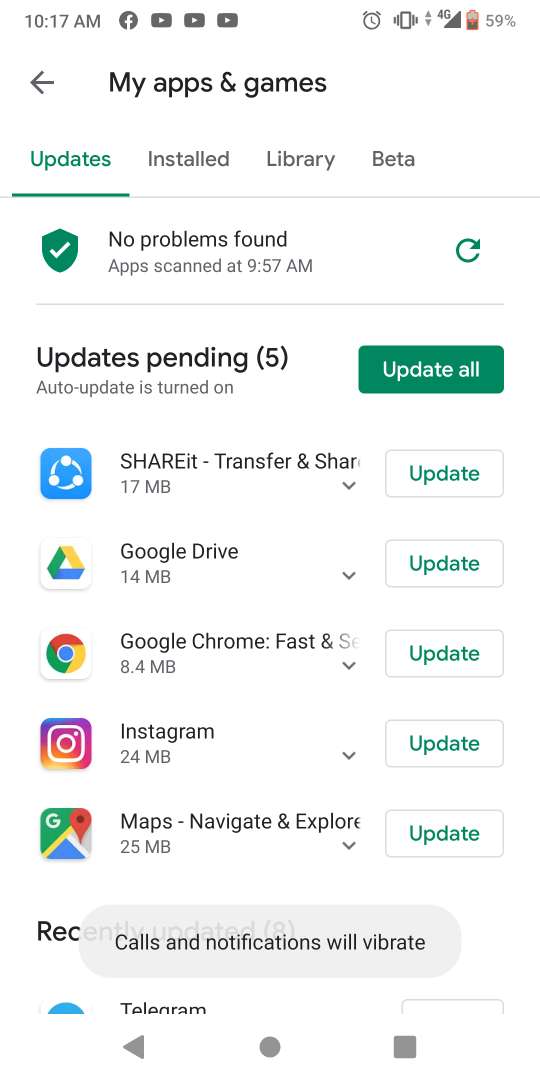 Method 4. Uninstall and Reinstall application
Over the course of usage, the application may get infected by viruses, malware or adware. This can cause inability to use certain features and can even lead to slowing down and constant crashing of the application. In order to solve this, you can delete and then reinstall the application. The following steps will help you complete the process-
Step 1 Open playstore
Launch the playstore app on your mobile and search for Snapchat and open it.
Step 2 Uninstall the application
Once you click on Snapchat, you will see the option to uninstall it. Click on the uninstall button and the application will be deleted from your device.
Step 3 Re-install the application
On the same screen, where you got the option to uninstall the application, you will get the option to download it. Click on it and your download will be started. Once done, it will automatically install the software on your device and it will be completely ready to use.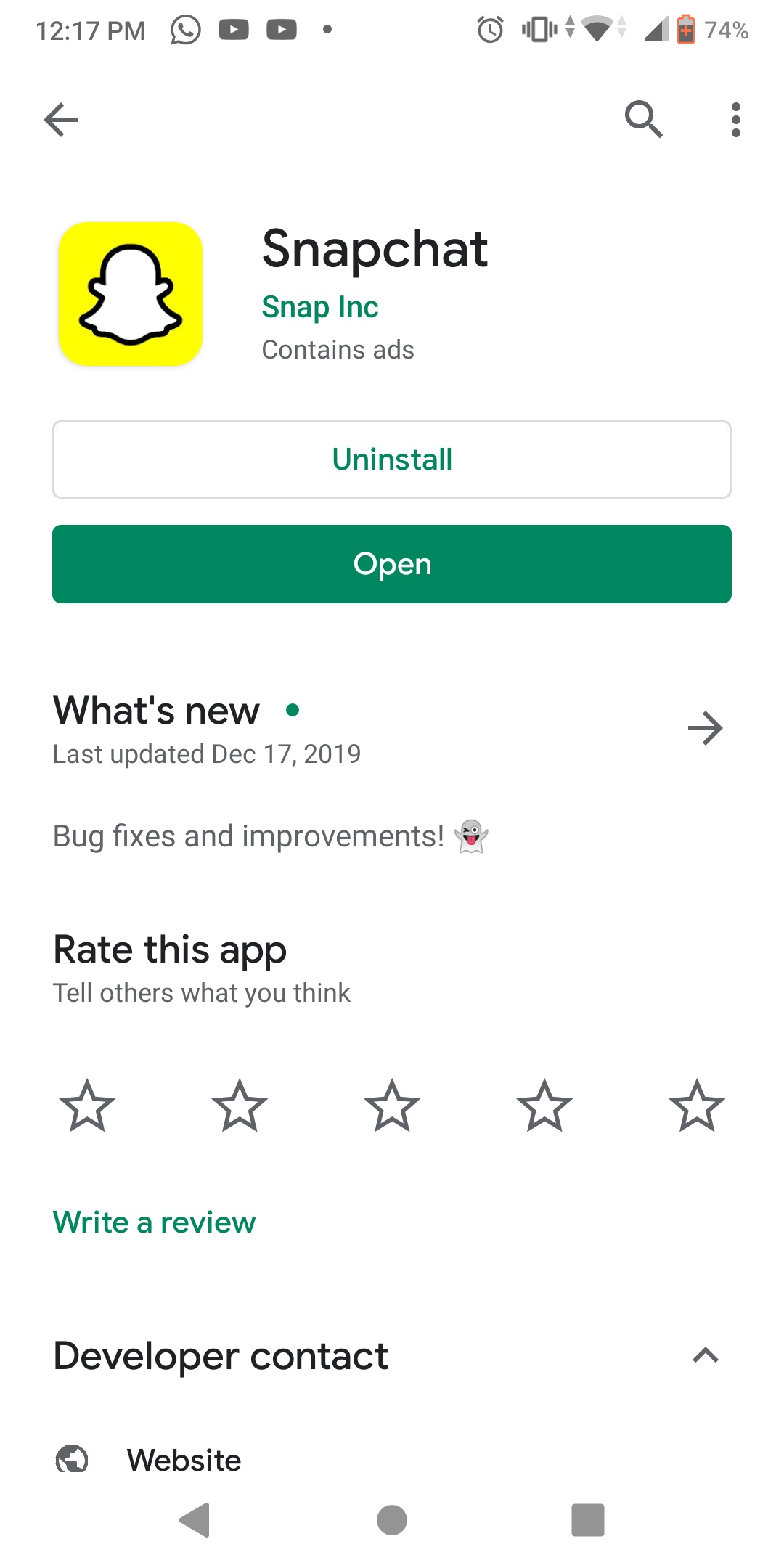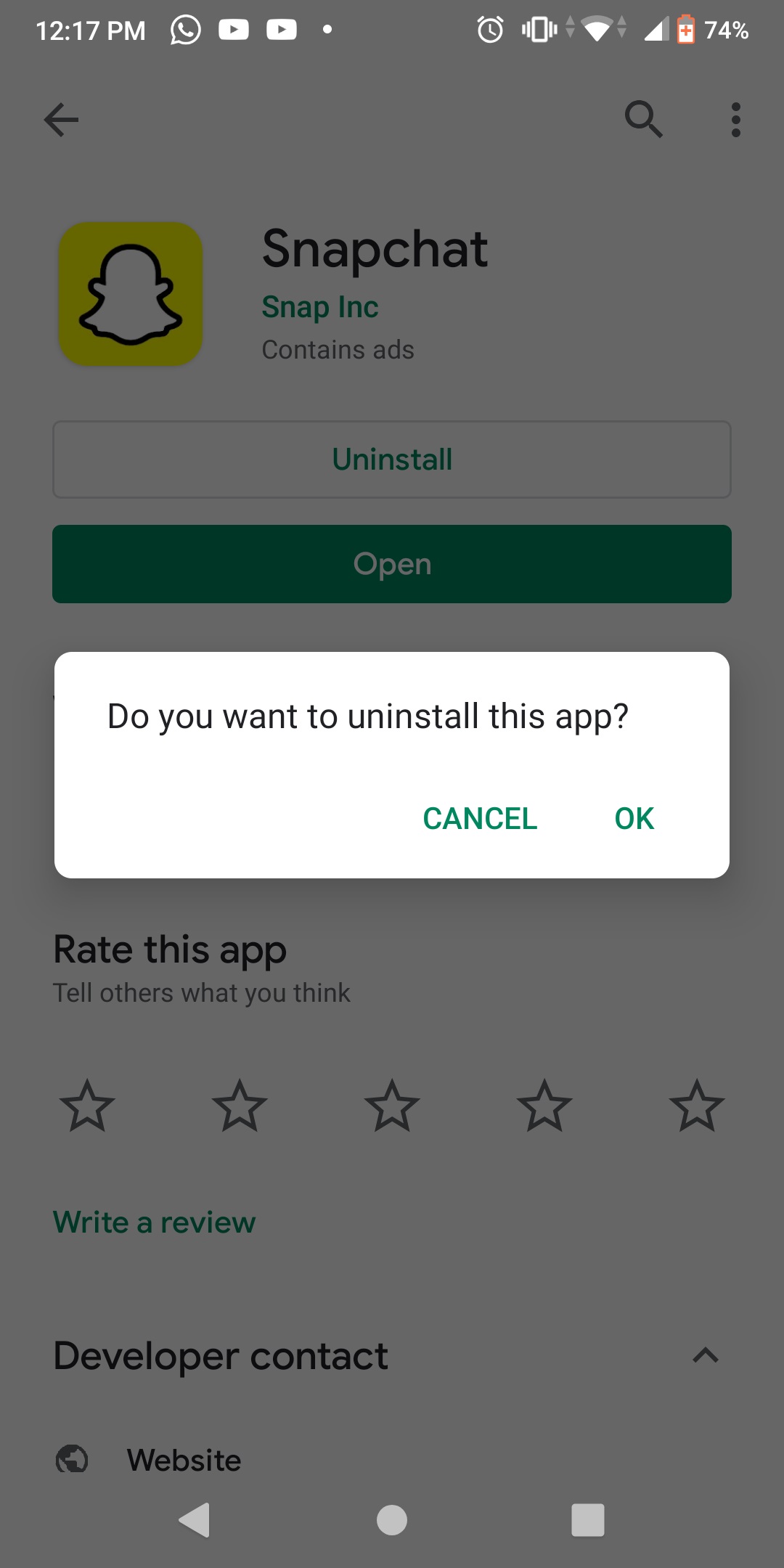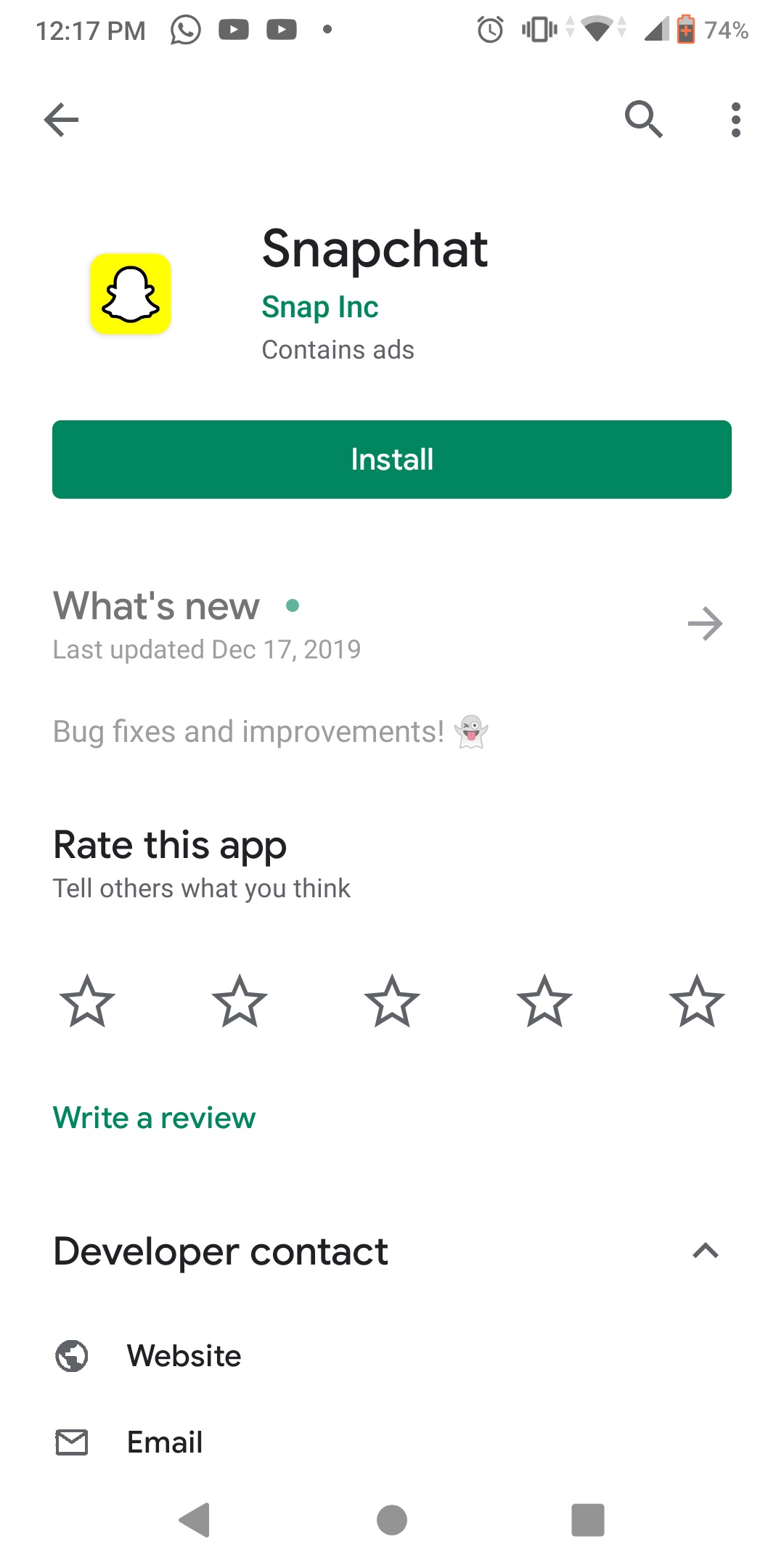 Method 5. Switch from wifi to mobile data or vice versa
Step 1 Close your data connection
If you are currently using wifi or mobile data, switching to other networks can be an easy solution to the video freeze issue that you might be facing with Snapchat.
Step 2 Switch to wifi or data depending on the networks available
Close the application and change the network to either wifi or mobile data, depending on what type of network you were using and re-launch the application.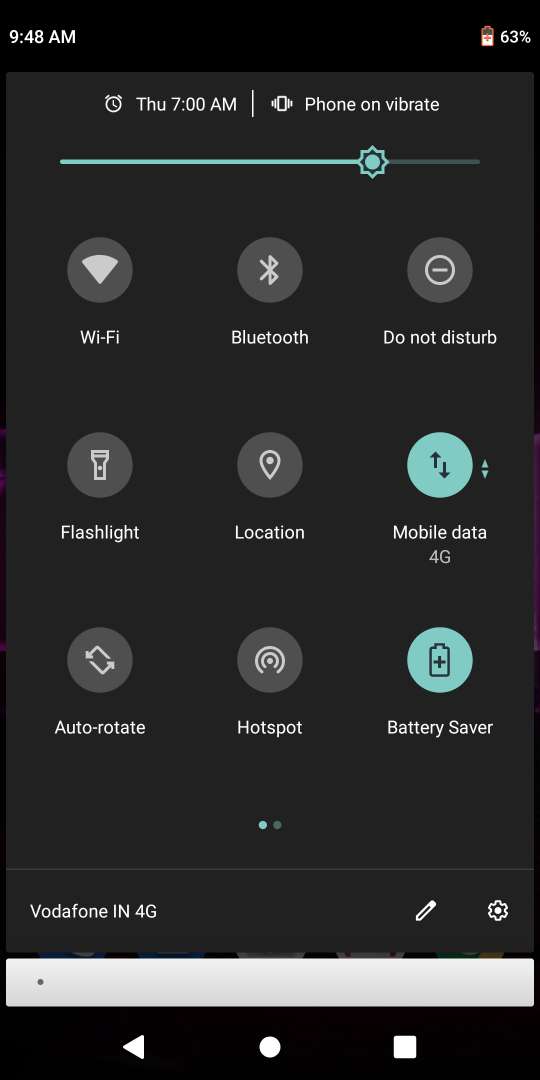 ---
Part 3. How to repair corrupted Snapchat videos after recording?
There have been a lot of bugs and issues with Snapchat, but the most common one will be Snapchat video freezes that often occur after recording. This issue is quite annoying for users that spend a lot of time on the app and heavily use the video features provided by the tool. Apart from few common solutions like reinstalling app, updating it etc., Wondershare Video Repair tool is one of the most reliable and 100% accurate solution for repairing corrupt videos.
In order to have a better understanding you can download the software and use it. It can also be used to repair the downloaded videos from YouTube or any other social media platform.
The following is a step by step guide that will help you understand as to how to repair Snapchat video freezes using Wondershare Video Repair tool.
Step 1 Find and add the corrupt videos for repair
Visit the official website of the tool, download and then install it. Launch the application and search for the add corrupted videos . Click on it and add the corrupted videos that you wish to repair. You can add multiple files at once as the tool allows for batch repair.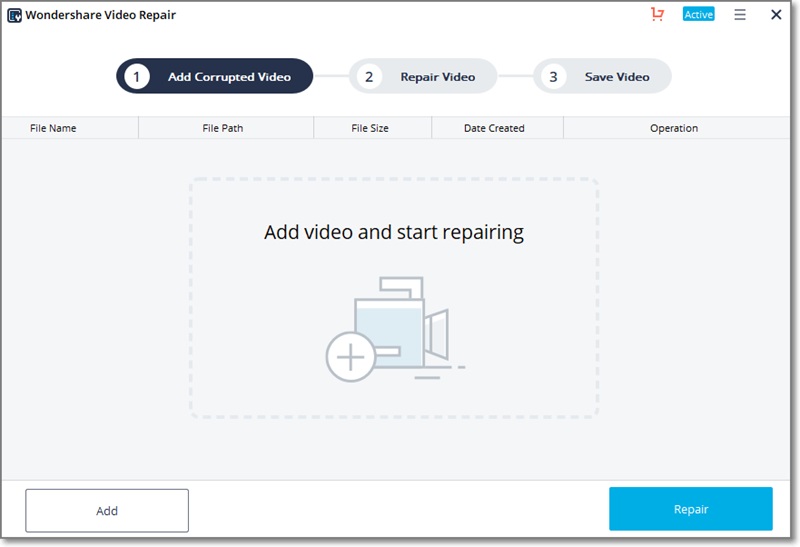 Step 2 Start the repair process
Now, that you have added all the corrupt videos that you want to repair, click on the repair button on the bottom right corner. Now all your videos will be repaired in a few moments.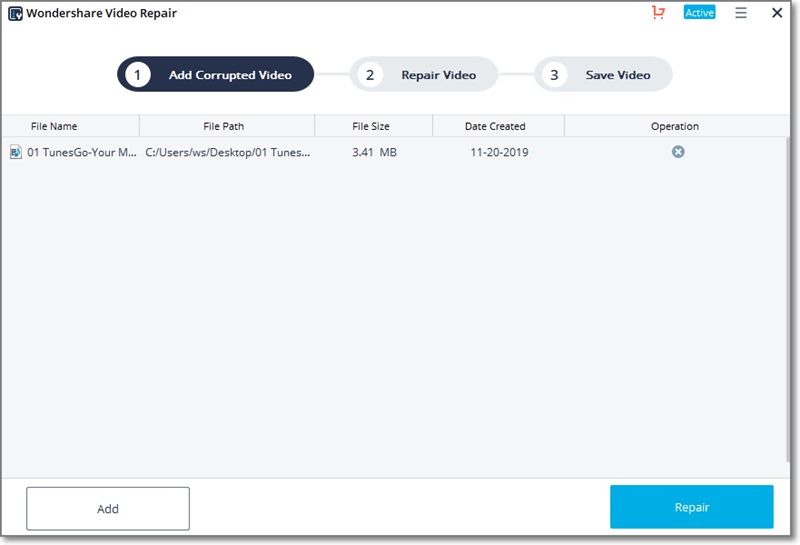 Step 3 Save the video
When all the videos are repaired, it will preview the video so that you can check it. If the video is working fine click on the save option and choose your desired location.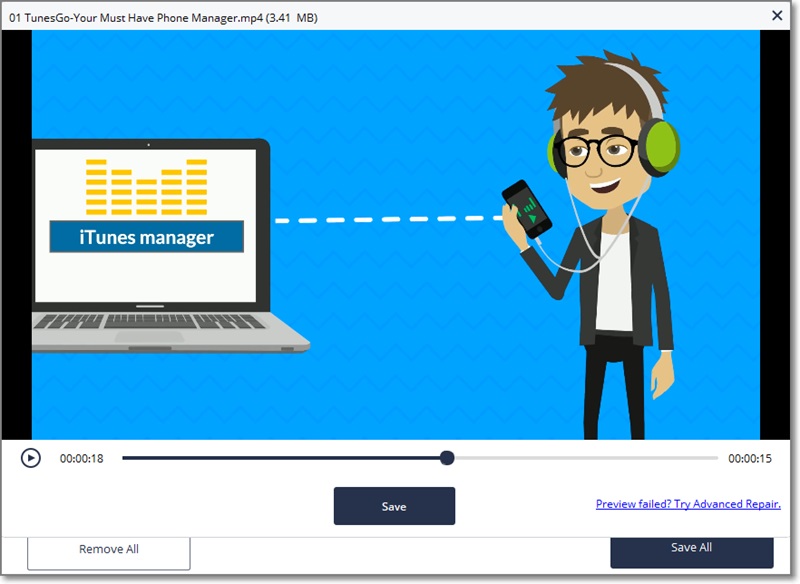 Choose the advanced option
If your video couldn't be repaired by the basic options, choose the advanced repair option.
Step 1 Click on the folder icon and select the sample video, this video is created with the same device, same settings and the same format as the original video and it is a valid file. And click on the repair option.
Wondershare Video Repair tool's advanced repair feature uses these information in order to repair a corrupted video.
Step 2 Save the file
Now your video will be repaired within a few seconds and will be available for preview. Check if it is working correctly and if everything is fine, click on the save button and save the video to your desired location.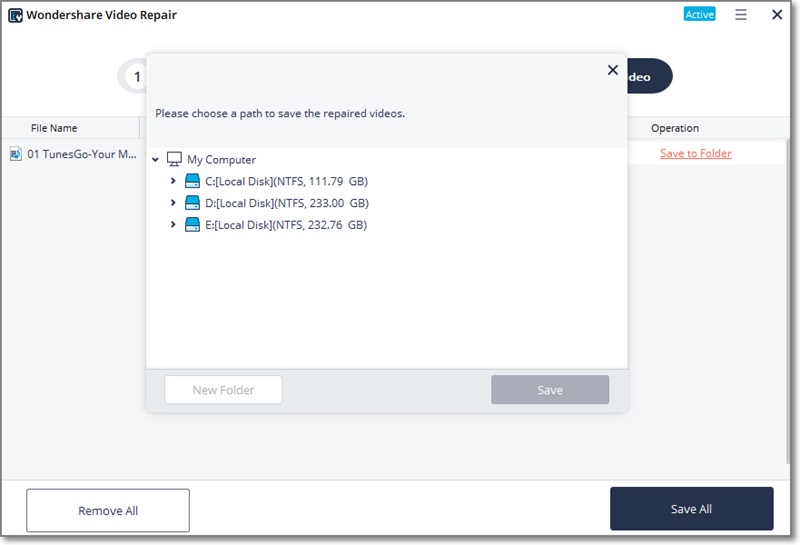 Video Tutorial Helping Repair Frozen Videos
---
Part 4. How to Repair Frozen Snapchat Videos?
One of the most common issues related to the social media platform is Snapchat video freezes. Power users' face a lot of issues due to this as video record feature is one of the most widely used feature. There are a few solutions to this problem like clearing cache and data among others. These things can provide relief to the users easily.
1. What's frozen Snapchat videos?
You might have found that a few times, the videos that you record through Snapchat are not being able to play properly and are getting stuck. Also, a lot of people have experienced other issues related to the video feature and their phone freezes as soon as they click on the video recording option. Both of these are commonly found among Android users, and it is important to report these issuers to the feedback team of Snapchat to get a permanent solution of this issue.
2. What causes frozen and corrupted video?
Frozen and corrupted videos are a very common issue among people worldwide. They can render any video nearly useless and simply disrupt the media consumption experience for the user. Frozen videos are caused due to incompatibility, improper encoding, and mishandling the file and on the other hand videos get corrupted due to issues in storage device, problems during saving the video, issues during rendering of the video and a lot more. These things can be easily avoided by simply being a bit careful while transferring, saving and using the files.
What helps repair frozen videos
The following are a few ways that can help you to repair frozen videos-
Method 1. Update the video drivers
Often, new video comes with new codec that may not be supported by your existing video driver. In order to solve this problem, you can simply download the update of the driver and install them and your videos will work fine. The following are a few simple steps that you can follow-
Step 1 Know your drivers
The first step is to understand what kind of drivers you are using. Once you find of enter the build number on Google and search for any updates.
Step 2 Download and install the updates
Once you find the update, download it on your device. When the download is complete, click on the file and installs the updated version of the drivers on to your device and your work is done.
Method 2. Try changing the settings of your video player
A lot of times, the video playback setting of your video player can get disturbed. This can cause similar issues like freezing and frame drops. The following steps can help you resolve this.
Step 1 Open the setting menu
Open the settings option and look for video playback settings.
Step 2 Set to default
You will find the reset to default option, click on it and your work is done. Now play and enjoy the video.
Method 3. Use Wondershare Video Repair Tool
One of the most reliable ways to repair videos that have been corrupted or are unplayable is by using Wondershare Video Repair tool. You can download it for free without any issue but if your mobile originated videos have gone corrupt, you will need to transfer them to your windows or Mac based desktops. The following is a simple guide that will help you to repair corrupted videos on Android phone.
Actually, the steps are the same: Add frozen videos > start the repair process > preview and save your frozen videos.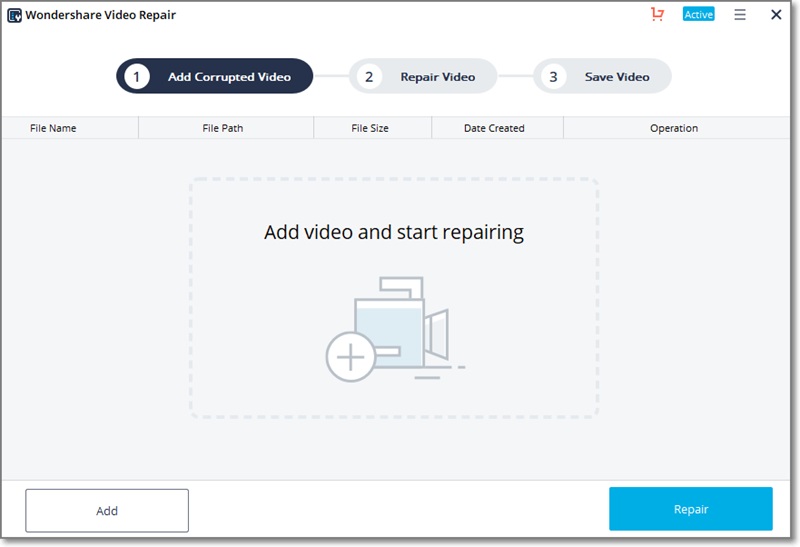 ---
Part 5: How to Prevent "Snapchat Videos Freezes"
Crashing of apps and there features such as video freezing in the Snapchat happens on the Android and iOS mobile devices very often. There are several reasons of this problem. It can happen due to the low memory on your Android mobile or because of the other memory issues. Sometimes, when you use very old version of the app then this problem can happen and sometimes when you update the app to the latest version then also the Snapchat video freezes issue can come on your Android phone because of the faulty updates. Because of these all issues the apps get freezes and you may face issue of using app functionalities.
To overcome these issues, you need to keep some things in the mind which can help you to reduce the freezing issues of the Snapchat. We are going to share few tips below which can help you to overcome the issues.
Every app store some cache and data on your devices which can cause these types of problems due to the faulty data stored on your device. You can try to clean the data, cache and everything related to the app and then restarts the app.
Updating the app to the newer version can also help you to stop freezing of Snapchat videos. if you have not update the Snapchat app since long time the please visit the app store and download the latest version of the app. Make sure to read reviews of the new version to check whether the problem is solved in this version or not.
It anything from the above solution doesn't work then the best solution is that you can simply uninstall the application from your mobile and reinstall it from the play store or app store. This will definitely help you to fix your problem because the app will be installed from scratch.
Conclusion
Over the course of usage, a lot of applications tend to develop some issues. One of the most iconic and popular social networking app, Snapchat is no exception. Users have been complaining about Snapchat video freezes and have been constantly searching for ways that can help them to resolve these issues. One of the best way to deal with corrupt videos is by repairing them using Wondershare Video Repair tool. It can help you fix different formats of videos, like corrupted 3GP video files. You can also try out things like cleaning the app data, cache and try reinstalling the application. If all that doesn't work, your only option is to wait for it to be fixed.
Solve Media File Problems
Recover & Repair Photos

Recover & Repair Videos

Recover & Repair Audios

Recover & Repair Cameras