"Can anyone please tell me how to recover deleted snapchat photos? I have lost all of my snapchat photos. I have been searching for the answer but got no help. I want to know how to get my snaps back."
Snapchat is one of the most famous social media apps that allow you to send pictures and videos among your friends. It has become very famous because of all the fun options in it, filters, sending images, videos, messages etc. Though Snapchat is famous among people but the only disadvantage for any Snapchat user is that, they won't be able to save their snapchat photos or videos.
There is a time limit for the photos and videos, once they are viewed by the recipient they are automatically deleted by Snapchat. This obviously makes people ask, how to recover deleted photos on Snapchat? If you also want to know everything about snapchat recovery and the best snapchat photo recovery tool, then you have come to the right place. With the help of this article, you will be able to learn how to retrieve snapchat photos in no time.
Part 1. Can Snapchats Be Recovered on Computer
Almost all Snapchat users know how snapshot works and what does snapshot mean. They still want to recover deleted snapchat photos because it's important to them. Actually photos, videos and snaps are lost from Snapchat because of the self-deleting mood that the app has from the beginning. After a certain time limit, the photos and videos are deleted after they are viewed. Users also lose Snapchat photos for accidental deletion from their computer, operating system upgrade etc.
1. What Is Snapchat
Snapchat is a texting social media app that can be used to share photos, videos, messages, art files etc. You can download the app for free and send messages by using it. It's very popular among young people and it has become popular in a very short time. Snapchat is different from any other social media apps because the messages automatically get deleted from the recipient's inbox after a few seconds.
2. Chance of Snapchat Recovery
It doesn't really matter if you don't know how to recover snapchat because it's possible to recover deleted snaps on computer or phone. Actually when you send or receive Snapchat photos or videos, they fully don't get deleted. These photos and videos are saved on your phone as ".nomedia" extension files and they stay invisible.
So it's really possible to retrieve them later. It's not impossible to recover snapchat photos from computer because of this reason. All you need to do is connecting your phone on your computer and you can find the photos by following the guideline from this article.
Part 2. Recoverit Photo Recovery - Best Snapchat Recovery App for PC
If you want to know about the best snapchat photo recovery tool on the internet, then this part will surely guide you towards it. The best Snapchat picture recovery app is Recoverit Photo Recovery software. This one of a kind Snapchat recovery app can recover deleted or lost photos, videos and audio files from Windows computer and MacBook within a few clicks. It has really easy to use interface and you will face no complication while using it because of its advanced process of recovering Snapchat data.
---
Video Tutorial on How to Recover Snapchat Photos?
Part 3. How to Recover Snapchat Pictures
Many people don't know how to recover deleted memories on Snapchat. There is nothing much to do actually, because you already know that you need to use the best Snapchat photo recovery tool for getting a successful result. Want to recover Snapchat photos but you don't know how? If you have accidentally deleted your photos, here is how you can recover them.
Here we recover photos in Windows computer. If you're using a Mac computer, please download the Mac version and turn to this guide:
Mac Photo Recovery
.
Step 1: Choose a location to start finding data
Then select a drive where you lost your Snapchat photos from the list of drives from the computer screen. You need to click on the "Start" button now.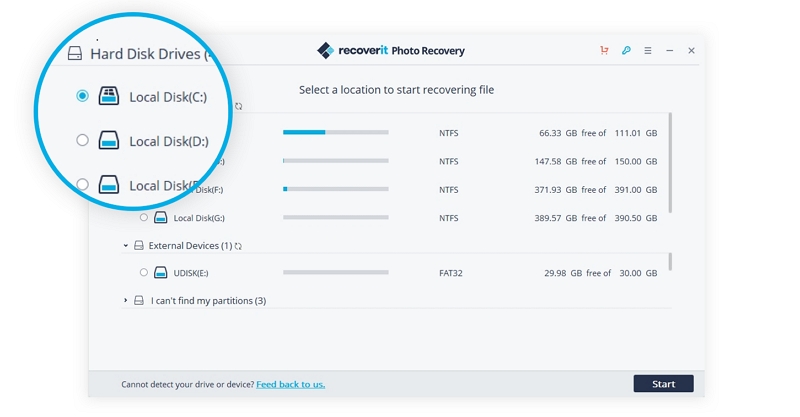 Step 2: Scan the location
The program starts to deeply search for your lost or deleted photos via an all-around scan on the computer hard drive.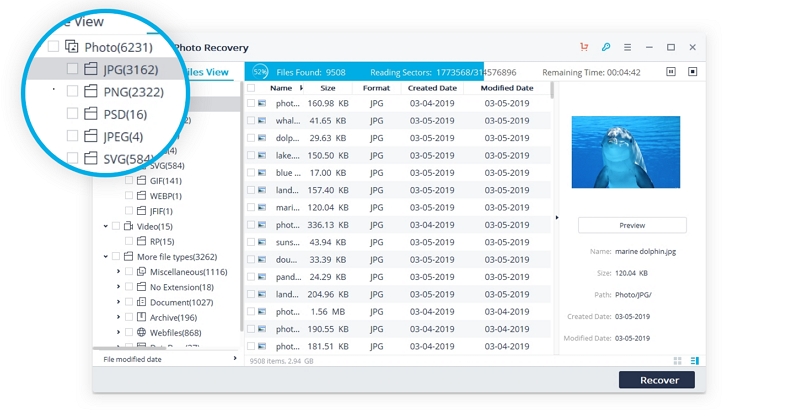 Step 3: Preview and recover deleted photos
Finally you need to just preview and select the photos that you want to recover. You can just choose the files and click on the "Recover" button to start the data recovery process. This time you need to save the files on another drive instead of saving them on the same drive where you lost them before.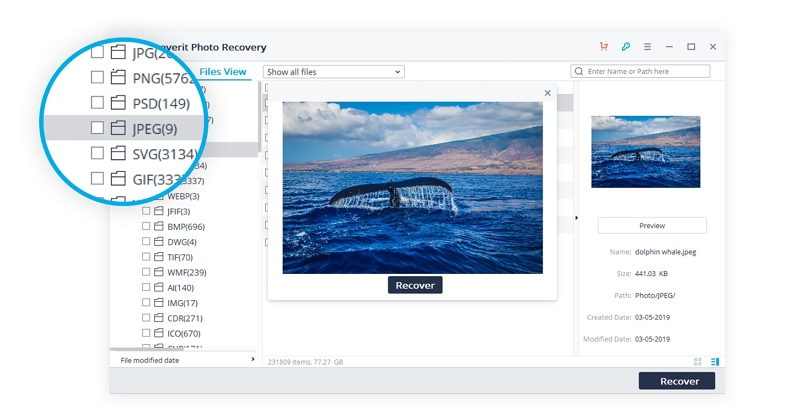 Some Tips During Snapchat Recovery
Don't hurry up and have patience till every step is executed properly.
Choose recovery mood wisely.
While choosing the drive for a quick scan, choose the right drive otherwise you won't find your Snapchat photos.
Preview all the photos before you recover them.
Don't save the photos again on the same drive.
---
Part 4. How to Recover Deleted Snapchat Photos on Phone
If you don't know how to get snapchat pictures back, you can easily do that on your phone. With the help of the below guideline, you can not only retrieve snapchat photos on your Android phone but also on iPhone.
1. How to Find Deleted Snaps on Computer
You can easily find snaps on computer. If you have used the photos from the gallery of your Android phone or iPhone, you can easily connect your phone to your computer by using a USB cable and then find deleted snaps on computer. Here is how to do it for Android phones.
First you need to open the Android storage folder on your computer after connecting your phone to your PC. Look for the messages folder by navigating to this folder sequence – data/data/. You will find "com.snapchat.android" folder now.
There will be some folders and subfolders inside the folder. You need to look into these folders and find the files that have ".nomedia" extension. These files are always invisible to you when you are trying to access them from your phone. You can find the lost Snapchat messages here easily.
You need to choose all the files with this extension and remove ".nomedia" extension by renaming them. You will be able to see the thumbnails and access all the Snapchat photos now.
---
2. How to Recover Snapchat Photos on Android Phone
The best thing about Android devices is that, it keeps cache memory of apps in phone memory or SD card and it helps a lot. The cache files are invisible on the folders so you can easily recover your Snapchat photos by using cache files on Android. Here is how you can easily recover Snapchat photos on Android phone.
Recover photos from Cache files
First you need to open the file manager of Android device and navigate to a folder named "Android" and then go further in the data folder.
You will find a list of all the application that exists on your device. Open the folder named "com.snapchat.android" and then open the cache folder.
Now you will find all your deleted Snapchat photos in the "received_image_snaps" folder. All you need to do is to access and retrieve the lost photos.
---
3. How to Perform Snapchat Picture Recovery on iPhone
- recover Snapchat from iCloud
If you have already backed up your Snapchat messages in your iCloud storage or you have enabled iCloud syncing on your iPhone, you can easily get Snapchat pictures back easily. This method will need you to restore your iPhone fully so you need to back up your iPhone at first. Here is how to do it.
Recover photos from Cache files
First you need to open the "Settings" menu and then go to "General" then "Reset". Then select "Erase All Content and Settings".
Then you need to restart the iPhone and tap on "Restore from iCloud backup" from the "Apps & Data" screen.
Finally you need to select the backup file from iCloud that contains all your Snapchat photos and the backup will be restored on your iPhone.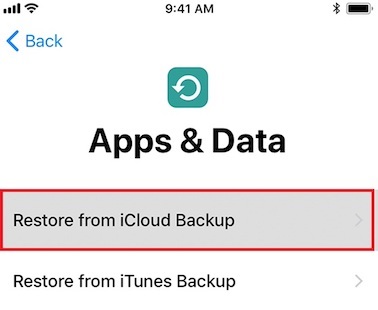 Some Tips During Snapchat Recovery
Follow the instructions properly and step by step.
Choose the options wisely as described in every step.
Keep your phone backed up always.
Have patience to finish the process properly.
After reading this article, you already know how to retrieve Snapchat photos easily by using the best Snapchat photo recovery tool on the internet. All you need to do is follow the step by step guideline from here and the easy to use interface of Recoverit Photo Recovery software. You will easily be able to recover Snapchat photos on computer, Android or iPhone. This is the only software that will give a 100% guaranteed result so without wasting your valuable time on anything else, start using this tool to recover deleted photos.
Solve Media File Problems
Recover & Repair Photos

Recover & Repair Videos

Recover & Repair Audios

Recover & Repair Cameras