How can I recover data from a failed hard drive on Mac?
When a Mac is crashed, users often find it hard to retrieve their lost data. Just like any other system, your Mac can be crashed due to numerous reasons. Here are some of them:
If your Mac is running low on memory, then it can stop working in an ideal manner.
A malware or virus attack can make the working of your system bugged.
If you have opened lots of applications simultaneously, Mac crash can happen.
By running a heavy application, your Mac system can malfunction.
Some issue in resource allocation or disk access can also cause this problem.
Can you recover data from a damaged hard drive?
If you are also going through one of the situtaions, then you have come to the right place. We can certainly tell you that it is likely to recover files from crashed hard disk on indows or Mac computers. To help you with data recovery from crashed hard disk on Mac, we have come up with this in-depth tutorial. Read on to learn how to recover files from crashed Mac and how you can avoid your Mac crashing again.
Part 1

What Makes Crashed Hard Drive Recovery Possible

If your Mac has been crashed and you can't seem to find your important files, then don't worry. We have an easy fix for you, that's taking the assistance of Recoverit Mac Data Recovery. As a highly secure and resourceful tool, it can be used to recover your data in different types and formats, including photos, videos, documents, archives, emails, and more. With its all-around and deep scan algorithm, you can easily meet your requirements in no time.

The tool features a 96% recovery rate, the highest success rate in the industry. It works on every major version of the Mac and Windows computer. It doesn't matter if your Mac has been infected by a malware or if you have deleted your data by mistake, you can easily recover files from crashed Mac instantly.
Recover files, photos, videos, audios and emails from crashed hard disk.
Recover 1000+ types and formats of files in different data loss scenarios.
Scan and preview the files before you recover them from all storage devices.
---
Video Tutorial: Recover Data from Crashed Hard Drive
When the Mac or Windows hard drive crash happens, this video tutorial can of great help for you. It tells you how to recover data from crashed hard disk in 3 steps.
---
Part 2

How to Recover Data from Crashed Hard Disk on Mac

If you wish to recover files from crashed Mac hard drive or unbootable computer system, then you can easily use Recoverit data recovery tool and follow this simple process to get the ideal results.
Select the Mac crashed hard disk

Specify the location where you want to recover your data. It can be an internal drive, external hard disk, etc. Click on the "Start" button to start a scan after marking your selection.

Scan the hard drive afer Mac crash

The crashed hard drive recovery application will immediately perform an all-around scan and display the recovered content. The "All-Around Recovery" mode can deep dig into your crashed Mac and search for the lost or deleted files.

Preview and recover files from crashed hard drive

After the scan, you can preview all recoverable files, like photos and documents. Simply select the files that you wish to retrieve and click on the "Recover" button to get them back.
---
Part 3

How to Avoid Mac Crash and Hard Drive Crash

By taking the assistance of Recoverit Mac data recovery software, you can easily recover files from crashed Mac. However, you can go through these expert suggestions to avoid such an unwanted situation occurring once again.
Types of Mac Crashes and Freezes
Any Mac crash could be either an application crash or a system crash. The application crashes usually happen when an application malfunctions or stops working in between. You can resolve this crash by forcefully closing the application (by pressing the Option, Esc, and Command key at the same time).
System crashes are harder to be resolved and can have a drastic impact on your Mac (like data loss). It usually happens when your Mac becomes unresponsive due to a lack of temporary memory. The best way to resolve this is by restarting your Mac.
How to Avoid Mac Crash and Hard Drive Crash
To prevent Mac crash and hard drive crash, there are numerous measures that can be taken in our daily life. Keep a good habit of using your Mac and you can get the healthy gift from it.
Make sure that your macOS and all the major applications that you use are updated and don't have any vulnerability.
Get rid of the heavy applications that you no longer use.
Additionally, try not to open too many heavy apps at once as it can take a lot of temporary storage.
While browsing, don't open numerous tabs or load lots of heavy websites.
Take the assistance of a reliable anti-malware tool and customize your firewall settings.
Make sure that there is an enough free space on your hard drive.
A low system memory can also cause some problem in your system. Make sure that your system is free as much as possible.
Restart your Mac once in every 2-3 days to reset its power cycle.
Use the Disk Utility application to access its SMART hard drive feature.
Take the assistance of the System Report feature to provide feedback and get assistance from Apple.
We are sure that after following this comprehensive post, you would be able to recover files from crashed Mac without much trouble. Additionally, you can follow these suggestions to avoid the crashing of your system or hard drive on Mac. Make sure that you have Recoverit data recovery tool already installed on your Mac. In this way, you can perform Mac hard drive recovery operation as soon as your data is lost or deleted and get an instant assistance.
Note: Recover Lost Mac Data under Mac OS X 10.13 (High Sierra)
Due to macOS High Sierra (macOS 10.13) requirement, Mac users are not allowed an access to the built-in system drive from any apps. Therefore, if you need to restore lost data from the system disk under macOS 10.13, please "disable System Integrity Protection" first.
How to disable "System Integrity protection"? Please follow the steps below.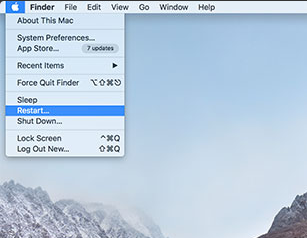 Step 1Reboot the Mac and hold down "Command + R" keys simultaneously after you hear the startup chime, this will boot OS X into Recovery Mode.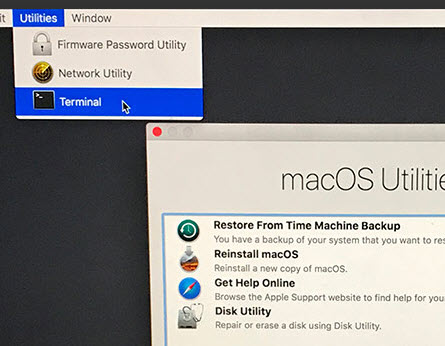 Step 2When the "OS X Utilities" screen appears, pull down the "Utilities" menu at the top of the screen instead, and choose "Terminal".
Step 3In the "Terminal" window, type in "csrutil disable" and press "Enter" then restart your Mac.