It's really a headache thing when you forget the login password for your computer, the Windows 7 system, especially there are important data stored on it, which stops you reinstalling the system. At this time, to access your computer and work normally with it, you need a Windows 7 password cracker, a tool that enables you to crach Windows 7 password and enter the computer successfully.
How to crack Windows 7 password?
Before cracking the password for your Windows 7, try your best to recall the password from your memory. For instant, birthday, favorite food, important person's name, phone number and the like. Don't give it up quickly. This really works sometimes. If all these are helpless, you can choose to proceed to the following way.
To crack the password for Windows 7, first you need to get Wondershare LiveBoot bootable CD/USB, which allows you to access your computer and crack Windows 7 administrator password easily. No matter you are using Windows 7, XP or Vista, this program can work well on it. Next, let's do it in steps.
Step 1. Create a Windows 7 cracker disk
Before the work, prepare a blank CD/DVD or a usb drive. Then install and run the LiveBoot on your computer, and you'll get the interface as follow.
Insert the disk or usb drive into the computer, and click on the burning button, you'll get a bootable CD/DVD or usb drive. It's just a one-click job. All you need to care about is choosing to burn with a usb drive if you don't have a burner installed on your computer, because burning with a usb drive doesn't require an extra burner from you.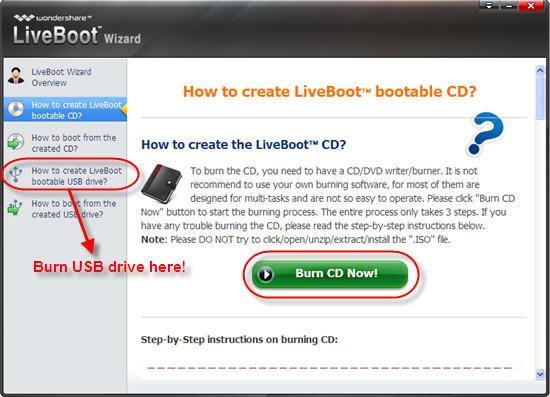 Step 2. Access the computer with the Windows 7 password cracking disk
Insert the Windows 7 password cracking disk or usb drive you've created into the computer, which locked you out of it. Start the computer and press F12 when the system begins to load, and you'll get the Boot Device Menu. Select the USB CD-ROM Drive and hit on Enter. Then you get the boot menu as follow. Choose "Boot from LiveBoot" and you can enter the locked system.
Step 3. Crack Windows 7 password
After entering the system, click on the "Password & Key Finder" on the interface of LiveBoot. Then hit on the "Admin Password Resetter". With only one click, you can reset the original Windows 7 administrator password as blank.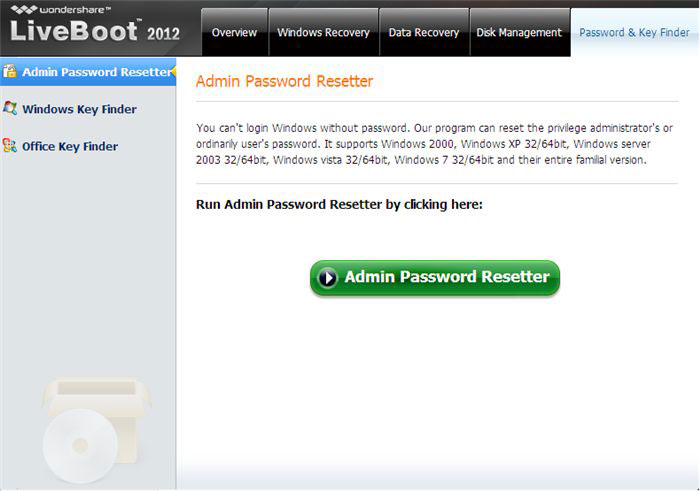 The last step is to take out of the disk or usb drive and restart your computer. You'll find that the computer doesn't ask you for any password, and you can login successfully. To set a new password, make sure that it's a safe password and you'll never forget it anymore.
Know more about Wondershare LiveBoot Boot CD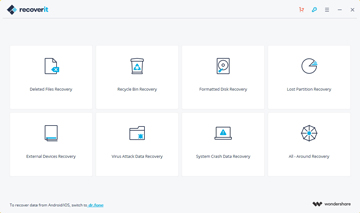 Recover lost or deleted files, photos, audio, music, emails from any storage device effectively, safely and completely.
Supports data recovery from recycle bin, hard drive, memory card, flash drive, digital camera and camcorders.
Supports to recover data for sudden deletion, formatting, lost partition, virus attack, system crash under different situations.
Computer Troubleshooting
Win System Crash

Windows Tips

Computer Problems

Blue Screen Errors