All of a sudden, my hard drive starts showing zero used and free space. I checked it up in the disk management; the file system has changed from NTFS to RAW. How do I format a raw drive to NTFS?
All of a sudden, my hard drive starts showing zero used and free space. I checked it up in the disk management; the file system has changed from NTFS to RAW. How do I format a raw drive to NTFS?
Windows supports FAT (FAT12/FAT16/FAT32), exFAT, NTFS, Live File System, and REFS file systems. The RAW drive is the state of the storage space that has an unknown Windows File System. In the absence of any file system, it holds no files or folders, and even you cannot use it to store any information. When the drive converts to the RAW file system, most of the times, you need to format it to make it reusable. We all are aware that formatting will erase all the stored data. But don't panic, as this article guides you about the RAW disk, how to convert or format RAW drive to NTFS and recovery of data with Recoverit data recovery software.
Part 1: What Is RAW Disk?
Part 2: How to Format or Convert RAW Drive to NTFS
Part 3: How to Recover Data from RAW Drive after Format?
Part 1- What Is RAW Disk
Virus, abrupt shutdown, corrupt files, improper drive ejections, and system crash are some of the leading causes for file system errors. These instantly convert the drive or partition into RAW drive. Wondering how do I format a raw drive to NTFS? Before learning the various solutions for how to format the RAW drive, first understand some details about the RAW drive.
What Is RAW Drive
The drive that contains the RAW file system is referred to as RAW drive. When the storage drive becomes RAW, it makes you incapable of accessing your stored files. You cannot read or write data to the disk then.
You can check whether the drive is normal or become RAW from Disk Management. When your drive becomes RAW, it will show the following error messages or notifications:
format the drive before using it
drive not formatted, do you want to do it
error accessing drive: disk not formatted
CHKDSK not available for RAW drive
file names contain weird symbols that are different from the basic ones

The hard drive becomes RAW because of:

missing or damaged file system
the unrecognized file system of storage medium
format failure
virus
power outages
the inappropriate shutdown of the computer
access denied or limited to the file system, drive, disk or memory
reading errors and bad blocks in huge numbers
volume or disk, wrongly or not formatted

What does RAW file system mean?

The standard file systems are FAT (FAT12/FAT16/FAT32), exFAT, NTFS, Live File System, and REFS file systems. RAW file system doesn't fit in these as it is unrecognizable by the operating system. RAW files or errors provide signals that some problem is there in the device. Not only the drive or files saved on computer but your SD card, external hard drive, USB, etc. anything can become RAW anytime.

Reasons for Formatting RAW Drive

When your system's drive becomes RAW, you require to go with hard disk raw format because:

you are unable to access your stored files
you can not check the defragmented or errors of the file system
the Windows of your computer displays warning messages that disk is not formatted

---

Part 2- How to Format or Convert RAW Drive to NTFS

The answer to your question "how can I convert RAW to NTFS?" lies in this portion. When you come across a RAW drive, to make it reusable again, you can convert the RAW drive to NTFS with the following methods.

Solution 1- Command Prompt

Fix the drive with a command prompt for HDD raw format.

Step 1- Type "cmd" in the search box, that is beside the Windows logo. Right-click on the "Command Prompt" and choose "Run as administrator."

You can also open cmd by typing cmd in the run dialogue box.

Step 2- Type Diskpart and press "enter."

Step 3- Type list disk and press "enter."

Step 4- Type select disk *

Here * should be replaced by the disk number that has become RAW. Press "enter" after typing select disk provide the number in place of *.

Step 5- Type clean and press "enter" to clean the disk.

Step 6- Type create partition primary followed by "enter"

Press "enter" once you typed the above command to create a partition.

Step 7- Type format fs=ntfs and hit the "enter" button

Step 8- Type assign *:

Here * should be replaced by any letter that you want to assign to the RAW drive.

Don't include inverted commas while typing all the above commands in command prompt.

Solution 2- Disk Management

Disk Management is the easiest way to convert RAW files to the NTFS file system. Perform it with these steps.

Step 1- Click On Manage From the This PC Menu

Right-click on "This PC," and click on the "Manage" from the menu.

Step 2- Open Disk Management

Click on Storage and select Disk Management.

Step 3- Select the RAW Drive and Click on Format

Look for the RAW drive, right-click on it and hit the format link.

Step 4- Set File System, Assign Volume Label and Click on Start

Once you click on format, you will be prompted on a page where you need to change the File system to NTFS and also assign the file system a volume label. After setting all this, click on Start to fix the issue.

Solution 3- File Explorer

You can also convert RAW drive to NTFS with File Explorer with these steps:

Step 1- Open File Explorer

Click on start and type file or windows explorer. After opening file explorer, look for the RAW drive and right-click it to view options. From the menu, click on the Format

Step 2- Select the File System and click on OK

Choose the NTFS file system to begin the process.

Tips

Here are the tips that will prevent your storage space from becoming RAW.

Start and shut down your system properly with the right operations.
Keep your system clean form viruses by using good anti-virus software.
Backup your system regularly.
NTFS is the best file system format for Windows.
Don't convert or do RAW disk format before taking a backup.
Protect RAW drive from any physical damage.
---
Part 3- How to Recover Data from RAW Drive After Format?
Have you taken the backup of your data before fixing the RAW drive? No! Once the formatting finishes and your drive got repaired, if you find your data lost, how would you get data back then? Well, it is recommended to backup your data always, still if you are unable to take it, there is nothing to worry as Recoverit, the best data recovery software helps you in recovering the data lost after disk formatting.
Recoverit Data recovery
Data loss is not a rare issue. Many people experience it most of the times. Recoverit, the leading recovery software is your savior during these times. With its highest recovery rate, the software supports more than a thousand file formats. It includes files of different storage spaces like your computer's hard drive, recycle bin, desktop, external drives or devices, and even the crashed computer.
Download and launch Recoverit Mac Data Recovery on your computer to recover files lost during RAW disk formatting with these three easy steps.
Step 1- Select Location
To begin the recovery process with the software, it is necessary to select the location first. As you have lost data from your drive, select the drive from where data it is missing. After making the selecting click on start to begin the scan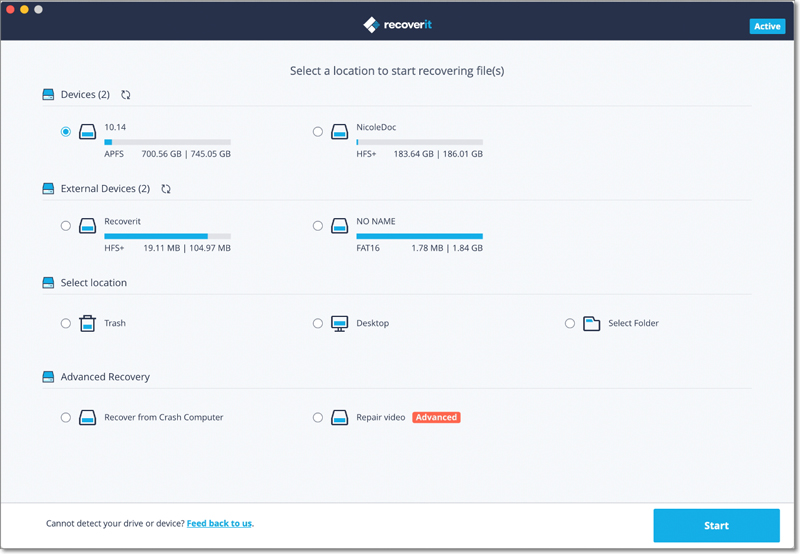 Step 2- Scan the Location
Recoverit provides two types of scans- all around and deep scan. The software starts with the all-around scan and takes time from a few minutes to maybe hours. The total time taken by the software to complete the scan depends on the size of the files.
It also offers you to stop the running scan or pause it in-between for your convenience. Like if you can see your lost data, you can save your time by stopping the scan there only. But if the required files are not found even after completion of the scan, you can opt for the deep scan.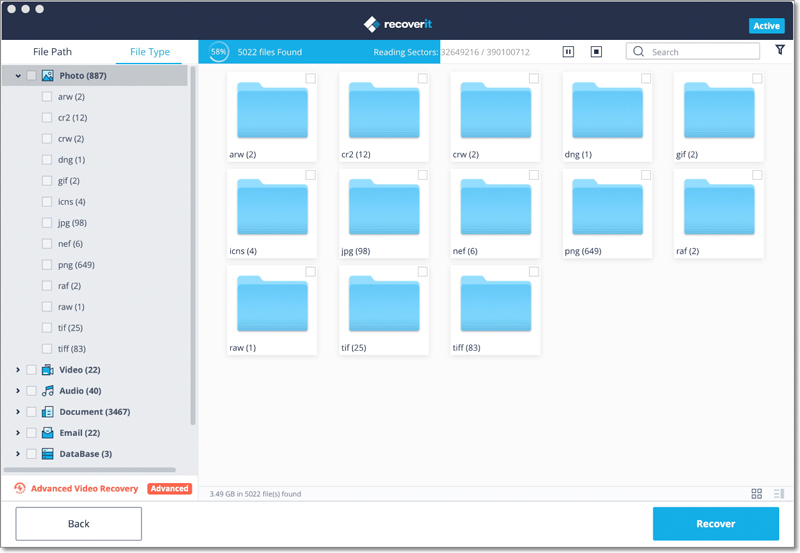 Step 3- Preview and Recover Data
Before recovering the files found during the scan, Recoverit offers you to view the found files. Preview them by clicking on them, and also see the necessary information like file path, name, size, and modified date.
Select the target files after you preview and confirm all the required data. Click on "recover" and provide the path to save the data when prompted.This completes your recovery process, and now you have access to all your misplaced files.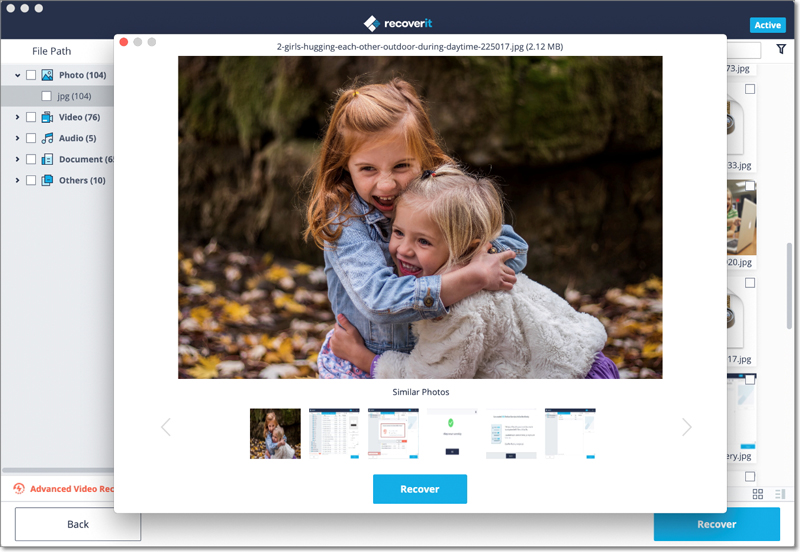 There is one thing that is necessary to mention here. While providing the location to save the files after recovery, do not keep them at the same place from where you have lost them. The data can be overwritten if you select the same path, and if this happens, it can lead to permanent data loss. So, be careful while allocating the path to save your files after recovery.
---
Video Tutorial on How to Recover Data from RAW Partitions?
Closing Words
The storage drive can convert from NTFS file system to RAW drive anytime and that too without giving any indications. Various reasons lead to the change of file format to an unrecognizable form. Whatever the reason be, never format the drive instantly when it gets converted to RAW. It contains your essential information and formatting the drive without any prior backup can lead to data loss.
Fix the issue with the methods that are discussed in this article. We have explained all the steps in detail; follow them carefully to regain access to your drive. While formatting or converting the RAW drive to NTFS, if you lose your vital information, Recoverit data recovery software can help in recovering all the data.
What's Wrong with Drive
Recover Your Drive

Fix Your Drive

Format/Wipe Drive

Know Your Drive