How can I get back my deleted images? - a question from Quora.

Photo shooting has become the most common way for keeping memories. photos/images saved on computer hard disk, digital camera, memory card or USB drive always remind you a lot in later days, and become a treasure of happiness. But what if you find the digital images nowhere one day? When it happens, you might eagerly ask a question like the Quora user: "How can I recover my deleted photos?".
The answer is: you should get a powerful digital image recovery program to help you get all deleted or lost photos back. But remember that you should stop using your device and do not save any new data on it. If you continue saving new photos in the folder or hard drive, the lost images will be overwritten and it becomes very difficult to recover your images back.
Part 1. Free Download Digital Image Recovery Software
To recover lost photos, the easiest and safest is to utilize a piece of reliable and trustworthy digital image recovery software. However, a mountain of picture recovery apps are churned out in the Internet. It becomes very hard for the uninitiated to pick up a really reliable one, and even some unqualified can further damage your lost images as well as result in more data loss.
To make sure the chance of digital image recovery and the security of the lost photos, we recommend the absolutely reliable and powerful image recovery tool for you on the following guide. Recoverit Data Recovery can easily and effectively help you recover deleted or lost photos back.
Featuring a 96% data recovery rate, the digital image recovery software is able to recover more than 550 formats of files back from everywhre, including digital images, videos, audio files, documents, emails and many more media files. It applies the advanced scanning and searching algorithm to deep scan your data storage devices so that almost all deleted or lost images can be recovered no matter how they get lost.
Part 2. How to Get Lost Images Easily with Recoverit Data Recovery
It is a snap to recover deleted or lost images if you use Recoverit Data Recovery. Getting the detailed steps, refer to the below video tutorial or text guide.
Video Tutorial on How to Recover Deleted Instagram Photos
---
2. Text Guide to Restoring Image
Here let's Download and Install Windows version of Recoverit Data Recovery software on your computer. With the image recovery software, you can perform image files recovery with comsummate ease and without any hassle.
Step 1

Select a Location to Scan

Please select a hard disk where your digital images were stored originally. Click the "Start" button to process.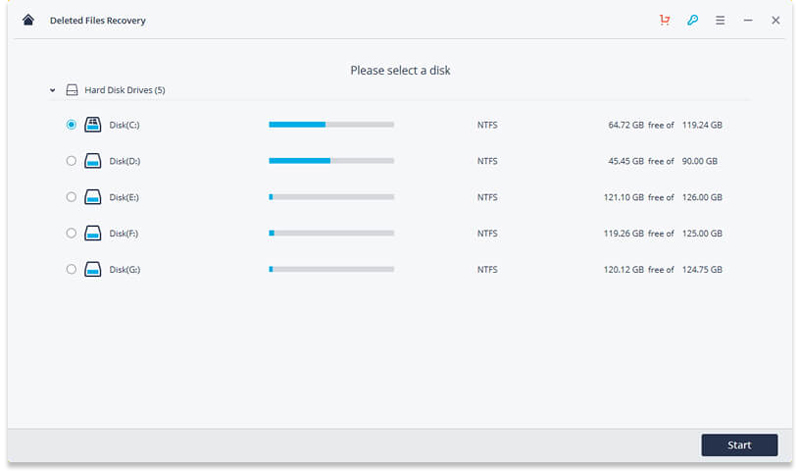 Step 2

Scan Computer Hard Disk Drive
The image recovery tool will start scanning your computer hard drive to search lost photos.
After the first scan, you can check and preview some recoverable photos.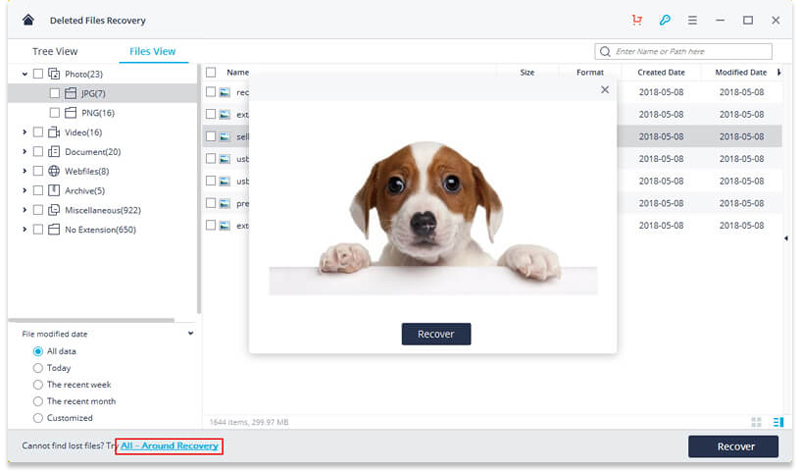 Step 3

Scan with "Deep Scan" Mode
If you cannot find your images, you can go to scan again with "All-around Recovery" mode.
Go to scan with "Deep Scan" mode. It will deep scan your computer hard disk and search more files, while more time is needed.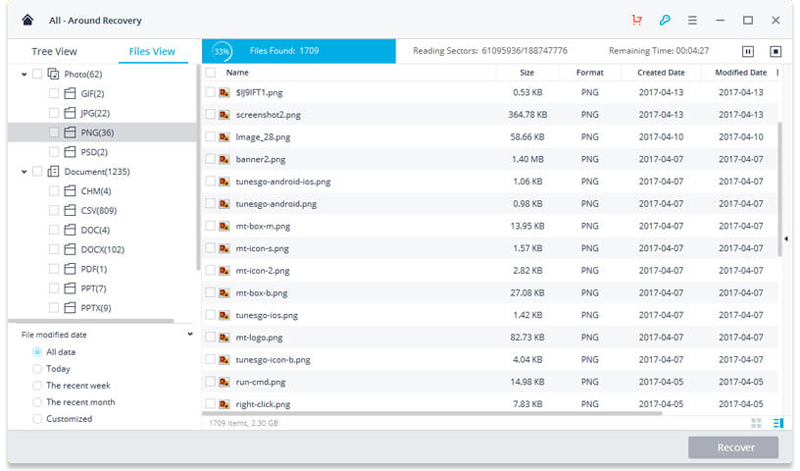 Step 4

Preview and Recover Deleted Images
After the scan, you can check all recoveralble digital images on the results.
Go to preview your recovered images and click "Recover" to restore lost images.
Note: Please get a safe device to keep your recovered photos to avoid data loss again.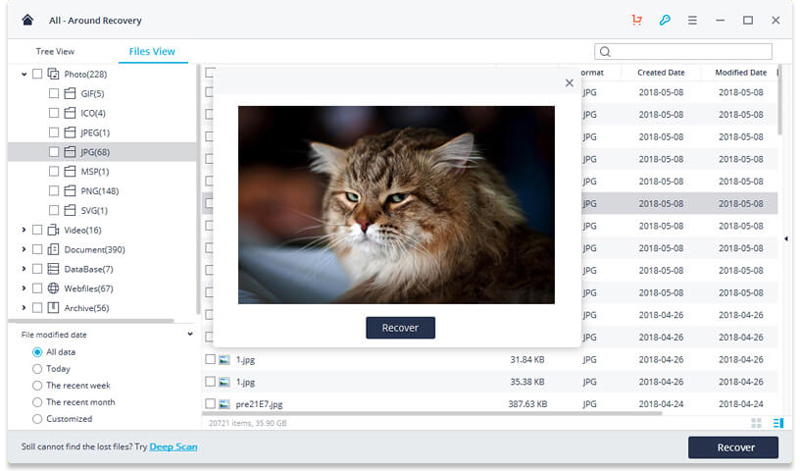 Following the above simple steps, you can get your lost images easily with Recoverit Data Recovery. Also, it is possible for every one to preview and recover lost videos.
---
Part 3. What Is Digital Image
A digital image can also be called digital photo or digital photography. So what is its definition? To put it simply, a digital image means the picture that can be stored, viewed and shared on a digital computer. It is a numeric representation of a real image, typically binary. To keep the digital image stored on the computer or other storage mdeia, it should be translated into numbers. For the purpose of the translation, he picture element of a digital image is needed, that is pixels.
Usually, pixels are organized in an ordered matrix array - M columns x N rows (column is the image width and row is the image height). When we save a digital photo, the aspect ratio of its pixels is set. But the digital image can also be resized by using some photo editing software to change the ratio.
Another important characteristic of digital images is that the image file formats can vary based on different image file extensions, for example, JPEG, JPG, PNG, TIFF, GIF, PSD, DSN, CR2, BMP, etc. GIF, short for Graphic Interchange Format, is a dynamic image. JPEG, on the behalf of Joint Photographic Experts Group, is one of the most common type of digital image and can be used in most of situations. PNG stands for Portable Network Graphics and has many same features as JPEG or JPG.
Unlike traditional pictures, digital images can be uploaded, transferred or shared instantaneously via different channels all around the world. We can save them forever without worrying about the wear and tear and transform temporary wonderful memories in our minds to permanent ones. Moreover, it can still be printed at any time via a printer.
The major downside is that it is also likely to lose the digital photos due to a variety of causes. To restore lost images, we recommend you using a reliable image recovery tool.
---
Part 4. Why Digital Images Lost
Although you can restore images through a piece of digital image file recovery software, like Recoverit Data Recovery. However, you have no idea when a disaster would come to destroy your storage devices again. The photos disappear at some point due to different reasons:
Accidentally delete or lost photos/images permanently

Your digital images might get lost mainly because of accidental deletion. If you delete them by mistake from the computer, it is possible to recover deleted photos from the Recycle Bin. However, if the bin is emptied or click "Shift+DEL", what you can do is only resorting to a picture recovery app.

Photo holder devices corrupted or get damaged

The digital photography storage devices can be a computer, external hard drive, digital camera, memory card, etc. All of them can get corrupted due to many logical or physical factors, such as system crash, head crash, water, bad sectors and many more.

Formatted the memory card, USB drive or computer hard drive

Oftentimes, when image file storage get crashed, formatting can help solve the issue. The bad news is that the formatting can result in data loss. Of course, deleted or lost digital images can also caused by careless formatting.

Memory card becomes inaccessible and cannot read data

A memory card is vulnerable to many issues after improper operations, and the inaccessibility of stored photos ensues. The improper operations include using it in many different devices and inserting or removing it rudely from computer.

Interface or file transfer errors cause images loss

If the image files are transferred incompletely, they are doomed to loss. Besides, if the file system errors arise, the image files stored in the system also get lost.
No matter which data loss situation you meet, you can always trust powerful Recoverit Data Recovery for photo recovery. It will keep your computer system safe and private. Free download it as below and try it for free.
Solve All Media File Issues
Recover & Repair Photos

Recover & Repair Videos

Recover & Repair Audios

Recover & Repair Cameras