Why you need JPG/JPEG/PNG Recovery Software
With digital cameras and smartphones, we have a huge collection of images almost everywhere. However, regardless of how careful you are with your images, chances of deleting or accidentally losing a few are always there. How many times have you ended up to delete an image that you thought you did not need- only to realize that you were wrong later?
Or did you ever interrupt a transfer and lose your photos in the process? The list of scenarios where you could lose those precious photos are endless- the point here being that you need a JPG/JPEG/PNG Recovery Software. To learn more about image file recovery and the best JPG recovery software in the market, read ahead.
The Best JPG/JPEG/PNG Recovery Software
When it comes to the best JPG/JPEG/PNG Recovery Software, then the first name that comes to most users' minds is Recoverit data recovery software. This photo recovery software helps you to recover your image files without any hassle. It does not matter how little you know about data recovery- for Recoverit data recovery knows all that it takes to get back your files.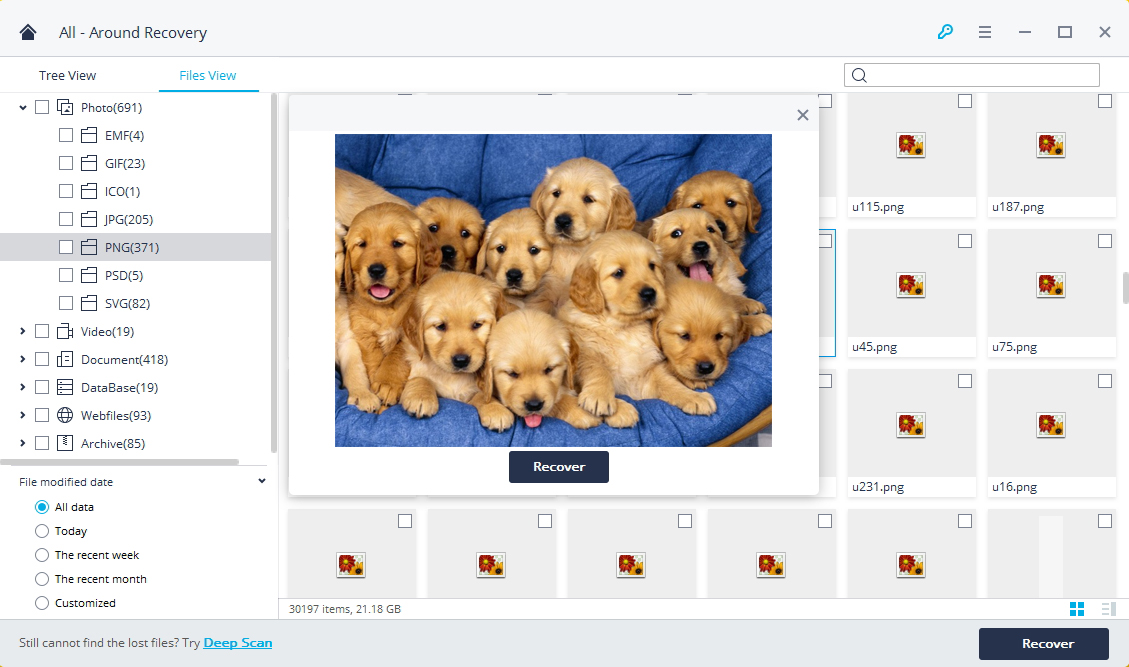 Recover lost or deleted files, photos, audio, music, emails from any storage device effectively, safely and completely.
Supports data recovery from recycle bin, hard drive, memory card, flash drive, digital camera and camcorders.
Supports to recover data for sudden deletion, formatting, hard drive corruption, virus attack, system crash under different situations.
With all these great features, it is obvious that with Receoverit, you have the ideal JPG/JPEG/PNG Recovery Software. Let us go ahead and see how you can start making use of this JPG recovery software.
Recover Lost JPG/JPEG/PNG with Wondershare Data Recovery
The best part about using this JPG/JPEG/PNG Recovery Software is that it is very simple yet highly efficient in recovering your image files. We will be demonstrating the Wizard Recovery Mode to help you perform image file recovery. This mode does it all for you and all you have to do is answer a few simple questions.
Step 1 Selecting "Deleted Files Recovery" mode after you install the JPG/JPEG/PNG Recovery software
In this step, we will let our JPG/JPEG/PNG Recovery Software know that we are specifically looking for image files. In the screen that comes up, select the option of "Deleted Files Recovery".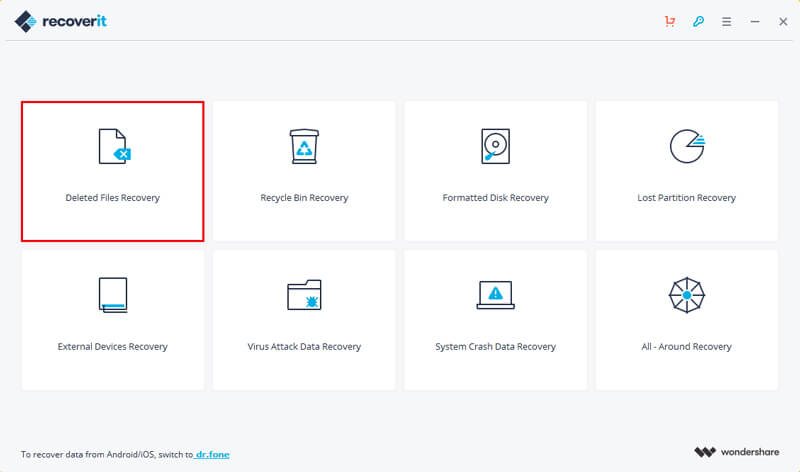 Step 2 Specifying the drive/location where the image files are to be recovered from
Select the location/drive where the JPG recovery software will search for your deleted files. Select 'External Removable Drives' if you want to search a particular SD Card, USB stick or camera, or browse to any particular memory location. And then you need to click "Start" button.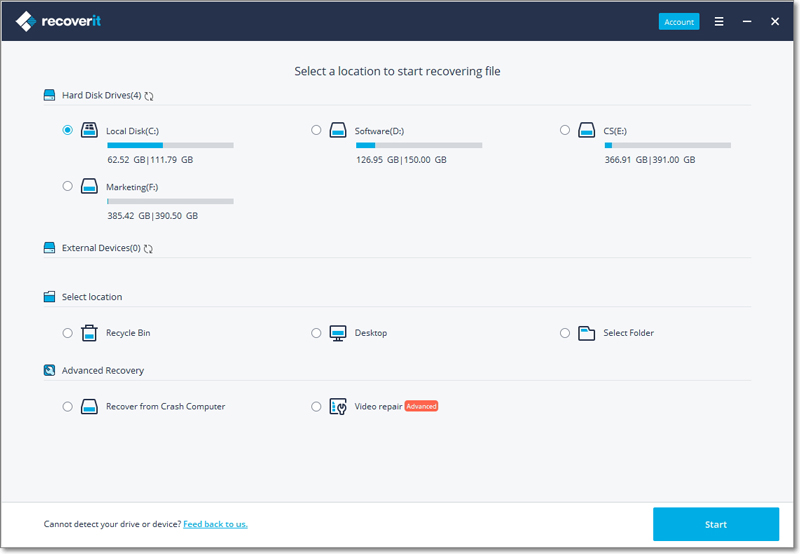 Step 3 start scanning lost files
This JPG recovery software will start scanning to find your lost photos. If you can't find any files after quick scan, go to scan again with "All-Around Recovery" mode. It can scan more files, although it will take more time.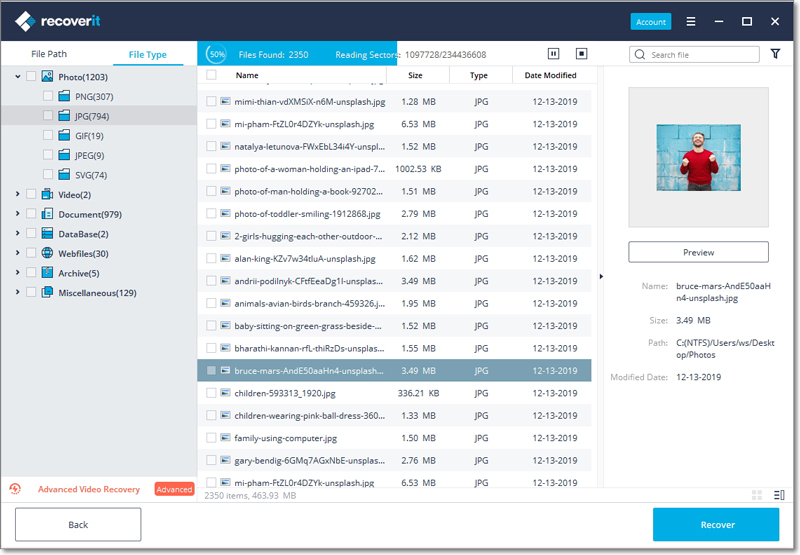 Step 4 File recovery and scan results
Recoverit data recovery may take a while to find files that it can recover from the specified memory area. Once it completes, you will be shown a list of all the files that can be recovered in this image file recovery process. Preview and find the files that you need to complete the photo recovery process.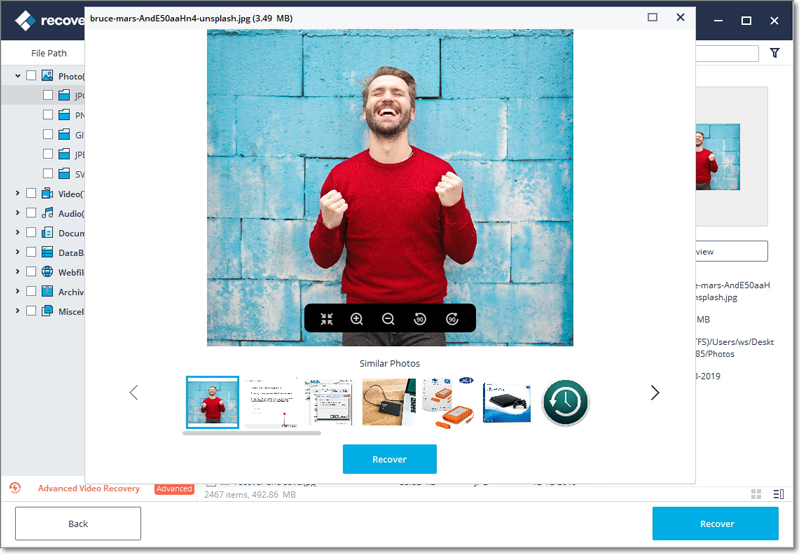 Thus, with just these simple steps, you will get back your images using the most effective of photo recovery software in the market!
Tips to perform Efficient Photo Recovery
It is not that hard to get back your files using this excellent photo recovery software. However, a few tips will help you to avoid some common issues and have better results.
The earlier you try to recover your image files, the higher is the probability of finding them. Avoid using your smartphone/camera/memory device in which the photos were before they were deleted/lost.
When you recover any file, do not store it in the same location where it was earlier. This will make the other data in that memory area unrecoverable.
In case the files you are trying to recover are in an external device/drive, do not remove it while Recoverit photo recovery is scanning, else it may become damaged or inaccessible.
Thus, with these simple things in mind, data recovery can be made even more efficient. Recoverit free data recovery Mac is available as well- and it helps you get the same great results as its Windows counterpart. Even Mac users now have a reason to rejoice. No matter what your data recovery need may be, a single software is equipped to handle it without any hassle. Right from any file type to any data loss reason and operating system- Wondershare Data Recovery is compatible across them all!