How to Recover Deleted Photos from a Memory Card or Recycle bin
In the world today, digital photos form a big part of many people's lives, whether young or old, it's a source of memorable moments. But unfortunately, making just one mistake of clicking the 'Delete' button could lead to the loss of hundreds of photos to those unforgettable minutes within seconds.
Anyone in such a situation would surely get heartbroken to make such a big mistake.
However, there are still easy ways you can recover those lost photos from your SD card and recycle bin. Hence, apply the solutions explained in this page to recover your lost crucial photos within the blink of an eye.
Part 1. Does an SD Card Have Recycle Bin to Restore Photos
Absolutely No! There's no recycle bin on an SD memory card, but, you can recover your lost photos by using an effective SD card data recovery software. You can also recover the photos by inserting your SD card into your Windows or Mac operating system and use the system's recycle bin to reclaim the deleted photos.
How to find recycle bin on SD card
Like I said, there's no recycle bin on the SD card, even if you connect it to your PC/Mac. But, you can use a PC/Mac to recover deleted photos from the card.
Can you recover deleted photos from an SD card?
A big YES! You can recover your deleted photos from the SD card. There are different methods to do this, which will be explained in this article. But there are certain things you could have done that caused your photos to get deleted from the SD card, and you need to know them to avoid another loss in the future.
Accidental deletion
Memory card format
Virus or malware attack memory card
Removal of SD card from the computer when it's being used
Using SD card when camera battery is low
Ignorance to SD card error or warning
Using a memory card on different devices without formatting
Can You Restore Deleted Photos from Recycle Bin?
Yes, you can. Most times, deleted photos are stored in the recycle bin of your PC, making them accessible anytime needed. Thus you can easily restore them to where they were deleted from.
However, if you intentionally or unintentionally erase the photos from the recycle bin, they'll become permanently deleted. And you'll need a data recovery software to reclaim the photos back. Let's take a look at some list of scenarios that may cause your photo to delete from PC.
Accidental deletion of photos
PC format
Corrupted PC operating system
Using Shift + Delete command
---
Part 2. One-Stop Way to Recover Deleted Photos from Memory Card or Recycle Bin
There are several means of reclaiming deleted photos, but the best and on-stop way to recover them is using data recovery software like Recoverit Data Recovery.
If you've been searching for easy ways to recover deleted photos, relax, grab a chilled drink, and let's take you through the adventure of recovering your lost photos.
It is the effective data recovery software against data loss, due to deletion or formatting from any kind of memory card. This memory card data recovery software can recover photos, audio and videos from your memory card very quickly.
If you've shift-deleted photos, accidentally delete your photos from the recycle bin, or deleted your them from your SD card, this section covers the whole process to reclaim them effortlessly.
Step 1: Select storage of your deleted photos
In the first step, you've got to visit Recoverit official website and install the app to your Windows PC or macOS.
On launching Recoverit app, you'll see lots of options for your system's storage device and other connected external storage devices. Select 'Recycle Bin' or the inserted SD card and click on 'Start'.
Step 2: Scan the location of your deleted photos
This time, Recoverit would do an All-Around scan to search out all your deleted photos.
Extra: One great benefit of the Recoverit data recovery software is, it comes with two scanning modes which are, 'Deep-Scan and All-Around Scan'.
So, if you're not satisfied with the result of the efficient All-Around Scan, you can choose to do another effective Deep-Scan.
Furthermore, Recoverit also enables you to select the file type or folder for scanning, which increases efficacy and gives you a nicer and clear result.
Step 3: Preview and recover lost photos
In the final step after completion of the scanning process, your deleted photo will be displayed on the screen of your PC/Mac for preview. Then click on 'Recover' to access the deleted photo.
The process of recovering deleted photos from a memory card or recycle bin with Recoverit is very concise and similar. However, let's take a look at another quick step you can utilize, but remember that these steps I'm about to mention can't recover all photos like Recoverit would do.
Tips for Memory Card or Recycle Bin Photo Recovery
Avoid saving new files to the same drive where you accidentally deleted photos from. This helps to prevent further damages.
To ensure 100% result from your recovery process, allow Recoverit data recovery software scan thoroughly before proceeding to the next step.
Always ensure backing up your photos in another drive before deleting
---
Part 3. Different Methods of Restoring Photos from Recycle Bin
If you have just deleted your photos, it is most likely that they have been moved to the Recycle Bin of your computer. But sometimes, you might empty the Recycle Bin and find your photos nowhere. In this case, you might need some tips to help you recover those photos. Let us explain these to you in easy steps.
Method 1: Restore photos from non-emptied recycle bin
Step 1: If you have accidentally deleted the photos before you do anything, find the icon for Recycle Bin on the desktop (as seen on the extreme top right of this screenshot).
Step 2: Once you have found it, take the cursor to the Recycle Bin icon and click to open it. You should now see the images that you have deleted here in the Recycle Bin folder.
Step 3: To restore all the files in the Recycle Bin, press the button that says "Restore all items" on the top as shown in the screenshot. If you want to restore only a particular set of photos, then you can do a right-click on those photos individually and then click on the option "Restore".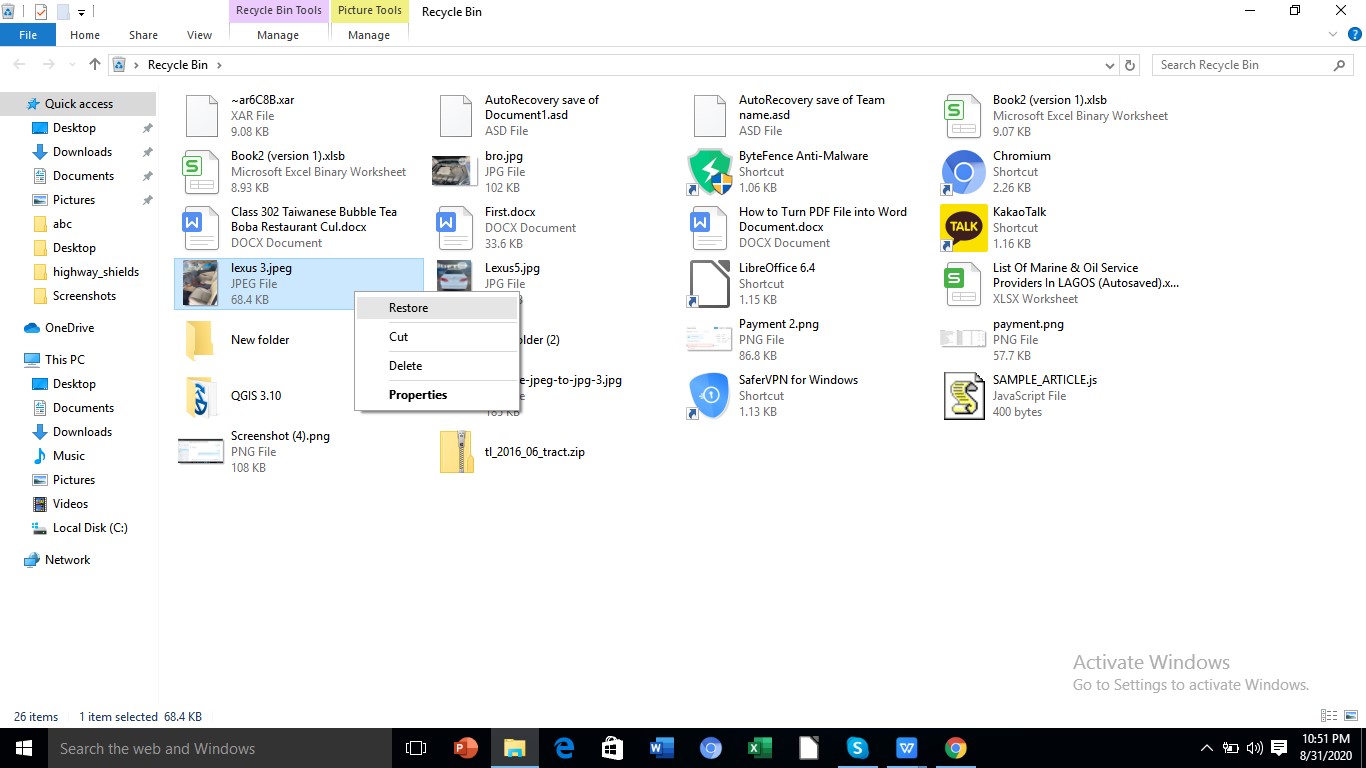 ---
Method 2: Restore deleted photos from 'previous versions'
Step 1: Open windows file explorer and right-click on the folder from which you deleted your photos
Step 2: In the drop-down list that comes up after you right-click on the folder, select 'Restore previous versions'.
Step 3: A pop-up windows page will show on the screen of your PC, click on the version of the date when your photos were still present in the folder and select 'Open' to be sure it's the version you need.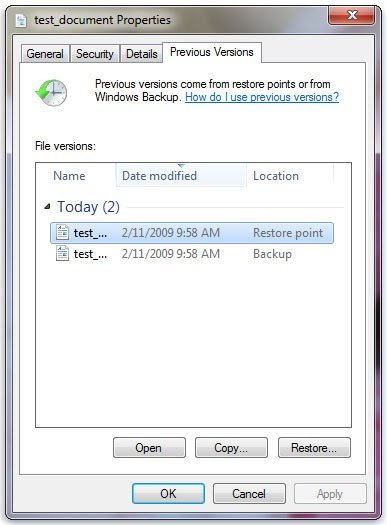 Step 4: All you just have to do is to click the 'Restore' button to complete the process.
---
Method 3: Restore deleted photos from file history
All windows system comes with a backup and Restore feature that enables you to lost files or folders easily. But, It's recommended you always set up windows back up whenever you start using a computer. Doing this allows you to recover deleted photos when it's needed.
Step 1: You'll see a search box at the bottom left corner of your PC, type 'file history', and select 'Restore your files from history'.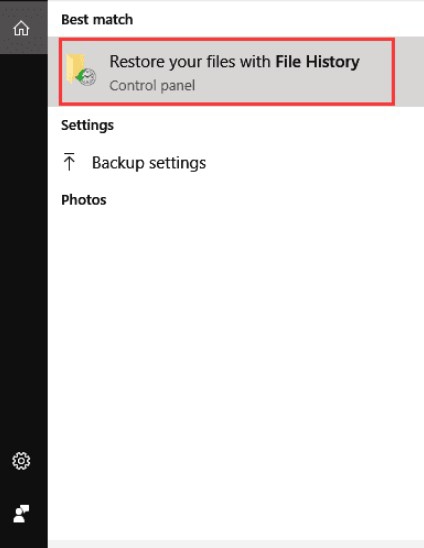 Step 2: Next, search for the photos you want to recover. You can also view all the folder backup versions. If you've seen the photo you want to recover, click on it and tap the 'Green' restore button at the bottom of the Windows page.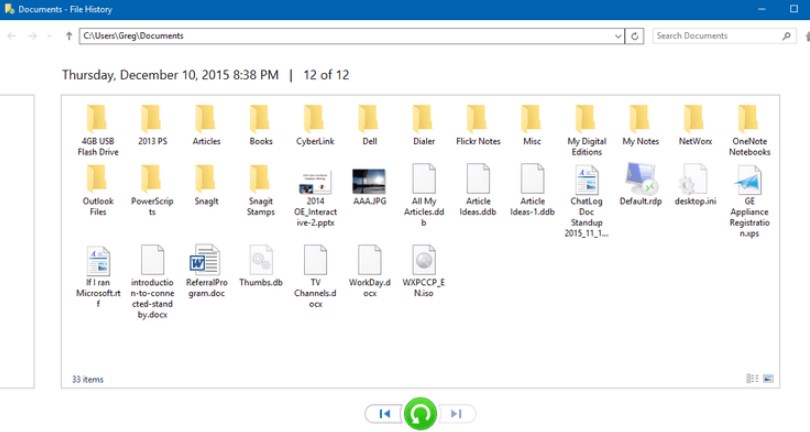 Step 3: Afterwards, a dialog box will appear on the screen of your PC, select 'Replace the file in the destination' to recover your deleted photos.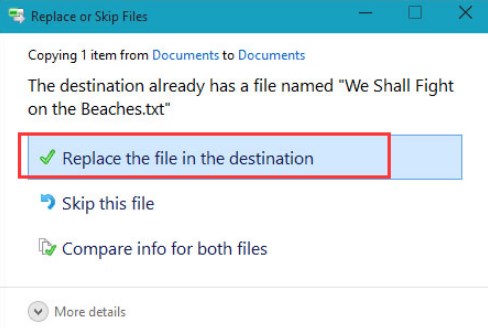 ---
Part 4. Extra Methods of Recovering Deleted SD Card Photos
Apart from using SD card recovery software, you can also recover your files from the SD card by using CMD command or restoring from backups. Thus, this section covers the basic steps on how you can easily recover deleted photos from your SD card using these methods.
Where Do Deleted Files Go?
The photos deleted from your SD card are not wiped immediately. Instead, they still exist in the storage device but invisible to users and the file system since the index and table has been deleted. As long as there is no new data saved to the same partition, the process of which is called overwriting won't occur and it is still possible to restore the files.
See extra method of recovering a deleted SD card photo below.
Use CMD Command to Recover Deleted SD Card Photos
Sometimes, we may think our files have been completely deleted from our SD card, but they're not. So it's possible to recover the deleted files using the CMD command.
Step 1: Simultaneously click on Windows +R to launch the Run box, then type cmd and click on enter.
Step 2: In the Command Prompt windows page, type 'chkdsk D:/f and click on enter
Step 3: Type Y and click on enter to continue if the command lines did not start
Step 4: Type the drive letter once again and click on enter
Step 5: Input attrib -h -r -s /s /d drive letter:\*.* and click on enter. This command will reclaim your deleted photos.
-r stands for Read-only attribute, meaning files are readable and they cannot be changed
-s assigns "System" attribute of the selected multiple files
-h command means "Hidden" attribute to only selected files
/S indicates to search the particular path including subfolders
/D command involves the process folders
---
Part 5. How to Enable or Add Recycle Bin on SD Card
Windows cannot add a recycle bin on the SD card. Also, an SD card doesn't have a recycle bin, it only functions as a local drive where you can store your data and files. Thus, to recover deleted photos from an SD card, use Recoverit data recovery software, or apply the method explained above.
Mount SD card as a local drive in Windows 10
All windows PC always comes with an SD card slot that can be used to add more space in the card. But you can't put the SD card directly, as all computers would only recognize the local hard drive available in it. You can mount your SD card by using the following steps.
Step 1: Ensure SD card is NTFS format
In the first phase, you'll have to format your SD card to be the same as the PC's primary storage file system. Windows 10 file system is NTFS and SD cards usually come with FAT32 format. Thus use the steps to format your SD card to NTFS.
Insert the SD card to your PC and launch the file explorer. Then click 'This PC' to locate the SD card. Find the SD card drive and select the properties option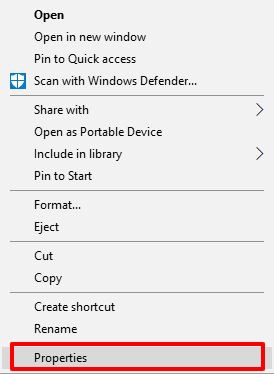 Now, check the file system to see its format. Currently, there are two possibilities. The SD card file system can be NTFS, which is the same as your device and means you don't need step 2 so you can jump to step 3. Or else, it can be in its original FAT32 format, and you have to change it in step 2.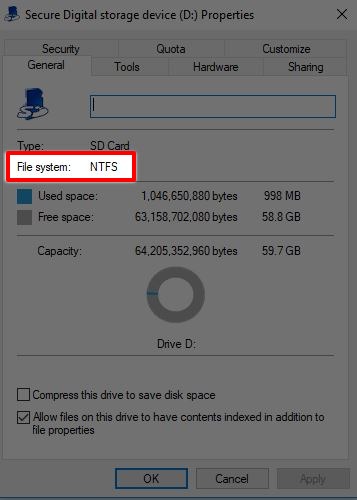 Step 2: Format SD Card to NTFS format
The next process involves changing your SD card format to match Windows 10 format. However, this process may result in the loss of your files. Thus it's advisable to backup your files and utilizes the next steps to change the SD card format.
Right-click on the SD card drive and select the 'Format' option.
In the new pop-up, choose NTFS from the 'file system' dropdown list to change the SD card from the FAT32 format. Then click start.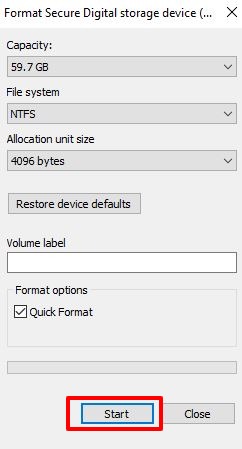 Another pop-up window will come up showing a warning of losing your data. Click OK to proceed

Wait for some time for the format process to be completed. When it's done, you'll get an alert and you can now click on OK.

Step 3: Create a folder in your main drive
Now, you'll check to see if your SD card format has changed to NTFS. So, open file explorer and go to drive C to create a folder and label it as an SD card.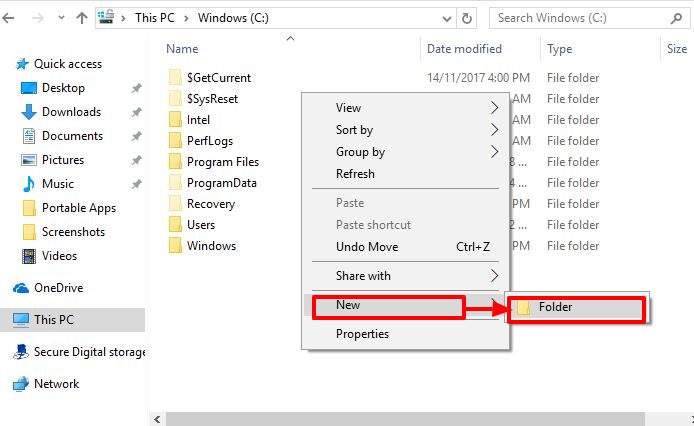 Alt message: Create a folder in your main drive and name it SD card
Step 4: Mount your SD Card to the folder which you created in C
The next important step is to mount the SD card for the operating system to recognize the drive. Use the following steps below to complete the process.
Navigate to the search box at the left bottom corner of your PC and search for Disk management.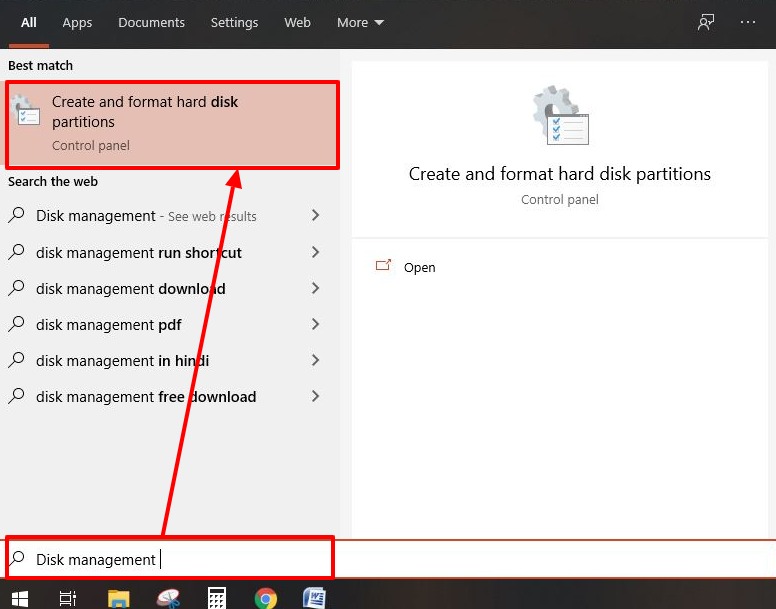 Select create and format hard disk partition.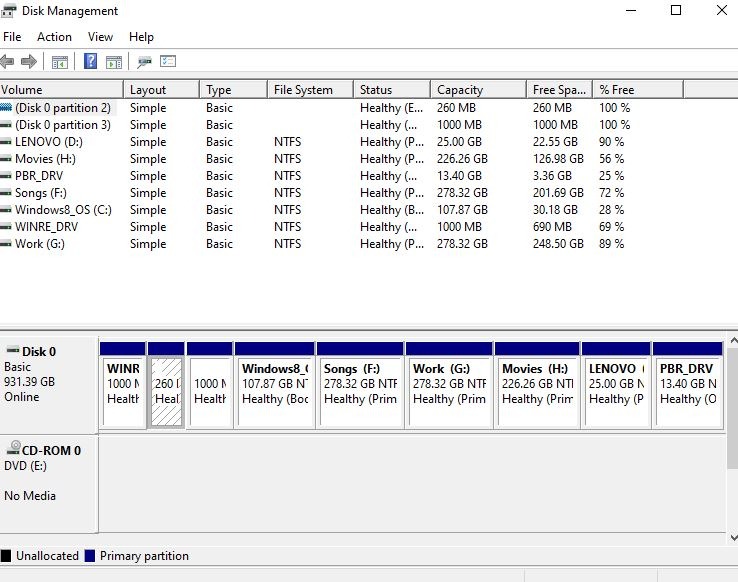 After selecting that, the disk management window will come up, then go to your SD card listed in the removable. Right-click on the SD card and select 'Change Drive Letter and Paths'.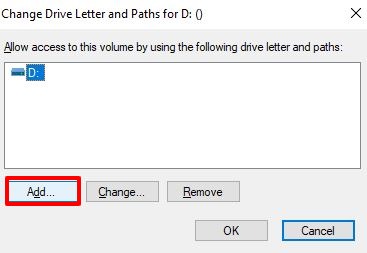 A pop-up window will appear on your screen, click on 'Add'

Select browse in the pop-up window that shows up next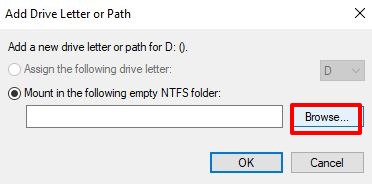 Now, search for the folder you created earlier on C:/SD card and select OK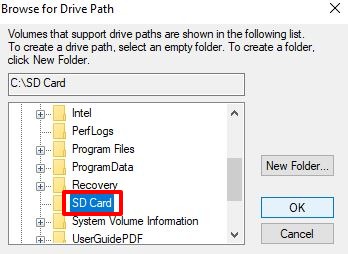 Installing the SD card as a local drive on Windows 10 is very simple and straight forward. The Windows 10 has a smaller space than other Windows versions. However, After reading the brief of its process, I'm sure you now acquired the knowledge of how you can easily mount SD card in Windows 10.
No matter how you've deleted your photos from the recycle bin or the SD card, wether intentionally or unintentional, this article has covered all fundamental processes that would help you reclaim your precious photos quickly and conveniently.
Nevertheless, convenience is everyone's priority when it comes to recovering lost files, thus utilizing Recoverit data recovery software is the best way you can reclaim your deleted photos faster and easier.
Fix Media File Issues
Recover & Repair Photos

Recover & Repair Videos

Recover & Repair Audio

Recover & Repair Cameras