How to Recover Deleted Videos and Photos from Sony Camcorder
Is it Possible to Recover Deleted Videos from Sony Camcorder?
I accidentally deleted some videos from my Sony Handycam HDR-CX56X camcorder. I am using my 2GB Sony memory stick, and I know that all the videos taken with the Handycam are stored on it. I tried to take the stick out and connect it to my computer, but the deleted videos were not there. Is there any possibility to recover deleted videos from Sony Camcorder?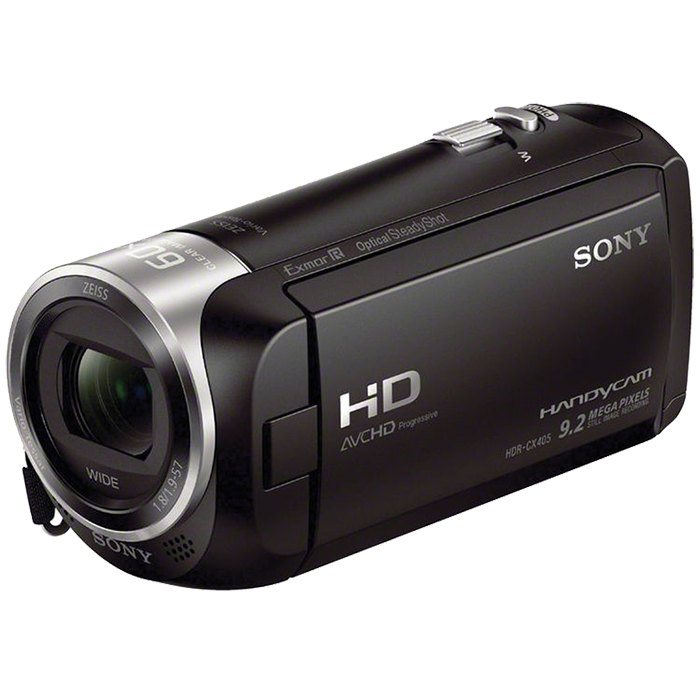 Memories are very important, and camcorders such as the Sony HDR-CX56X are for this purpose. Because they are important, it is hard to process the scenario in which they get lost. To many, losing these files is the beginning of the very end, but with this article, it is the beginning of recovering your files.
In this article, we will cover some important things, such as how the Sony camcorder save videos, where deleted videos go, and how to recover those files. It will also include some tips to help you in preparing for how to use your Sony camcorder after recovering the files.
Part 1. Can You Retrieve Deleted Videos from Camcorder or Handycam?
When videos and photos get lost on our Sony camcorders, we are left with a question. Can you recover deleted videos and photos on the Sony camcorder?
Yes!!! You can. But before knowing the process, it will be better to discuss several things you might need in the long run.
Why Do Your Camcorder or Handycam Videos Get Lost?
There are many reasons why videos get lost on camcorders. Each one will be explained so that you can avoid them. Before continuing, note that files get lost majorly because of the users' actions.
Accidentally Deleting Files
The most common way people lose their files. It occurs as a result of improper management of the storage device.
Malware Infection
Another common way you can lose your files is by malware infection. Malware can modify, edit, and delete files without permission. There is a huge probability of losing your videos and photos when your Sony camcorder has a virus. There are many ways that malware can enter your device. A common one is using a storage device on multiple devices.
Power Failure
You can lose your videos and photos if your system shuts down due to power failure during a transfer. You can also lose them during transfer if your PC shutdown abruptly without the transfer being complete.
Physical Damage
Damaged storage device increases the probability of losing your files.
You can also lose your files when they steal your storage device or your Sony camcorder. Although it is not related, it is a sure way your videos and photos can get lost.
---
Is There a Way to Recover Permanently Deleted Videos?
Yes, there are methods that you can recover deleted photos and videos on Sony camcorder. If there is no way to do this, we won't have this article. What now happens when you delete a file?
Contrary to the beliefs of others, your file doesn't just disappear when you delete it. In fact, it disappears only from your eyes. It is still on your storage device. This rule is only obeyed if you do not add more files to overwrite the deleted ones.
Below is an illustration of what happens when you delete a file on your SD card via any means.
If a photo named XXXX is present on your storage device, there will be a table that contains the file name and the location. When you delete the file, the drive deletes the first character of the file name. This action shows that the file is no longer allocated. An unallocated file will not be visible on the drive. However, it is present.
You can recover such files by using data recovery software. The software changes allocate the file by restoring its name. Below are the methods you can use to recover deleted videos and photos on Sony camcorder.
---
Part 2. How to Recover Deleted Videos from a Sony Camcorder or Handycam?
This is where the real action begins. The above sections are for knowledge, and the implementation of what you learned will show here. Below are the various methods you can use to recover videos and photos from the Sony camcorder.
Method 1. Use Recoverit to Recover Sony Videos
Before doing anything else, you should find a best Sony Camcorder recovery tool to help you recover deleted data on your devices, for example, Recoverit Data Recovery. Also, you should stop using the Sony Camcorder after the loss to avoid data being overwritten, otherwise, it will become difficult for videos and photos recovery.
Video Tutorial on Photo Video Recovery from Sony Camcorder
---
Download and install Sony Camcorder data recovery on your computer. Launch it and follow the tutorial below to recover your videos and photos back from Sony Camcorder. You can connect your camcorder directly to the computer with a USB cable, or just connect the memory stick with a card reader.
Step 1. Select location of Sony Camcorder
Make sure your Sony Camcorder has been connected to the computer. To recover deleted videos and photos from Sony camcorder, select the camcorder and click "Start" button to get started.
Step 2. Scan the Sony Camcorder
Recoverit data recovery will start an all-around scan. It will search for all lost or deleted photo or video files from Sony Camcorder.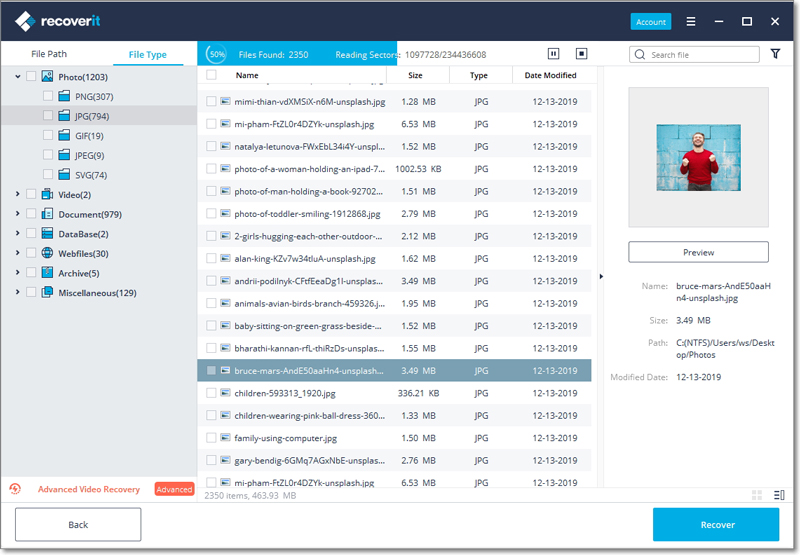 Step 3. Preview and Recover Photos and Videos
After the scan, all recoverable files, including photos and videos, will be displayed and listed in categories. You can preview them and even recover them all with one click.
Advanced Video Recovery for fragmented video recovery (recommended)
With above simple steps, you can get lost videos from Sony camera with ease. However, you might find the video corruption after the preview using software in some cases. It may be caused by fragmented video. If so, Recoverit reminds and works for you. Recoverit Data Recovery Advanced supports Advance Video Recovery feature. It scans, gathers and matches the fragments of your corrupt videos, and thus ensures most of your videos are recovered from DSLR, Digital cameras, Drones, Action Cameras, Dashcams, camcorders, SD card, PC, HDD, etc
Scan the whole partition and match all video fragments
Merge the fragments from the same video
Recover unlimited video files without corruption
Just click Advance Video Recovery option to recover fragmented video file easily.
Note: After recovering deleted videos and photos, don't save them on your Sony camcorder or the source memory stick again. You should find another storage media for storing deleted videos and photos, like your computer or other external disks. It is because if you save the recovered videos and photos onto the same location as Sony Camcorder, it may overwrite the deleted files and result in losing data completely.
---
Method 2. Use the Recycle bin
If you deleted the videos or photos on a computer, either Mac or Windows, this is a very good method to try out. Deleted files are found in the recycle bin (Windows) and Trash bin (Mac) and can be restored if not permanently deleted. Depending on the operating system and version, we have arranged the various steps of recovering your restore files from the recycle bin.
For users with Windows 10 version, follow these steps.
Type "Recycle bin" in the file address.
Select the audio files, right-click, and click on "Restore."
For users with Windows 7 and 8, follow these steps.
Navigate to Recycle bin and choose the file you want to restore.
Select the audio files, right-click, and click on "Restore."
For Mac users, use these steps to restore your files
Open the Trash bin.
Select the audio files, right-click, and click on "Put back."
Restoring your files using this method is only possible if you deleted them on your computer. If you didn't, you should try the other methods.
---
Method 3. Restore your Backup
If you back up your files before deleting, this is the method for you. There are many ways you can backup your videos depending on the operating system and version. Windows 10 users use File History, while Windows 7 users use Windows Backup. However, Mac uses "Time Machine."
Since Windows 10 is the most common, we are using Windows 10 as the way you can recover your files.
Step 1: Opening File History
Open File Explorer and navigate to Libraries.
Under the "Home" tab, click on History
Step 2: Select the files
Check and select the right version of the files you want to restore. You can search for the file names using the Search box.
Step 3: Restore the files
There are two processes you can use to restore your backup files. They are the "Restore," process and the "Restore to" process.
With the "Restore" process, the files go back to the original path. Click on the green button, and the files should be restored.

The "Restore to" process allows users to choose the location. Right-click on the green button and click "Restore to." Choose the location and tap on the "Select folder" icon to restore the files.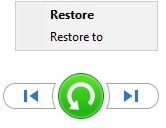 ---
Part 3. Expert Knowledge to Prevent Accidental Sony Video Loss
In other to reduce the accidental loss of videos and files, there are a few things we have to do. In this section, we will talk about some general things about Sony Camcorders. For example, the best one for video security, the file format, and how to transfer videos.
It will also include some tips so that you wouldn't need to know how to recover deleted videos and photos on Sony camcorder.
What's a Sony Camcorder or Handycam?
Camcorders or Handycam are devices used for video and audio recording. Their wide use is due to the ease of operation and portable. Although there is a mix of the usage of both terms, there is a slight difference.
From there name, Camcorders are devices used to capture video (cam-) and at the same time record (-corder). Handycam is the same as a camcorder, although it is the tradename of camcorders produced by Sony.
What Is the Best Sony Handycam to Buy for Video Security?
Choosing the best Handycam for video security requires in-depth research into some features. These features, for example, storage capacity, 4K display, and budget go a long way in deciding the best.
Based on research, the best Handycam you can get for video security is the Sony FDR-AX43. It is easy to operate, and with a BIONZ X processing engine, there is faster image processing.
What Format is the Sony Camcorder of Handycam Video?
To keep your memories (videos and images) very well, they must retain good quality. In other to make file transfer easy, the format must be compatible with many operating systems/devices.
The most common formats used by today's cameras are DV, HDV, MPEG-2, AVCHD, MPEG4. Of all these formats, the ones mostly used by Sony camcorders are the AVCHD, XAVC S, and MP4.
The use depends on the type of recording, action, and resolution. For example, our best camcorder for video security records in XAVC S or AVCHD and shares using MP4.
How to Transfer Videos from Sony to Computer Without Video Loss?
Before you transfer your videos and photos from your camcorder to other devices, especially computers, there are few things you should know to avoid losing your files.
Be mindful of power failure
Power failure during the transfer process has a high probability of leading to lost files. Especially if you are using an external storage device for the process.
A power failure occurs in many ways but leads to the same result. The result is the abrupt shutdown of the computer during transfer.
To avoid losing your videos, use devices like UPS to protect you against power failure. Also, do not shut down your system without stopping or finishing the transfer.
Using cloud storage is better than using transfer using the SD card. Cloud storage has little chance of infection from malware, although they cost money.
There are a lot of cloud storage facilities. Sony has its own, and for external ones, you can use other services such as Google Drive and Dropbox.
Do not use your SD card with multiple devices
To avoid infection by malware, do not use your SD card with multiple devices. Malware, as stated earlier, can modify, edit, and delete files. Therefore, when present, they can lead to the loss of files.
Other Common Tips for Secure Sony Videos
Backup your Files/ Use cloud storage more
Using the methods described above, back up your videos and photos by using cloud storage. If you are worried about the cost of Sony's cloud service, there are other free ones. Good examples are Google Drive and One Drive. Since they are free, there is a limit on the number of files you can store there.
Constantly format your SD card on your camera
Format your SD card constantly, albeit on the Sony Handycam. Constant formatting ensures lesser chances of infection by malware Formatting on This action is to avoid having issues with the file system and the file format. If you format outside the camera, you can unknowingly change the file system supported. When this happens, the files present might be unrecognized.
Use SD card on only one device
To reduce the chances of getting malware on your storage device, use it on only one device. Sharing SD cards on multiple devices increases the risk of them catching viruses. However, if you want to be using it on multiple devices, get an antivirus.
Written to help users recover deleted videos and photos from Sony camcorder, this article includes a lot about Sony Handycam. It sheds light on how to recover deleted videos and photos from Sony camcorder and how to avoid having the problem. It also includes tips on how to use the camera. We believe that you won't have to worry about your photos and videos after going through it.
Fix Media File Issues
Recover & Repair Photos

Recover & Repair Videos

Recover & Repair Audio

Recover & Repair Cameras