Windows Media Player is the preferred video playing software for Windows. If any video file plays without issue on the Windows Media Player but produces no sound then there might be an issue with either the file, the Media Player itself or the codec that is being used to play the file. The same three issues might be behind the problem of converted MP4 file having no sound when being played on Windows Media Player. All of these three issues can be fixed quite easily and the video files and the converted MP4 file can both be played with sound in Windows Media Player if you make use of a video file repair tool. However, make sure that you use only the best video file repair tool for this purpose.
Part 1. The Best MP4 Video File Repair Tool
Stellar Phoenix Video Repair is a repair tool used for video repair. It is one of the many such tools that are available on the internet. The distinguishing feature of this video repair tool that separates it from its competitors is that it can fix video files do no play errors and repair crash video file with consummate ease.
Stellar Phoenix Video Repair is an incredible video repair tool. It has all the attributes and features which are required to repair crash video file and restore all of its contents.
Fixes video corruption issues by rebuilding header, frame, movement, duration and sound damages.
Repairs video files on Windows like WMV, ASF, MOV, MP4, M4V, 3G2, 3GP and F4V files
Repairs video files on Mac like MP4, MOV, M4V, M4A and F4V
Repairs videos stored on hard drives, memory cards, and other storage media
Provides preview of the repaired video files of supported file formats.
Fixes various corruptions of the file on OS X and Windows OS systems.
Part 2: How to Fix Video Files Do Not Play on Windows
This guide has been created to provide users of Stellar Phoenix Video Repair the opportunity to learn how to fix video files do not play with this excellent video repair tool. It contains step-by-step instructions which will tell you how to repair crash video file using Video Repair Tool.
Step 1 Launch MP4 video file tool, click "Add Fil" button to add corrupt Mp4 video files.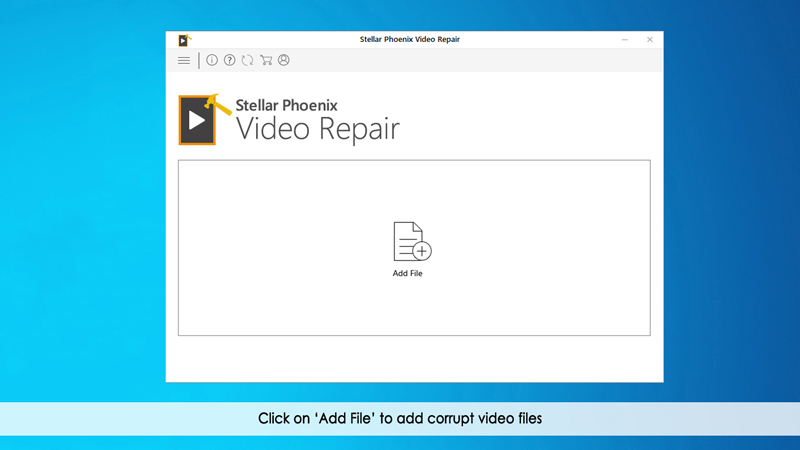 Step 2 SSelect one or multiple video files and click "Repair" button to start to repairing process.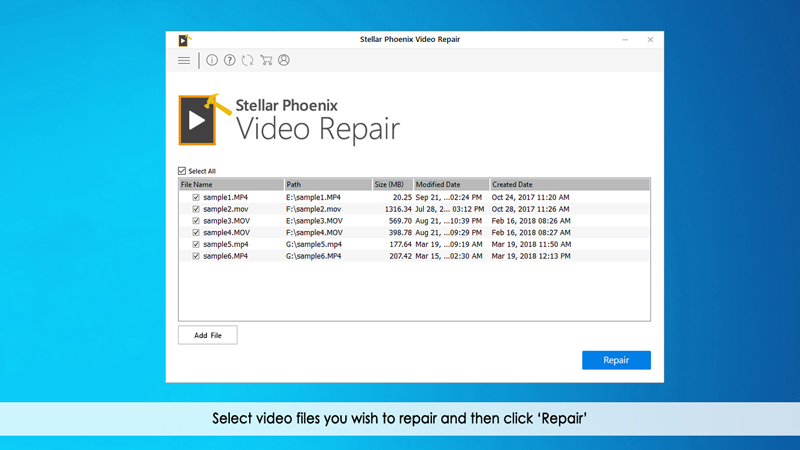 Step 3 Repairing corrupted or damaged MP4 video files in process.
Step 4 Before Saving repaired MP4 video files, you can preview repaired video files.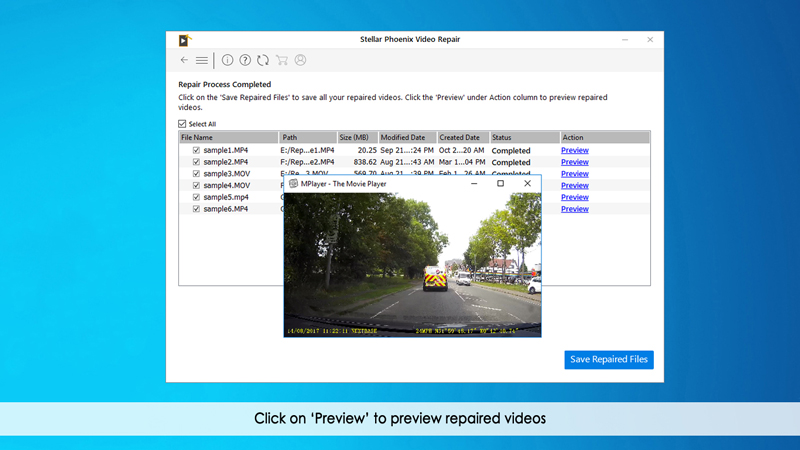 Step 5 Saving repaired MP4 Video files to a preferred destination.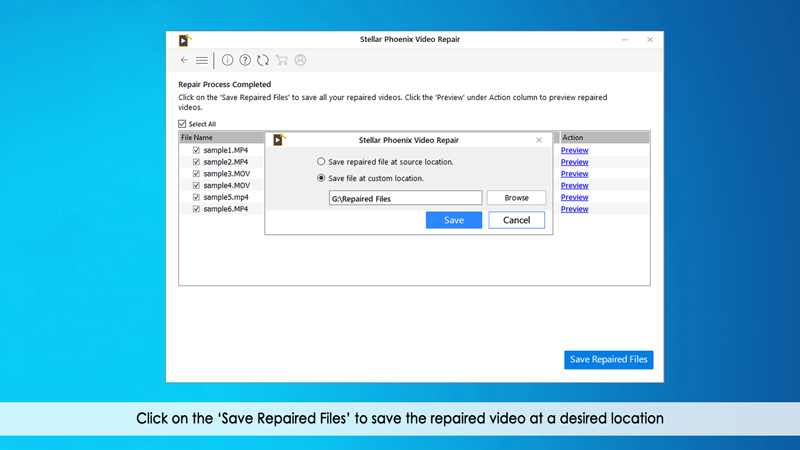 Tips:
The following tips are going to help you out in your attempts to fix video files do not play. Make sure that you keep them in mind and follow them to the letter. They can save you from a lot of trouble and aid you in your bid to save your video files from getting crashed again and again.
Invest in an alternate power source like a UPS. This will save you from the system crashes and the subsequent corruption of video files that occur due to power outages.
Get your hands on to a powerful antivirus software program that is capable of keeping your system safe from invasive malware and viruses which can infect your video files.
Never eject external storage devices from your PC while the transfer of video files is taking place. Doing this would corrupt the video file and you will not be able to play them on your PC or anywhere else.
Creating backups of your video files is a wise thing to do. However, make sure that you save them on an external storage device. This would ensure that if your local hard drive develops bad sectors and corrupts your video files, you will have the external storage device to fall back on to for retrieval of your video files.
File Repair Tips
Document Repair

Video Repair

Photo Repair