The most trending camera in the market nowadays is Nikon Coolpix L340. This digital camera is popularly known for its excellent image quality. But, no matter how great it is, the camera is also susceptible to data loss. There are many users who accidentally delete their files and don't have any idea how they can recover them. Luckily, there is a tool which can ensure that you'll get all your camera photos and videos back.
Normally SD card seems like a better backup option. But in some cases, the data can get lost or deleted from the card too. Whether your photos are lost, deleted, formatted, or crashed from the Nikon Coolpix L340 SD card, you can easily recover them with Recoverit Photo recovery software. In this article, we will discuss briefly the Nikon Coolpix L340 and how to recover deleted camera photos with it.
Part 1

How to Restore Photos from Nikon Coolpix L340

The first thing we will discuss is the method that will help you to restore the photos from the camera. For this, we will use the top rated data recovery tool that is Recoverit Photo Recovery.
1. Free Download Recoverit Photo Recovery
Recoverit Photo Recovery is fully efficient in restoring the photos and other data files from various types of storage devices. If you are in need of an easy, fast, and reliable data recovery tool, then Recoverit is the tool that would work for you.
The main function of the software is retrieving your data files from Nikon, Canon, Sony, Kodak, Olympus, and any other digital camera. The software uses a file-recovery algorithm to ensure that the quality of the file isn't compromised under any circumstances. Along with the basic algorithm, there is a deep search algorithm available too to further improve the recovery rate.
2. Video Tutorial on Camera Photo Recovery
3. How to Recover Deleted Camera Photos
To start the recovery process, you will have to begin with the basic download. The steps you need to follow are listed below:
Now connect the SD Card from which you lost your photos. The software will immediately detect the storage device and display on the screen. You will see the SD card name under the External Devices option. Tap on it to select the device and click on Start button to scan storage.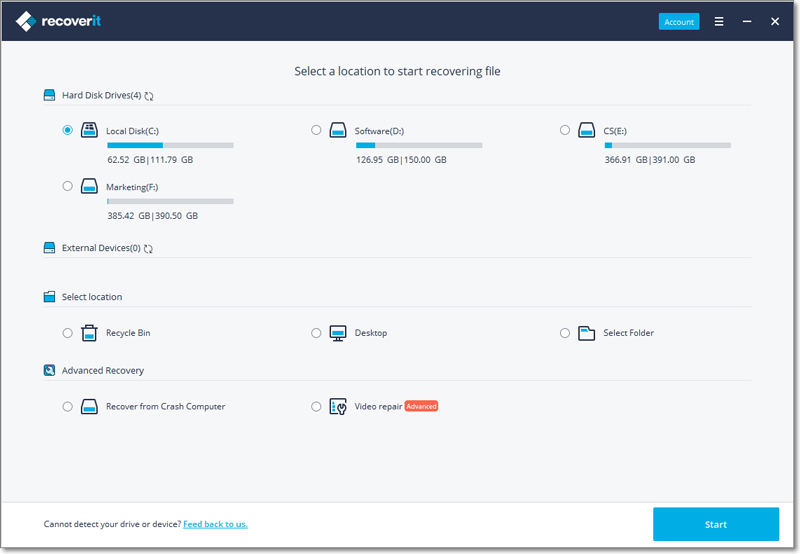 Recoverit Photo Recovery will initiate an all-around scan on your Nikon Coolpix camera to deep search for the lost pictures.
Preview and recover photos
While you are selecting the photos, you can also have a preview of every photo. Have a preview o the photos if you want to. After you've selected all the photos, click on the Recover button and customize the location where you want to save the pictures.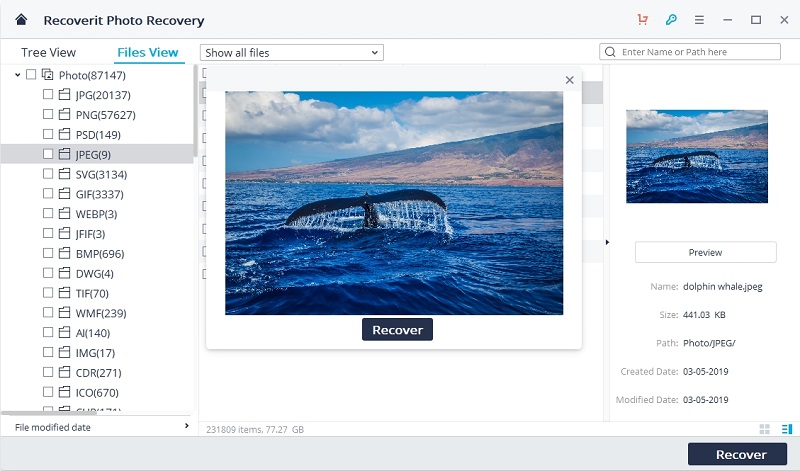 Make sure that you don't save the photos in the SD card. Choose some other storage space and then transfer the files. Depending on the number of files, the recovery might take a few minutes or a longer time. Hopefully, now you know how you can recover photos from Nikon or any other digital camera card.
---
Part 2

Brief Overview of Nikon Coolpix L340

If you've never heard of Nikon Coolpix L340, then you are living in an old era. It is a new bridge camera which has the most brilliant features of a digital camera. It is a budget-friendly camera with commendable features. The special effects, scene detecting automatic mode, and the Smart portrait mode will flatter the users. With increased zoom range, it is an excellent upgrade of the L330.

The key features of the camera are listed here:
20.2 MP 1/2 3-inch CCD sensor camera with ISO80 to ISO1600
28x optical zoom lens with 22.5-630 mm equivalent, f/3.1-5.9 aperture
3.0 Inch LCD screen, 460,000 dots
HD 720 p Video recording
Lens shifting Vibration Reduction
Powered by AA batteries
This lightweight camera with advanced Expeed C2 Image Processing System makes the Point and Shoot function even better. But the image format support of the camera somehow lacks. It has a file system for DCF, EXIF 2.3 Compliant, and JPEG format support.
As there is no storage space in the camera, it comes with a minimum 8 GB SD card. The card support also includes SDHC and SDx card. Still, the cards have limited space only. Therefore, once the storage is full, you won't be able to save the photos in the card. Mainly, that's the reason why people delete the photos from the card. But sometimes, unexpected loss happens in the card due to mishandling or some corrupted file.
Whatever the reason is, if data loss happened in the Nikon Coolpix L340 SD card then there are still chances that you can recover the image files.
---
Part 3

Precautions Against Lost Nikon Camera Photos

If you want to make sure that your photos are protected then you should remember a few things. There are many things you can do to avoid data loss form Nikon Coolpix L340 SD Card. The camera is just an electronic device, therefore it is necessary that you follow some safety precaution to ensure that your data is safe. The basic precaution steps you should take are given below:
Use High-Quality SD Card: The best thing you can do to keep your photos safe is using a good quality SD Card. Sometimes, people end up using a corrupted card, or the one which has a virus in it. Thus, the photo loss becomes unavoidable. So, make sure that you buy a high-quality card.
Use the Card Properly: Don't apply force to the card-slot, connector, or the battery chamber while changing the card.
Avoid Using Camera near Water: Mark this that you never use a digital camera inside water or near water. Even a small exposure of water can lead to battery failure which would ultimately result in photo loss.
Don't allow the Camera to Overheat: Avoid using the camera in extreme heat conditions. And don't put the camera directly under the Sun. the intense light will damage the sensor and also reduce the image quality.
Avoid Strapping Camera Around the Neck: Remember not to hang the camera around your neck with a strap. The camera hanging around might get a hit with some solid object that can cause serious damage.
Always get the Camera Fixed By a Professional: If there is an issue with the camera, then don't try to handle it yourself or you might delete your photos accidentally.
Handle With Care: Most of all, please make sure that you handle the camera with proper care.
---
Part 4

How to Choose an SD Card for Photography

As you now know how important the SD card is, it is crucial that you understand how you should choose the right card too. Even though the MicroSD cards are getting popular, but SD card still holds the market for photography. As it is a vital component for DSLR and mirrorless camera, you must gather information which is the best SD card for photography. To decide that, you will need to take some factors into consideration.

The first and most important factor that needs to be considered is the camera model you own. Basically, there are two categories, i.e. Point and Shoot Cameras and DSLR. If you have a Point and Shoot camera, then you must choose among the 2 types of SanDisk memory cards. The two options are the SanDisk Standard Blue line card and the SanDisk Ultra Line card. For DSLR, you can choose SanDisk Ultra Card, or the SanDisk Extreme and Pro card.

The Read and Write speed also matter a lot. The R/W speed will determine the HD video quality in Point and Shoot Cameras and DSLR too. Therefore, it will be better that you choose the Ultra line card for Point and Shoot Cameras and Extreme Pro card for DSLR. That's how you will be able to maintain the quality of the photos and videos.

It is a vital factor to determine which card would be ideal for use. In Full HD video from a Point and Shoot Camera, the memory used can be 2GB for 10 minutes. Therefore, it will be better that you at least keep a 16 GB card in your camera. The recommended memory card capacity is 32 GB, but you can expand the memory as per your requirement.

Whichever camera you own, the purpose of the camera must be clear too. For still frame photos in Point and Shoot Cameras, you can choose SanDisk Standard Blue line card. But for class video quality photos and videos, you must switch to the Ultra Memory card. In DSLR, the choices get converted to Extreme Card and Extreme Pro card respectively.
---
Conclusion:
Hopefully, now you understand that every camera has its own specific needs to work properly. To keep your photos safe, you'll need to take safety precautions seriously. This way, you will be able to keep your SD card data safe and secured.
And if unexpectedly some files get lost, then you obviously have Recoverit Photo Recovery to restore them. So, the next time you experience a similar kind of situation, you know exactly how to recover pictures from any device.
Q: Can I use Recoverit Photo Recovery to repair my corrupted images?
A: Recoverit is the ultimate solution for file recovery. Wanna repair broken images? Check out the page:
Repair Corrupted Photos
.
Fix Media File Issues
Recover & Repair Photos

Recover & Repair Videos

Recover & Repair Audio

Recover & Repair Cameras