How to Recover My Photos for Free
How can I recover my deleted or lost photos? - a question from Quora
When photos are lost or deleted from your computer, memory card, SD card or digital camera, you'll be wondering how to restore deleted or lost photos for free. If you come to the Internet and search "Recover My Photos" on Google, you will get a series of photo recovery software from the search results. Usually, resorting to a reliable photo file recovery utility, the questions of "How do I get my pictures back" can be answered and resolved without much effort.
Part 1. The Best Free Software to Recover My Photos
What is the best software to recovery my photos?
How can I get a free photo recovery software without crack? All my photos got deleted, and I want to restore all my lost photos. Any free photo file recovery software can HELP ME?
Yes, although the Google results offer you a number of photo file recovery software when you search "recover my photos". But the next question you may ask is: what is the best one to restore my photos. In this section, we introduce 2 pieces of photo recovery software for you to retrieve photos.
1. Overview of Recover My Photos Software
"Recover My Photos" is a highly praised photo recovery software. It can help you recover deleted or lost photos from computer, memory card, USB flash drive and other storage media. It can be used to undo deleted photos in different formats, such as JPEG, TIF, PNG, CRW, RAW and so on. MOV, MPEG, AVI videos can also be restored from smart media.
Limitations of Recover My Photos
The program is only workable for Windows computer, if you are working on Mac you should get the photo recovery which supports macOS system.
"Recover My Photos" has no a free trial version for lost or deleted photos recovery. It can only retrieve photos back with a purchased license key.
The program for retrieving photos requires a big capacity of random-access memory to install it on a Windows computer.
Because of the limitations of "Recover My Photos", we prefer to recommend you a free photo recovery software with much better functions. In the following guide, we will introduce the best and free way to recover deleted or lost photos.
---
2. Recoverit Data Recovery - The Best Photo Recovery Software
For those who are searching for "How do I retrieve my photos", we recommend the best free photo recovery software, that is Recoverit Fre Data Recovery program. It is the most reliable and safest data rescue utility to help you acess and retrieve deleted photos for free.
With the photo file recovery software, you can easily recover photos, music, movies, videos, audio files and many more media files in various file formats, such as, JPG, JPEG, GIF, PNG, BMP, TIFF, DNG, RAW and any other photo formats. No matter how and where you lost your photos, Recoverit Data Recovery can always help you with all photos recovery.
Applying the photo retrieval solution, the conclusion can be made: Recoverit helps me recover my photos from everywhere. The photo file recovery software works well with all kinds of photo media: Windows PC, Mac computer, hard drive, recycle bin, external hard disk, digital camera, memory card, pen drive, USB flash drive, etc.
Recover my deleted or lost photos for free effectively, safely and completely.
Recover my lost photos due to accidental deletion, formatted, lost partition, virus attacked and system crashed.
Retrieve my photos in different image formats with high success rate and without any quality loss.
Supported OS: Windows 11/10/8/7/XP/Vista and Mac OS X 10.10 - macOS 13 (Ventura).
Part 2. How to Recover My Photos for Free
Now, you have got the best free photo recovery software. We suppose that you must wonder "how can I restore my deleted photos". To find my lost photos or recover my deleted pictures, have a look at the below video or text guides.
1. Video Tutorial on How to Retrieve Photos
This videos tutorial is the guide for you to recover deleted photos in Windows easily and effectively. For Mac users, you can also follow it, since the steps are almost the same.
---
2. How to Recover My Deleted Photos Free
Free download and install Recoverit Data Recovery on your computer. On this tutorial steps, we will start with Recoverit Windows version. If you are working on Mac, you can follow the guide of how to recover my deleted photos free on Mac.
Step 1

Select a Data Recovery Mode.
Launch Recoverit Data Recovery firstly to make the preparations for "Restore My Photos".
To retrieve deleted or lost photos, you can select "Deleted Files Recovery" mode to get started.
If your photos are stored on SD card, you need to select "External Devices Recovery" and connect your SD card to the computer.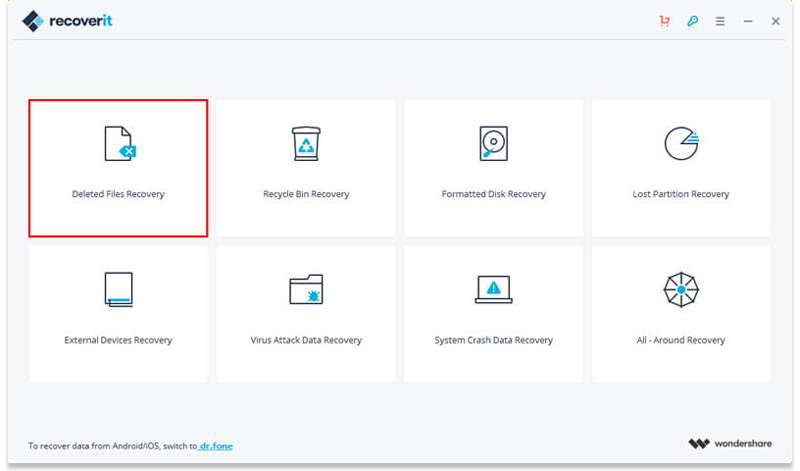 Step 2

Select a Computer Hard Disk Drive

Please select a hard disk drive where your photos were deleted or lost before. Then click "Start" button to process.
Step 3

Scanning Deleted or Lost Photos
The photo file recovery software will start to scan your deleted photos from hard disk drive.
The first scan will end within 2 mins. You can check and preview some recovered photos.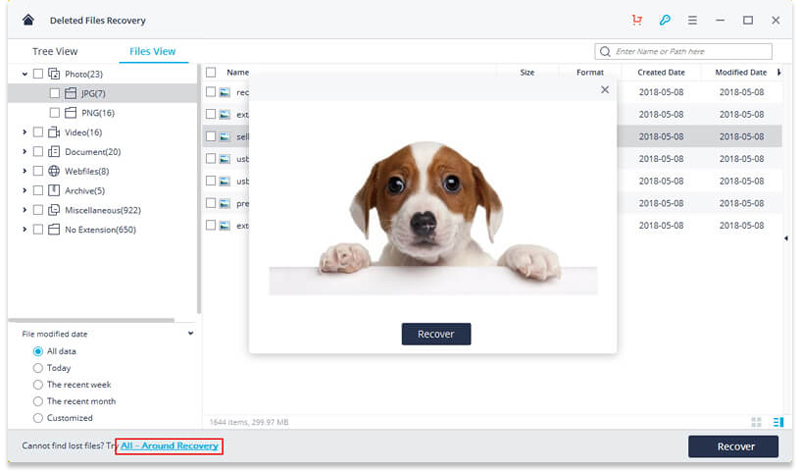 Step 4

Scan with All-around Recovery Mode
If you cannot find your lost photos, you can go to scan again with "All-around Recovery".
The "All-around Recovery" mode will deeply scan and search more files from computer hard drive, and it will take a longer time to complete the process of scanning.
Step 5

Preview and Recover My Photos
Finally, you can check and make a preview of all recoverable files on the results.
Click the "Recover" button to restore and save your photos for free.
Please get a safe storage device for your recovered photo to avoid data loss again.
With the free photo recovery software, you can easily and effectively get your deleted photos back. Download now and try it for free to get photos back.
---
Part 3. How to Avoid Photos Loss Scenarios
Having got the answers to "how can I restore my photos" and got my lost photos, maybe you still wonder how to avoid losing pictures or accidentally deleting photos once again.
1. Photo Loss Scenarios
The most common causes of photos loss you should note: deleted some photos by mistake is the most common cause of data loss. An inquiry is oftentimes posted in many forums.
Help! Accidentally deleted my photos. I want my deleted photos back. What should I do?
Accidentally format your storage device, hardware malfunctions, software meets with corruption, virus attacks the computer, or hard drive or file system gets crashed. All these reasons will also cause your photos permanently deleted. In order to avoid losing important data over and over again, you should prevent yourself suffering from the same data loss scenarios in the future.
Luckily, no matter how and where the photos get deleted or lost, we can always restore lost data back with some easy ways. Follow the above guide and learn how to recover my deleted or lost photos for free, easily and effectively.
2. Tips for My Photos Recovery
Even you can undo deleted photos easily with data recovery program, you will also need to take some necessary measures to keep the stored pictures safe all the time. Here are a few viable tips that you can follow.
Properly handle your storage media:
Keep your storage devices safe and avoid virus attack. Get an antivirus program downloaded and installed on your computer and update it regularly.
Backup your data regularly:
If your data is very important, doing backup is the most effective way to keep your data safe and prevent data loss. When the data loss, just go to backup of your storage device and copy to get your data back.
If you find data loss on your device like camera digital, memory card, SD card or hard drive, etc. Please stop using your device and do not store any new data and file on it. Or it will cause data to be overwritten, and it is hard to get your deleted photos back.
Data loss happens all the time, it must be very frustrated. The only thing you need to do is just to clam down and find a solution to retrieve data back. The solution we offer is to get a powerful photo file recovery software to help you retrieve data back, for example, Recoverit Data Recovery. It can help you solve any data loss issue. You can try it now for free.
Free Recover Data
Top Recovery Freeware

Top Recovery Solutions