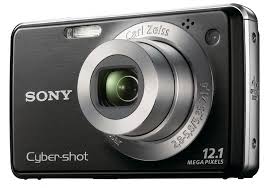 "How can I retrieve deleted photos from Sony Cyber-shot camera?" - a question from Quora
When you mistakenly deleted photos and videos from your Sony digital camera, you will need digital photo recovery software to help you get all deleted data back. But you have to stop using Sony Cyber-shot camera and do not save new photos or files on it.
The loss of precious photos and videos was very frustrating. There are many reasons will cause photos to be deleted or lost from Sony Cyber-shot camera. We will list some common loss scenarios as below. Know well about these situations and get the reliable photo recovery software to recover all deleted photos.
Pressing the "Delete All" button accidentally on your Sony Cybershot camera;
Photos are lost when transferred to the computer or other storage devices;
Inaccessible or missing photos from corrupted or crashed Sony Cybershot camera;
Camera asks for a format, such as "the disk in drive is not formatted", "the card is not initialized" error message;
Part 1. All-Around Sony Memory Card Photo Recovery Software
Can photos be retrieved when deleted from a memory card?
As mentioned before, when you deleted digital photos from your Sony Cyber-shot camera, it is possible to undelete photos. As long as you stop shooting new photos with the Sony camera, a memory card photo recovery program is able to help you out.
Recoverit Undelete Recovery is one of the best photo recovery sotware. It can easily and completely aid you in undeleting photos and videos regardless of the lost photo scenarios, including deleteing all photos from Sony Cybershot accidentally and transferring photos from Sony Cybershot to computer improperly. The software supports the photo recovery from Canon, Nikon, Lumix, Samsung, Fujifilm, Olympus, Panasonic and more.
Part 2. How to Recover Deleted Photos from Sony Cybershot Camera
How do I get my photos back from my Sony camera?
Recoverit Undelete Recovery is a piece of easy photo recovery software featuring an intuitive interface and simple recovery procedure. Move forward to get the simple steps.
1. Video Tutorial on How to Undelete Photos from Digital Camera
On this video tutorial, we will show you how to recover deleted photos from camera. The SD card should be taken out off your Sony Cybershot camera.
---
2. How to Recover Photos from Sony Cyber-shot Camera
Download and install Recoverit Data Recovery on your computer. Follow the next steps to perform digital photo recovery and undelete all pictures.
Step 1. Select Your Camera or Storage Device
Make sure your Sony Cybershot Camera is connected to the computer, or you can take out off the memory card from Sony camera and connect it to the computer.
Select your Sony camera device or the memory card/ SD card storage detected on your computer. Click "Start" to process.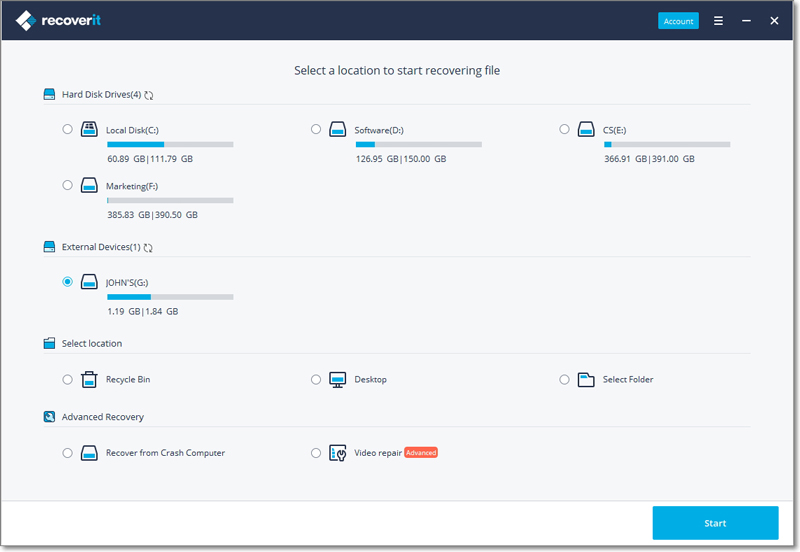 Step 2. Scanning your Sony Camera or Card
The easy photo recovery program will start to scan your device to search lost data. After the quick scan, you can preview some recoverable files.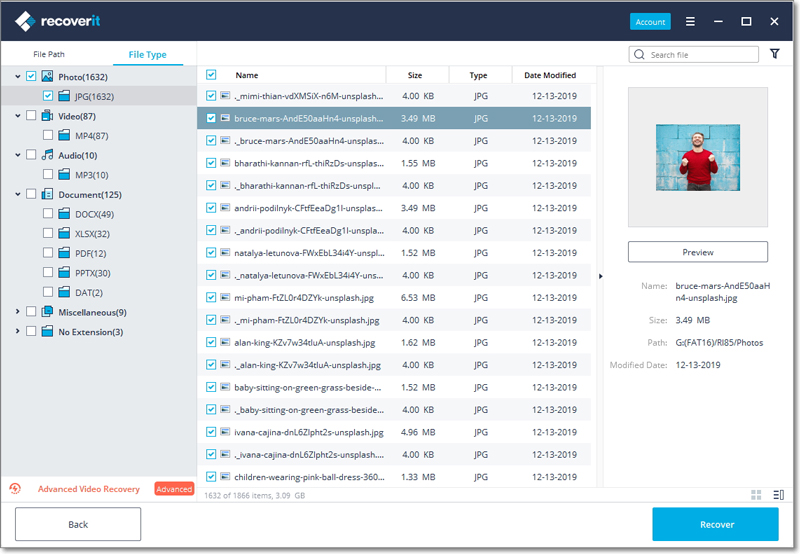 Step 3. Preview and Recover Digital Photos
After the scan, you can filter photos in Tree View or Files View and preview all recovered photos and videos.
Mark one or more photos you want to undelete and click "Recover" to get deleted photos back.
Get another safe device or different location to save your undeleted photos in case of data loss again.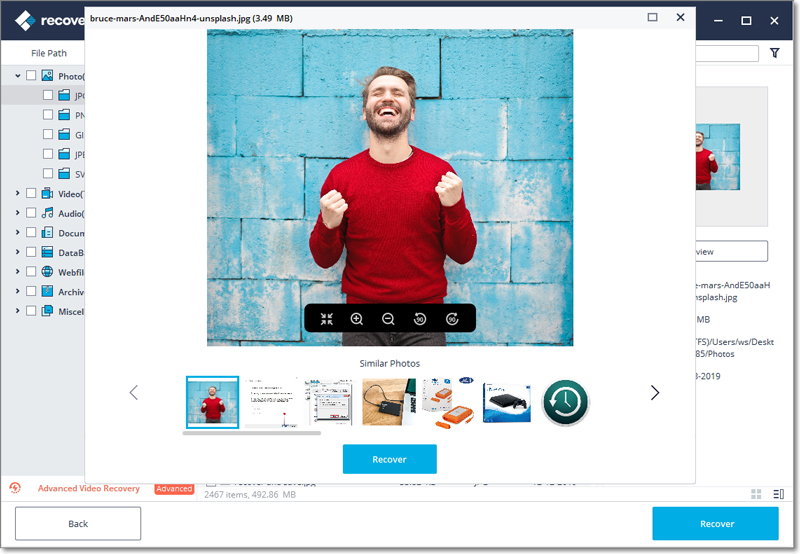 As above mentioned, the specific steps can help you recover deleted photos from Sony cybershot camera. Actually, you can make it only 3-step (Select - Scan - Recover).
---
Part 3. More Details About Easy Photo Video Recovery
This is a section to help you learn more details about the Sony Cyber-shot camera and memory card photo recovery software.
1. Information About Sony Cyber-shot
Sony Cyber-shot line is one of the most popular Sony digital cameras with photographers. It is a point-and-shoot digital camera coming with Carl Zeiss lenses. The Cyber-shot camer line has released many models and series, including: Sony H and HX, QX series, Sony DSC, R and RX series, Sony WX, T series, W series, etc.
All Sony Cyber-shot cameras support a variety of memory sticks, such as CF card, SD card, SDHC card, SDXC card and so on. Recoverit Photo Recovery supports to recover deleted photos from memory card in different types, models and brands. If you unfortunately lost photos from Sony Cyber-shot camera, get Recoverit to recover all deleted photos now.
2. Tips on Easy Digital Photo Recovery
A few tips on memory card photo recovery can bring you more relaxed photo recovery journey. Get the tips here.
Stop using Sony Cyber-shot camera once you find your photos and videos lost.
Stop restarting the Sony Cybershot camera over and over again for digital image recovery.
Use a trustworthy and professional memory card photo recovery tool to avoid data damage.
Save the recovered Sony camera pictures on a different and safe storage location.
Following the steps and tips from Recoverit Undelete Recovery, you're able to recover deleted files from camera easily and safely. Free download and try it for free now.
Solve All Media File Issues
Recover & Repair Photos

Recover & Repair Videos

Recover & Repair Audios

Recover & Repair Cameras