Q: How to repair any vintage camera?
"I opened up my store room yesterday. I found this amazing vintage camera "Fuji GW690111" which my dad used in his old times. The camera has no physical damage. Still the camera is not working. I am willing to use the camera as I have no other camera in my house. This camera has given as some mesmerizing pictures in the past and I wish to bring it back into its normal condition by repairing it."
Yes, no doubt. Finding vintage camera in your store room is really exciting. Mostly people face this issue when they use a vintage camera after a long time. Vintage cameras are also electronic devices which adapt certain issues when left unused for a while. The problems which arise in vintage cameras are totally repairable and they can be brought back to normal conditions, to use them properly. This guide will give you some major problems that arise in vintage cameras following that their solutions are also present in the guide.
Part 1: Introduction to the latest Vintage cameras.
Humans have created this technology of capturing moments long ago. Photography has also existed from a really long period now. The cameras initially used for photography were known as vintage cameras which were used during 19th century and are now called old cameras.
There are few vintage cameras that are latest among the others. These cameras have comparatively advanced features than other vintage cameras. Some of the latest vintage cameras are given below;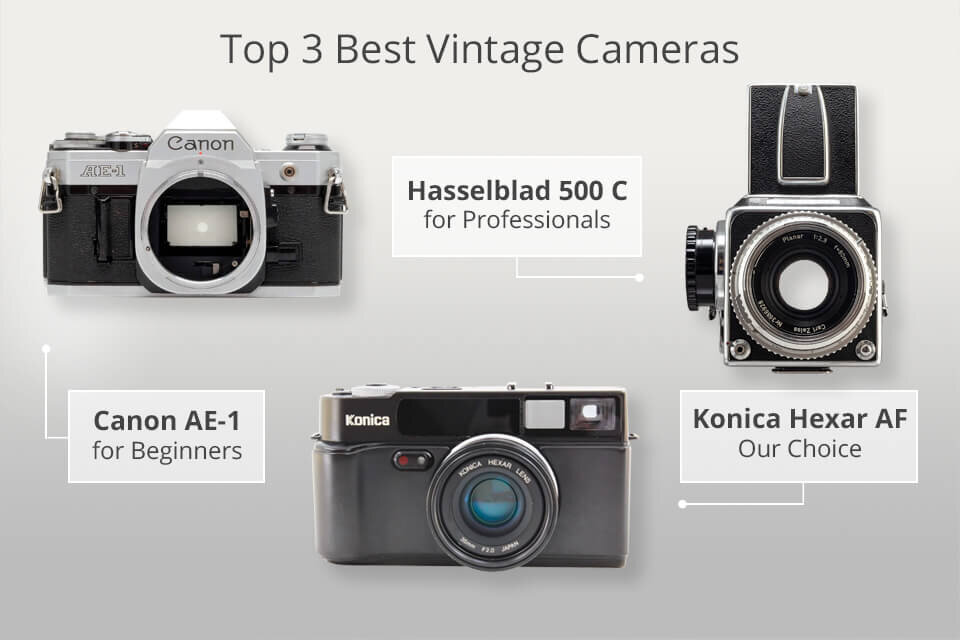 Konica hexar AF

If you are interested in taking grain at photos you must try Konica hexar AF. The camera is one of the best vintage camera. Firstly, it is a lightweight camera, although all vintage cameras are lightweight but this is lighter. It has a selection of films and is practically noiseless, which is surely a blessing for users. Furthermore, it has manual control for the versatility of the photographers. It has 35mm F2 lens which is capable of taking sharp pictures. The size of the camera is idol as it can easily fit in your pocket.

Hasselblad 500 C

This model of Hasselblad 500 C appeared in 1957. The most special thing about this model is that it has an opening speed of 1/500s and amazing color rendering. The sturdy case is the feature which the users like about the model. The camera's viewfinders and lens are easily accessible. This camera is relatively high in price which is a major con of this model.

Leica M6

It is known as the most progressive mechanical film camera. It has 0.72x viewfinder which has frame line with 6 different lenses. The M6 is compatible with all M-mount lenses. It is relatively small in size is has a sturdy built. It is really user friendly because it is easy to learn. The con of this model is that it is really heavy to hold but still is considered as one of the most amazing vintage camera.
---
Part 2: Tips for vintage camera repair and trouble shooting
There are numerous issues which the users of vintage camera's face. Although, they are not that complex to sort out but still require some attention. Old cameras are more likely to offer diverse troubles because they have been existing from a very long period. There are really quick and simple tips which you can keep in mind while putting the soul back in your vintage cameras. There are few common problems which are discussed below along with their solutions;
Camera won't power on
It is the most common problem of vintage cameras. As it is quite obvious the camera's power on feature is directly related to the battery of the camera so it is understandable that the problem is with the camera's. The camera is certainly useless if the camera won't even power on. The cause may be that the battery is likely to be drained or might be inserted improperly. The poor condition of your battery compartment could also be the cause of this issue. To tackle this problem, follow these steps;
Step 1: take out the battery of your vintage camera
Step 2: charge it fully and properly.
Step 3: put the batteries back in the camera properly as per camera instructions.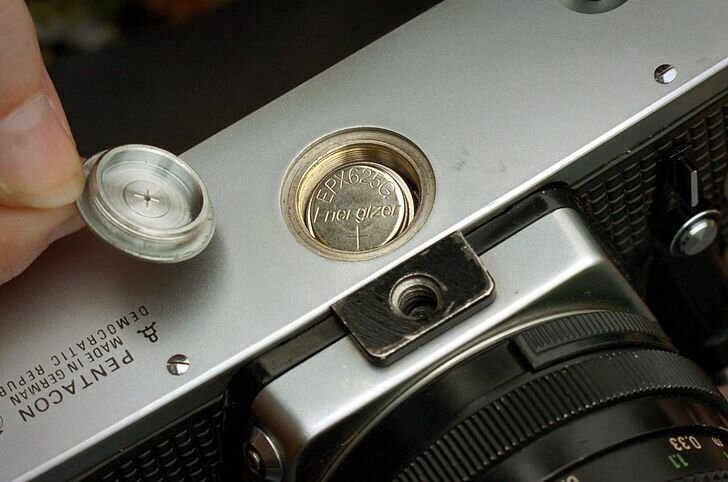 Step 4: if still not working, try new batteries or clean the metal grime particles in the battery compartment.
Camera lens is stuck open
The lens of vintage camera stuck open is a really irritating issue as it leads to various new issues for the users of the old camera's. the problem has number of solutions but the person doing the act must be careful working with the lens as it is really sensitive and may pop up a new issue for you, the most used solution to this problem is given below;
Step 1: take out your vintage camera and get a card or something for example a knife.
Step 2: slightly put the card between the gaps of the lens carefully.
Step 3: see if there is any dirt, and take out the dirt particle using the card.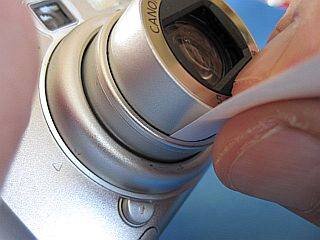 Step 4: once the dirt is out, close the lens of the camera.
Step 5: if the lens is still stuck, try recharging your batteries, that might also help.
LCD is blank
Some of the vintage cameras have LCD installed which can be turned on using the "monitor" button. It allows you to turn on and off the LCD. The LCD goes blank when your camera is on power saving mode or it is locked up. To solve this dilemma, use the following steps;
Step 1: take out your camera.
Step 2: you can either lengthen the amount of power saving mode before this situation occurs, but once it has showed up. Take out the batteries of the camera.
Step 3: take out the memory card of your camera.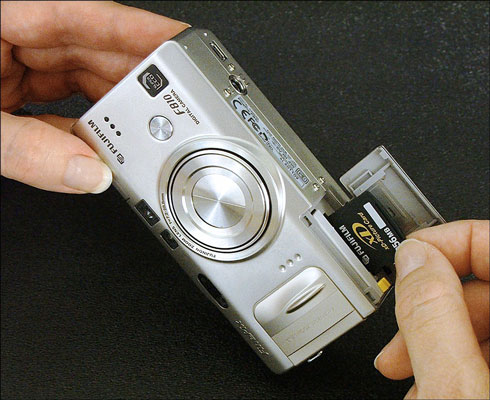 Step 4: wait for approximately 10 minutes.
Step 5: put the battery and memory card back, hopefully your screen will be recovered.
---
Part 3: How to recover and repair vintage camera video?
The videos made from vintage cameras have been a fruitful memory for all users around the globe. The users desperately seek for recovery of their valuable memories. The good part is that they are recoverable for the photographers of vintage cameras. The videos may be corrupted or deleted accidently but not to worry about that, your videos can be rescued using some quick steps, firstly download recoverit data recovery software to proceed.
Recoverit data recovery
Recoverit is an unbelievable data recovering software you will get for free. Recoverit is a software for which rescuing data is not a hard task. It is more reliable than any other software. It is a software which can rescue the data from your SD card, no matter if it is corrupt or damaged. It helps you get back all your valuable documents, emails, photos, videos, and audio files, quickly and easily from laptop, recycle bin/trash, internal hard drive, external storage media and even a crashed computer and surprisingly from your vintage camera. Recoverit Ultimate even helps you recover fragmented video and repair corrupt/broken/damaged video. Recoverit data recovery software is the best source to get you out of this dilemma.
Key features
Recovers deleted or lost data from micro SD card for free.
It is able to rescue data which is accidental deleted, formatted or is attacked by virus.
Embraced by high success rate as it can recover any data file.
Supported OS: windows 10/8/7/XP/vista, Mac OS 10.13, 10.12, 10.11, 10.10, 10.09, 10.08, 10.07, 10.06
Steps to recover vintage camera video with recoverit:
The first step is to download the recoverit data recovery software. We can easily recover your video from vintage camera as this is an example of how surprisingly this software does it work. Once you are done with downloading the software, follow the given steps below:
Step 1: download and run the software.
Step 2: Secondly, connect the memory card of your vintage camera with the computer.
Step 3: Now you to have select the location of your vintage camera card drive, then press the "Start" button to scan.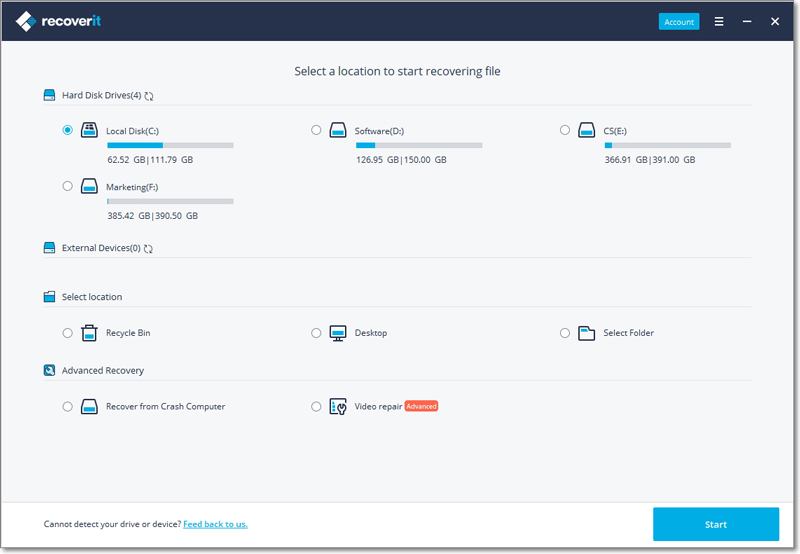 Step 4: the scan will take a while wait for it to complete because it will find your deleted or corrupted vintage camera videos. ,/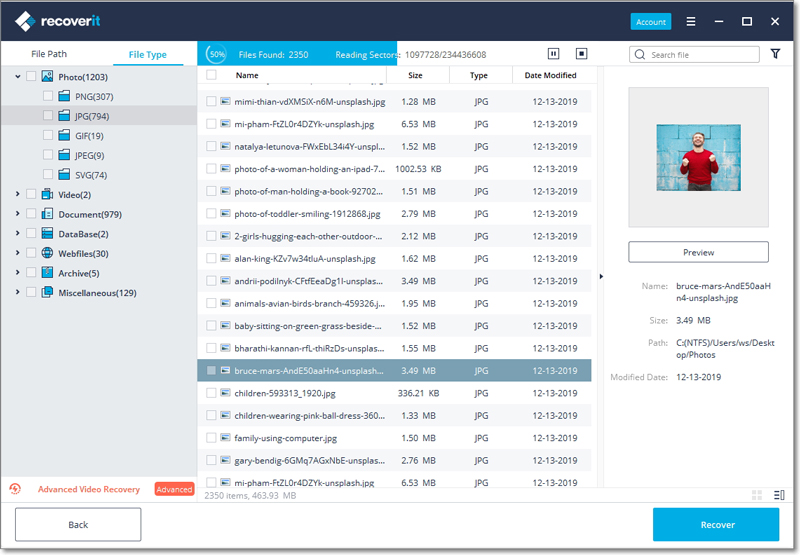 Step 5: after your videos are scanned and fixed properly. It is time for you to preview your rescued videos from vintage camera.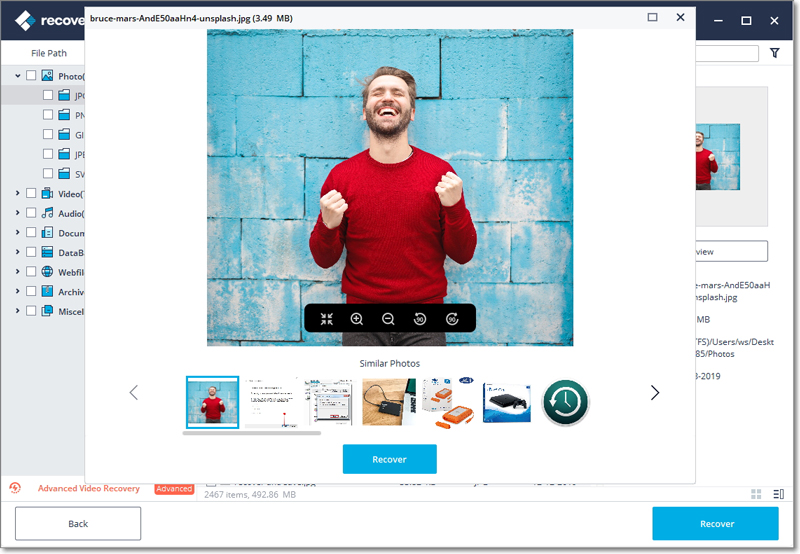 Advanced video recovery function of recoverit
Video files are different from any other type of data. Sometimes, you might find the video corruption after the preview using software. Don't worry from now on. If so, Recoverit reminds and works for you. Recoverit Data Recovery Ultimate supports Advance Video Recovery feature. It scans, gathers and matches the fragments of your corrupt videos, and thus ensures most of your videos are recovered from DSLR, Digital cameras, Drones, Action Cameras, camcorders, SD card, PC, HDD or any other source.
Scan and match your video fragments
Merge the fragments from the same video
Recover your videos and keep 95% of them intact
Recover unlimited video files without corruption
All you have to do is just click "advance video recovery"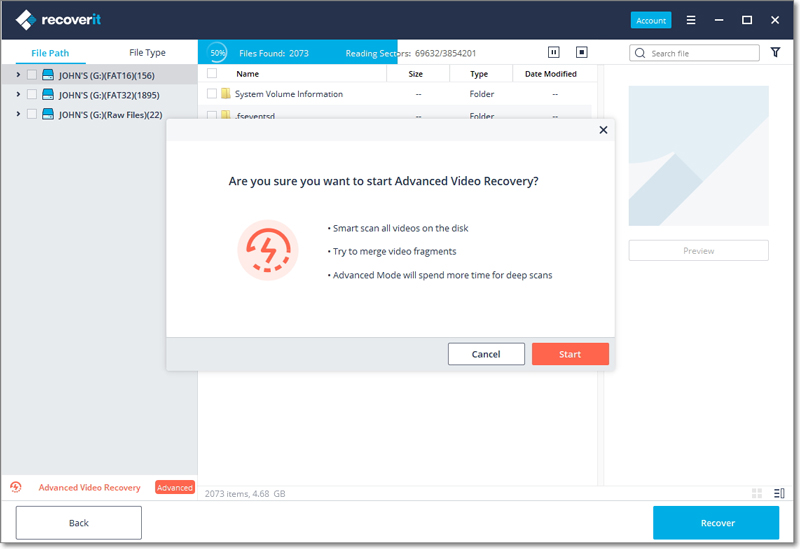 Steps to Repair Corrupted Video with Recoverit
Moreover, Video Repair is powerful video repair software for repairing corrupt, broken or damaged MOV, MP4, M2TS, MKV, MTS, 3GP, AVI, and FLV file formats. It supports two repair modes. Quick repair is to repair various video errors. Advance repair can repair your corrupt videos by analyzing the data and technology of the sample video shot by the same device. The video repair software is widely utilized by the users who want their videos to be completely recovered in short time.
Repair multiple formats of videos simultaneously.
Free scan for corrupt videos and preview repaired videos before saving them
No limitations on size of Video files for repair
Repair any number of corrupt Video files
Step 1: Add your corrupted videos
Launch the application on your computer. To repair your corrupted video files, you can add it through clicking Add button or "Add video and start repairing" area.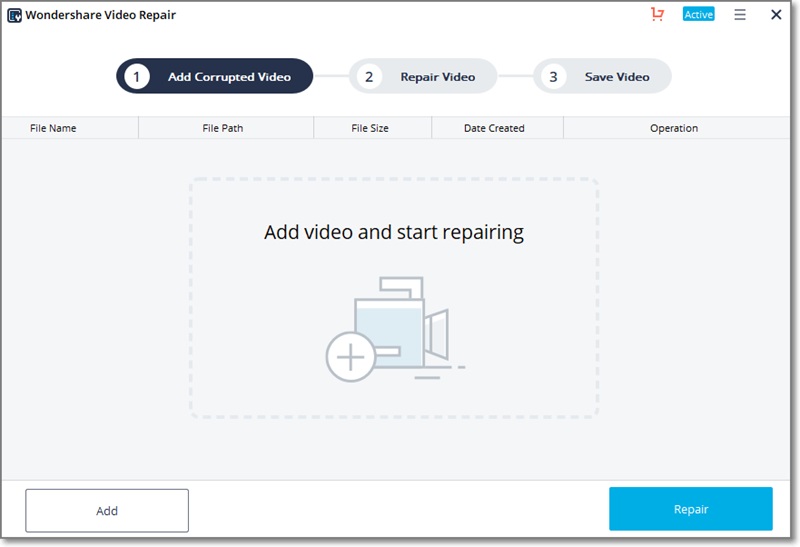 Step 2: Repair your videos
As soon as you have added all the corrupted videos, click on the Repair option to start the video repair process.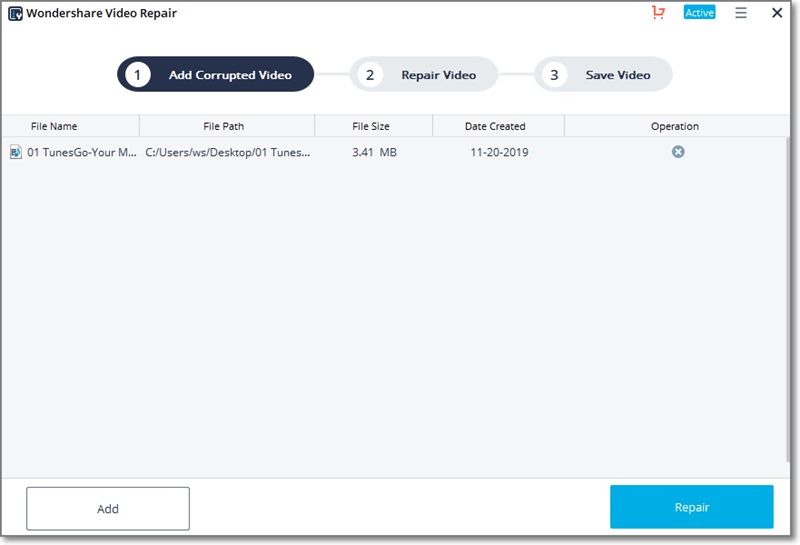 Step 3: Preview the videos
It will take some time to repair and once it has finished the repair process, a reminder showing info of successful fix will pop up on the screen. Press OK to close the operation.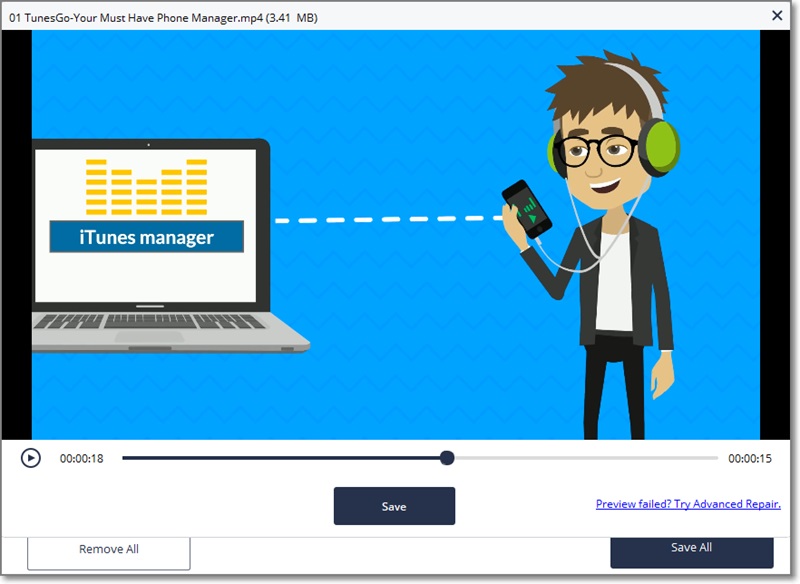 Step 4: Advance mode for severely corrupted video (optional)
If the videos are severely corrupted and not repaired successfully, please go to the advance repair mode. Just click Advanced Repair button.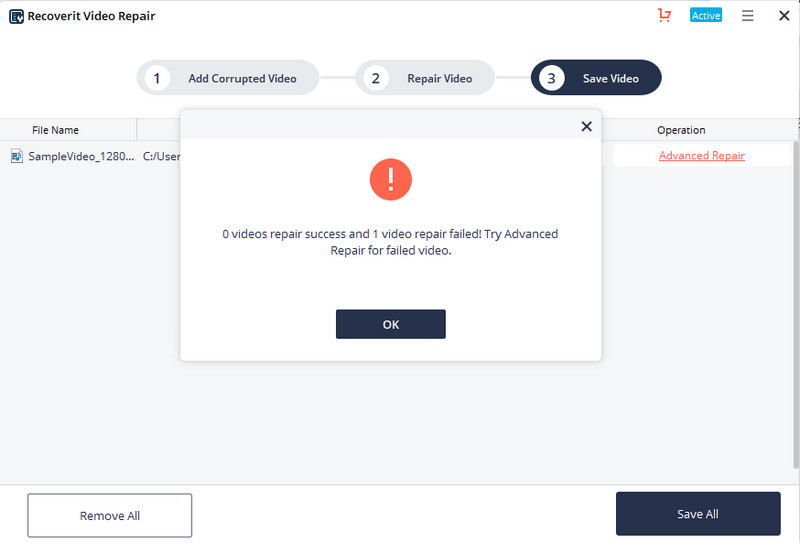 Then add a sample video and repair it now.
Step 5: Save repaired video
The advance repair will perform the repairing process and prompt a success message when the process is completely done. Now, you can play these videos and you will not see any error on the screen.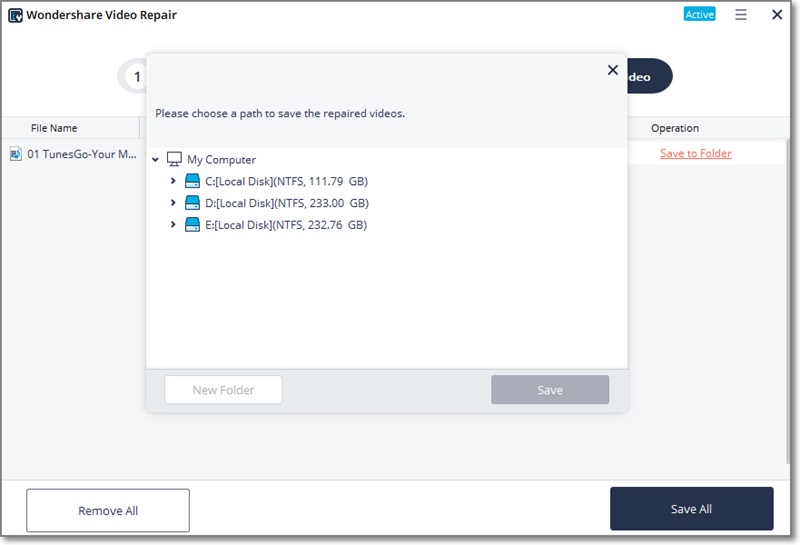 Solve Media File Problems
Recover & Repair Photos

Recover & Repair Videos

Recover & Repair Audios

Recover & Repair Cameras