So today came my new GoPro Hero 8 Black. Installation was fine, worked good for a couple of minutes. Now I just have a black screen with the white icons. No picture. When I scroll through the software sometimes freeze or it takes forever until it continues.
So I can not do anything with my camera. Did a couple of factory resets. No picture. Just without time with no battery and plugged into the cable. After turning off and on again it never came back on again. How to solve this? Any quick gopro repair?
Gopro cameras while in action can make you confront certain errors. These error may be due to the faulty communication between lens and camera or t can be due to the camera itself. All you need is the gopro repair action by finding out the accurate gopro problem your camera is causing. Camera out of warranty? Then below mentioned are some of the common gopro problems and their gopro fixes which you can use to repair your camera before sending it back to the company.
Here is all you need to know. Let's check out the insights.
Part 1. Introduction to the latest gopro Camera
Portraying itself to be a world wise brand, Gopro is a maestro. It manufacture those compact action cameras highly recommended for the outdoor photographic activities. Ranging from those, point and shoot cameras to camcorders, the cameras are high on functionality and adds value to your experience. Here mentioned are two of the amazing Gopro cameras from 2019 that are must haves.
1. GoPro Hero7 Black:
Being a benchmark for those action cameras in the lineage, this is all about that 4K video facility along with hypersmooth feature. This new image stabilization technology gives you an image and video resolution that is unparalleled. Adorned with a 2 inch touchscreen, 12 MP resolution, the camera provides you with an ultimate continuous shooting speed of 30fps. With 1-3 hours of battery life, it is meant for the pros. Here are some of its high end video features:
Digital Video Format: H.264, H.265, HEVC
Maximum Video Resolution: 3840 x 2160
Frame Rate (Max Resolution): 60 fps
High-Definition Video Support: 4K
Interfaces Provided by the camera: HDMI, USB-C
Face Detection feature: Yes
Face Detection feature in context: Face Detection AF/AE, Smile Capture
Features: HDR image enhancement technology, Loop recording, Scene Detection Technology, Time-Lapse recording, digital noise reduction, slow motion recording, voice control
2. GoPro Hero6 Black:
With a 12MP resolution and 2 inch touchscreen display, it comes with a waterproofing functionality. The camera is facilitated with voice control action and carries the feature of Wi-Fi (5GHz) and Bluetooth connectivity. It also serves for the RAW shooting technique. Here is an array of specifications linked to the device.
It comes in same body as Hero 5 Black
Carries the touchscreen controls
Voice control command is also a feature
Waterproof to 10m / 33ft is what you are going to get in it
Video quality up to 4k at 60fps and 1080p at 240fps is the camera specification
12MP resolution for still images
New GP1 processor, designed in-house by GoPro
Three-axis software stabilization technology
Now let's move towards the errors associated with gopro camera, the gopro fixes and repair tips.
---
Part 2. Useful GoPro Repair Tips & Tricks
This part explains about various GoPro problems and their Gopro fixes.
Here you go!
1. No SD or SD ERR message (SD card error):
The first error that needs a gopro repair is SD card error. Most of the users confronts an issue of No SD or SD ERR message that pops up on the camera LCD. This needs a quick gopro fix. So here are three of the methods in which you can solve the problem.
Method 1: Check the type of SD you are using for your GoPro camera. Not all the SD cards are compatible with your device. In case of incompatible card used, you are going to see the error message on LCD.
Method 2: Always check the connection between the SD card and your camera. Sometimes, SD ERR message is due to poor contact between the SD and device. So in this case, unplug the card, clean its surface and reinsert to make it all functional. Always use the isopropyl alcohol for cleaning the SD card. Avoid blowing the moisture in the card slot.
Method 3: Last option you are left with is reformatting your SD card. This can delete all the data stored. For this you can first shift all data to a secured folder on your Pc and then carry on formatting.
2. Unable to connect to GoPro:
This is the particular GoPro error message which you will see when you are unable to connect your GoPro app with the GoPro camera. Here is the step wise process you can follow to avoid the consequences:
Step 1: In your GoPro app, tap the option of GoPro camera from where you can navigate to the '+' icon.
Step 2: Click on either 'HERO7' or 'HERO8' or any GoPro device.
Step 3: After selecting the desired camera for connection, from the drop down menu, select Preferences and then click on Connections.
Step 4: Now select or tap the Connect device option where you can tap the GoPro app.
Step 5: Again in your GoPro app, click on Connect camera and select the camera device that is targeted to be connected.
Step 6: Clock Let's go! And you are done with connecting your GoPro app with GoPro camera.
3. Reset GoPro Hero7:
If you are in need to solve your GoPro Hero7 problems, you can try these quick GoPro fixes.
Method 1: Just in case, you need to reset the factory setting, go to factory setting where you navigate to preferences. Select the option of Reset and then click on Factory reset. This is going to help you sort out all the GoPro Hero& problems.
Method 2: another way to rehabilitate the functionality of your Hero7, navigate to reset defaults and then select Preferences in the menu. Select Reset and then click on Reset Defaults. Some of the setting option that won't be affected are time, date, video format, and camera name and password settings.
4. GoPro Corrupt File repair:
Here is how you can run that GoPro repair action against the corrupt file. With this you can restore your footage on Gopro.
Confirm that the SD card is readable.
Now proceed with copying the corrupted file to the PC, to check whether it could be placed in VLC player.
If you have the information about the mode of file in which it was recorded, use the fix_header_v3a.pl utility Command line:
perl c: \ gopro \ fix_header_v3a.pl c: \ gopro \ GOPR0752.MP4 -reso r5
Now continue with running the file through mp4muxer-0.9.3.zip. And rename the file extension on a "move.mp4" to continue
Next step is to import the file to Sony Vegas editor and restore it with all original parameters. This is going to build corrupted file again.
---
Part 3. How to recover and repair gopro camera video
Recoverit Data Recovery
Recoverit data recovery is one of the finest software serving for the purpose of recovering deleted files, photos, videos, emails and other media. Able to work on 1000+ file formats and providing with ultimate recovery options without compromising on accuracy, this software is all worth it.
Following is the step wise process to follow to carry out the GoPro camera repair task for recovering those gopro camera videos.
Steps to Recover Gopro Camera Video with Recoverit:
Step 1: launch the software i.e. download and install on your device and see if the memory card of your camera is connected to the PC
Step 2: Select the desired digital camera or memory card from the menu outlook. Once selected, press start to continue.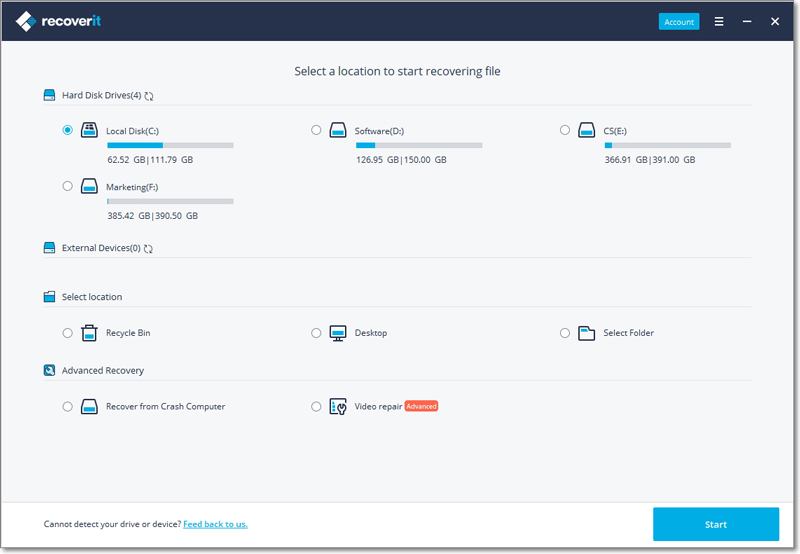 Step 3: The recovery software will run a scan on the memory card for recovering the data i.e. the deleted videos.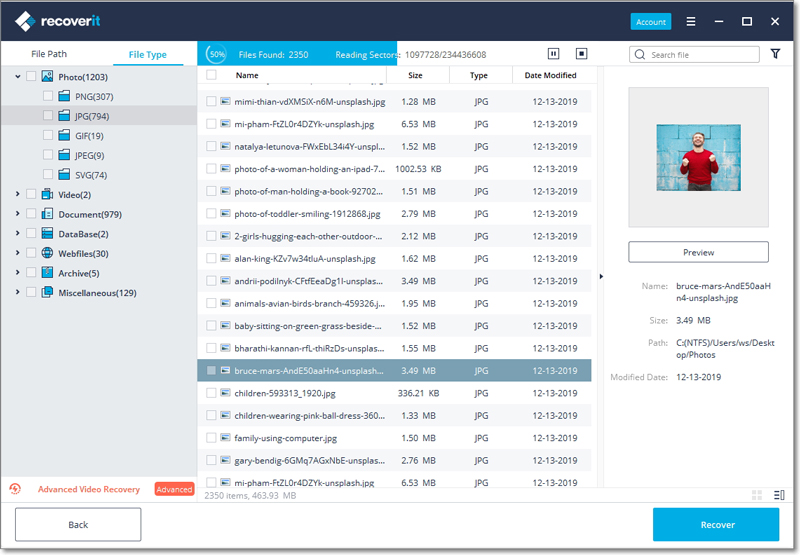 Step 4: Once the process of scanning is completed, a preview of recovered data will appear on the screen. Now select the videos you need to recover and press recover.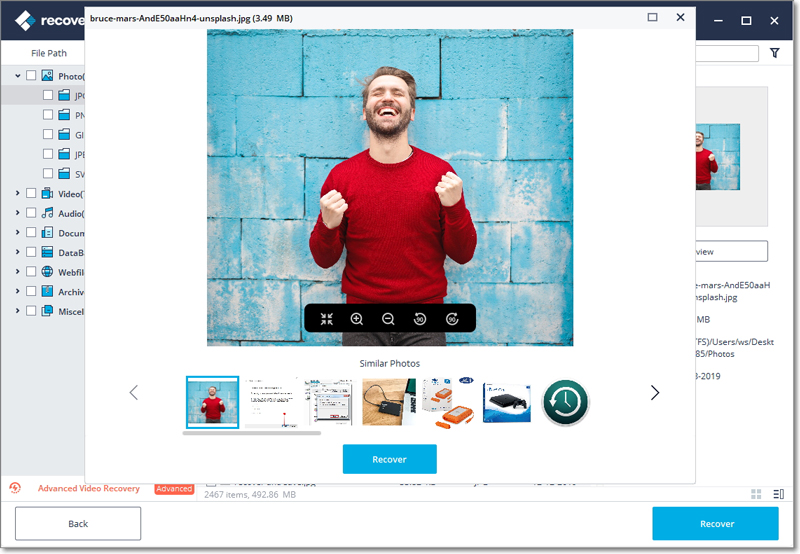 Step 5: Last step is to save the recovered video. Select the location and save the recovered file.
Advanced Video Recovery function of Recoverit:
If you accidently deleted those important videos from your camera, and now you are in a need to get them back, then your only option for doing it accurately is advanced video recovery feature of Recoverit. It is going to help you to get all those deleted files back from from DSLR, Digital cameras, Drones, Action Cameras, Dashcams, camcorders, SD card, PC, HDD, etc. how? Let's have a look.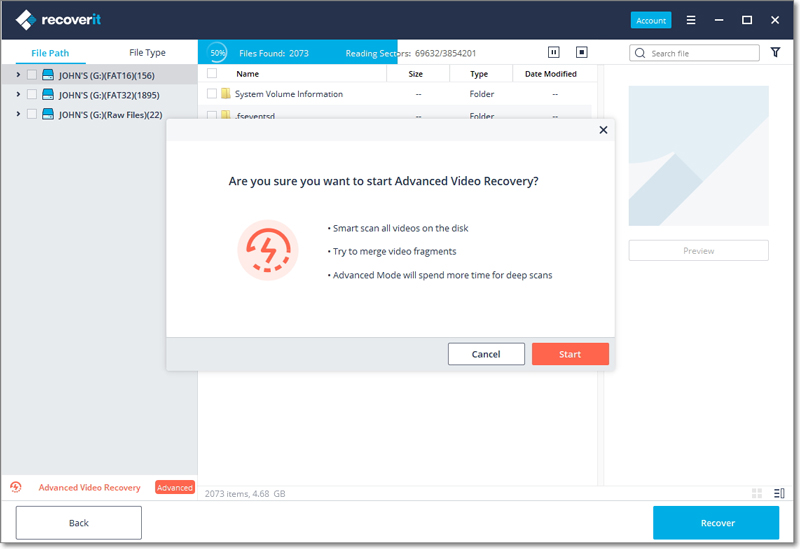 First step is to scan and match the video fragments
Second step is to merge the fragments from the same video
Third step is to recover your videos and keep 95% of them intact
Fourth step is to recover unlimited video files without corruption
Steps to Repair Corrupted Video with Recoverit:
Just not recovery of the lost or deleted media, Video Repair also helps to repair those damaged or broken videos in format MOV, MP4, M2TS, MKV, MTS, 3GP, AVI, and FLV. In backend, the software comprise of two repair mechanisms, the quick repair and the advanced repair. Quick repair mends the error in video and advanced repair carry out process to repair the video by analyzing all the data and technology used to make the content i.e. video.
Following are some other features of the software:
Repair multiple formats of videos simultaneously.
Free scan for corrupt videos and preview repaired videos before saving them
No limitations on size of Video files for repair
Repair any number of corrupt Video files
Here are the steps to repair the corrupted video via Recoverit.
Step 1: Add your corrupted videos
Launch the application on your computer. To repair your corrupted video files, you can add it through clicking Add button or "Add video and start repairing" area.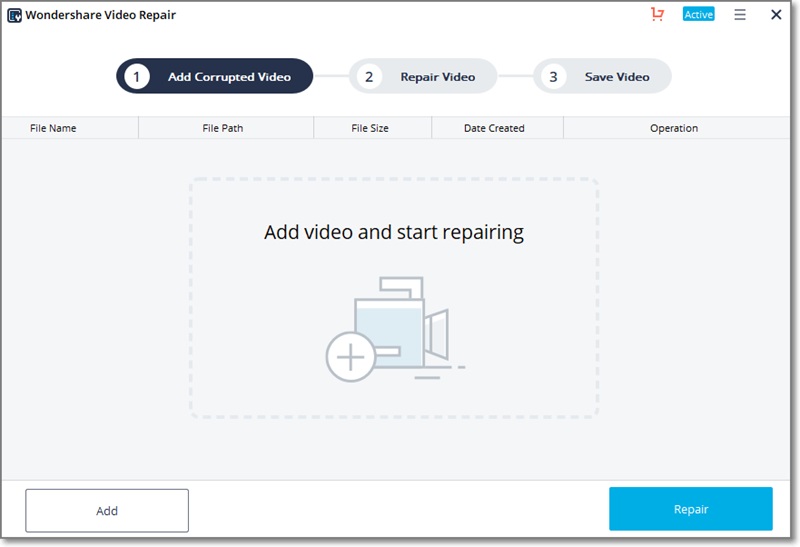 Step 2: Repair your videos
As soon as you have added all the corrupted videos, click on the Repair option to start the video repair process.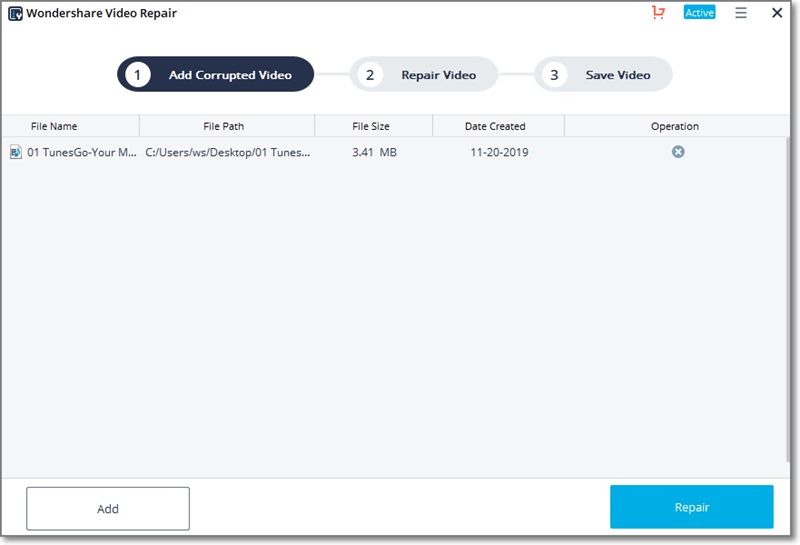 Step 3: Preview the videos
It will take some time to repair and once it has finished the repair process, a reminder showing info of successful fix will pop up on the screen. Press OK to close the operation.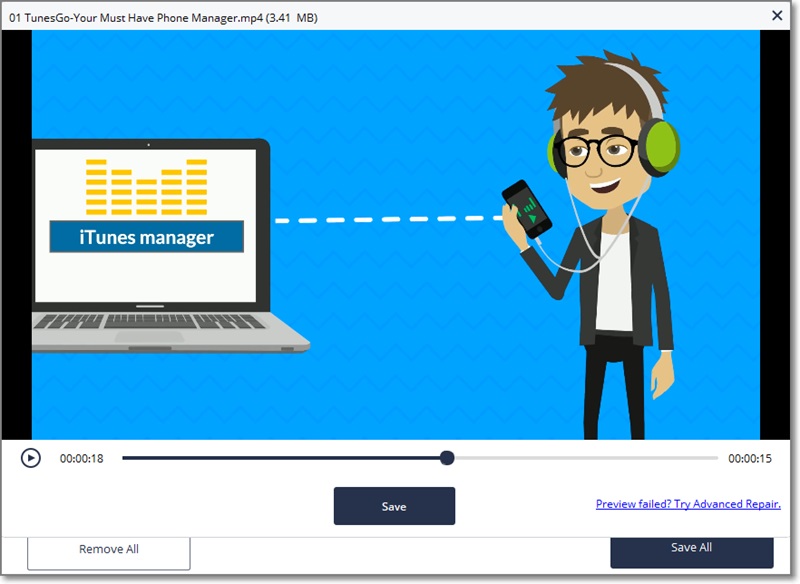 Step 4: Advance mode for severely corrupted video (optional)
If the videos are severely corrupted and not repaired successfully, please go to the advance repair mode. Just click Advanced Repair button.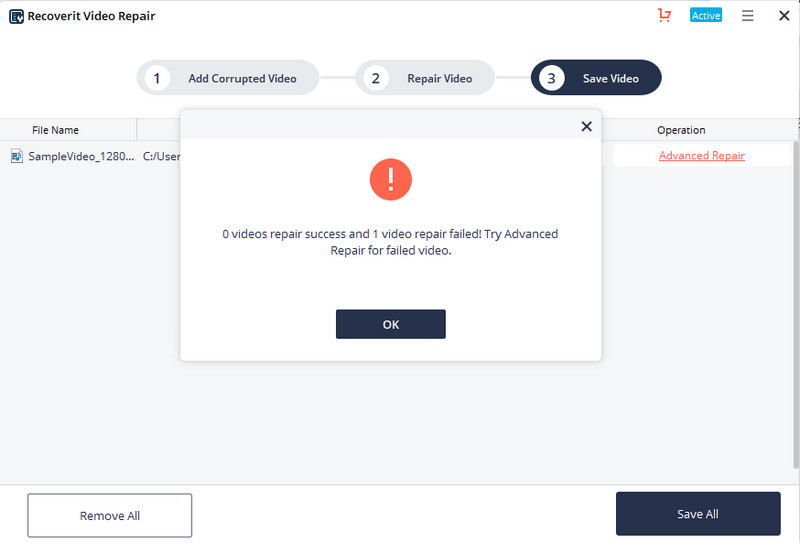 Then add a sample video and repair it now.
Step 5: Save repaired video
The advance repair will perform the repairing process and prompt a success message when the process is completely done. Now, you can play these videos and you will not see any error on the screen.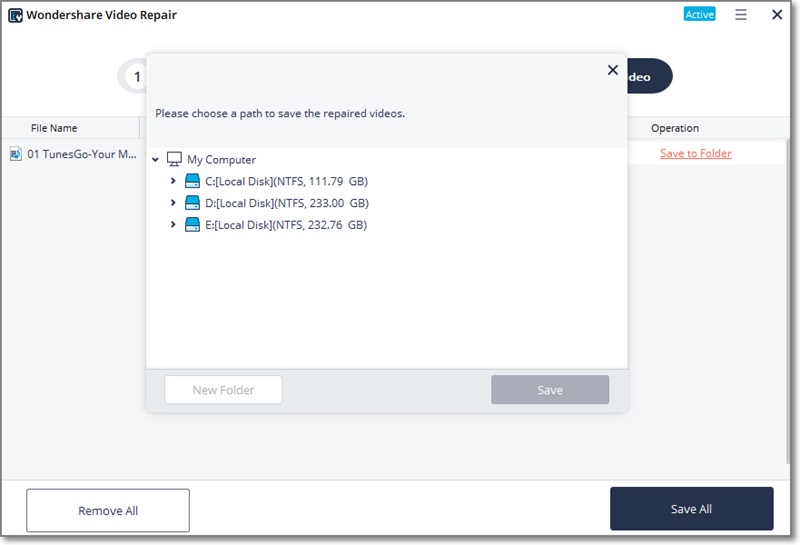 Solve Media File Problems
Recover & Repair Photos

Recover & Repair Videos

Recover & Repair Audios

Recover & Repair Cameras