How to Recover Lost JPG Images
Nowadays, almost every family owns a digital camera or a similar device for taking pictures. It's true that you don't need film anymore to take photos as before and the camera can take JPG or JPEG photos to let you save them anywhere. The big problem is that the camera card can easily save lots of images, but also very easily lose them by improper operations.
If not all the time, but oftentimes we tend to lose crucial JPG images due to accidental deletion, device storage format, or corruption of storage device. No matter what the case may be, your JPG images will certainly vacate your storage space. What supposed to do when it happens without any preparation? There are several ways to recover the lost JPG files.
Part 1. Can Lost JPG Files Be Recovered?
There's no doubt JPG or JPEG is one of the most used formats to store image files, but accidental loss or deletion of this file is almost inevitable. Whether you're storing them on a digital camera, phone device, hard drive, USB, or memory card, your images are at a high risk of getting lost due to many reasons. See some reasons listed below.
Accidental deletion
Storage device formating
Virus attacks or malware infection
Other accidents like a power failure or system crash
However, as a tycoon in the data recovery industry, I've encountered lots of photographers that face this problem. But, a scenario with a GoPro camera user is one that caught me up. He was in a situation where he had mistakenly lost a client's images that were needed to be delivered the next day due to accidental deletion. No matter what the JPG file was meant for, anyone in the same situation will surely have no hope of thinking he/she can recover their lost JPG file.
But, there are ways to recover these lost files quickly and conveniently. Keep reading to discover solutions on how you can recover lost JPG image files.
Part 2. How to Recover Lost JPG Images With/Without Software
Nowadays, we've seen lots of recurring situations of lost JPG or JPEG images, but many seem to not understand the logic of recovering these files. If you're among those in this situation, see solutions to this problem that has been apart of human daily lives for a very long time below. 
Ultimate - Recover Deleted JPG Files with Software
Generally, there are different reasons causing your JPG/JPEG photos to be lost, such as accidental deletion, card corruption, power failure, virus infection, and more. No matter you lost your photos for any reason above, Recoverit Photo Recovery can help you find them back without any quality loss.
Not only for the image formats referred to above, but this JPG file recovery program also supports the recovery of a variety of formats as TIF, BMP, PNG, GIF, RAF, ERF, PSD, WMF, CR2, DNG, RAW, NEF, ORF and more, as well as the recovery of music and video in any format. Download the Windows or Mac version of your choice, and recover 10 JPG files for free now!
Recoverit makes it possible and easier to do JPG file recovery. Read further and get the complete guide to recovering JPG.
---
How to Recover Deleted/Lost JPG Photos?
Let's take the photo recovery on a Windows computer as a try and do the JPG recovery step by step. If you are about to recover lost JPEG/JPG images from the digital camera, camcorder, mobile phone, or other portable devices, connect it to your computer first.
Acquire the specific guide on the camera photo recovery.
Step 1. Select a location to scan JPG files
To recover deleted or lost JPG files, select the device or the partition where you lost your JPG file and click "Start".
Step 2. Scan the location for lost JPG files
Recoverit JPG Recovery will move on to scan your selected hard drive or external device to search for all deleted or lost JPG/JPEG images. You can pause the scanning process to preview and recover the JPG files you find and need.
Step 3. Preview and recover JPG files
When the scan finishes, all recoverable JPG/JPEG files are found and displayed on the list. To get the deleted photos back, you can select them and click "Recover".
Tips for JPG Recovery
After losing your photos from the memory card, SD card, or other cards, please don't use it to take photos again, or put new photos in, which will decrease the chance of your photos recovery.
If the JPG images are lost from a computer or external hard drives, you're also not supposed to put any new data into the place where you lost photos.
Don't download and install this JPEG/JPG file recovery on the disk or partition where you lost your photos.
Don't save the recovered JPG/JPEG files on the original disk or device again, because new files will overwrite the lost files. If there are any files missing, you still have the second chance to scan and recover them with Recoverit Photo Recovery.
The guide is all about Windows JPG recovery. If you're using a Mac computer, please download the Mac version and turn to this page: How to Recover Deleted Photos on Mac.
---
Sometimes Workable: Recover Lost JPG from Recycle Bin
Recovering lost JPG from recycle is a very straightforward process, but it becomes harder if you've intentionally deleted them directly from the bin.
Check out quick steps to recover your JPG from a non-emptied recycle bin.
Step 1: Double click the recycle bin icon on your PC to launch its page.
Step 2: Locate and right-click on the JPG files you're willing to reclaim. After that click on 'Restore'.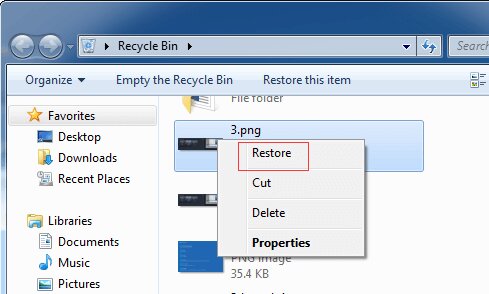 ---
Sometimes Workable: Recover Lost JPG from Mac Trash
Yea! When dealing with the Mac OS, you also imply the same steps just like the previous solution but using different commands. Because Mac OS is entirely different from the Windows PC.
Utilize the steps below to restore JPG from a Mac non-emptied trash.
Step 1: Click on the Mac trash bin icon to launch its page.
Step 2: Select and right-click deleted JPG or JPEG file. Then choose 'Pull Back' to restore your lost files.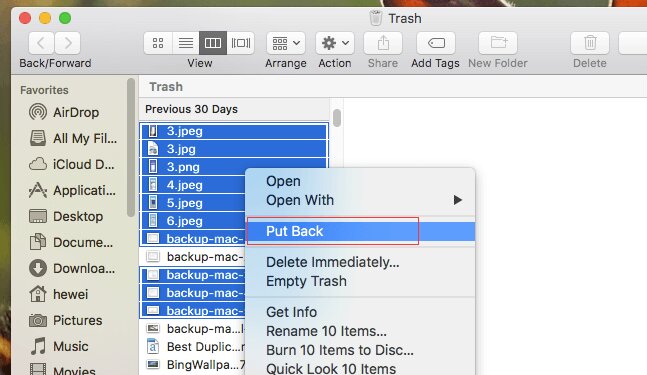 ---
Part 3. Deal with JPG Images on Computer to Avoid Loss in the Future
To ensure a succinct understanding of all we've discussed, it's better not to just leave this site without acquiring the basics of JPG images. From what, to how questions running through your mind, this section covers a brief concept on JPG images and will help give answers to those questions.
What Is a JPG Image?
JPG/JPEG, an abbreviation of Joint Photographic Expert Group (JPEG), is a widely used lossy compression format employed to compress digital images. Especially those images developed by digital photography. The JPG file consists of two sub-formats, which are;
JPG/JFIF (Used on the internet (World Wide Web) ) and JPG/Exif (Used in digital cameras).
How Do You Make a Photo JPG?
The best way to approach this is by using image editing apps in your PC, Mac, or via online image converter websites.
See steps on how to convert photo to JPG using Windows or Mac below
Convert photo to JPG in Windows
Step 1: Click on the Start menu at the bottom left corner of your PC and launch Paint.
Step 2: You'll be prompted to the paint design page. Click on 'File' at the top left corner, a drop-down list will show up and click Open to select the photo.
Step 3: After opening the image, click on 'File' once again and select 'Save as' in the drop-down list.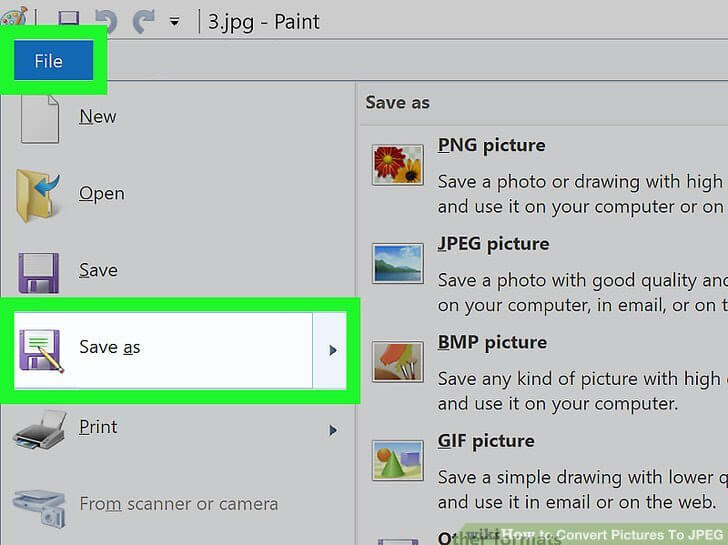 Step 4: On clicking the 'Save as' option, another menu will open right in front of it. Then you select 'JPEG'.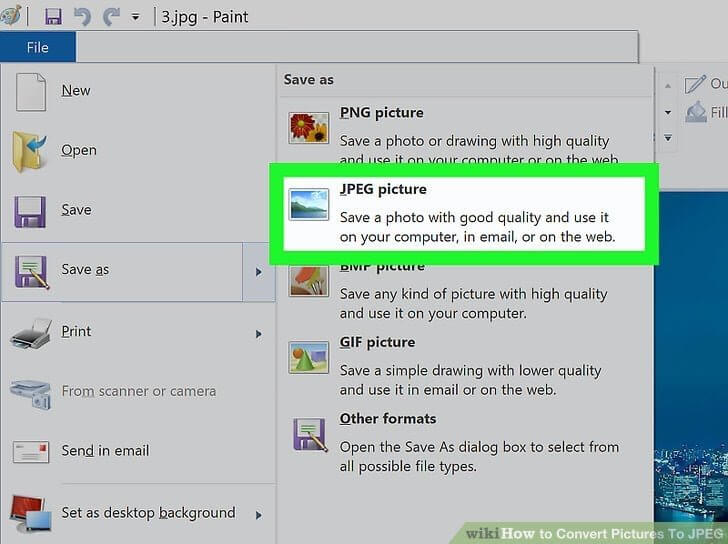 Convert Photo To JPG On Mac
There are several ways to convert images to JPG using Mac, but I have outlined the steps of the easiest means of doing this below.
Step 1: Open 'Photos' on your Mac via the Application folder
Step 2: Open the image you'd like to JPG > navigate to the top left corner of the screen click File, and select 'Duplicate' in the drop-down.
Step 3: Opening the new duplicate image, click on File again at the top left corner of the image preview window. This time, click Export in the drop-down menu.
Step 4: A pop-up where you can change the file type will appear on the screen, select JPEG in the Format drop-down, and click on Save to complete the process.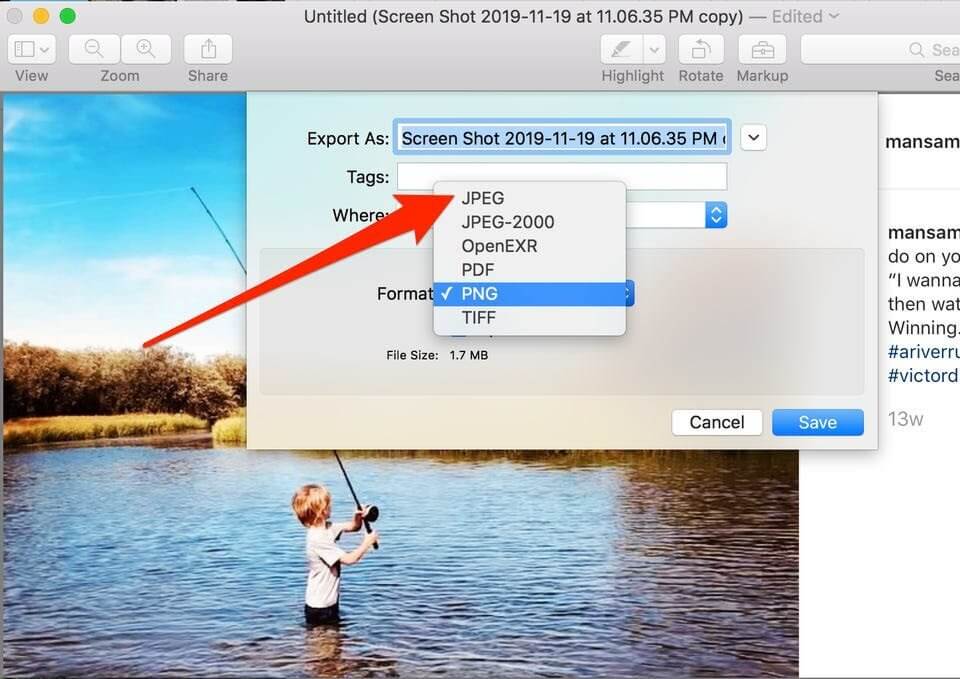 ---
Can I Rename JPEG To JPG?
A straightforward answer to this question is, Yes! You can rename JPEG to JPG. All you just have to do is rename the photo file extension. Utilize the step below to execute the process.
Step 1: Launch File Explorer on your PC and click on the 'Pictures' option at the side of the page.
Step 2: Navigate to the top of the page and click on View to open the ribbon menu. In the ribbon menu, tick the 'File name extensions' checkbox.
Step 3: Right-click on the JPEG photo you're willing to rename to JPG and select 'Rename' in the drop-down list.
Step 4: After clicking on the rename option, type the JPG as the new file extension, and click enter.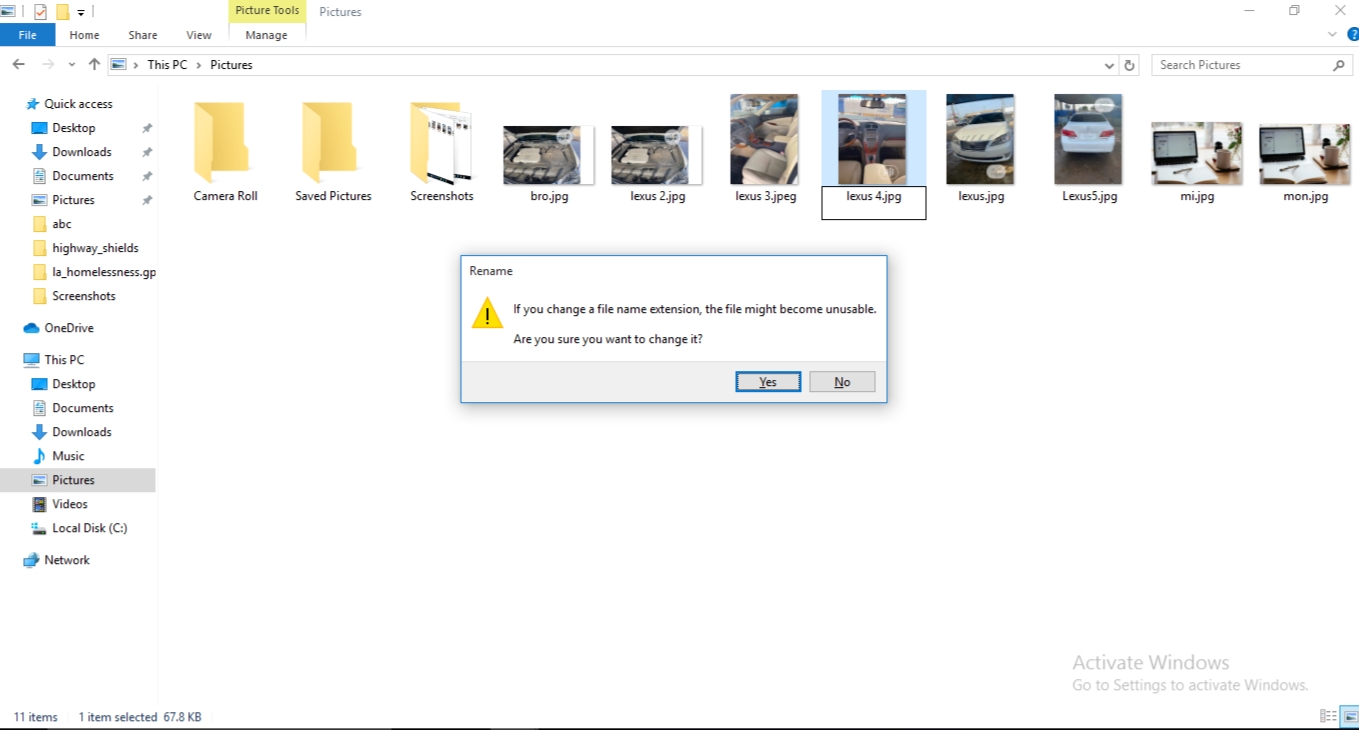 Step 5: A pop-up will appear suggesting a warning window on the page. Click on 'Yes' to complete the operation.
---
How Can You View JPG Files Without Loss in Windows?
Basically, JPG files can't get lost when you view them. But you should always be aware of viruses and corruption. And also avoid accidental delete.
The only way to ensure the safety of your JPG files is by backing them up immediately after saving them to your Windows PC.
Step 1: Navigate to the bottom left corner of your PC, type 'Control Panel' in the search box, and click on it.
Step 2: On the Control Panel page, navigate to the third row and click on 'Backup and Restore'.
Step 3: At the top left side of your screen, select 'Create a system image', select a location to save your system image in the pop-up window, and click 'Next'.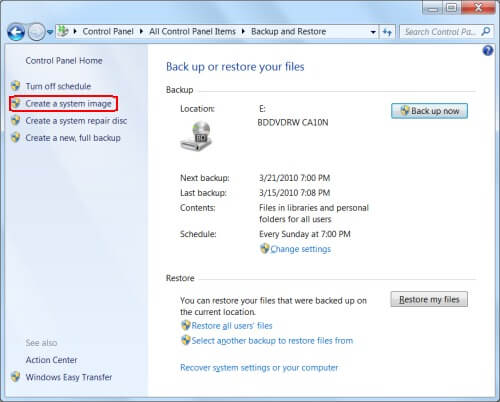 Step 4: Click on Start backup in the next pop-up windows and wait while the backup process begins.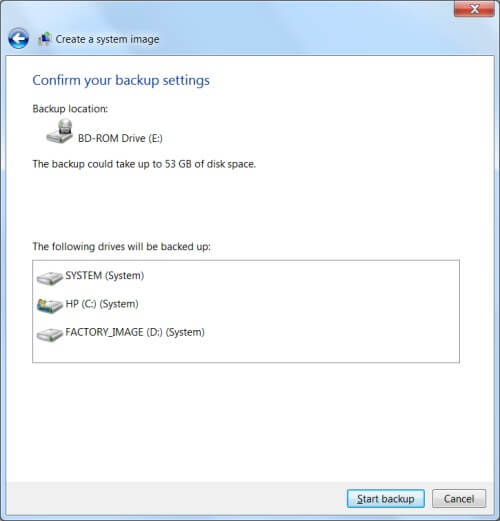 Step 5: Another pop-up window will show up, click 'Okay'.
Step 6: If you're backing up your system image to DVD, and a message comes up requesting to format the DVD, select 'Format the DVD'
Step 7: In the final step, windows will start to save the system image, then you've got to wait while to process is getting completed.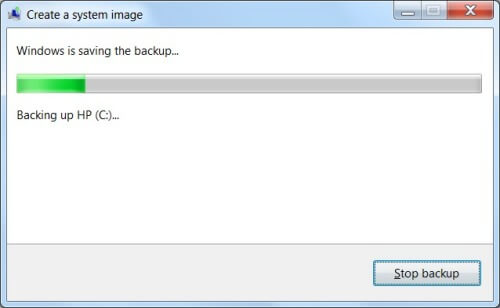 ---
How Can You Open JPG Files Without Loss on Mac?
There's no other solution than backing up your JPG immediately after saving them to your Mac.
Step 1: Open the Photos app In your Mac OS, navigate to the top left corner of your screen and click on 'Photos'.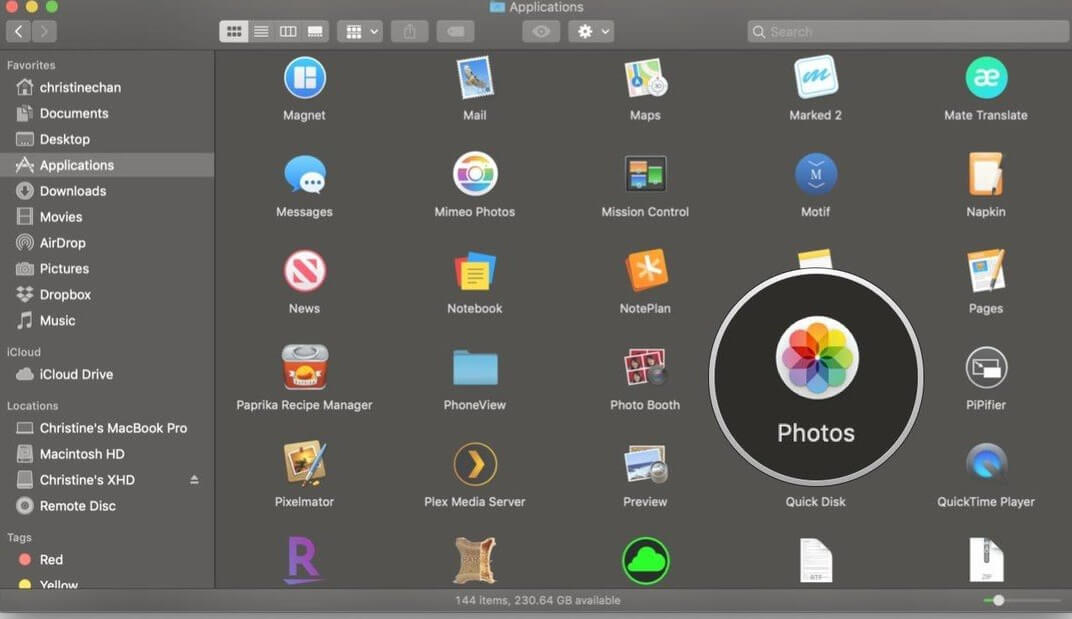 Step 2: A drop-down list will come up, then you'll select 'Preferences'.

Step 3: Click on the iCloud Tab and select 'Download originals to this Mac'.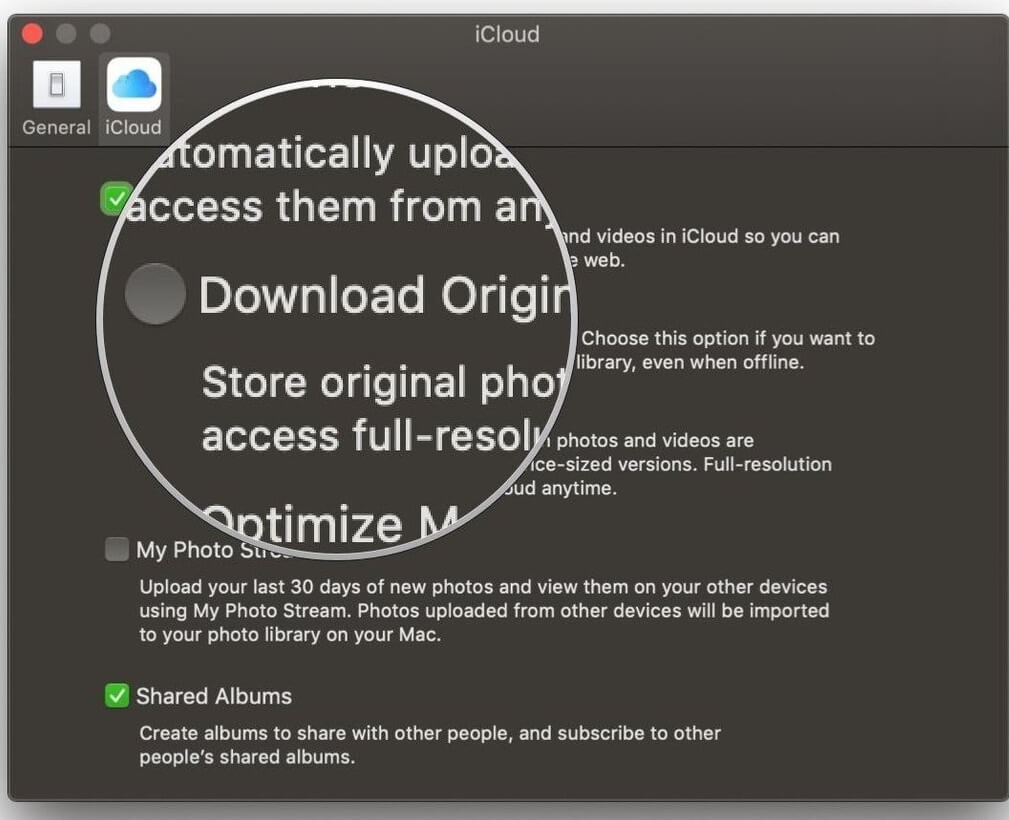 ---
There are many mistakes we make that usually lead to the loss of our JPG images. Whatever the cause may be, this article has covered all the basic steps and solutions to help you recover your lost JPG images free and easily.
Although you can use your Windows and Mac to recover lost images, there is no 100% assurance you will be able to obtain all lost JPG images. Thus it is recommended you utilize professional and effective data recovery software like Recoverit.
Solve Media File Problems
Recover & Repair Photos

Recover & Repair Videos

Recover & Repair Audio

Recover & Repair Cameras