Part 1. Why do you need Image Recovery Software?
We took many images to keep our memory with our family, friends. Some of them are important moments, while some of them are beautiful scens. Most of pictures are stored in the SD card, external hard drive as well as computer. Somestimes issues of losing pictures happend on devices no matter how careful we are. A picture recovery software can help restore photos due to accidental deleting pictures, deleting or resizing hard drive partitions, corrupt or inaccessible formats or physical damage to the storage device. Photo recovery make easier to recover deleted photos from computer, SD cards and other external devices. Here we will share with you how free image recovery software works and get your deleted photos back easily.
What can free picture recovery software do?
With the help of a photo recovery software, you can recover permanently deleted pictures or accidental deleted images. Users who used picture recovery can retrieve delted photos not just in the hard drive of your PC, but also any smartphone, digital camera, USB drive and memory card. Thus, with all these capabilities, you have nothing to worry about once you have the free image recovery software.
The question that still remains is which is the best option for photo recovery to solve the issue - how to recover deleted pictures for free. We recommend our free photo recovery software- Recoverit to show you how to get your photos back.
Part 2. What is the best free picture recovery software
When it comes to image recovery, we consider what is the best picture recovery which can help us solve all the lost deleted photos issues. Recoverit, as a free data recovery software, has gained million of trust from global users. This is one of the best and most effective free picture recovery software in the market which focused on restoring deleted pictures in a high suscess rate. Users can use it to restore images that are deleted, formatted, corrupt, inaccessible or damaged by virus attacks.
What can recommended photo recovery software-Recoverit help you recover photos?
1SD card photo recovery due to formatting or corruption issue of any SD card from camera, android phones.
2Picture Recovery when you permanently delete picture or accidentally delete images.
3Recover photos lost by improper usage of computer, camera or other digital media storage.
4Image recovery for computer, external hard drive and other hard drives as well as lost partition.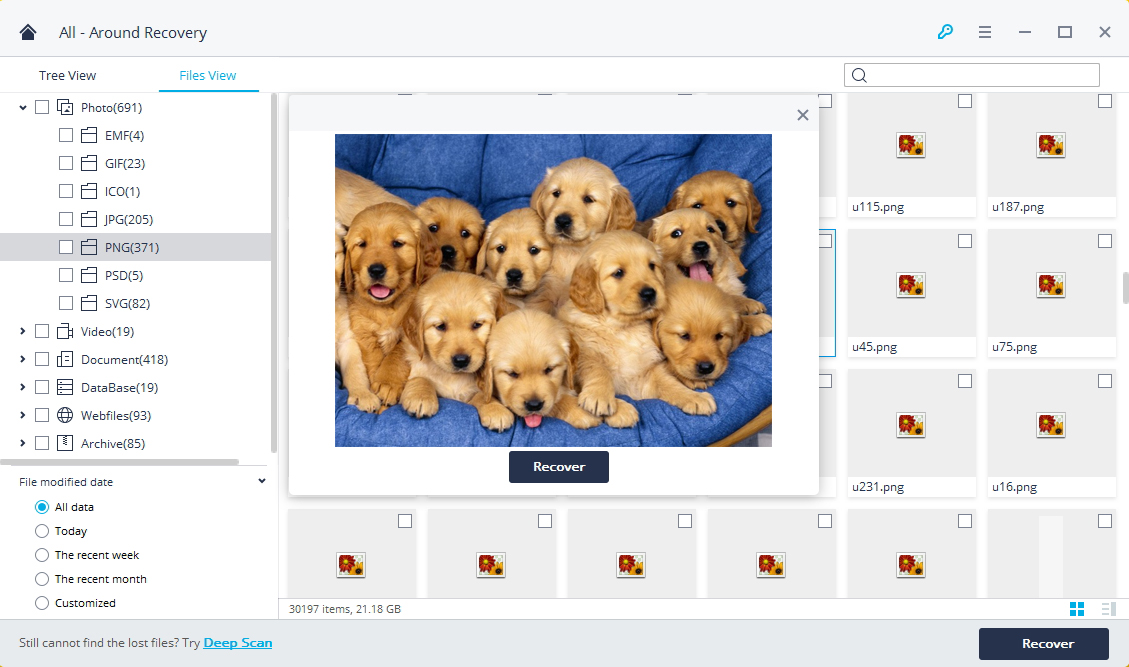 Recover lost or deleted files, photos, audio, music, emails from any storage device effectively, safely and completely.
Supports data recovery from recycle bin, hard drive, memory card, flash drive, digital camera and camcorders.
Supports to recover data for sudden deletion, formatting, hard drive corruption, virus attack, system crash under different situations.
What makes this picture recovery software standing out from the market is that it gives users a complete control to recover deleted photos on computer and external devices. You can select and preview what deleted pictures you want to recover through the Preview feature. It even allows you to save the scan results of picture recovery and resume the recovery process later as required.
It is simply to preform this free picture recovery software to retrieve photos. You just need to follow the simple procedure as given below and you will learn quickly how to get deleted pictures back.
Part 3. How to recover photos with picture recovery for free
Firstly, you need to get this free picture recovery software from Recoverit Free Data Recovery website and launch it on your computer. Then, follow the next simple steps to start restoring photos.
Step 1. Select a data recovery mode
Please select a data recovery mode first. To recover deleted photos from computer, here you can select the "Deleted Files Recovery". If you want to perform SD card photo recovery, you can also select "External Devices Recovery" mode.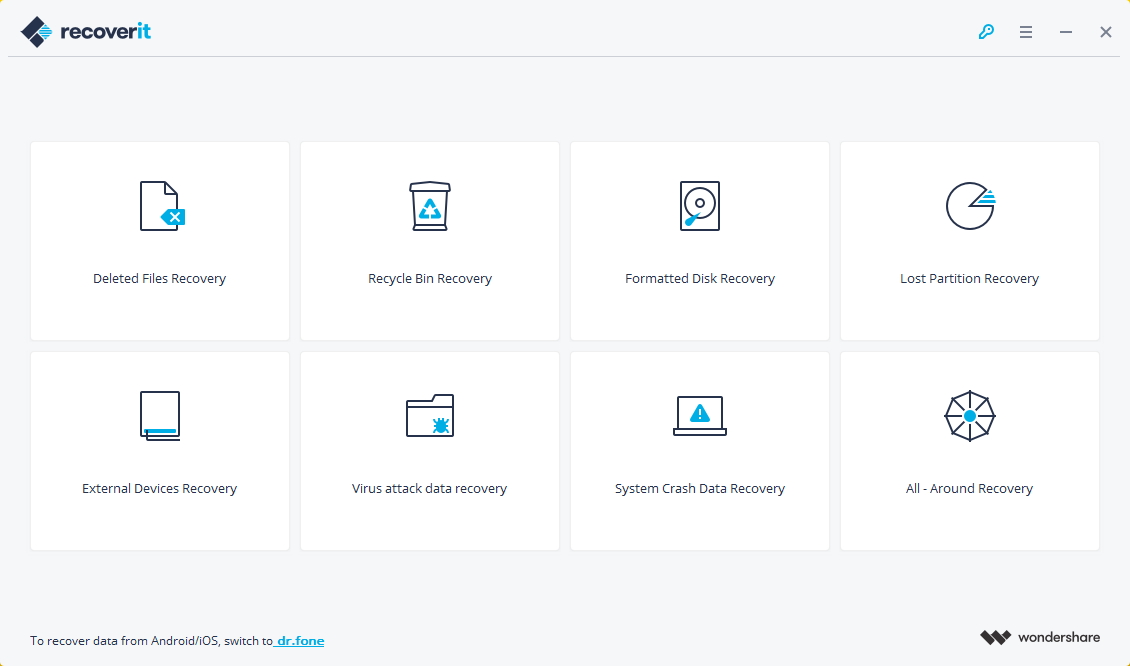 Img.1 - Select a data recovery mode
Step 2. to find deleted photos
Before the photo recovery software begins to scan your deleted pictures, it needs to know where to find your deleted photos. Select a specific disk where you deleted photos, click "Start" button to scan lost photos.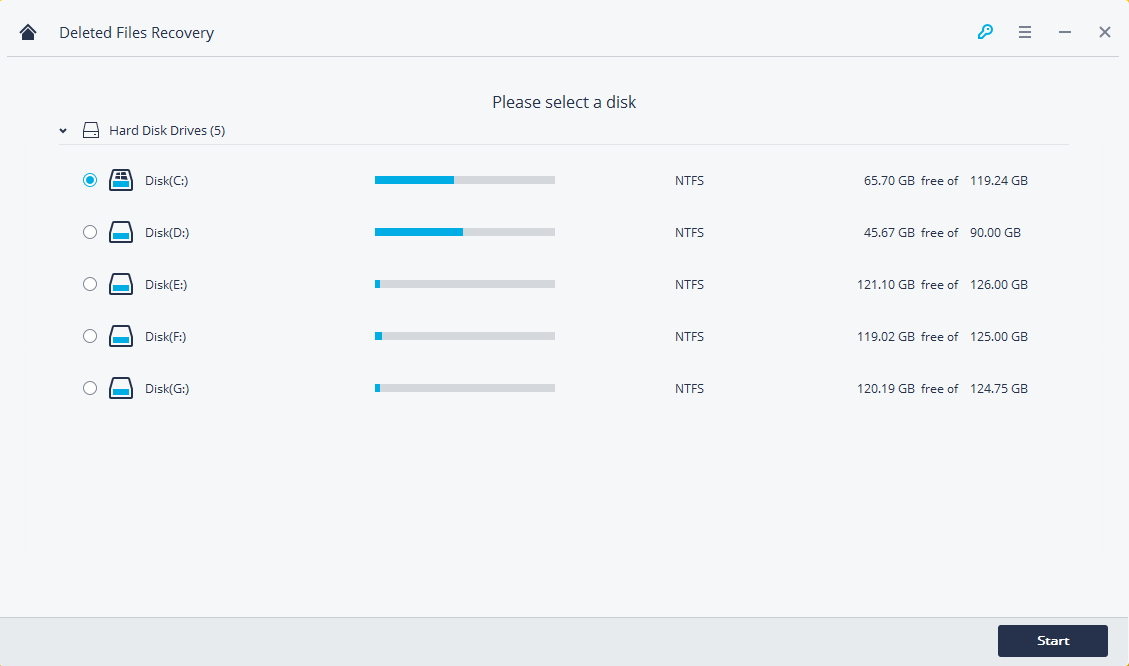 Img.2 - Select disk
Step 3. Start scanning your disc to search lost files
After a quick scan completed, you can preview the recovered files from quick scan section. If you can't find your deleted photos, go to scan agian with "All-Around Recovery" mode to have a deeper scan.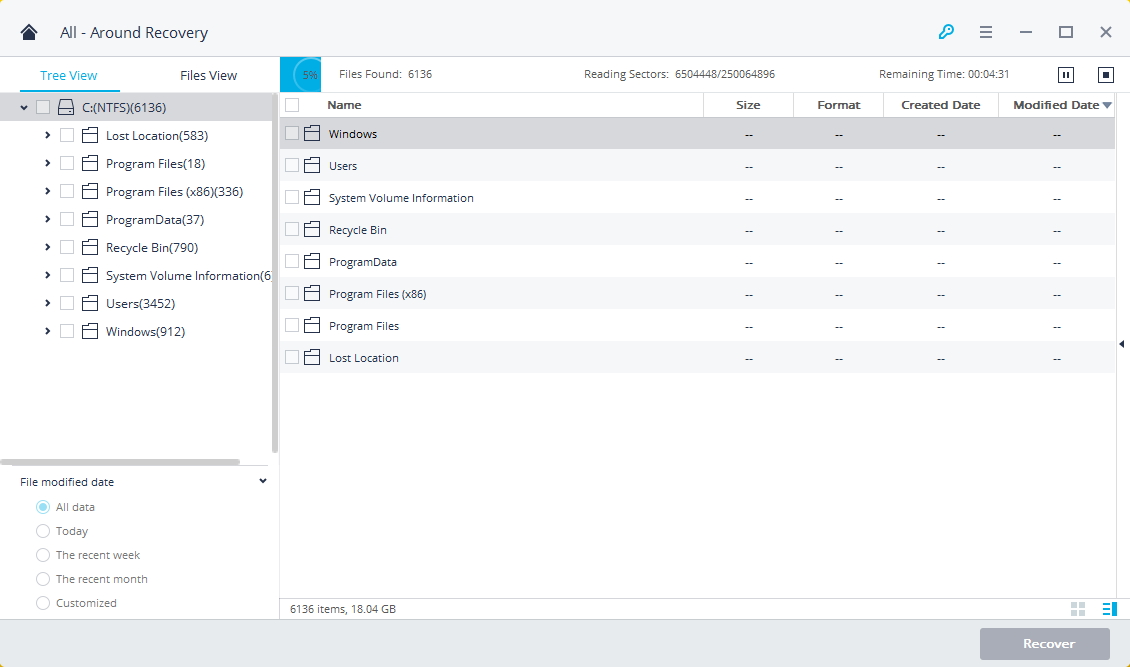 Img.3 - Step 3. Start scanning
Step 4. Recover your lost images
After scanning, the deleted pictures will display on the window. After previewing the result of deleted photos, you can now select images you need to restore and click "Recover" to save them back to your computer.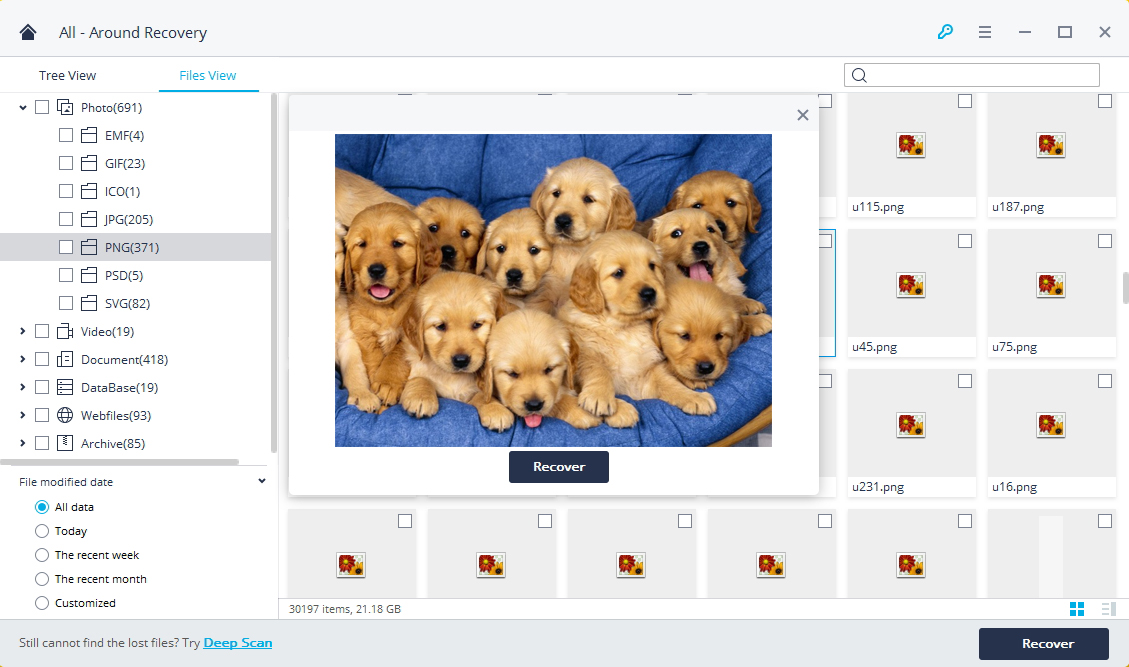 Img.4- Recover photos
Now, you can bring back deleted photos with this highly effective free photo recovery software without any additional requirements!
How to recover pictures from devices?
If you are looking for picture recovery for external devices, you can also use photo recovery-Recoverit to get your photos back easily. There is no panic when you lost data from any external devices. You can still use the option of "External Devices Recovery" to recover photos from SD card, memory card, mobile phones. Click our links below to check more details.
Part 4. Tips for image recovery
To use a highly effective and trusted image recovery software, there is something you need to be careful while you try to recover images. Here are few additional tips to ensure you recovering photos as you expected with a free picture recovery software:
You should stop using any external memory devices if you accidentally delete,lost or format images on a USB drive or SD card. Do not add or paste any new pictures on the devices, as this action could overwrite the deleted pictures and unable to proceed picture recovery well.
While recovering images, avoid saving them into the disk or devices you lost deleted photos, as it could make picture recovery becoming more difficult.
Do not use an untrusted free image recovery software online without reviewing the application - use a trusted product only.
This free picture recovery software is not just for Windows users but also Mac. You can download Recoverit data recovery software for Mac and recover deleted images on Mac with similar steps to expect a same great result. Recoverit Free for Mac is an equally capable and trusted data recovery tool for all your image recovery needs.
With these helpful tips and the best data recovery solution by your side, you do not have to worry about lost or deleted images any longer. Just get Recoverit Free and let this free picture recovery software do the rest to get your data back!