How to Recover Data under WinPE Environment
Windows Preinstallation Environment, or commonly known as WinPE is a lightweight version of Windows that is used for various purposes. From installations the primary operating system to troubleshooting an issue, we can take the assistance of Windows PE in different ways. One of the major applications of WinPE involves various recovery operations. In this post, we will teach you how to recover data under WinPE environment while using a dedicated recovery application. Let's get it started!
Window Preinstallation Environment
Windows PE is a lightweight operating system developed by Windows to help its users perform various troubleshooting tasks and install the primary Windows version. Besides that, it can run the task manager, perform recovery operations, process MS-DOS commands, etc. WinPE was introduced in Windows XP and replaced the DOS-based interface that was used to perform similar activities.
It supports a hybrid kernel and works on both 32 as well as 64-bit machines. These days, it is also used to perform recovery of data and disk cloning. A sophisticated tool that supports Windows PE can provide its recovery operations as well on the platform. In this way, you can easily recover data under WinPE environment. Besides, most times, you can also use the Windows built-in System Restore feature to recover data.
How to Recover Data under WinPE Environment
If you already have a bootable Windows PE media, then you can easily use it to recover data under WinPE environment. As of now, you can create a CD, DVD, or a USB flash drive to a bootable drive. You should always keep a bootable media handy as it can help you during an emergency to recover your lost data. Recoverit supports to create WinPE bootable drive to help you access to the WinPE environment and perform operating system crash recovery.
Recover lost or deleted files, photos, audio, music, emails from any storage device effectively, safely and completely.
Supports data recovery from recycle bin, hard drive, memory card, flash drive, digital camera, and camcorders.
Supports to recover data for sudden deletion, formatting, hard drive corruption, virus attack, system crash under different situations.
Before you start to recover data under WinPE environment, you should create a bootable media and set your computer to boot. Download and install Recoverit on a workable computer and connect a blank USB or CD/DVD to it.
1. How to create bootable media
Launch Recoverit data recovery software, click the "System Crash Data Recovery" option, and click the "Start" button on the next Window to process.
Select the media (USB flash drive or CD/DVD) that you wish to convert to a bootable drive and click on the "Create" button.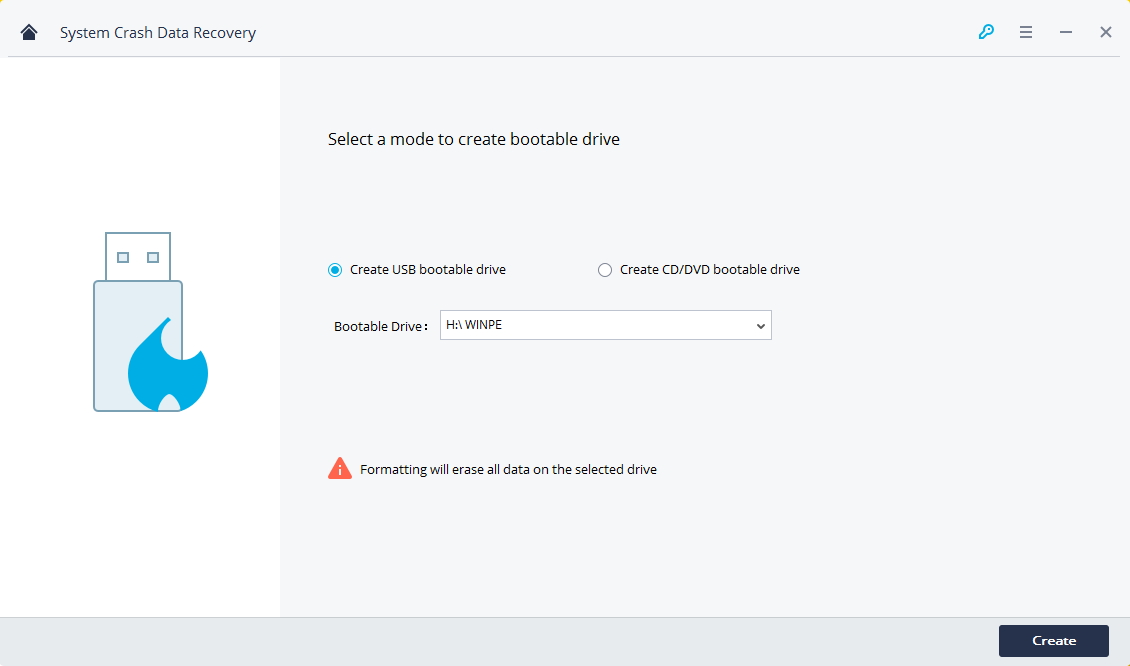 Once you choose to create a USB bootable drive, it will pop up an alert message about formatting the USB flash drive. Please make sure you have backup your data on the USB, then click the "Format now" button.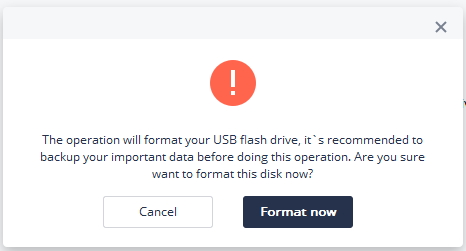 It will take for a while to finish creating a bootable drive. Please do not eject the USB flash drive.
Then you will see the steps guide of what you should do next or view the full guide to start data recovery after bootable USB flash drive is created.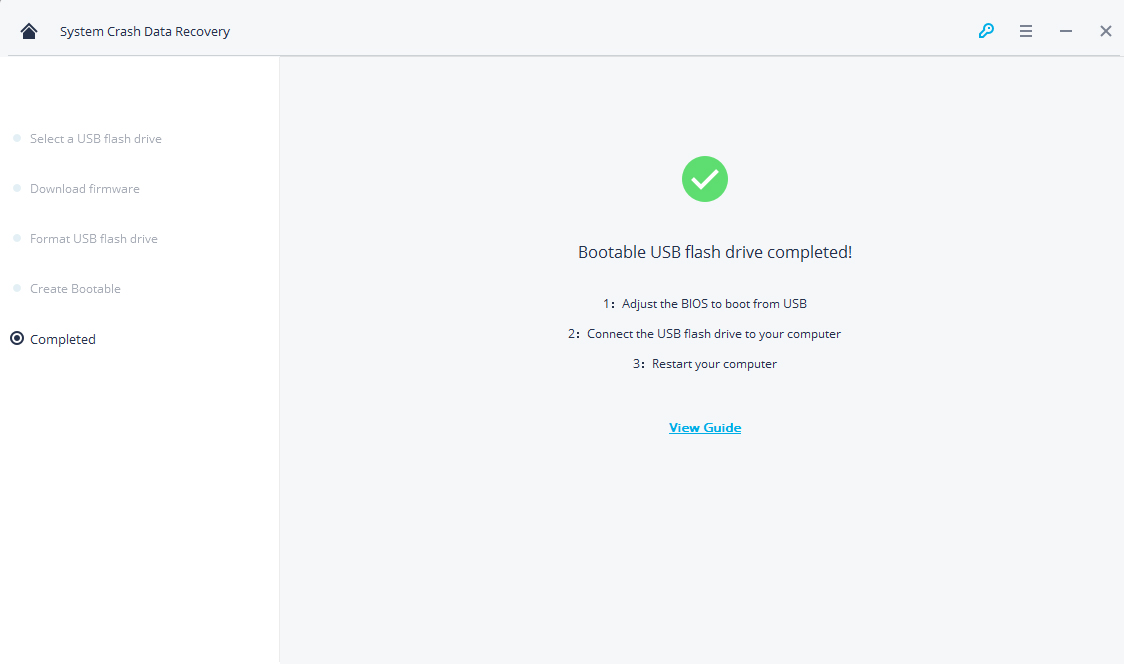 After creating a bootable media, it can be pretty easy to recover data under WinPE environment. If your system is not able to boot, then you can insert the bootable drive and change its booting sequence. To change the booting sequence, you need to enter its BIOS settings with BIOS function keys: F2, F10, F11, F12, ESC, DEL. You can check out this page to learn how to set the computer to boot from the USB drive.
2. How to Recover Data with Bootable Media
Connect the bootable drive to the crashed computer and connect the bootable media to it. Launch Recoverit, you can copy data from hard disk or recover deleted or lost data from the computer.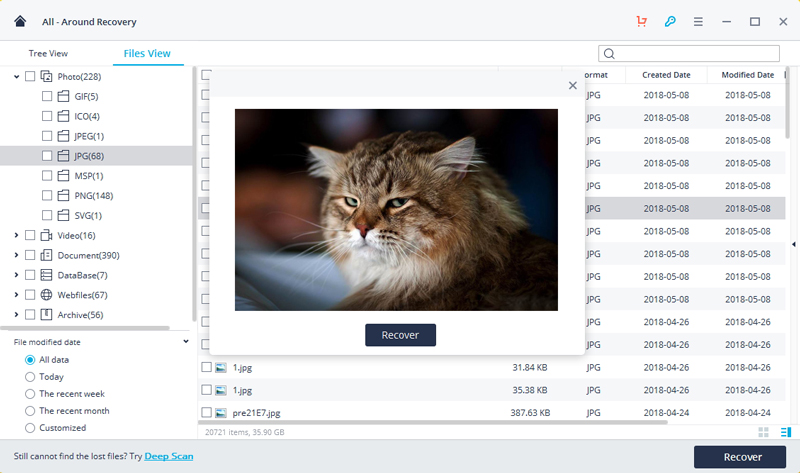 After scan the hard disk, you can preview the recovered data and click "Recover" to save. With Recoverit data recovery software, it is quite easy to recover data from a crashed computer in simple steps.
Computer Troubleshooting
Win System Crash

Windows Tips

Computer Problems

Blue Screen Errors
Other popular Articles From Wondershare