Can I Recover Data from a Crashed Hard Drive?
Please help me! My laptop crashed in a sudden and I could no longer reboot it. I take its hard drive out and connect it with another notebook. Then the problem comes. I can see the drive letter on my notebook but I can hardly access my hard drive. But I do need my files on that hard drive. Can someone tell me how?
If your hard drive crashes, your first reaction will probably be panic - especially if you have very important data and files stored on there. All data will be lost due to physical damage or logical damage. However, you can try with crashed hard drive data recovery software to retrieve your lost data back if the data loss scenarios caused by logical issue. Recoverit data recovery software can help you recover all data back from crashed hard drive.
Part 1. Crashed Hard Drive Data Recovery - Recoverit Data Recovery Software
Recoverit data recovery is a hard drive data recovery software can help you recover lost data as long as it is not overwritten. This crashed hard drive data recovery run an in-depth scan of your computer or external hard drive to recover lost, deleted, and inaccessible files and data securely.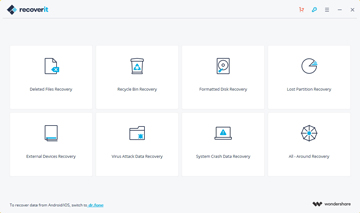 Recover lost or deleted files, photos, audio, music, emails from crashed hard drive effectively, safely and completely.
Supports data recovery from hard drive, recycle bin, memory card, flash drive, digital camera and camcorders.
Supports to recover data for sudden deletion, formatting, lost partition, virus attack, system crash under different situations.
Part 2. How to Recover Data from Crashed Hard Drive
Download and install Recoverit data recovery on your computer. Follow the next simple tutorial with Recoverit Windows version to recover files from crashed hard drive. If your hard drive crashed caused by formatted or lost partition, you can select these two data recovery mode "Formatted Disk Recovery" or "Lost Partition Recovery". This article will offer the steps of "Deleted Files Recovery" data recovery mode.
Step 1. Launch Recoverit hard drive data recovery, select the "Deleted Files Recovery" data recovery mode to recover data from laptop hard disk drive.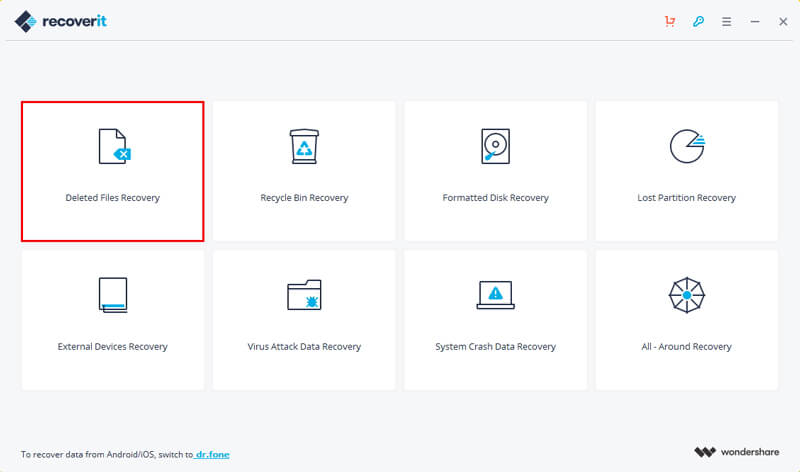 Step 2. Please select a hard disk drive where your data stored. Click "Start" button to process.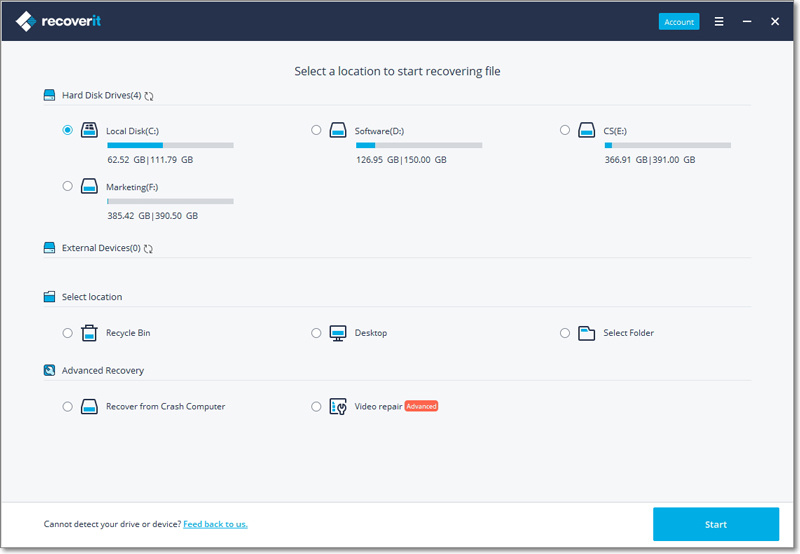 Step 3. Recoverit will start a quick scan the laptop hard drive. Once it completed, you can preview some recoverable files. If you cannot find your data you can try with "All-around Recovery" mode.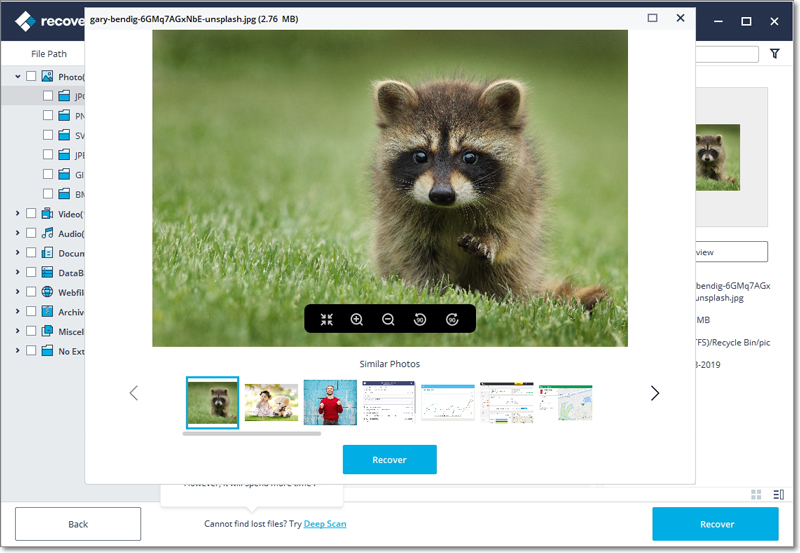 Step 4. The "All-around Recovery" data recovery mode wil deeply search and scan more files from hard disk drive. While it will take more time to complete the process of scanning.
Step 5. After the scan, you can check all recovered files on the results of scanning. Preview some recoverable files like JPEG, JPG, GIF, PNG image files. Select your files and click "Recover" button to get your data back.
Note: Please do not save any recovered data to the crashed hard disk drive instead of get a safe storage device to avoid data lost again and overwriting.
If your computer system gets crashes, it will data lost and cannot access to the hard disk drive. You can take off the hard disk drive from the computer and connect the hard disk drive to another PC computer with an external dock or adapter. Restart the computer and access to the hard disk, try to preview your data which stored on the hard disk drive. You can copy the data to another external storage device, or you should get the powerful Recoverit hard drive recovery software to help you.
Part 3. What causes a Hard Drive to Crash
Unfortunately, there's not just one simple answer to this, and many things can cause a hard drive to crash. However, the reasons of hard drives crash are actually pretty simple and preventable, so if you're aware of the causes before it happens, then you can hopefully bypass this stressful situation altogether.
Here are a few of the most common causes of a hard drive crash:
Electrical issues and power surges - things like too much power coming through your computer, for example, in the event of an electrical storm can cause different issues with electrical appliances, including hard drive crashes.
If possible, during any electrical storms, turn off your computer and disconnect from the mains until the storm is over to avoid any damage - electrical storms that lead to power surges can also cause fires, so it's really better to be safe than sorry in this case, anyway.
Overheating - computers, especially laptops have a tendency to overheat, especially if they're being used excessively, or are performing multiple heavy tasks at once.
To reduce overheating, make sure your laptop or computer are placed on a steady surface such as a desk - not soft surfaces like beds or couches, and make sure the fan area of the computer is left uncovered to allow adequate ventilation.
Old age/wear and tear - like most things, computers have a limited life span. Now, of course, a computer will definitely last longer if you take good care of it, but there's no denying that age just catches up.
If some wear and tear has caused your hard drive to crash, not all is lost. You may still be able to retrieve the data, however, it's always a good idea in any case to ensure that everything on your computer of importance is backed up - either to an external hard drive or to the cloud, because often when a computer gives up due to age, there's not much that can be done.
Hardware damage - if you've dropped your computer or spilled something on it, then it can cause issues with the internal components, such as the hard drive. These can be fixed, but not always, so extra care is always advised.
Extreme environment - exposure to too much heat, cold, moisture, or movement, such as vibrations can definitely cause some damage to a computer and cause the hard drive to fail, so try to avoid having a computer in these environments for too long.
Power outage - sudden and unexpected power outages can cause a lot of chaos on electrical appliances, such as computers. Although in most cases, the worst thing a power outage will result in is some unsaved work, it can also cause the hard drive to fail. If the power is fickle, due to weather conditions, for example, it's best to wait until it's more stable before using your computer if it relies on a power source.
Manufacturing fault - of course, some things just can't be prevented - not by you, anyway. On occasion, computers will leave the factory with undiscovered faults that may make themselves known right away or after a few months.
In the case of a manufacturing fault, you're generally protected under a warranty.
What happens when your hard drive crashes?
Regardless of whether you've never had a hard drive crash on you, or you've experienced it many times, it's every computer owner's nightmare. Get to know the symptoms of hard drive issue, maybe you can prevent data lost caused by crashed hard drive. Here are some of the most notable signs and symptoms of a hard drive crash:
Unusual sounds coming from the drive itself, such as humming or clicking are quite common indicators of a failing hard drive
Ongoing error messages or programs crashing
General odd, erratic and inconsistent behavior from the computer, such as extremely low file-loading times when there's no other reason for this.
If you suffer from a hard drive crash, don't panic. First, get the reliable hard drive data recovery to retrieve data back. However, it's still important to ensure that you take measures to protect your data from a hard drive crash in case some data isn't able to be recovered. Performing regular back-ups of your hard drive data, whether to the cloud, or an external drive will keep your data securely in place in the event of a crash.