There are so many passwords we need to remember so it is easy to forget these passwords. But the current technology provides a base for cracking administrator passwords. The tool used to crack a password depends on the operating system installed in the machine. We have different Windows operating systems such as Windows 7, Windows 8, Windows XP and Windows Vista etc. Password cracker tools are either used reasonably to recover administrator passwords or used by hackers for their ill motives.
There are many Windows password cracking tools although we are going to discuss five of the most commonly used as in the table below:
Top 5 Windows password recovery tool
| Crack tool | Price | Operating System supported |
| --- | --- | --- |
| Ophcrack software | Free to download | Windows XP,7,8 & vista |
| Offline NT Password and Registry Editor | Free to download | Windows XP,NT,Vista,7,8&2000 |
| John the Ripper | Free to download and open source but buy wordlists | Windows XP, Windows NT,2000& Vista |
| Knoppix Live CD | Free to download | Windows XP and earlier versions |
| Login Recovery tool | Free download | Windows NT, 2000, XP and Vista. |
Description of each Windows password cracking tool
1. Use of Ophcrack software
This is one of the best known Windows crackers tools. It is free of charge and easy to use provided the user has some knowledge of using Windows. These Windows recovery tool is used in almost all Windows operating systems for example Windows XP, Windows 8, Windows 7 and Windows Vista.
When you need to recover an administrator password using Ophcrack tool, the only thing you need to have is a black CD which will access to Internet and be able to use log on to another computer so that you can burn the Compact Disk. You need to use another computer to download ISO image from the Ophcrack sites and then burn to a CD, DVD or flash drive and continue booting. When the Windows boots check the administrator account and recover the password, the software does this automatically and it can recover any kind of password regardless of the format used during the password creation. Some of the passwords cracking tools are bought while others are freely downloaded from their websites.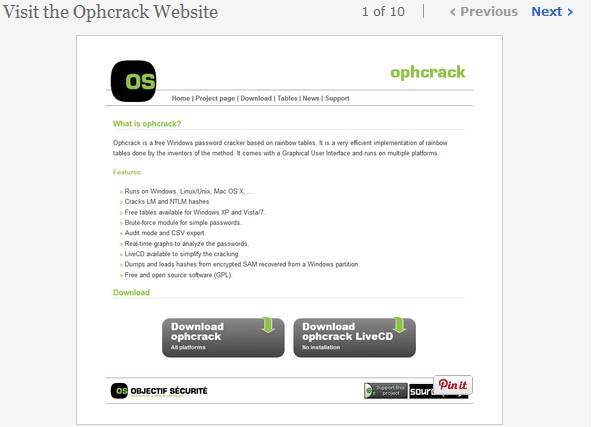 2. Offline NT Password and Registry Editor (ONTP&RE)
The Offline NT password and Registry Editor Works better as a password reset tool rather than a recovery tool. It achieves this by deleting the password and thus leaving a bland password for the user.
The person cracking is required to download the free software from the Offline NT password and Registry Editor ISO file and burn it to a storage are such as a CD, DVD or flash drive. Then boot the computer from the burned device and you can easily log in without requiring a password. The software is very convenient in case you would like to erase the password.
The Offline NT Password and Registry Editor tool is very compatible with some versions of Windows such as Windows 7, Windows 8, Windows Vista, Windows XP, Windows 2000 and Windows New Technology. During some instances, this program requires a command line to use it but it is very easy to follow instructions for the advanced users.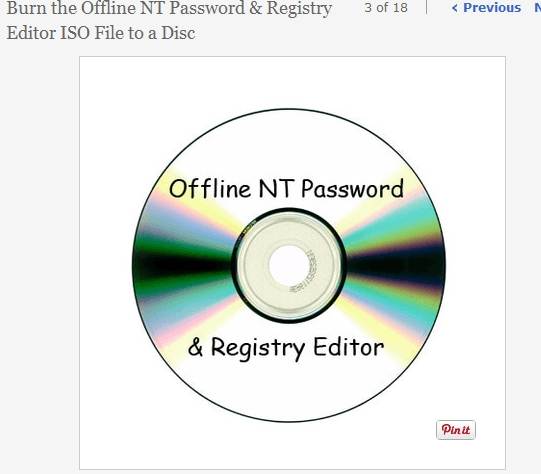 3. John the Ripper
John the Ripper is password cracker software which is considered free though in some cases it requires purchased wordlists for it to crack the passwords. This software uses a command line and thus only appropriate to the radical users. John the Ripper works well with a few versions of Windows such as Windows 7, Windows 8, Windows Vista and XP. This application is very popular and easy to use if one has some Windows knowledge.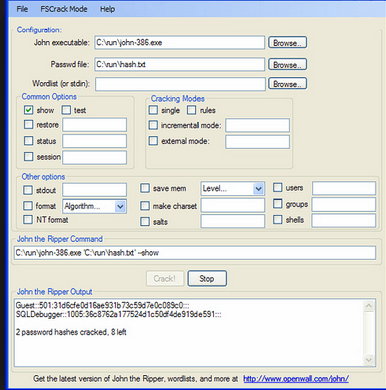 4. Knoppix live CD
The Knoppix live CD is Linux system software that usually helps to reset a password. You reset the password by booting your computer from the Knoppix live CD. Then select the option Reset Password which allows you to reset the password immediately. Finally, restart the computer. The easiest password to crack is the one with limited characters and that is a bit short. When some complicated passwords are used, the operating system requires to be reinstalled.
This software works well with Windows XP and earlier versions.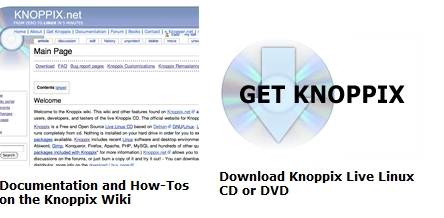 5. Login recovery tool
The login recovery tool works well with Windows NT, 2000, XP and Vista. It requires first to be downloaded to a CD, DVD or flash drive from the Windows login recovery utility. The downloaded .exe file is later used to boot the computer. When the computer runs, a list of numbers will be generated and the user is required to take the generated numbers and enter them to a login recovery site. The recovery site will try to find out the various passwords for the different versions of Windows operating system. This recovery tool involves use of encryption and decryption of codes.
All the password cracker tools are very useful and the user does not require re-installation of the operating system. The problem with Windows re-installation is that all the information is lost in the process of installing a new operating system. There are so many password cracker tools whereas each of the tools fits specific Operating system. Windows passwords are easily cracked by use of a bootable Linux CD, DVD or flash drive. It is among the best method though it is sophiscated for the new users of Windows. By the way, there is another solution to recover lost Windows password.
Computer Troubleshooting
Win System Crash

Windows Tips

Computer Problems

Blue Screen Errors