"I'm getting a black screen on my Asus Zenbook every now and then. Can someone please tell me how to fix the Asus laptop black screen problem without causing any harm to the system?"
This is a query posted by an Asus laptop user on a leading online forum that I read recently. Although Asus systems are pretty reliable, they can encounter some physical wear-and-tear or unwanted software issues. This can lead to the infamous Asus laptop black screen problem that can be faced by any user. The good news is that there are some smart fixes that you can implement to overcome the Asus laptop black screen of death. Let's get to know about seven of these solutions in detail right here.
Part 1: How to Solve the Asus Laptop Black Screen Problem?
If your Asus laptop is getting the black screen display every now and then or it is just stuck on it, then you can consider the following suggestions.
Fix 1: Try to Reinsert the Battery
If you are getting the Asus laptop's black screen after login, then there can be an issue with its battery. This usually happens if the battery is not charged enough or if it is not functioning properly. For this, just flip the laptop and use the relevant switch to remove its battery. You can later insert the same battery or replace it with a new one instead. Just be sure that the battery is charged enough before you restart your Asus laptop now.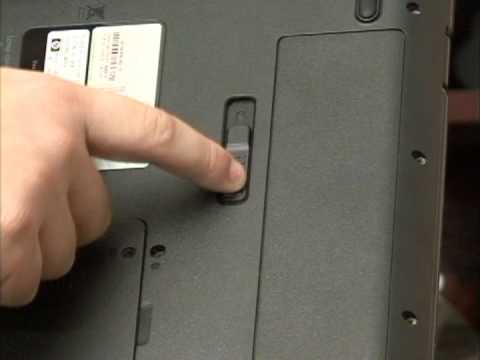 Fix 2: Reset the Display Mode
In some cases, a custom display setting can also cause your laptop screen to malfunction. If you are also getting the Asus laptop screen black but computer is on, then this could be a reason for the same. You can fix the Asus computer black screen issue by resetting its display in the following way.
Step 1. Simply turn on your Asus system and go to its Settings > Display > Advanced Display Settings.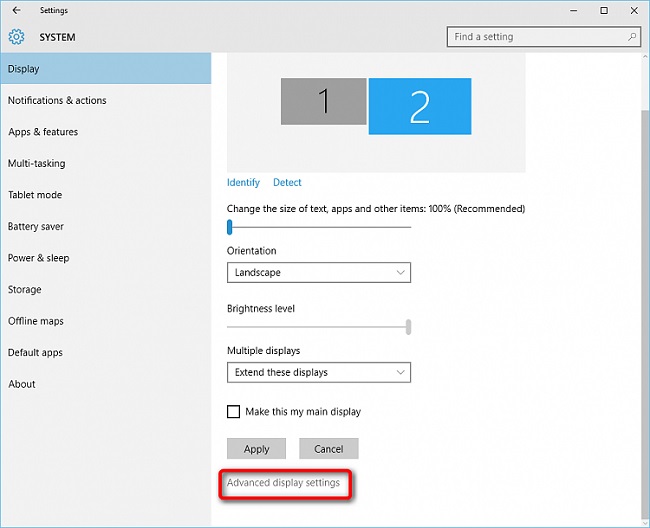 Step 2. As the Advanced Display Settings window will open, click on the option to view the display adapter settings.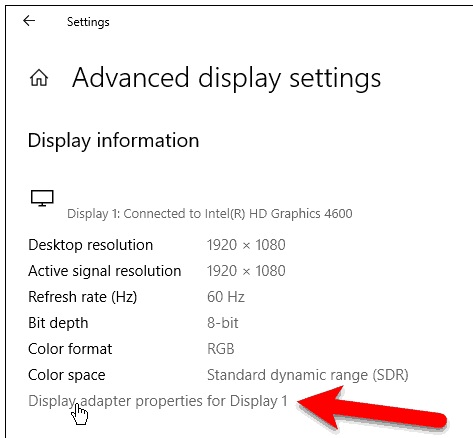 Step 3. From here, you can calibrate the display features and further go to the Adapter Settings > Color Management to reset the properties to their default value.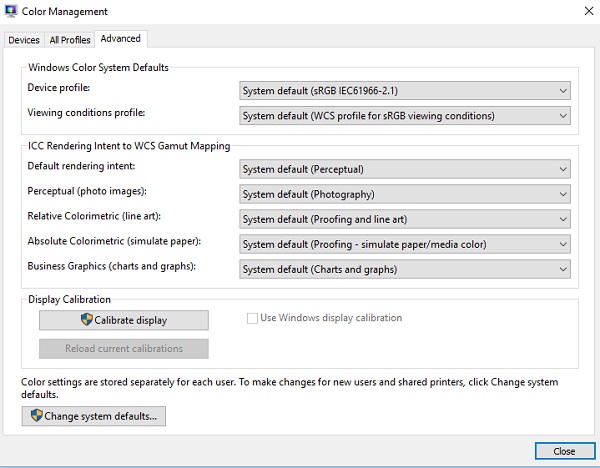 Fix 3: Hard Reset your Asus Laptop
Apart from display settings, there could be some other firmware-related issue with your Asus laptop. To fix this, you can perform a hard reset on the computer. There are options to either wipe the entire data from it or just reset its settings.
Step 1. If you own a Windows 10 laptop, then go to its Settings > Update & Security > Recovery > Reset This PC. Windows 8 users can find this under Settings > Update & Recovery option.
Step 2. Once you click on the "Get Started" button, a dedicated wizard will be launched to help you reset your system. From here, you can choose if you wish to keep your files or remove everything from the system.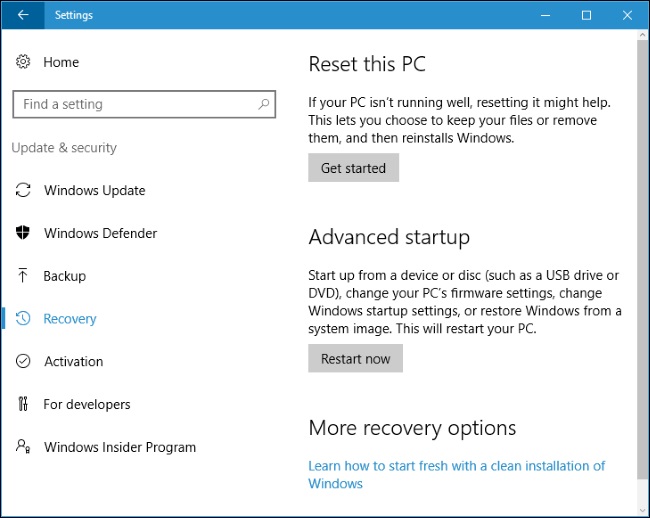 Step 3. In case if you wish to remove everything, you can further decide whether you want to just remove the files or clean its drives as well.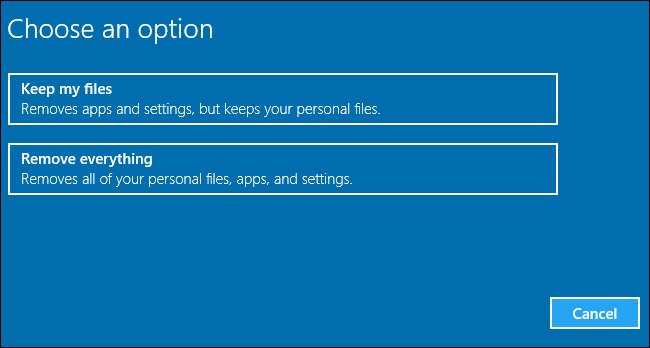 Step 4. In the end, just wait for a while as your Asus system would get reset and will be restarted with factory settings.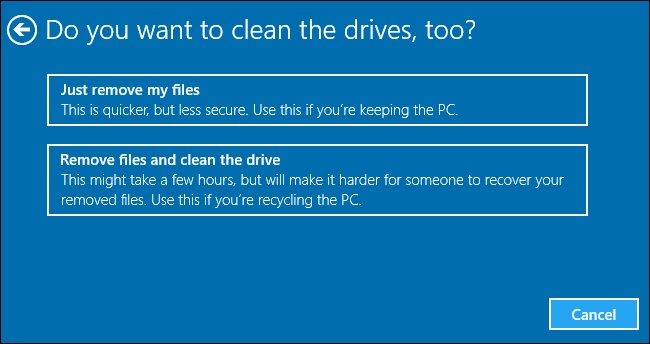 Fix 4: Update your Graphics Driver
If your Asus laptop is running on an outdated display driver or you haven't updated it in a while, then this can cause the black screen issue. The good news is that you can fix this Asus Zenbook black screen by updating the graphics or display drivers. Just go to the Start menu and open the "Device Manager" window from here. After that, select and right-click the display driver option and choose to update it.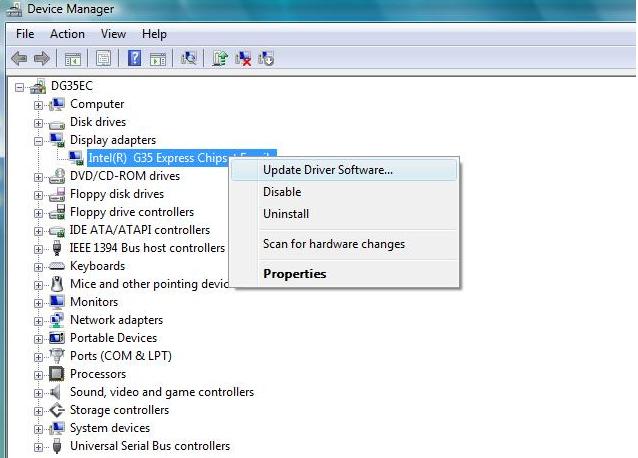 This will open a wizard that you can follow to update the graphics and display drivers on your system.
Fix 5: Restart the Explorer.exe Process
You might already know that the Explorer.exe process is responsible for providing an overall graphic-user interface in Windows. Therefore, if there is an issue with this process, then it can cause the Asus Vivobook black screen issue.
To fix it, launch the Task Manager on your system by pressing the Ctrl + Shift + Del or the Ctrl + Shift + Esc keys at the same time. Once you get the following Task Manager window, click on the "More Details" option at the bottom.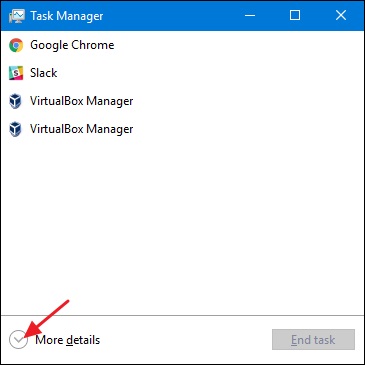 Now, you can view a detailed list of the tasks with their performances and progress. From here, just select the "Windows Explorer" option and click on the "Restart" button.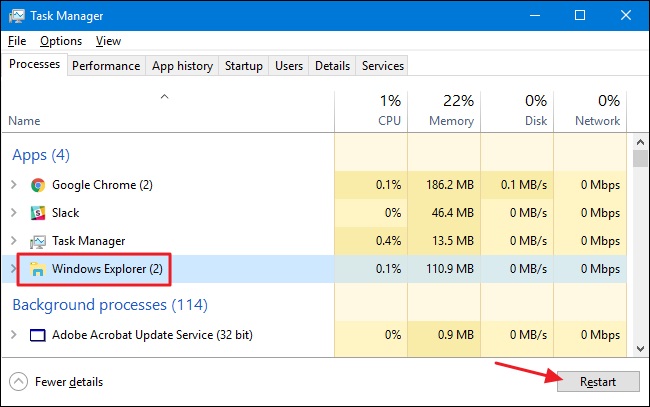 Fix 6: Disable the Fast Startup
The Fast Startup is an inbuilt option in Windows that helps us boot the system quickly. Although, it can backfire at times as it can skip some essential processes that can cause the Asus laptop black screen problem. If you want, you can try to disable the setting by launching the Control Panel from the Start menu. Later, go to Control Panel > Power Options > System Settings > Shutdown Settings and disable the "Fast Startup" feature.
Fix 7: Perform a System Restore
Lastly, if nothing else seems to work and you keep getting the Asus laptop black screen of death, then consider performing a system restore. This will reset your system to its existing settings and will clean its drive. If a malware or a custom setting has caused the issue, then a system restore would be able to fix this problem.
Though, you should know that this would end up deleting the stored data on your system. For this, just go to the Start menu and look for "System Restore". Alternatively, you can also go to Settings > System Settings > System Properties. Now, go to the System Protection tab and click on the "System Restore" button. This will let you follow a click-through process to perform a system restore on the PC.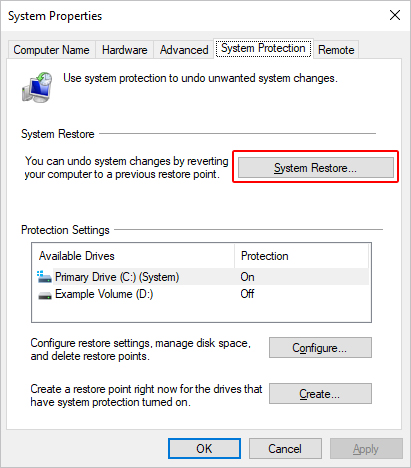 By the way, you can also learn how to fix HP laptop black screen issue.
---
Part 2: How to Recover Lost Data from Asus Laptop after Fixing the Black Screen Error?
Chances are that while fixing the Asus laptop black screen issue, you might end up losing some important data. Don't worry – you can easily get back your lost files using a reliable recovery tool like Recoverit Data Recovery. The application is extremely easy to use and has one of the highest success rates in the industry. Using it, you can get back almost all kinds of content and can restore your files to any location.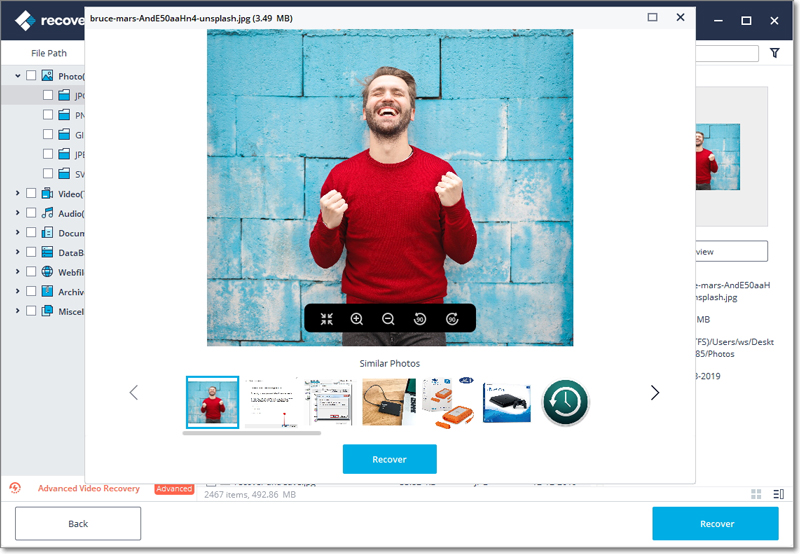 Recoverit supports the recovery of all kinds of popular data types such as photos, videos, music, documents, and so much more.
The application will allow you to preview your photos, videos, etc. and let you select the files you wish to recover.
It has one of the highest success rates in the industry and supports all the major Mac/Windows versions.
Users can pick the location from where they lost their files and get back their data by following a simple click-through process.
If you want, you can follow these steps to learn how to recover data using Recoverit Data Recovery.
Step 1: Select a location to scan
Firstly, just install and launch Recoverit Data Recovery application on your computer and pick a location to scan. You can select the entire drive or the partition/folder from where you lost your files.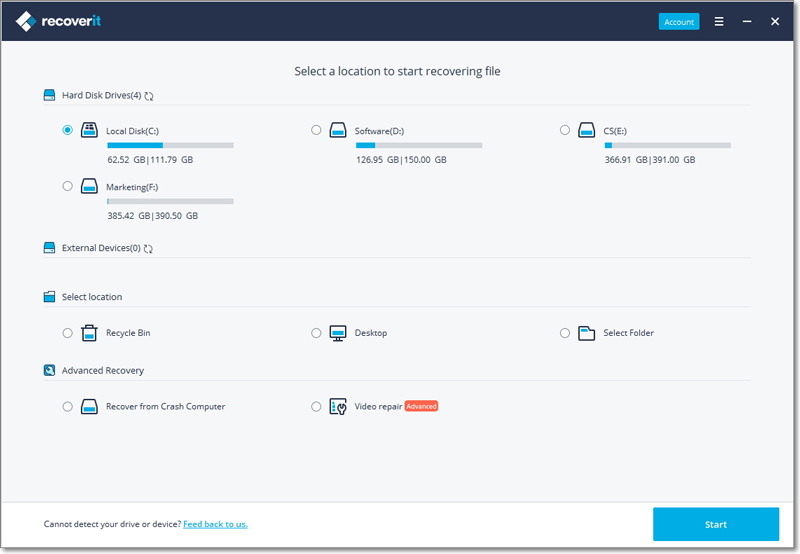 Step 2: Wait for the scan to be over
Once you start the recovery process, the application will try to extract all the lost and deleted content from the selected location. Kindly be patient and let the application complete the process. You can view its progress or just halt the process if you think your files are extracted.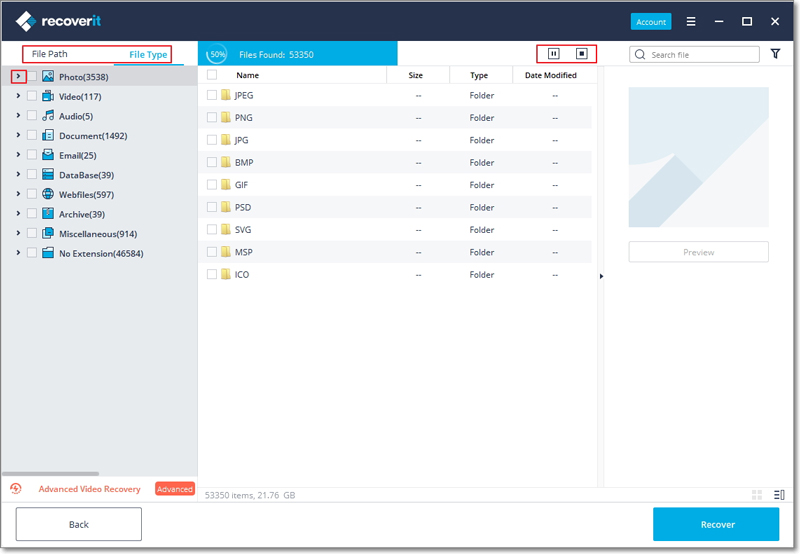 Step 3: Recover your files
That's it! Once the scan is over, you can browse the interface and search for the files of your choice. To save time, you can use the filter option on the interface to get better results.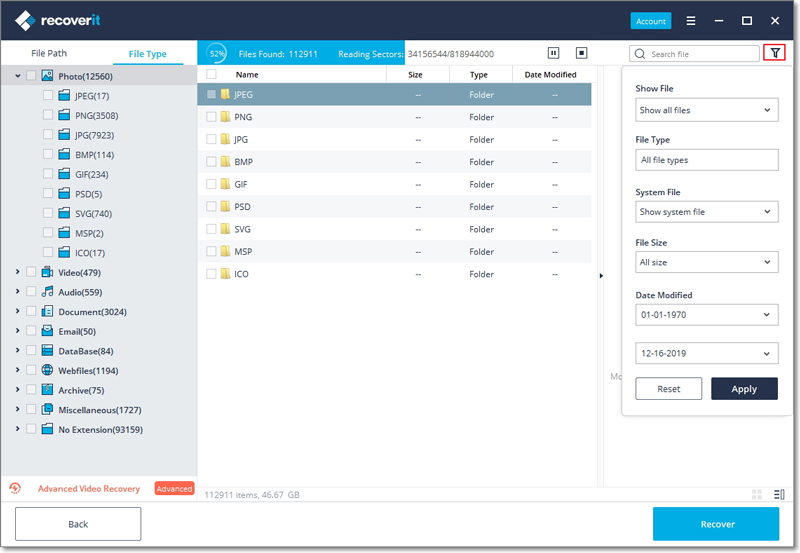 You can also preview your photos, videos, and documents on the interface to check your files beforehand. In the end, just select the files you wish to save and click on the "Recover" button to extract them to a desired location.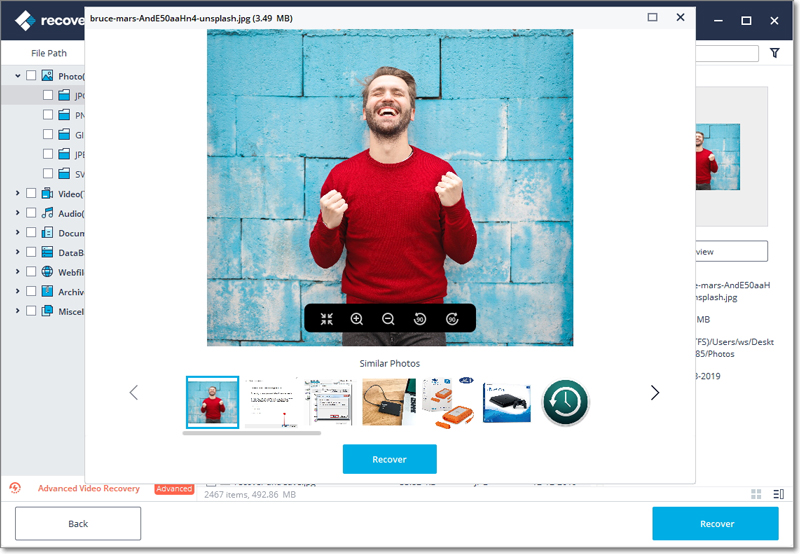 I'm sure that after reading this guide, you would be able to fix the Asus laptop black screen of death problem for sure. While I have listed fixes related to firmware and software issues, you can also check the wiring and hardware problems as well. Also, if you have lost your data while fixing the Asus laptop black screen problem, then you can use a reliable tool like Recoverit. Recommended by experts, it will let you restore all sorts of deleted and unavailable content from your system without any issue.
Computer Data Recovery
Windows PE

System problems

PC Errors