Hard drives run the risk of corruption and can lose data for a number of different reasons. This can cause your important files to become 0 byte files. If you ever encounter such an issue then it is evident that your hard drive has either become corrupt or has lost some of the data in your files. However, there is no need to worry as there are recovery methods available which can be used to recover 0 byte files.
What Causes Hard Drive 0 Byte File
Hard drive 0 byte file is caused primarily because of hard drive corruption. There are several factors that can result in the corruption of the hard drive. The following are some of those factors.
Malicious software and viruses
Formation of bad sectors on the hard drive
Unexpected loss of power to the computer system
Improper shut down of the PC
Part 1. How to Fix 0 Byte File using CMD in Windows
Fix 1. Use CMD for Fixing 0 Byte File and Recovering its Data
You can make use of CMD for restoring 0 byte files if your important files suddenly start showing a file size of 0 byte. Follow these steps to fix 0 byte files.
Open the Run dialog box by pressing Win and R keys together. Now, open the Command Prompt by typing cmd in the Run dialog box and pressing Enter.
At the Command Prompt, type chkdsk /f e: where e is the name of the storage device or partition of the hard drive that holds the 0 byte file and then press Enter.
Wait for CMD to resolve the 0 byte file errors in storage devices or partitions of hard drive. After your 0 byte files are fixed, you will be able to use them again.
Fix 2. Change File Extensions for Restoring 0 Byte Files
Choose the Properties option after right-clicking on the storage device or partition of hard drive.
Press the Start button after clicking the Check now button in the Tools menu.
Press the Cancel button after clicking the Close button.
Open the storage device or partition of hard drive. Type FOUND.000 in the address field and then press Enter.
Change the name and the extension of the repaired file keeping the format of the file the same as that of the 0 byte file. Do remember to save the file in a separate hard drive partition.
Open and check the content of the file you have just saved and back it up somewhere safe. Your 0 byte file is now fixed and can be reused again.
Format your hard drive or storage device to resume storing files on it.
Part 2. How to Restore Files from 0 Byte Devices with Data Recovery Software
Using the recovery methods mentioned above, you should be able to recover 0 byte files easily. However, if these methods don't provide you the desired results then it is best for you to use data recovery software for attempting the hard drive data recovery. You will need to utilize powerful recovery software to perform this task, though. Ordinary data recovery software won't be able to get this job done. Recoverit Data recovery is among the few software programs that can recover files from hard drive without encountering any problems.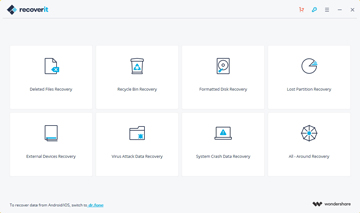 Recover lost or deleted files, photos, audio, music, emails from any storage device effectively, safely and completely.
Supports data recovery from recycle bin, hard drive, memory card, flash drive, digital camera and camcorders.
Supports to recover data for sudden deletion, formatting, lost partition, virus attack, system crash under different situations.
Here is a guide that has been formulated to provide you the chance to see how the Recoverit file recovery can be used to recover 0 byte files. On this tutorial we will select "Deleted Files Recovery" mode to perform files recovery.
Step 1. Launch Recoverit File Recovery, select "Deleted Files Recovery" data recovery mode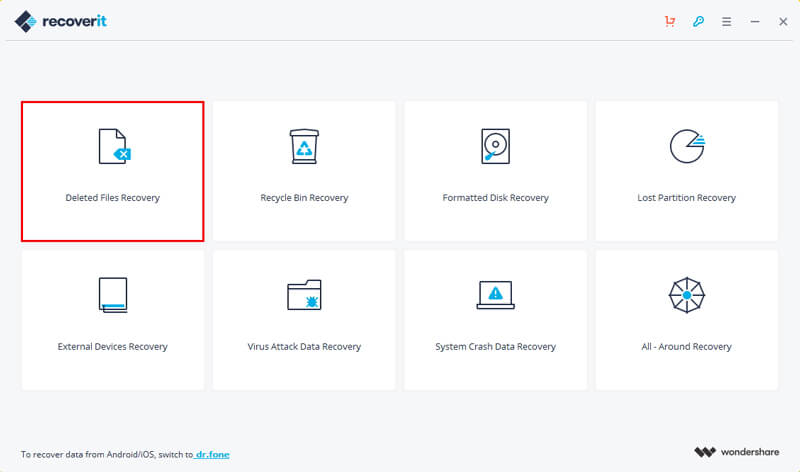 Step 2. Select the specific a hard disk drive to search partiton in which the 0 byte file is present. Click "Start" button to process.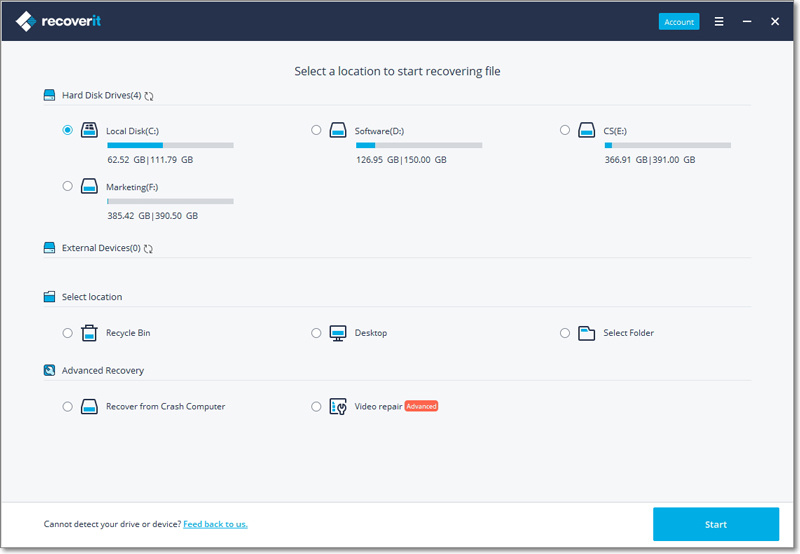 Step 3. Recoverit data recovery will start a quick scan. If the quick scan can't find your files, go to scan with "All-around Recovery" which will help you search more files but it will take more time.
Step 4. Preview the recovered files from hard drive partition, and save to your preferred location.
Encountering the issue of 0 byte files in Windows 10/8/7 can be quite frustrating for the users. It might mean corruption of the hard drive. If you are facing such a problem then you don't have to worry that much. You can recover 0 byte files using a number of different data recovery methods. If these manual methods don't work then using a third-party recovery tool like Recoverit recovery is a good option.