A Complete Guide on WhatsApp Audio Recovery
"I was using my WhatsApp and accidentally deleted some important audio files from my phone. Can someone please tell me how to retrieve deleted audio files from WhatsApp?"
If you are a regular WhatsApp user, the chances are that you might also encounter a similar situation. While the messaging app is straightforward to use and secure, there are times when users end up losing their data. For instance, if you have also lost your audio files or voice notes, you should perform WhatsApp audio recovery. To do this, you can use a third-party tool or try some of its native recovery methods. In this detailed guide on WhatsApp deleted audio recovery, we will provide 4 different solutions.
Part 1: How to Recover Deleted WhatsApp Audio Files on PC
To start with, we will quickly look at some working solutions to recover deleted WhatsApp voice notes and audio files on a system.
Method 1: Recoverit Audio Recovery Software
Ideally, WhatsApp allows us to save our audio files (like voice notes and shared music) on the phone's local store or an attached SD card. If your audio files were stored on SD card, then you can try Recoverit Data Recovery. A highly professional and advanced audio recovery tool can help you get back all kinds of audio files from the SD card. The application supports SD cards from every popular brand and several data loss scenarios. Apart from that, it supports 1000+ different file formats to provide a complete recovery solution.
Video: How to Recover Lost Data Files
To learn how to recover WhatsApp audio files from an SD card using Recoverit, follow these steps:
Step 1: Attach your SD card to the system.
Firstly, unmount the SD card from your smartphone and connect it to your computer instead. Now, launch Recoverit Data Recovery and wait for it to detect your SD card. Please select it from the External Devices section and start the scan
Step 2: Wait for a while.
As Recoverit would perform a thorough WhatsApp audio recovery on the SD card, you can wait for a few minutes. There is an indicator on the interface to show the progress of the operation as well.
Step 3: Restore WhatsApp audio files.
When the process is completed, the extracted content would be listed under different categories. You can go to the audio section from the left panel and even listen to these audio files on the native interface. In the end, you can select the audio files you wish to recover and save them on your computer.
Method 2: Restore Deleted WhatsApp Audio from Google Drive
If you own an Android device, then you might be familiar with Google Drive. It is a dedicated cloud-based solution owned by Google and lets us access our important data remotely. Every user gets 15 GB of free storage on Drive that they can use to store their photos, videos, audios, documents, etc. If you have also stored your important WhatsApp audio files on Google Drive, you can easily restore them afterward. Just follow this basic drill to do WhatsApp deleted audio recovery.
Step 1. Go to the official website of Google Drive and log-in to your account by providing your Google credentials.
Step 2. As your Google Drive dashboard would be launched, browse to the folder where your audio file is stored.
Step 3. Select the audio file you wish to save and right-click to get more options. Just click on the "Download" button now to save the file to your computer.
Method 3: Restore Deleted WhatsApp Audio from the Local Backup
A lot of thoughtful users maintain a second copy of their WhatsApp data in case of an emergency. If you have also maintained a backup of your WhatsApp audio files or the entire WhatsApp data, you won't have any issue restoring it. Ideally, there are different techniques to make WhatsApp audio recovery in this way.
Step 1. Firstly, go to your system's local storage and check how you have maintained the backup. If you have kept the audio files separately, then you can copy and paste them to any location (or send them back to your device).
Step 2. Alternatively, if you own an Android, you can connect the device to the system. If the entire backup is stored, you can also send the backup file to the device storage.
Step 3. Now, if you are already using WhatsApp on your phone, then you need to uninstall it. Make sure that you save all the existing data on it beforehand.
Step 4. Furthermore, reinstall WhatsApp on your device and initiate the setup. Once you enter your phone number, the app will automatically detect the presence of a backup file.
Step 5. That's it! Now you can click on the "Restore" button and wait for a while as all the saved WhatsApp data would be extracted on your device.
---
Part 2: Recover Deleted WhatsApp Audio Files on Android Phone
For all those who have accidentally deleted WhatsApp audio or voice notes from their Android, dr.fone – Recover (Android) would be a perfect solution. Recoverit can only scan the connected SD card, dr.fone – Recover (Android) would do the same for the device's internal storage. By following a simple click-through process, you can scan the device's storage and retrieve all kinds of WhatsApp audio content. It is the first data recovery tool for Android devices and is widely known for its high recovery rate.
The recovery application runs on every leading Windows and Mac version. Having a positive reputation in the industry boosts only the highest data recovery rates too.
It can recover all kinds of audio files that are exchanged on WhatsApp. Apart from music, even WhatsApp voice notes can be extracted.
The application also supports the recovery of other data types like photos, videos, documents, messages, contacts, etc. (How to recover deleted video files)
It will give you a provision to preview the extracted content and listen to the recovered audio files. Later, you can select your choice's audio files and save them to a secure location.
It will not cause any harm to your device, its firmware, or even the existing data stored in it.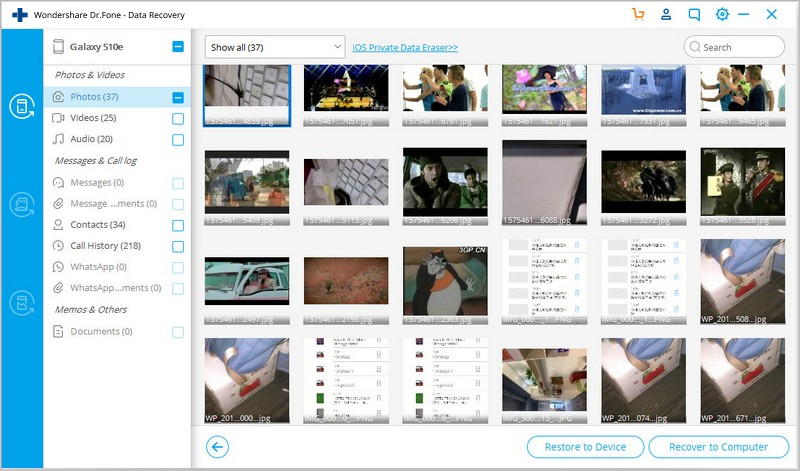 You can connect your Android device, launch dr.fone – Recover (Android), and extract all kinds of lost data from it. No prior technical knowledge is needed to do WhatsApp audio recovery using it.
This brings us to the end of this in-depth guide on recovering deleted audio files from WhatsApp. As you can see, we have listed different solutions to perform WhatsApp audio recovery. If you have already taken a backup of your audio files on your computer or Google Drive, then you won't face any issues. Alternatively, you can also take the assistance of Recoverit Data Recovery or dr.fone – Recover (Android) to restore WhatsApp audio from your SD card or device storage, respectively.
Fix Media File Issues
Recover & Repair Photos

Recover Videos

Repair Videos

Recover & Repair Audio

Recover & Repair Cameras