We all know how critical it is to take backups regularly, as SSD drive plays an important role for our backup, so we don't lose our important data. But even with the best intentions, it is human nature to perform damage control after the worst has already happened for our data. We may forget to take backups, accidentally format SSD drive, or lose our data from SSD drive due to virus attacks; the reason can be anything. But thankfully, technology has progressed enough to take care of our follies and guard us against such data loss. This article we will show how we can solve your problem with SSD drive recovery tool for free, how to recover data from SSD drive easily and how to protect your SSD drive.
Recoverit is the best data recovery software that can help you retrieve your lost files within minutes. Recoverit can help the users to process formatted files recovery, deleted or lost files recovery easily in quick steps. The software is compatible with all the versions of Windows including 10, 8, 7, Vista and XP. Recoverit has an excellent and user-friendly interface which makes the otherwise complicated process of free SSD data recovery relatively convenient and easy to follow.
Part 1: Overview of SSD Data Recovery
In this article, you will find detailed information about SSD Drives and everything related to them. We will try to answer the most common questions that users with an SSD drive have. We will also tell you what the common causes are of losing your data stored in SSD drives and what you can do to prevent yourself from landing in such a situation.
When SSD drives were launched in the market some years ago, they were already a hit because of their speed and reliability. Many users started preferring this storage medium over its other counterparts like external hard drives to store their important information.
Many users also assumed that since SSD drives had no mechanical parts, they were less vulnerable to data losses or corruptions. But this, of course, was soon realized to be just a myth. The statistics also supported that hard drives and SSD drives were equally reliable and had equal chances to fail.
Given this backdrop, let us delve deeper into the specific characteristics of SSD Drives and learn more about them.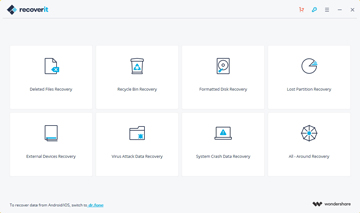 Recover lost or deleted files, photos, audio, music, emails from any storage device effectively, safely and completely.
Supports data recovery from recycle bin, hard drive, memory card, flash drive, digital camera and camcorders.
Supports to recover data for sudden deletion, formatting, lost partition, virus attack, system crash under different situations.
Part 2: What is SSD Drive?
SSD stands for Solid State Drive. It consists of solid-state electronic memory chips to read and write data. These are typically Flash memory or DDR RAM chips. It is exactly similar to a common hard drive when it comes to the specification, definition of interface, product size, shape, and function usage. SSD can be widely used as a portable hard drive. SSDs are continuously evolving and becoming more prevalent in today's computing devices.
Part 3: The Possibility of Data Recovery on SSD Drive
Is it possible to recover data from a failed SSD drive? Of course, it is. But for that, there are some crucial tips that you need to keep in mind. Before we get to that, it is important to understand how data recovery is possible on SSD Drives.
First and foremost thing to know is that there is a huge difference between the recovery techniques of data when it comes to hard drives and SSDs. In a conventional hard drive, if the user deletes a file, only the index gets removed. This means that the original content still stays in the same place until new data have overwritten it. On the other hand, in SSDs, the content gets removed immediately as soon as you delete it because of the effect of TRIM.
Now you may wonder what is TRIM and what role does it play in SSD drives? In a traditional hard drive, when you write new data, Windows will let the disk erase the previous data first. The new data then take place where once the old data was stored. When you delete a file, Windows marks the space created as available, but the content remains there intact. Whereas in the cases of SSDs, if Windows recognizes that TRIM is supported, it deletes the file immediately, making it impossible to recover files from SSD drive.
If you wish to retrieve important files from your SSD drive, these are the conditions or tips you must meet at all costs:
Make sure that TRIM is disabled on your Windows 10 / eight / seven versions. However, if you use a Windows XP, then you have nothing to worry as XP does not support TRIM.
If your SSD drive is old, then usually it won't support TRIM by itself.
AHCI, as well as SATA interfaces, are not seen in your motherboard.
Two SSDs form a RAID 0.
You are using the SSD as an external hard drive.
If you meet the above conditions, then you would be easily able to recover files from SSD drive using SSD data recovery software for free like Recoverit.
Reasons to Perform Free SSD Data Recovery
Due to the numerous benefits of SSD drives, many users prefer to use it as their primary storage device. However, SSD still crashes sometimes and is not absolutely immune to data loss. It is thus very important to know and pay attention to the major reasons that can contribute to data loss troubles in SSD drives. Following are some of the most common reasons why free SSD data recovery becomes a necessity:
Physical or electronic component damage
Bad sectors
Excessive overwrites leading to memory wear
Virus attacks
Damage from Trojan Horses and other malicious programs
Natural disasters like fire and floods
Accidental file deletion
Issues with the software or operating system resulting in file corruptions
Part 4:How to Recover Data from SSD Drive with SSD Drive Recovery Tool
Even though you have taken all the necessary precautions, there is still a possibility that you may lose your data. Fortunately, with free SSD data recovery software like Recoverit, you can recover files from SSD drive without needing any professional or technical expertise on it. With its strong data recovery potential, Recoverit can rescue lost data in all types of complex scenarios, for example, perform SSD drive raw recovery or even undelete files from SSD drive.
Step 1 Download the Recoverit data recovery software and launch it.
Step 2 To recover the data, select the 'External Devices Recovery' mode. If you are not using SSD as an external drive, then you can select 'Deleted Files Recover' mode.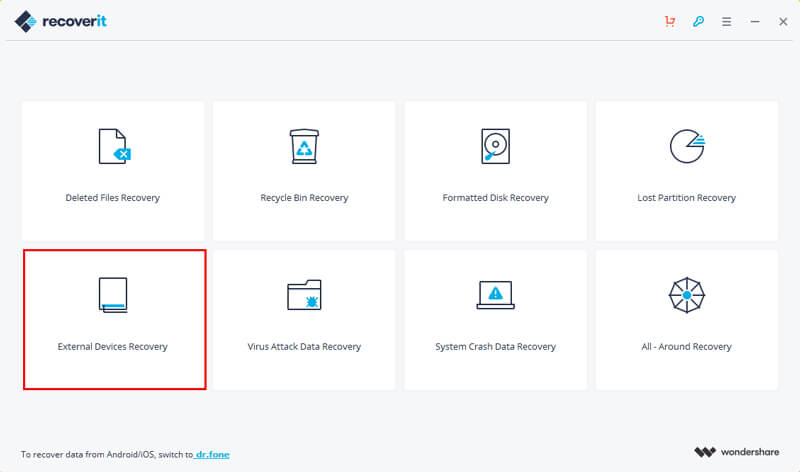 Step 3 After your SSD drive gets detected by your computer, select it and click on 'Start' for the scan to begin.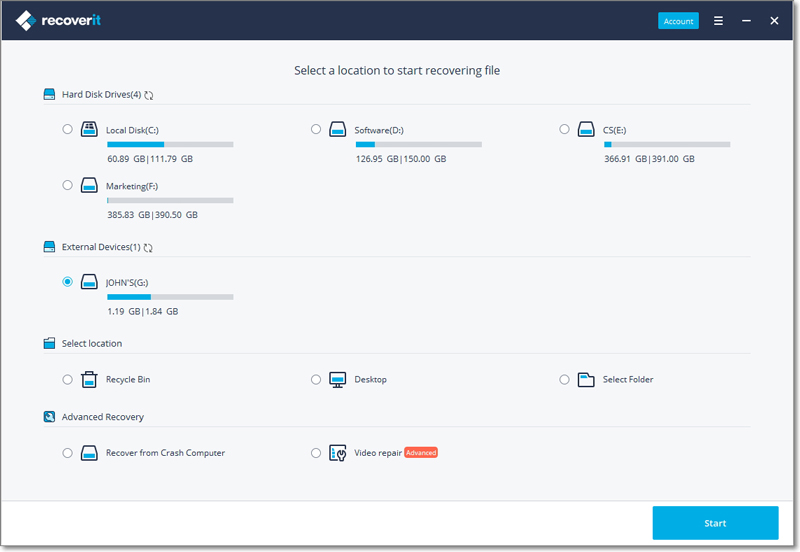 Step 4 The SSD Drive recovery software will start a quick scan and try to find all the recoverable files on your computer. However, if you find no files in the preview, there is no reason to worry. You can try the 'All-Around Recovery' mode to run a deep scan instead. This takes more time to search for the files, but it is also more thorough.
Step 5 After the deep scan gets completed, you will have on your screen a preview of all the recoverable files. Simply select the ones you wish to retrieve and click on 'Recover'.
Part 5:Why is SSD Drive So Popular?
SSD Drives are getting faster every year making a huge difference to the speed of your computing experience. The technology being used in SSDs is constantly evolving. So much, so that, an SSD that you buy today could be twice as fast when compared to an SSD you purchased four years ago. Some reasons that make SSD the preferred choice are:
SSD data is randomly accessible at the same time irrespective of the storage location. This means that SSD drive offers faster access to data to users as compared to hard disks.
There are no mechanical moving parts in SSD drive unlike in hard disk drives or floppy. SSD drives also do not require to spin up on a platter and hence consume less battery.
SSD drives are more resistant to vibration and physical shocks.
SSD drives are less noisy and less latent.
Lastly, SSD drives are immune to strong magnetic fields.
Part 6:Difference between SSD Drive v/s Hard Disk Drive
Until recently, computer owners did not have much choice about the type of storage they could opt for in a laptop or computer. But now, you can configure your systems with an HDD, SDD, or in some cases, both. But how do you make that choice what is good for your system needs? For that, let's understand the differences between SSD drives and Hard Disk drives.
Price: SSDs are generally more expensive than HDD as the former uses the most recent technology. For similar amounts of storage, the user could end up paying almost twice the amount for buying an SSD in comparison with an HDD.
Capacity: SSD drives have the highest capacity of up to 4TB. On the other hand, HDD can have a maximum capacity of up to 10TB as they do not make use of integrated circuits.
Speed: SSDs are much faster than HDDs when it comes to speed. SSDs are known to boot an average computer in lesser than a minute. Even though HDDs are slower than SSDs, but they are still fast and efficient enough to make the work easier.
Fragmentation: Fragmentation is not an issue with SSDs as the data can be written sporadically across any part of the cells of the disk drive. There is not much dependence or impact of reading/write times as separate cells can be accessed at the same time. However, in the case of HDDs, they make use of end to head storing system which crops up fragmentation issues more frequently when compared with SSDs.
Durability: HDDs are less durable than SSDs as they use mechanical parts which get damaged due to shock and other movements. This leads to the sacrifice of data integrity and firmware corruption.
Part 7:How to Preserve Your SSD Drive Health?
Windows is not optimized on its own to get the most out of an SSD drive, which has its own weaknesses. If it is treated poorly, the speed of the SSD is bound to degrade. This calls for an active effort on the part of the user to maintain the high performance of the SSD drive and extend its lifetime. There are many strategies that you can follow to prevent data loss from your SSD drive and maintain its overall health.
Do not use the maximum capacity of your SSD drive. Always leave some free space on your SSD or its write performance will slow down dramatically. This is because when your SSD has a lot of free space, it has lots of empty blocks to write files into. On the other hand, when your SSD has less space, it has lots of partially filled blocks which require longer times to modify and write in to.
Make sure you are using the latest firmware with your SSD devices. Keep checking up with your vendors in case of any software updates.
Keep a track of how actively you use your SSD drive. This would help you in estimating the probable lifetime of your SSD drive and make you use it with more caution.
Make sure your SSD drive is well protected against power surges and low voltage conditions.