A computer crash can be a traumatizing experience for the users if they are unable to understand the reason behind the fallout of their Operating System. When computer crashes randomly, it can hinder your work, editing and modification of critical files, and also lead to loss of data, recovery of which, using Recoverit data recovery software is discussed further in the article. Before we take up the actions that are required to be performed during computer crash recovery, we look at the reasons that cause the need of computer crash recovery in the first place. Please note that these errors occur usually, and are a result of everyday usage, and containing nothing very alarming in most instances, but contribute when computer crashes randomly.
So, how do we go about checking the cause behind computer crashes randomly?
One can use the reliability monitor to seek a quick, user-friendly guiding mechanism that will display all the recent system and application crashes. We were first introduced to the Reliability Monitor in Windows Vista, and it has been on all modern versions of Windows since then. Simply hit the Window key and type "˜Reliability'. You then have to press Enter in order to launch the "˜View Reliability history' shortcut.
If the computer crashes randomly, you'll be able to see a "˜Windows failure' here. Application failures list out all the crashes relevant to your application. Alongside, it offers you other information which might be useful in understanding why computer crashes randomly. If the computer crashes randomly after the installation of a particular software or hardware program, you may have to perform system restore.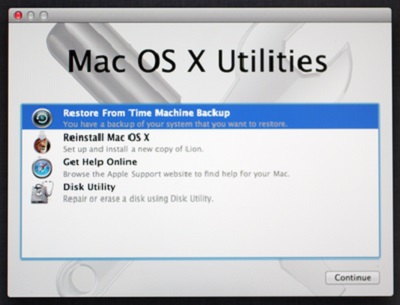 This program shows us events from the Even Viewer in a manner that appeals to amateurs as well. Window Event Viewer would also supply us with this information, but it won't be that understandable.
IF you are looking to access Windows Event Viewer to understand why computer crashes randomly, launch the Start menu and search for "˜Event Viewer', then move to "˜System' under "˜Window Logs', and look for "˜Error' messages. The same error messages are also viewed in the reliability monitor. However, don't be alarmed by every message that appears in this window.
The other reason when computer crashes randomly could be the blue screen error which we shall discuss in detail in the following section.
What is the Blue Screen Error?
Imagine working on an important presentation for your meeting tomorrow and having your laptop or PC Crashed while running Windows 10. How often have you been in the middle of your favorite game when almost unexpectedly, out of nowhere, did your PC turn off and failed to restart. Well, most of us, sometime or the other has experienced this issue and it has left us frustrated. For the ones who look for a solution to this problem, it's necessary to identify the problem first, which is that of the infamous Blue Screen Error.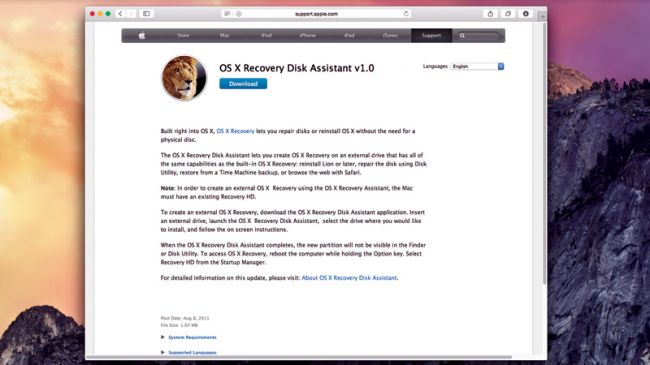 So, what exactly is this much talked about blue screen error? To begin with, the blue screen error, also known as the "˜stop error' causes computer crashes randomly or shut down without any chance to save the important work. Even after turning on your PC, you wouldn't be able to see the conventional options like the Taskbar on your screen or even the Start Menu. Instead, there would be a message on the blue screen which would read that the PC ran into a problem and is required to be re-started.
Usually, Blue screen error leads your computer to reboot giving you access of the desktop, but if it doesn't, we tell you how to resolve the error.
Blue Screen Error That Doesn't Give Access to the Desktop:
So, what do you in case of a blue screen error that doesn't give you the access to your own desktop? Here, we list out the steps.
The PC, after failing to restart, would enter the automatic repair mode.
After Automatic Repair, you would see the "˜Choose an Option' screen where you are required to select "˜Troubleshoot>Advanced Options>System Restore. This allows your system to be taken back at a certain point in time. Users can also create a restore point manually. Make sure that you choose the restoring point before the error occurred.
Once your PC is restored to an earlier time, it will remove all the updates and drivers after that point without having any affect on your personal updates.
If restoring the system fixes the blue screen error, you must ensure that you temporarily block the updates from automatically installing again. You can also know why Windows computer crashes unexpectedly.
Blue Screen Error While Using your PC that causes computer crashes randomly:
Check for Updates:
Often, the blue screen error occurs because the Windows have not been updated for a while. One can go to the search box on the taskbar, look up for Windows update, and select the same option. On the page of Windows Update, you can check for updates, and thus, install the necessary updates.
Hardware Elimination:
In rare occurrences, introduction of hardware to your system can cause a blue screen error. For the ones who are experiencing such an issue, it is advisable to remove the USB Drive or any other hardware device that has been installed, shut down the PC. You can then turn on the PC.
How to Recover Lost File Caused by Computer Crashes
If your computer crashes randomly, chances are that you might not gain access to your critical data, and hence, it might require being recovered using Recoverit data recovery software.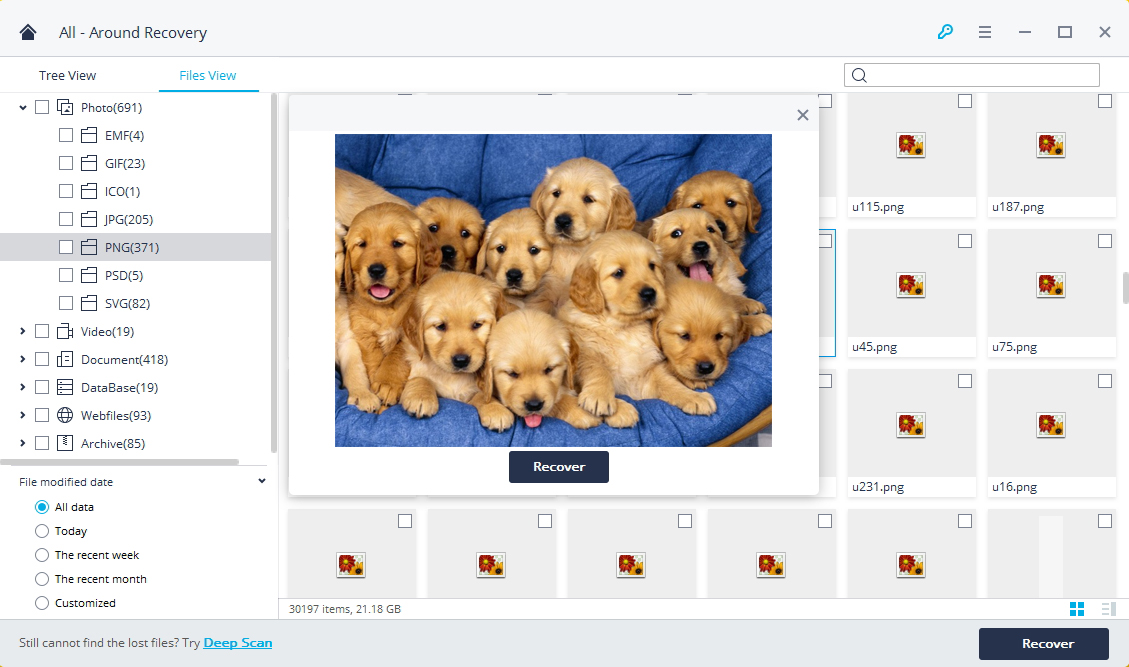 Recover lost or deleted files, photos, audio, music, emails from any storage device effectively, safely and completely.
Supports data recovery from recycle bin, hard drive, memory card, flash drive, digital camera and camcorders.
Supports to recover data for sudden deletion, formatting, hard drive corruption, virus attack, system crash under different situations.
Follow the next steps to retrieve Lost file back.
You can restore data by conducting the Repair process. This involves the installation of data recovery software. Recoverit data recovery software has been in use for quite a while and offers users the opportunity to restore their crucial data. Here, we take a look at how it's done. Mac users can turn to use Recoverit for Mac.
Step 1 Select a recovery mode. To recover lost files, you can select "Deleted Files Recovery" mode to start.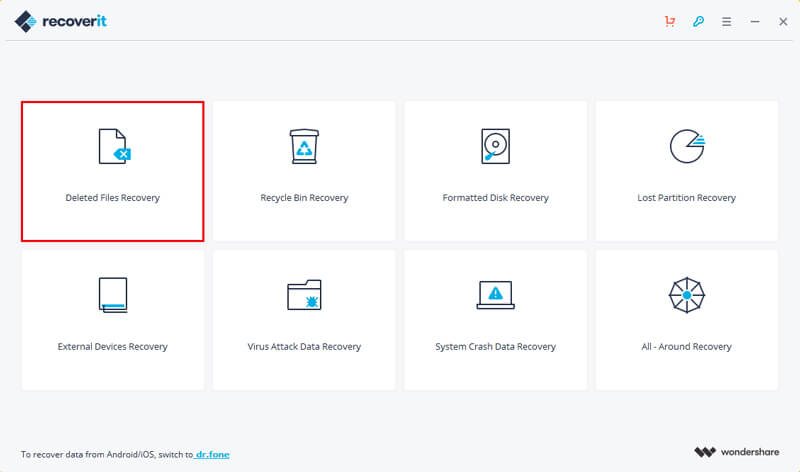 Step 2 Select the location where you lost your files to start scanning. It will start a quick scan.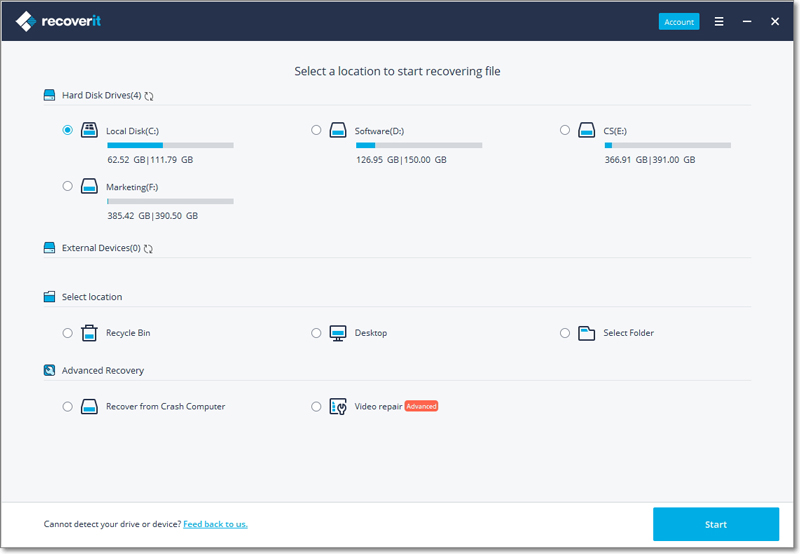 Step 3 A quick scan will completed first. If it can't find your files, go to deep scan with "All-Around Recovery" mode which will deeply search more lost files. Whilr it will take more time.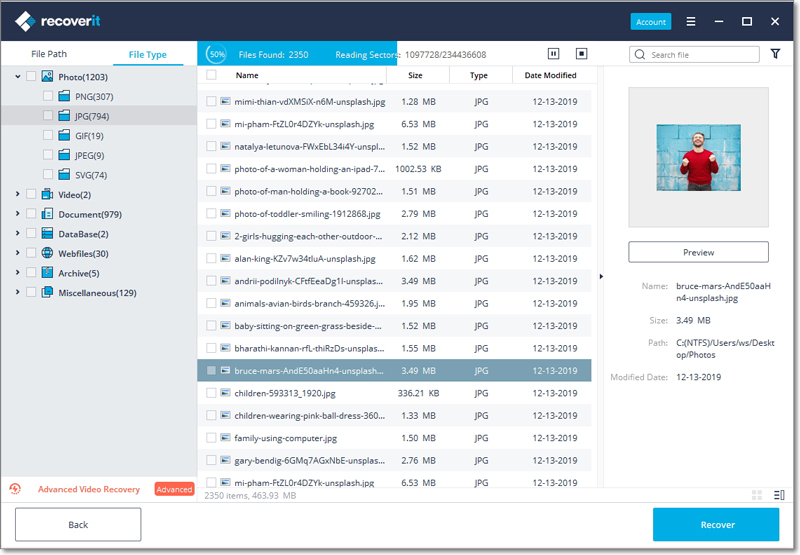 Step 4 Aften scanning ,you can preview and check the desired files and click in order to recover your data.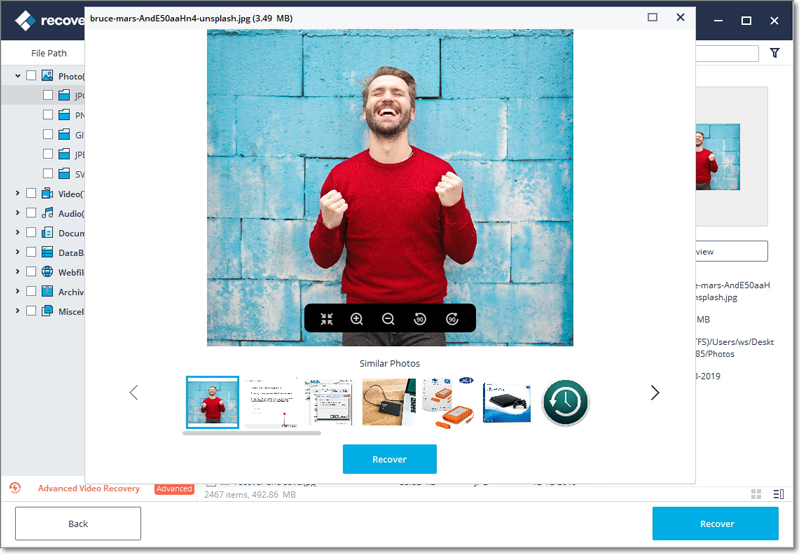 Computer Troubleshooting
Win System Crash

Windows Tips

Computer Problems

Blue Screen Errors