If you're a big fan of PS4, you've probably encountered one of the most common messages, such as "Too Many USB Devices Connected PS4". Other common messages you might have seen include CE-30005-8 and CE-35694-7.
PS4's message on too many USB devices connected can be frustrating, especially if they catch you while playing your favourite game. Naturally, you're powerless as to how to resolve such a situation.
If you have experienced these exasperating errors, you're probably wondering what these errors are and why they occur. Since many PS4 users complain about these frustrating and annoying messages, let's discuss the causes and fixes to help you get rid of these nasty errors once and for all.
What Is the "Too Many USB Devices Connected PS4" Message?
The "Too Many USB Devices Connected PS4" is one of the most common error messages encountered by PS4 fans. The notorious message seems to appear for no particular reason, particularly when there's no actual USB connection to the PS4.
On the other hand, you can experience the same prompt when trying to connect a USB device that isn't compatible with your PS4 system.
If you connect a conflicting USB device to your PS4 console, the device will probably stop working or freeze up. Let's discuss the potential causes of the "Too Many USB Devices Connected PS4" message to help you familiarize yourself with this frequently arising problem.
Causes of Too Many USB Devices Connected to PS4
Below are the most common causes of the PS4 having too many USB devices connected error.
Electric Surges
Sudden electric surges can cause all kinds of PS4 error messages as they negatively impact the functionality of PS4's USB ports.
An electric shock can send faulty signals from the ports to the system, causing glitches and errors, including the one you keep seeing so often.
The surge confuses your PS4 system, causing it to misinterpret the signals and read the USB ports as connected to too many USB devices.
Corrupt System Files
Corrupt game and system files can cause your PS4 system to malfunction due to the logical error occurring within the console. The system cannot read the files properly, causing it to show various error messages, including the notorious prompt.
Faulty Hardware
Faulty hardware is one of the most common reasons your PS4 shows the "PS4 too many USB devices connected" error. A faulty USB port, USB device, or connector can trigger this prompt.
Damaged Controllers
Damaged controllers may prevent your system from reading data being transferred to or from it. That might trigger the error message, even with no USB devices connected to your console.
Bugging USB Hub
Connecting multiple USB storage devices to your PS4 system through a bugging USB hub may trigger many error messages and cause the "too many devices connected" problem on PS4.
How to Fix PS4 Too Many USB Devices Connected
Here are the top six ways to fix the "PS4 Too Many USB Devices Connected" error message.
Restart Your PS4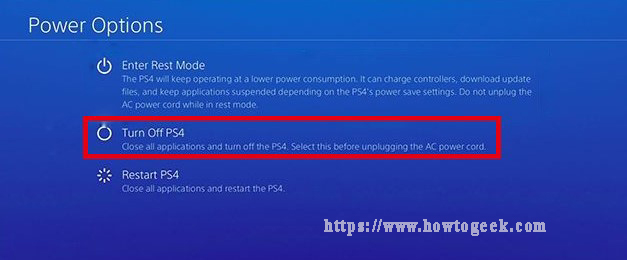 The easiest and fastest way to fix this annoying error is to simply restart your PS4. Head to the function screen, tap Power Options , and select Restart PS4. If that doesn't work, try turning off your PS4.
Here's how to do it:
Turn off your PS4 – navigate to the function screen section and open Power Options. Select Turn Off PS4 to restart your console and shut down all applications.
Disconnect all connected USB drives from the system – disconnect all devices, including VR, external hard drives, USB controllers, etc.
Unplug the power cable – unplug the cable and let your system rest for at least 30 seconds, then plug the cable back again. It's important to do this after turning off your PS4 to allow your system to restart properly.
Power on your PS4 – press the Power button to turn on your PS4 system.
Connect USB – connect your USB flash drive to PS4. If you have multiple USB devices, connect them one by one.
Check hardware
If you still keep seeing the error message after restarting, check your PS4 hardware. Defective PS4 hardware can cause many unexpected problems and trigger various error messages. Check USB ports and cables, including the motherboard.
If the motherboard is defective, you might need to contact a technician to run the PS4 maintenance and fix the issue. Defective USB ports and connectors can also cause multiple errors, so switch between your PS4 USB ports using the same USB device to see if it works.
Initialize PS4 and Reinstall Your System
This method allows you to fully reinstall the PS4 system and start anew. However, fully initializing your PS4 will wipe off all your data from the console. So, make sure you have a backup of all the important data in advance. If you need to recover your data from the PS4 external hard drive, you'll need a data recovery tool.
One of the fastest and safest ways to recover all your PS4 data is to use a data recovery software solution like Wondershare Recoverit. Recoverit is a data recovery tool you can use to recover various types of data, including file systems and file types, across a range of hard drives and storage devices. If you want to restore your data from a PS4 external hard drive, Recoverit is the right tool for the job.
Here are the steps to recover data from external devices with Recoverit:
Download and install Recoverit on your computer;
Connect the external device to your PC and let your computer detect it;
Launch Recoverit and navigate it to the Hard Drives and Locations section;
Locate your external device (it should be listed under External Drives);

Click Start to allow Recoverit to scan the selected device;

Once Recoverit finishes the scanning process, preview files to check the scanning results;
Click Recover to retrieve your data.
Here are the steps to initialize your PS4:
Turn off PS4 by holding the Power button;
Turn it on by holding the button until you hear a beeping sound to allow your PS4 to enter the Safe Mode;
You'll see two options to choose from – Initialize PS4 and Initialize PS4 (Reinstall System Software);
Select Initialize PS4 (Reinstall System Software) and follow the instructions to reinstall your PS4 system;
Restart your PS4 and check whether everything is in order.
Rebuild the Database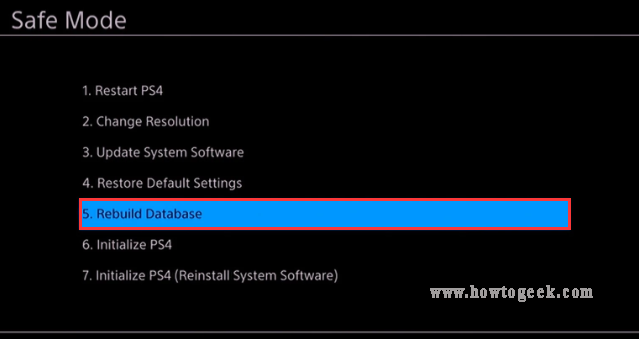 A corrupted PS4 database can trigger all sorts of PS4 errors, including the one we're talking about in this article. You can rebuild the PS4 database to fix various errors, as it's one of the most effective effective troubleshooting methods.
The steps to rebuild the database are similar to the ones mentioned above:
Boot your PS4 to Safe Mode by holding the power button until it beeps twice;
Connect your USB to the PS4 using a USB cable;
Press the PS button on the controller;
In the Safe Mode section, select Rebuild Database;
Restart your PS4 and connect a USB drive to see if it works.
Restore to Default Settings
You can also fix the "Too Many USB Devices Connected PS4" error by restoring your PS4 to default settings:
Boot your PS4 to Safe Mode by repeating the steps we mentioned above;
Select Restore Default Settings;
Follow the prompts to complete the action.
Ask for Official Support
If none of the above methods work, seek help from the official PS4 support. An authorized technician can help you address any PS4-related issue, no matter how complicated. You can either contact PlayStation at the official phone number or visit their website and seek assistance from their specialists.
Conclusion
If you frequently keep seeing "too many USB devices connected" error messages while using your PS4, there might be something wrong with your system. Use the six methods above to resolve any issues with your PS4. In most situations, these methods can help resolve most common PS4 problems. If the problem persists, visit the PS official website to seek help from specialists.