Windows is an operating system that is becoming more and more sophisticated and refined; however, it is not exempt from errors or problems that may affect its users. One of them is that sometimes the hard drive doesn't show files though they indeed exist, and this can occur due to various factors that can be related to both the device and other external situations. Despite how annoying it can be, you should not worry, since here you will be able to know different solutions to end this problem in an easy and fast way.
Part 1: Fixed: Hard Drive Not Showing Files Though They Still Exist
Q: I have just connected my external hard drive to my PC, and I can't see any file. I have been working with it recently, and I am pretty sure I have not deleted any document or folder. What can I do?
First of all, this problem can be due to several factors that I will describe later. This problem can occur on hard drives (external or internal), SSDs, flash drives, SD cards, and practically on any storage device.
Before being more specific, check that your operating system is free of viruses or malware and that your hard drive is in optimal condition. Both cases can be a trigger for you to have a problem such as that you cannot see your files even though they exist, and you have not previously deleted them.
---
Part 2: Files Not Showing in External Hard Drive Though They Still Exist
If your files are not showing in the external hard drive though they still exist, it can be due to several factors. Below I will show you the most common ones and the reason why they can give rise to this problem:
Virus or malware: A virus or malware is software that aims to damage your operating system so that it stops working rightly. This can be stored on your hard drive (regardless of whether it is internal or external), and, among many things, it can prevent your files from showing up even though they exist, and you have not deleted them. Sometimes it is not enough to quarantine the virus, so you will have to format your hard drive.
Your files are hidden: Sometimes, a user can accidentally hide their files. This attribute can be activated to make files and folders unseen even if they exist, so if this happened to you, you must perform a simple procedure to display the data.
File system errors: These types of errors occur on disk and can have various sources. Windows sends free support depending on the error that arises and, if this is not enough, you will have to do a system restore, try to solve the problem using CHDSK, or, in the worst case, format your hard drive.
Corrupted files: Your files can become corrupt due to various factors such as the activation of a virus or malware, incompatibilities, a power outage, or problems with the hard drive. If you have corrupted files, you should try to download a correct version or restore the system so that the file returns to a state in which it is without any affectation.
Bad sector: Hard drives create small groups of bits, which are called sectors, and in them, the data is stored. If at the time of reading or writing, there is a difficulty, the sector is bad, and this can generate many problems. The reasons why a sector of your disk fails can be diverse; however, it is usually due to wear on the hard drive or a specific software error.
Hardware issues: Hardware issues may trigger problems that can be irreversible. Hard drives have a useful lifetime, and this naturally decreases day by day, so it is not uncommon for it to fail after many years of use. One stroke or power outage can also be enough to make the disk stop working correctly.
Likewise, other elements related to the hard disk such as the connection cable can affect its operation. So, if it is damaged or does not transmit the necessary energy, it may be enough for you to have problems if you want to open your files and manage your information.
---
Part 3: How to Fix Files Not Showing Up on External Hard Drive?
If you want to fix files not showing up on the external hard drive, there are several solutions.
Method 1: Recover missing files
The first one is the most effective since it is professional software that is specialized in data recovery, even though your disk is damaged or you have a virus or malware hosted.
This application is Recoverit, and you can download it from its official website. Next, I will show you how easy it is to recover your files using this powerful software:
Step 1: Select the drive
Before getting Recoverit started, you need to connect the external device to your computer if you want to recover the files from it. Make sure that it can be recognized or detected.
To recover lost or deleted files from the internal or external hard drive, please select the device as the target location. Then hit on the Start button to move forward.
Even though the partition on the device has got lost, you can still use Recoverit to bring the lost data back.
Step 2: Scan the external device or hard drive
Recover will perform an all-around scan on the external storage media or hard drive. Wait a few minutes to finish the scanning. You can locate the targeted files, as well as pause or stop it during this process.
Step 3: Preview and recover files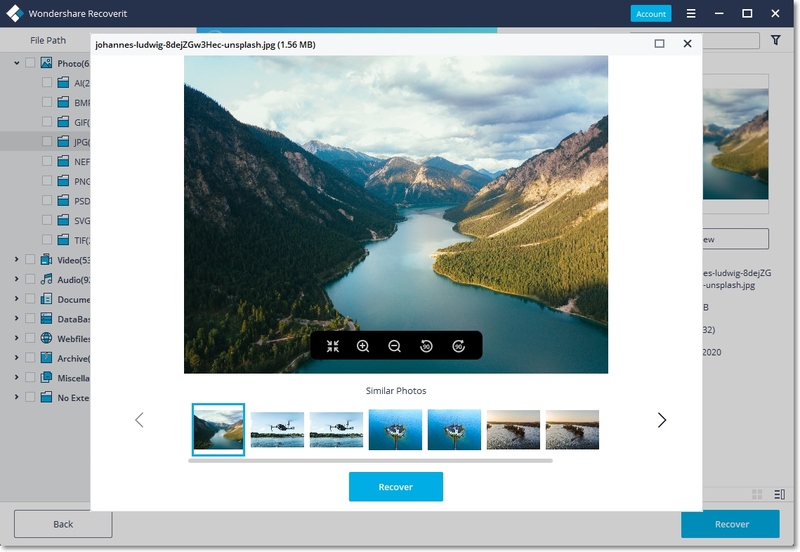 Once the scanning ends, you can preview the files from the scanning result. To get the files back, click Recover and save them into a new location.
Method 2: Format or Reformat External/Internal Hard Drive
This method is recommended as a last option since you will have to make a backup of all your files, and you will have to invest some of your time. To format your hard drive, you will need to do the following:
Step 1: Open Manage tool
Right-click on the Windows icon, and from the list, click on Disk Management.
Step 2: Click on Format
Once you have opened the Manage tool, you will have to click on the Disk Management section located at the left side list; then, select the drive you need to convert into NTFS and right-click on it to open the option list, then click on Format.
Step 3: Set the features
You can name the drive as you want by typing on the Volume label section, then choose NTFS as the format in the dropdown list of the File system. Once you have set up the features, click on Ok to start the conversion process.
Step 4: Confirm the process
Remember that the formatting process will delete all the data stored in the drive; so, please confirm the process only if you have already made a backup. If you have not made it and you format your hard drive, the recovery process may be complicated if you do not have the correct tools.
Method 3: Run CHKDSK to Fix HDD/USB Pen Drive Not Showing Files
You can use the CHKDSK command through Command Prompt to fix errors on your hard drive that prevent you from seeing your files. To do this process, you only have to follow these steps:
Step 1: Open Command Prompt in administrator mode
Right-click on the Windows icon at the left corner of the taskbar and choose the Command Prompt (Admin) option. Once this you did it, a pop-up window will appear in which you will have to confirm the process.
Step 2: Run a fix process
Now, all you have to do is type the following command chkdsk c: / f (replace the letter c with the letter that your device has assigned) and press Enter. It will automatically begin an evaluation process with which Windows will be able to identify any damage to the device file system and repair it.
Method 4: Reconnect Device, Change Power and USB Cable
One of the mentioned factors is that the USB cable has an unstable connection or power problems. Try reconnecting your hard drive or changing the USB cable; this action may be enough to correct the problem; otherwise, you will most likely need to purchase a new disk due to an obvious hardware problem.
Method 5: Show Hidden Files/Folders
Sometimes, files are hidden, and you only have to make them visible through a simple task. Next, I will show you how to do it:
Step 1: Show hidden files
Go to the file or folder location, then click on the View tab at the top of the screen and then check the blank square next to Hidden items. This step will be enough to see all the hidden files.
---
Conclusion
If your hard drive is not showing files, it can be due to various circumstances. If the Show hidden files task is not enough to solve this situation, there is likely a problem that affects your hard drive. Fortunately, there are several alternatives to fix it, Recoverit being the best. This fantastic software will recover your files even if your disk is damaged, in addition to doing it in a safe and fast way, and, in a few clicks, you will have the possibility to see your files again.
What's Wrong with Drive
Recover Your Drive

Fix Your Drive

Format/Wipe Drive

Know Your Drive