A few months back one of my friends had created a Ghost image of "C:" Drive and yesterday when he was reinstalling Windows XP using the Ghost CD which he has created, after Ghost installation, he saw that the "D:" drive partition got lost and seemed to merge with "C:" drive. He asked me for help that how to recover the deleted partition and get the data back from "D:" hard disk drive?
The situation with a "lost" partition typically arises when Windows OS has been reinstalled or when a slave external hard drive is moved to another computer. The following guide is written for Windows users on how to restore lost partition and restore data in it.
Part 1. The Best Partition Recovery Software - Recoverit Data Recovery
Part 2. How to Recover Deleted or Lost partition Easily
To recover a deleted partition, first, you need to know that whether a partition can be recognized by the system or not depends on the partition table and boot sector. If the lost partition shows up in Device Manager and Disk management, but NOT in "My Computer," chances are that it is "only" the partition table/boot sector that is missing or corrupt. So the partition seems lost, and the files in it become invisible.
Part 1. The Best Partition Recovery Software - Recoverit Data Recovery
You can use the powerful partition recovery tool of Recoverit Data Recovery to recover deleted partition and get your data back in easily and quickly. The reliable partition recovery software support to recover deleted, lost or damaged FAT, NTFS, HFS, HFS+, HFSX, Ext2, Ext3 partition under Windows.
Get the best partition disk recovery software that can help you restore lost or deleted partition quickly and effectively. Recover lost data from partition disk-like computer hard drive, sd memory card, external hard disk, and another disk drive.
Part 2. How to Recover Deleted or Lost partition Easily
Download and install Recoverit partition recovery on your computer. Follow the next steps to perform lost partition recovery with Recoverit data recovery Windows version.
Step 1. Launch Recoverit Data Recovery software and select the lost partition to get started.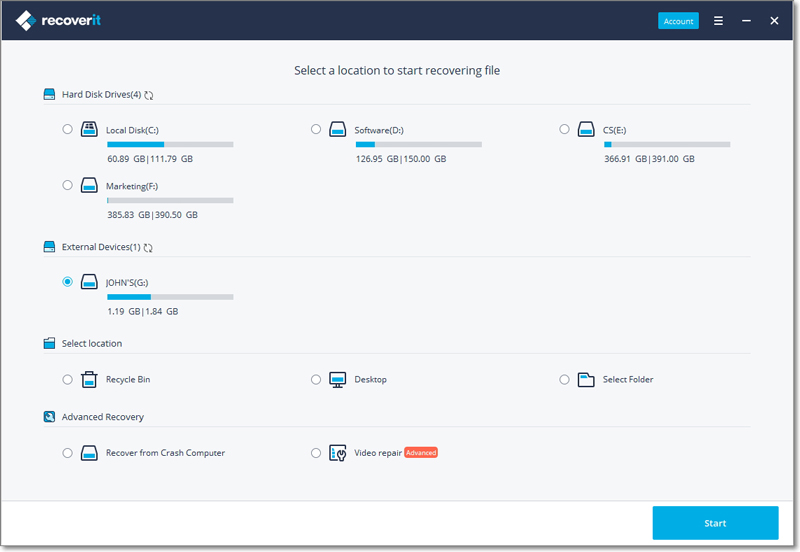 Step 2. The partitioning program will start scanning the lost or deleted partition to restore your lost data files.
Step 3. After the scanning, you can preview some recovered files such as photos, videos, music, Word file, Excel, PPT, and PDF.
Before making the partition recovery, you can preview photos, Words, PDF, PPT, ZIP files, etc. to check the quality and confirm whether you need them back or not. When you are recovering, please save them on another disk in case that the data be overwritten. If you don't find back the files you want, you can try it in other ways. But if you overwrite your disk, the files will be permanently erased.
Partition Solutions
Manage Your Partition

Fix Partition Errors

Partition Tips
Other popular Articles From Wondershare