A Windows partition may crash or get lost many times and doesn't show up in Windows File Explorer, but that isn't a thing to panic over; instead, you should get insights into how the deleted partition recovery works in Windows operating system.
Part 1. Is It Possible to Recover Deleted Partitions in Windows 10, 8, 7, and 11?
You might be facing the issue of recovering your deleted partition. The question is whether it is possible to recover a deleted Windows partition. The answer is Yes! It is pretty straightforward to recover a deleted partition using reliable recovery software. However, you can recover your partition by assigning a specific drive letter if your partition is lost.
Part 2. How to Recover Deleted or Lost Partitions in Windows?
If your partition is lost or deleted in Windows 10, all of the files and folders therein will also be deleted, and the hard drive partition will not be visible in Disk Management. However, the operating system removes information about lost partitions from the partition table if the partition is lost. Therefore, to examine the status of the lost partition, you must first go to Disk Management; if the partition is "Unallocated" or appears without a drive letter, the partition will be shown as "RAW."
Here are the three most commonly used methods to recover lost or deleted partitions in Windows OS.
Recover Deleted or Lost Partitions Via Reliable Partition Recovery Software-Recoverit
Recoverit is a powerful partition recovery tool to swiftly and easily retrieve your deleted partition. This dependable partition recovery program also works with Windows and can restore deleted, lost, or damaged FAT, NTFS, Ext2, and Ext3 partitions.
Operational Steps
Step 1: Launch the Recoverit Data Recovery application and select the lost partition.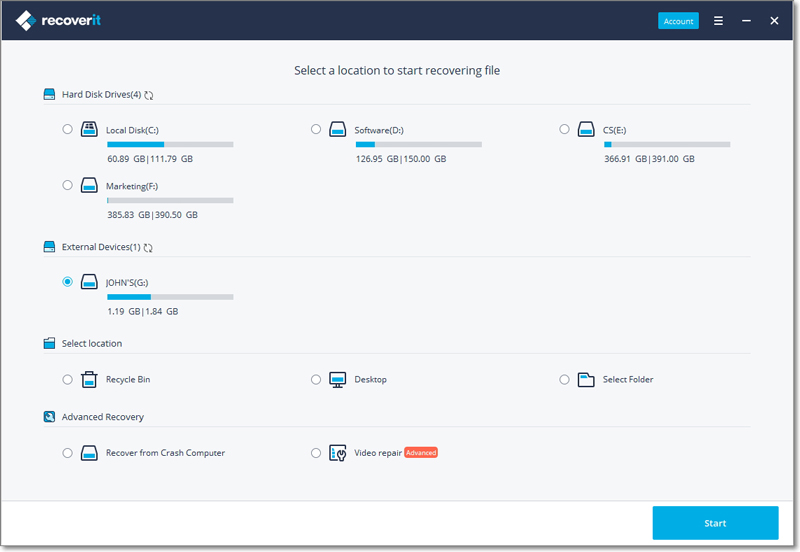 Step 2: The partition software will Scan the lost or deleted partitions to recover them.
Step 3: You can preview some recovered files after the scanning process to determine whether you require them back or not.
Step 4: Click the Recover button for recovery after previewing the files.
Assign a Drive Letter to the Lost Partition via Command Prompt
If the lost partition is still in Disk Management but is marked with an asterisk, you can assign a drive letter using the Command Prompt to restore its visibility in File Explorer. Note that you must be acquainted with the command line to use this method.
Operational Steps
Step 1: Enter "diskmgmt.msc" in Command Prompt to launch Disk Management and search for the missing partition; the disk will be designated as Unallocated if a partition is lost. Keep the partition size in mind, also.
Step 2: In the CMD prompt, type "diskpart" and click Enter.
Step 3: Enter "list disk" and then press Return. The list will display all of the computer's disks.
Step 4: Input "select disk #" and replace # with the hard drive number that contains the lost partition.
Step 5: Enter the command list volume and click OK. All volumes on the disk will be visible.
Step 6: Type "select volume #" and click Enter. Replace # with the lost partition number.
Step 7: Type "assign letter=#" and hit Enter. Replace # with a drive letter available, ranging from C to Z.
Recover Deleted Partitions via the Disk Management Utility
This method is suitable if you are unfamiliar with Command Prompt because it allows you to use Windows 10's Disk Management tool to recover a lost partition.
Operational Steps
Step 1: Click the Desktop's Windows Key with the right-click, then choose Disk Management.
Step 2: Find the storage device that contains the lost partition.
Step 3: Choose "Change Drive Letter and Paths" by right-clicking on the deleted partition.
Step 4: Select "Assign the following drive letter" from the menu.
Step 5: Select OK to continue.
Part 3. Can I Delete a Partition Without Losing Data?
Although deleting a partition is destructive, it does not imply that the data must be lost. You can prevent data loss by backing up the data before partition deletion and storing it where you want it to remain afterwards.
A backup ensures that no data is lost when the partition is removed. After deleting the partition, you may restore the files by copying them from wherever they were stored or, once again, to the location where you want to keep them.
Operational Steps:
Step 1: Keep a backup of the entire hard drive for safety, including both or all partitions.
Step 2: If space is available, move the files from partition D to C.
Step 3: Copy the files from partition D to an external hard drive or another location if there isn't enough space.
Step 4: Delete the D partition.
Step 5: Extend the C partition into the space made available by the deletion of partition D. Frequently, the disk management tool with Windows can be used to delete and expand partitions. If not, there are third-party programs that can complete the task.
Step 6: Copy the files back, this time to the C partition that has been expanded, if you had to copy them to an external drive.
FAQs
I accidentally deleted a partition. What should I do?
Disk space on your disk becomes unallocated when you delete a partition or volume from disk management. Therefore, to recover this deleted partition, you will need a data recovery software.
My partition is lost? How can I find my lost partition through Disk Management?
To find a lost partition, navigate to disk management and assign your partition a specific letter. It will allocate your drive, and your OS will display your lost partition.
Can I recover a deleted partition using CMD?
CMD includes a feature called Diskpart that makes it possible to delete partitions and can also be employed to recover a deleted partition.
How can I use CMD to recover a lost partition?
By using the command assign letter, Windows CMD restores lost partitions. This command gives a drive letter to a partition that isn't actually gone, just hidden from the system because it doesn't have a drive letter. As a result, if the partition has been deleted, this CMD approach won't function. It is advised in this situation to restore the missing partition using partition recovery software.
How to recover deleted partitions if Windows 10 is not booting?
You need to connect the crashed disk to another computer or build a bootable USB to restore lost partitions from a computer that won't boot. You can then recover the deleted partition using reliable recovery software such as Recoverit.
Conclusion
This article covers several methods for partition recovery on Windows 10. If your partition is lost, you can recover it by assigning it a specific drive letter through CMD or Disk Management. However, if your partition is deleted, you can use any recovery software to recover it. It is possible and not too difficult to recover a partition, but still, you should always take all reasonable precautions to prevent partition loss and avoid undesirable outcomes.