"Have you ever downloaded your favorite movie from a site only to see a pop-up 'No Sound' on your android screen?" If your answer to this question is yes, then we got your back. We have researched and simplified for you the steps you need to follow in solving this issue.
Part 1. Why does my MKV file have no sound on Android?
1. Can Android play MKV files?
The use of MKV files is currently widespread especially due to their high quality but for android phone users this seems to be a nightmare. Maybe you heard of the latest movie in town, then went on site and downloaded and the disappointment comes because it only plays video without sound on your smartphone.
One potential reason for such behavior maybe the format which is MKV. These files are naturally not supported to play on Android phones. This is not an indicator that these files lack audio but only the tools to read the audio section of these videos are not found in most Android media players.
2. Do MKV files have audio?
Failure of MKV video files to play audio is a problem encountered by many Android phone users and may be a source of frustration during your entertainment. Being unaware of the functioning state of your video or audio files may be like adding salt to a wound. And this might just be one of the hiccups that come with technology.
However, for every problem there is a potential solution whether already discovered or still unearthed. So let's now explore the various options we have in handling MKV No Sound on Android phones.
3. What causes MKV no sound on Android?
To optimally utilize the available solutions, it is imperative we first identify the roots of the problem. Get to know major Causes of Sound MKV No Sound
Corrupted codecs.

Wondering what codecs are? These are simply compression technologies with 2 compartments, that is, an encoder for compressing the files and a decoder for decompressing the files. Videos, still images, audio or data each have specific codecs that are usually on the operating system. These are only activated when requested by the multimedia file or game to be played.

In the case whereby any piece of the codec is damaged or missing, the associated media file cannot be activated leading to malfunctioning. In our case, it is the audio codec affected thus the MKV no sound. On several occasions, such software failure leaves us with minimal interventions and what remains is getting an alternative to fix the problem.

Damaged MKV file

Another common reason for the MKV No Sound problem is having a corrupted MKV file. This may result from damage during the conversion to android compatible formats, download from unverified sources or even improper download.

Corruption of installed media player

Playing MKV files using the inbuilt or default players in android phones is not supported therefore you may convert to using other downloaded media players. However, this still may present the MKV no sound on android. There are various reasons for this. One of them is installation of substandard version of the media player or making unnecessary updates on the software. The android operation system itself may malfunction thereby ruining the initially good media player.

Improper conversion of the MKV file

Not every video converter on the web may definitely deliver the expected functions because some of them are of substandard quality. As a result, your MKV file may be corrupted during conversion and thereby cause "No sound" issue once you hit the play button. Still the converter may be excellent but execution of wrong commands may be the problem-source.

Unsupported codecs

Sometimes videos, may contain audio codecs that are not supported by the player and the outcome is obviously soundless video play. For instance, the Chromecast do not support AC3 audio codec. Any MKV video with such codec will therefore play without sound.
---
Part 2. Fixing MKV No sound Android
Having looked at the possible causes, our problem is half-solved. But now let's see how to fix each of these issues:
1. Solution to corrupted codecs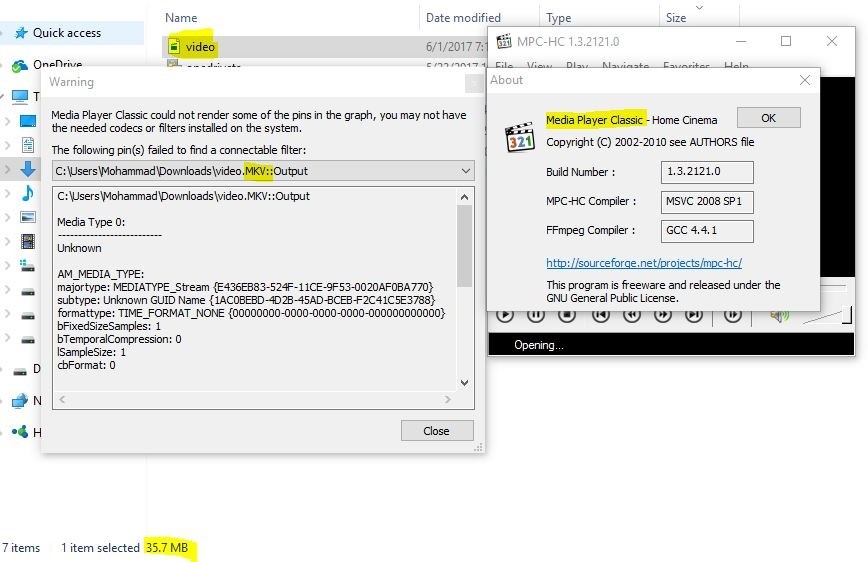 As we had discussed earlier, codecs are programs that compress data for transfer and decompress the received data for use. These may be corrupted as in the image above. Therefore, download and install a codec pack for android phones from a verified source that is trusted. This will fix the issue of damaged, missing or unsupported codecs. K-Lite Codec Pack is one such pack that is proven to work.
2. Solution to damaged MKV file
Once a file is damaged it may not be recovered but this issue can surely be prevented. But how? You may ask. It's a simple thing. First always download your files from trusted sources following the correct procedure. After the download ensure you back-up your files immediately to platforms such as cloud storage or even send the file to your email to prevent corruption by viruses.
3. Solution to corrupted installed media player
The only solution to substandard media players is to uninstall them and then install the players like VLC which are genuine products. In case you had installed a verified media player but still experiencing sound issues, consider re-installing the player as the installation process might have been interfered with. As outlined earlier, unnecessary updates may be the source of trouble and in such cases you need to restore the video player to its previous version.
4. Solution to improperly converted MKV file
When you convert the MKV file to Android compatible format to play it on your smartphone and the reward is No Sound prompt appearing on your player, issue may be improper conversion. Therefore, only use trusted and verified converters such to convert your MKV files.
5. Wondershare Video Repair for solving major MKV file issues
You can be quite helpless to see your video crash while you are right in the middle of a thrilling movie or clip and you have no idea what to do. But surely, there must be a way out of such frustrations.
Wondershare Video Repair is a powerful and dynamic tool that can help you resume watching your programme seamlessly at the click of a few buttons.
This tool supports recovery from the recycle bin, due lost portioning, formatting or from memory card
It has the capacity to repair several corrupted video files of different formats at the same time. Files damaged during transfer, conversion or improperly downloaded it can repair.
No matter the size of the file, Recoverit will handle the task. You only need to follow the following steps:
Step 1: Send the Damaged Videos to Your PC
Transfer your damaged video from android mobile device to a computer. You can use either a file transfer cable or Bluetooth. Now, launch Wondershare Video Repair app on the computer by double clicking its icon on the desktop.
Step 2: Upload the Damaged Videos
Add the corrupted MKV video file to the software by either clicking the "add" button or "Add video and start repairing" at the center of the interface.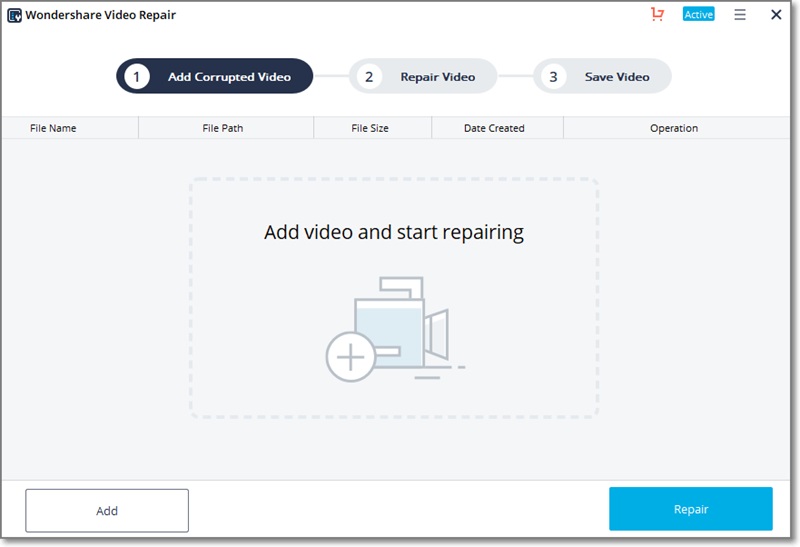 Step 3: Begin the Repair Process
Upon adding the corrupted video to the software, the interface shows the information of video file as File Name, File Path, File Size, Date Created and operation as shown below.
Click the "Repair" button at the bottom of the interface. Recoverit repairs the video and once the action is completed, a window with the command preview and save video appears. Click "OK" button.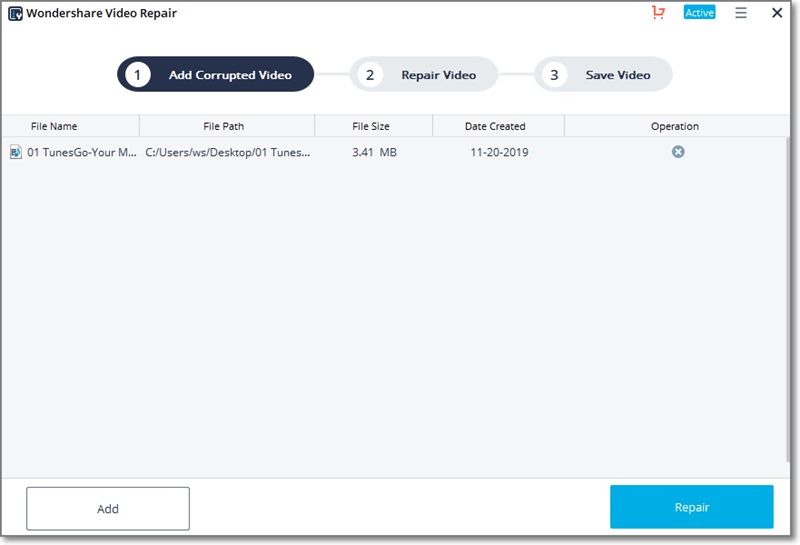 Step 4. Preview videos
Before moving to the next step of saving the repaired video, you can preview the video to ascertain that it is genuine. This you do by clicking the little triangular on the column of operations.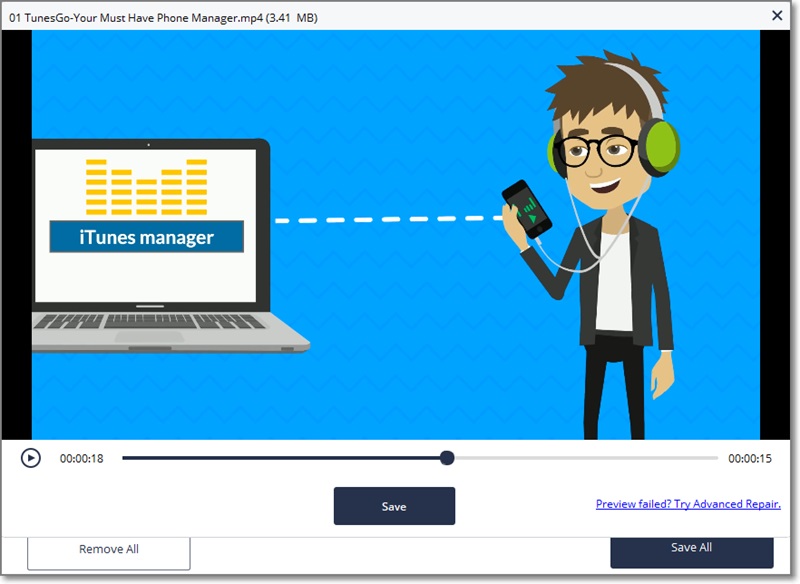 Step 5. Advanced video repair (Optional)
When it happens that the video was extremely corrupted therefore does not get repaired fully as you expected there is advanced repair option to address this.
After choosing advanced repair, click the folder icon on the interface and add a sample video to repair. This sample video file is a valid which is created on the same device as the damaged video. Sample file and corrupted video must be of the same format since the Advanced Repair option uses the information from the sample to do the repair.
Step 6: Save video
Lastly, you can now save the file by clicking "Save" button at the top right corner of the dialogue box. A prompt "Select a path to save the recovered files. Please do not save files to the path where you lost them" appears on the interface.
Choose the location to save your file by clicking any disc then "Recover" button and the repaired video shall be directly saved to preferred disc or first clicking the "New folder" button followed by "Recover". In the later the repaired video shall be saved in the New Folder that you can rename as you desire.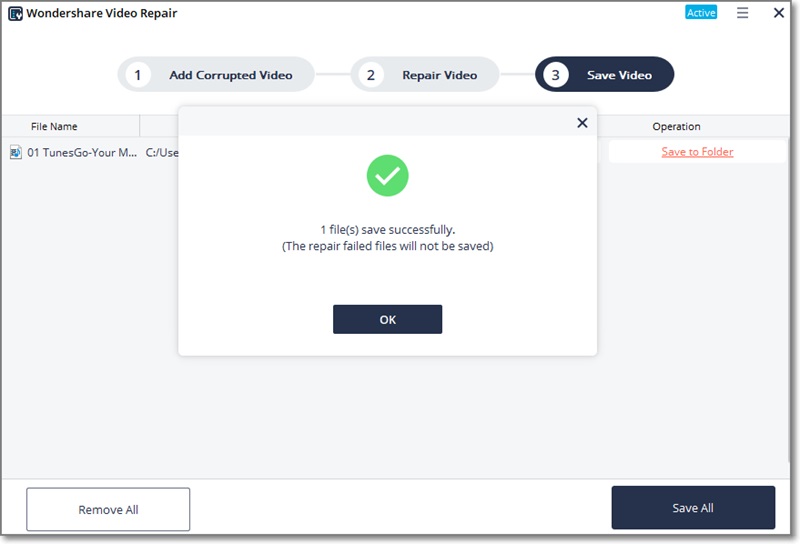 Apart from MKV, Wondershare Video Repair also supports other formats such as MOV, M2TS, MTS, M4V, 3GP, FLV, AVI and the corruption statuses it can repair include corruption of the sound section of the videos, improper download and file shutdown, video file header corruption and many others. This is therefore a major tool used to fix MKV No Sound on Android mobile phone.
After the recovery, you can transfer the MKV video file back to your Android device and play it on Chromecast. MKV No Sound issue by now is a forgotten story.
---
Part 3. How to Play MKV Video Files on Android
Natively, Android phones do not support MKV file types. Therefore, for you to enjoy the high quality files encapsulated in this format on your android mobile device such LG, Samsung Galaxy, or Sony Xperia you can do 2 things:
Way 1. Converting MKV files
Download a professional Android video converter such Wondershare if you don't have it already. Launch the converter and follow the steps below:
Step 1. Add MKV files to the converter.
Step 2. Select Android friendly format as output /Choose Android Compatible Format
Step 3. Hit the "Convert" button to initiate the conversion process from MKV video Android format. The process takes few minutes to convert the files. When the process is complete, transfer the video to Android device and play.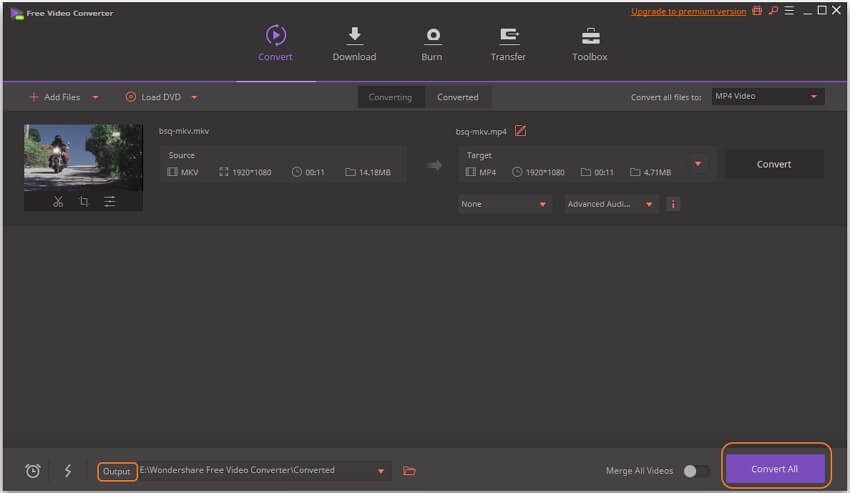 Way 2. Playing the MKV video using Android media player
This method is the most commonly used of the two since it's much simpler. It involves installing an Android video player with the ability to play different formats such as MKV, WMV and some others. Online search for MKV video player will generate numerous results that are absolutely free. Examples of these players include Mobo Player and Rock Player. This requires no conversion first on the Windows computer.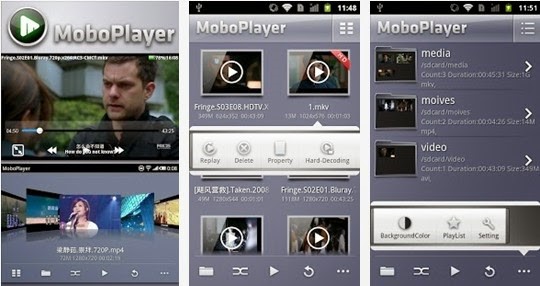 ---
Part 4. Tips for Playing and Fixing MKV Files
Widely known as media compression format, matroska video (MKV) file is actually an open multimedia container format which provides the data structure for videos, audios and other data types. In MKV, the actual video is compressed with formats such as H.264 while the audio is compressed with formats like MP3.
The design of MKV file format makes it dynamic and prevents it from being obsolete hence can be used in the future without any major challenges. This is attributed to its key features such as Fast Seek, Chapter, Menu, Metadata, Multiple audio channels, Online Streaming, Multiple Video Channels, Error Recovery and Subtitle.
MKV files are widely unsupported by media players. Nonetheless, they can still be played. Some of the tricks that work and at the same time protects you include:
Use an MKV-compatible media player. These players are downloaded and installed.
VLC player is one of the most preferred media players because it has built-in support and needs not any other installation.
If VLC is not your favorite, check out the other verified media players on Matroska website.
Download the missing codecs to ensure compatibility and ability to play the MKV files on your Android device.
Remember to exercise utmost caution as you download the codecs since they are notorious for software malware and cause more harm than the intended good.
Tips for repairing MKV files
In case of repairing broken, damaged or corrupted MKV files using Wondershare Video Repair, ensure you don't save the file to the same location where it was damaged.
Ensure your video card drivers are up to date.
Files can be corrupted during transfer or due to incomplete download hence one way to deal with the challenge is to download the file again.
When converting the MKV file to an Android friendly format and you realize the size is not suitable for your phone, you can choose one of the provided type and change the settings later. File size depends more on bitrate rather than the resolution.
In conclusion, the use of MKV file types has now become widespread. For Android phones users, they are likely to experience issues like No Sound while playing these videos. However, as outlined in this article, these are tested and sure ways to fix MKV No Sound in android mobile with Wondershare Video Repair being the most popular.
Solve All Media File Issues
Recover & Repair Photos

Recover & Repair Videos

Recover & Repair Audios

Recover & Repair Cameras