Some operating systems can recognize only one file system, if you want to install more than one operating system on your hard disk or make the most efficient use of available disk space, you may have to change file systems, and the most common file systems include FAT, FAT32, NTFS etc.
Choose between Different File Systems?
Before you decide which file system to use, you should understand the benefits and limitations of each of them. NTFS drives are not recognized by some earlier versions of Windows, while FAT32 drives can be recognized by all versions of Windows after 95 and most non-Windows operating systems. In fact, NTFS is more powerful than FAT or FAT32. If you want to use it, you can use features such as Active Directory and domain–based security only by choosing NTFS as your file system. For more differences, you could check it from Wikipedia with a comprehensive list of file systems.
Is there a way to change file system without formatting and losing all data? The Partition Genius in Wondershare WinSuite 2012 comes in handy to help you quickly and easily convert file systems without formatting.
1. How to Change File System without Formatting?
Run the WinSuite 2012 to convert partitions, here choose the "Partition Genius" in the main interface of "Disk Management".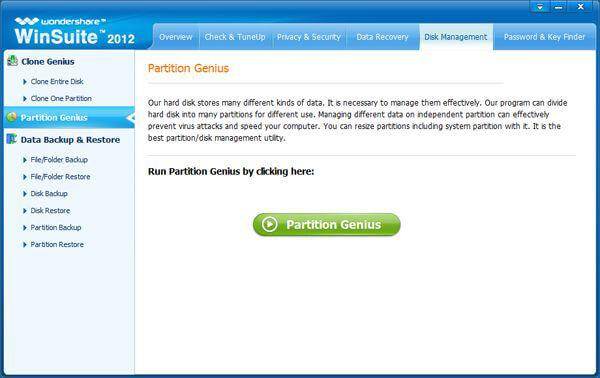 Step 1: Select partition
Choose your designated FAT partition from the list or block area on the main screen.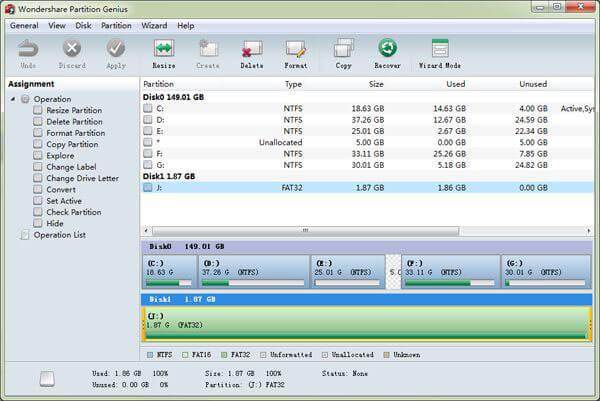 Step 2: Convert partition
From the menu bar, click "Convert". Alternatively, right-click the partition you want to change, and then choose "Advanced" > "Convert" from the action panel.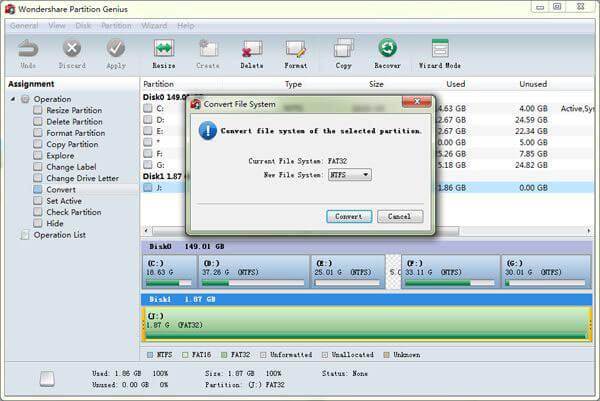 Tips for converting file system: 1. Converting file system may cause damages to your data, therefore data backup is recommended.
2. Before converting file system, check partition is also highly recommended.
3. Make sure you have no file larger than 4G before conversion, as your file will be invalid after NTFS to FAT32 conversion if your partition contains a single file larger than 4G.
2. Recover Formatted File from Hard Disk
With the wrong operations to change file system will cause data lost,or formatted.The worest your hard disk will be damaged,and you did not have a recently data backup.Uderstand these circumstances, you will need a hard drive data recovery software to retrieve you data back.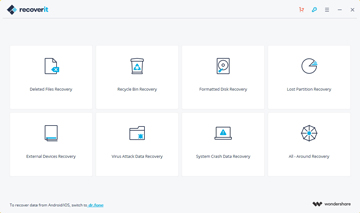 Recover lost or deleted files, photos, audio, music, emails from any storage device effectively, safely and completely.
Supports data recovery from recycle bin, hard drive, memory card, flash drive, digital camera and camcorders.
Supports to recover data for sudden deletion, formatting, lost partition, virus attack, system crash under different situations.
Recoverit is capable of restoring deleted/lost files or formatted partition from hard drive (HDD and SSD), external hard drive, USB flash drive, memory card, digital camera, camcorder, iPod, Music Player and many kinds of mobile devices (Nokia, Blackberry phones and Phones with older Android OS than ICS). While offering the advanced recovery modes like Raw Recovery or Deep Scan Mode, it`s pretty easy to use:
>> Guide for Computer Data Recovery with Recoverit
Computer Data Recovery
Data&File recovery

Windows PE

System problems

PC Errors