You all would agree to the fact that the Blue screen of death error can be of various types and for a variety of reasons. If your system faces any kind of bluescreen of death error and you don't have any idea what it is, no need to worry anymore.
Here is the complete list of details about Blue Screen of Death. We have also compiled some very simple processes that will help you to tackle the STOP error of blue screen.
Part 1: What is BSOD
BSOD or Blue Screen of Death is also known as the STOP error. This is a serious error message which means that something severe has happened in your computer and Windows need to shut down immediately. This error is mainly caused by a hardware or driver issue. The system displays a STOP code which can be used to figure out the main cause of this error. Although it is a very serious issue, it doesn't mean the death of your PC. You can actually fix this issue. Now, let us move on to the possible ways to fix this error of blue screen of death.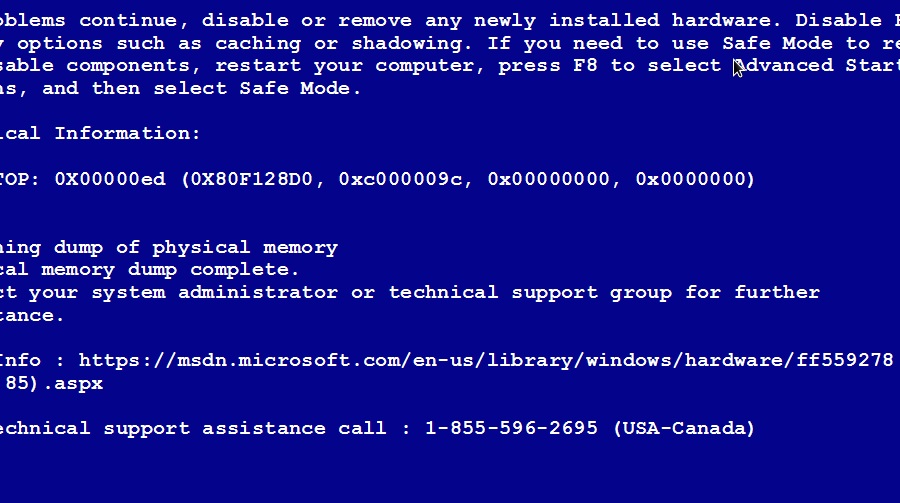 Here are the common blue screen error codes Windows users always met:
Part 2: How to fix Blue Screen of Death
Before we begin to mention the methods, we would like to remind you that it might take several hours depending on the STOP code what caused your blue screen.
Some steps might be a bit easy and some might be a bit hard depending on the situation that you are stuck in. Now, let us move on to the methods:
The very first yet the most important method is to ask yourself about what you just did with your computer.

It might be a recently made change, recently installed software or an updated driver that is causing that error. You might need to restore some changes and check whether the STOP code prevails. Depending on the cause, some of the methods are:
Undo recently changed configuration settings like registry settings
You can use system restore to roll back to the previous state of your computer settings
Rolling back your driver versions might just do the trick and remove the STOP error.
These are the possible changes that might help you to deal with the Blue Screen of Death.
Ensure that your Windows drive has enough free space available on it.
Many serious errors like the STOP error, data corruption etc can happen if you don't have enough free space available on your primary storage drive. This drive is used by your operating system and you must keep ample space on it to avoid any serious errors or issues.

The virus might be another serious issue that can cause this error.
In the present times, there is no error that is immune from malicious stuff. So a complete virus scan and deleting malwares and viruses might be the breakthrough that can save you from this Blue Screen of Death.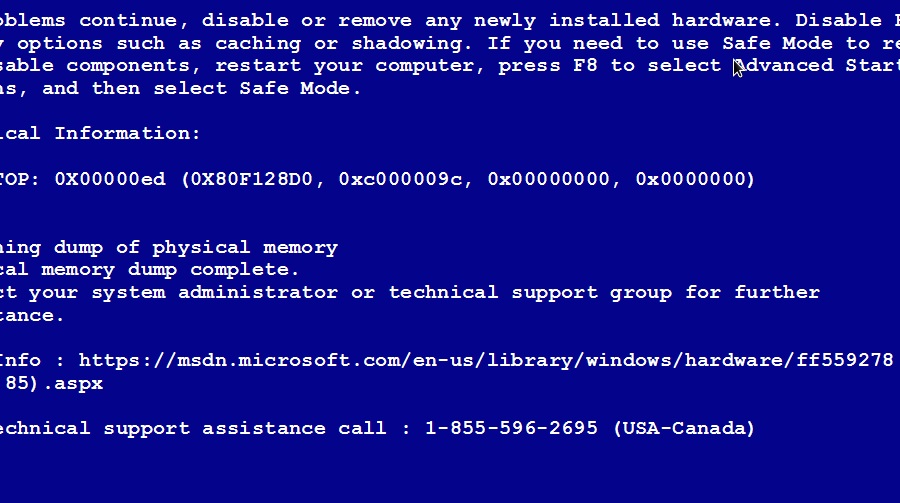 Check your device hardware
Hardware can be another serious issue that can trigger the STOP error. Unplugging your hardware devices and checking might help you to resolve this issue. Also, ensure that all your hardware drivers are up to date.
Perform a complete check of your BIOS
An overclocked or wrongly configured BIOs might trigger the Stop error. Open your device BIOs and restore it to its default settings. Also, ensure that you run the latest version of BIOs. Outdated BIOs might trigger this error due to incompatibilities.
A software might be the root of this error
Uninstall any recently added software from your computer. If you have updated any software recently, roll it back to its previous version. This might be the main cause that was causing the error.
Part 3: How to Fix Blue Screen of Death
There is another blue screen error known as the Blue Screen 1033 error. This error is also caused by some serious issue that might farce your operating system to restart or shut down unexpectedly. Windows usually do this to prevent any sort of damage to your system due to the issue that triggered the 1033 error. It is a bit less serious than the STOP code and might be fixed quite easily. Below, we have mentioned some of the most common and easiest fixes to the 1033 error:
Simply restart your computer by unplugging the main power source

In most cases, a simple restart is all you need to fix this error. If your computer hasn't already restarted, shut down your computer and unplug the main power cord (remove the battery if you are using a laptop). Now wait for 30 seconds and plug in the power source back in its original place. All that is left is to restart your computer and check whether the issue has been resolved.

Undo the recently changes with System Restore

Any recently made changes like registry changes might be the key reason for this error. System Restore is a Windows Utility tool that helps you to restore back to the previous settings. It is accessible from the start menu. Once you launch it, choose "Reset this PC" and follow the onscreen instructions to reset your computer successfully. Remember to choose "keep my files" or it will completely erase all your data from your computer.

Use the Action Centre to look for possible solutions to this issue

Action Centre is another great utility tool that is available in the control panel. It will scan your entire computer including all the hardware and software, search the issue and will also suggest you the possible solutions that will help to fix this error. Once you have launched it from the control panel, go to security and maintenance. Under it, you have to navigate to "Check for solutions to problem reports". Finally, you have to choose "check for solutions" and your PC will automatically scan for the recently reported problems and try to solve them.

Roll back your device drivers

A recently updated driver might be the pesky little thing that is causing this monstrous issue. In order to confirm this theory, you have to check for the drivers that you have recently updated. Now, go to the manufacturer's website and download an older version of those drivers. After installing, restart your computer and check whether that issue has gone for good.

Remove any recently added software from your computer

Recently installed software might also be the reason behind this blue screen error. The reason might be compatibility issues or the software might be corrupted. In this case, you need to uninstall that software from your computer. In case you have installed more than one software, you need to uninstall all of them one by one until the issue has been resolved.
Part 4: Why it's called Blue Screen of Death
The main reason behind this naming lies in the history of this error. This error first made its appearance in the year 1987 during the beta testing of Operating System 2 that was developed by IBM. This error struck the developers while they were importing tools from other sources via internet. An inspection into the incident led to the conclusion that it was mainly caused due to bugs. When the IBM asked for a description, the Lattice, Inc. developers named it as the "Blue Screen of Death", the term "blue" is due to the color and "death" is used to signify that it completely froze the system until a reboot was done. This is the main history behind the birth of this error messages and also why it was named so.
Video Tutorial on How to Fix Blue Screen of Death Error in Windows?
Part 5: How to recover data if you lost data from the Blue Screen of Death
Now, there is a very high probability that you might lose some data due to the STOP code error. But, there is no need to panic at all. Using third-party software, you can recover that data quite easily. There are lots of fake software on the web which makes it all the more difficult to find a genuine software that actually gets the job done.
Well, we have done the research for you. The Recoverit toolkit developed by Wondershare is the best toolkit that will help you to recover data from any situation. Now, let us move on to the steps on how to use this toolkit to recover data from Blue Screen of Death.
Recover lost or deleted files, photos, audio, music, emails from any storage device effectively, safely and completely.
Supports data recovery from recycle bin, hard drive, memory card, flash drive, digital camera and camcorders.
Supports to recover data for sudden deletion, formatting, hard drive corruption, virus attack, system crash under different situations.
First of all, you need to install this toolkit and register it with the help of the code that will be mailed to you via email.
Now, launch the toolkit and you will be able to see all the recovery options offered by this toolkit.

From the main menu, you have to select "System crash data recovery" to continue with the recovery process.

After this, the system will ask you to create a new bootable media drive. It will format the drive and all data stored on it will be lost so remember to keep a back up of the drive data.

The system will launch the process on its own. You are not allowed to eject the storage drive till the completion of the entire process.
After the drive is configured, the final step is to restart your computer and enter the BIOS and adjust it to boot from the drive. Now, connect the bootable storage drive with your computer and restart your computer. The data recovery will start from the crashed system.
So, this was the process to recover data from Blue Screen of Death.
Hence, in this article, we discussed how to fix the Blue Screen of Death. We also discussed the possible fixes to 1033 error. In order to make things easier, we mentioned the best way to recover your data as well (if you lost due to the Blue Screen of Death). We recommend all our readers to use the Wondershare Recoverit toolkit as it is the best and most trusted toolkit that you find on the web.
Lastly, we really hope that you do not panic next time you face the Blue Screen of Death.
Computer Data Recovery
Windows PE

System problems

PC Errors