The hard drive houses all of your files and you have to access them from it every time you need them. However, if you delete a file from the hard drive then it won't become available to you unless you have a copy of it saved somewhere else. If you haven't permanently deleted the file from the hard drive then you might find it in the Recycle Bin. But, if having done permanent deletion, there is no way for you to get back your file. There are deleted file recovery tools that can prove to be of help to you if you want to recover deleted files from hard drive.
What causes files deleted from hard drive?
There are many causes of file deletion from hard drives. You might delete a file without realizing that you would need it at a later time. Then, there is the chance of accidental deletion as well in which you delete a file without meaning to. In both these cases, the deleted files can be recovered from the Recycle Bin, provided they haven't been permanently deleted. Formatting is another way through which you can delete files from the hard drive. In such a scenario, getting back the deleted files won't be that easy. File corruption is also among the reasons for forced file deletion as well. You will need a third-party hard drive data recovery tool in order to recover deleted files from hard drive in such instances.
The Best Hard Drive Data Recovery Program
Whenever you delete a file from the hard drive, it doesn't get completely erased from the hard drive. The data is all there on the hard drive but the operating system can't access it as that space on the hard drive is listed as free after file deletion. You just have to find a way to access that data on the hard drive in order to recover your file. The data recovery tools offer this service to you and can recover deleted files from hard drive with consummate ease. However, the tool needs to be a reliable one if you are to get back the deleted files. Recoverit is among the few data recovery tools which are both reliable and safe when it comes to recovering deleted data from hard drive.
Recoverit is capable of recovering data from a number of different storage devices. Whether you have a digital camera, a flash drive, a camcorder, a hard drive or even a memory card, you would have no trouble in recovering deleted files from them using this software. Moreover, it can recover almost any type of data from these storage devices within minutes too. It doesn't matter whether you have accidentally deleted an image, an audio file, a video, an email or even a document, Recoverit hard drive data recovery software can retrieve it in its original format within no time.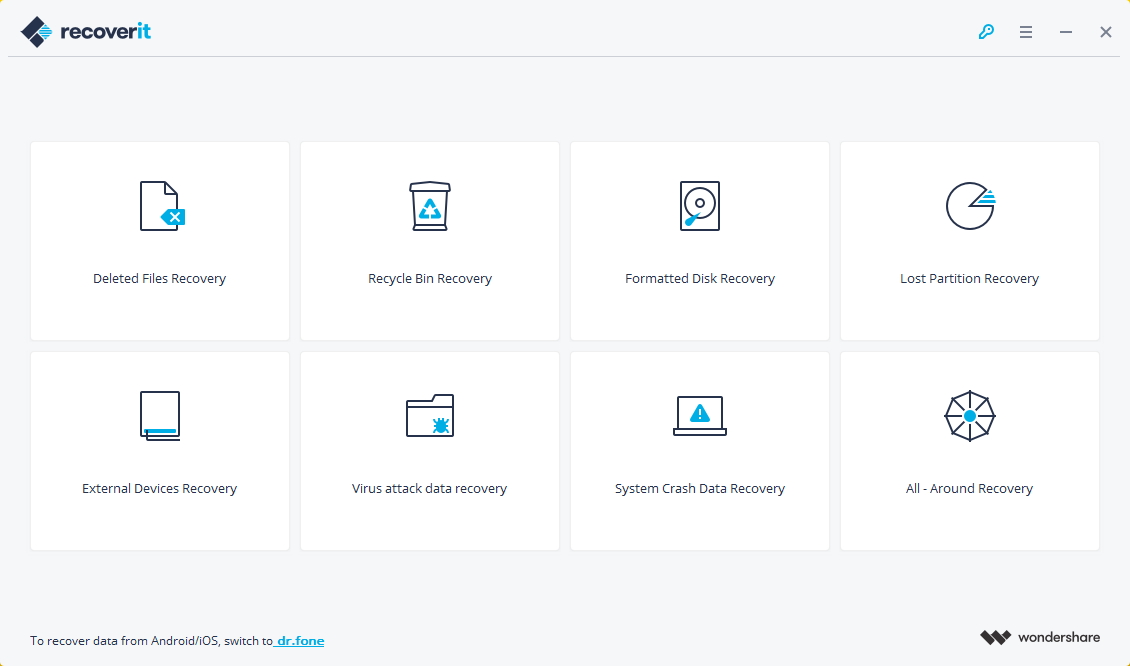 Recover lost or deleted files, photos, audio, music, emails from any storage device effectively, safely and completely.
Supports data recovery from recycle bin, hard drive, memory card, flash drive, digital camera and camcorders.
Supports to recover data for sudden deletion, formatting, hard drive corruption, virus attack, system crash under different situations.
Security Verified, people have downloaded it
How to Recover Deleted File from Hard Drive
Here take the Windows version as an example, and a Mac user can refer to the guide: How to Recover Formatted Mac Hard Drive. The following is an instruction manual which provides detailed guidelines to you on how to recover deleted files from hard drive using Recoverit hard drive data recovery program.
Launch the software and select the data loss scenario. To recover deleted files from your hard drive, please select the "Formatted Disk Recovery" mode to get started.

A list of hard drives will be shown here. Choose the target hard drive where your files were located prior to deletion, and click on "Start" to launch a quick scan.

The quick scan doesn't take much time to complete. After a while, a list of recoverable files will be shown. However, if your deleted files can't be found here, you can turn to "All-around Recovery" mode for more files, which will take longer time.

Finally, you can preview the displayed files, choose the ones you want to restore, and click "Recover" to get them back.
Accidental deletion of files is always frustrating. You lose important data without even meaning to. Files can also get deleted accidentally because of formatting as well. When facing such a situation, you should try to recover deleted files from hard drive as soon as possible. The reason for this is that if you wait longer, you might not be able to get them back at all. Data recovery software like Recoverit can help you in recovering deleted files from your hard drive both quickly and safely.
3981454 people have downloaded it