Have you formatted your hard disk by mistake or lost some of its stored content?
Well, in this case, you need to take some immediate measures and recover data via a service provider for your storage. For this, people either use a disk data recovery tool or visit a hard drive recovery service center. Since it can be tough to look for the right HDD repair location, I have dedicated myself to come up with a handpicked list in this post. When I looked for hard drive recovery near me, I got several options, but only a few of them were reliable. This is what I have learned from my experience so that you can also perform a hard drive file recovery easily.
Part 1: What Are Data Recovery Services All About?
Most of the data recovery services are established firms with trained experts who can recover your data. They either have their propriety recovery tools or might use third-party applications to perform hard disk file recovery.
Difference Between Data Recovery Services and Software
A lot of HDD recovery services have their dedicated workstations where they perform data recovery. Some of these companies (like Seagate data recovery service) even provide pick-up and drop facilities in a few locations. Their recovery rate is mostly higher, but they can also charge a substantial amount for their services.
On the other hand, any HDD repair software is a DIY tool that you can install on your computer. They are pretty easy to use and can help us recover our data lost under common scenarios. Needless to say, most of the disk data recovery tools are a lot cheaper than the hard drive recovery cost of companies. There are even some free SD card recovery tools.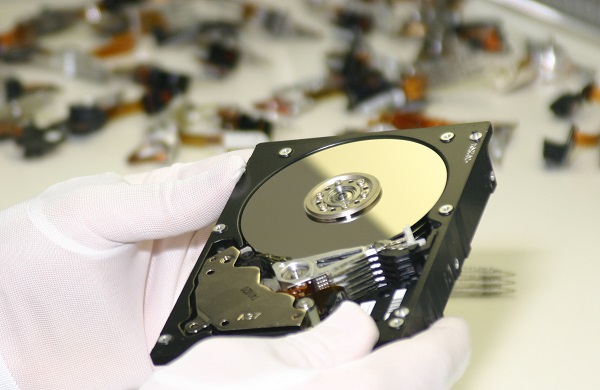 When do you need to use Data Recovery Services?
Ideally, if you have lost your important files and no other option is helping you perform hard drive file recovery, then you can visit recover data services. Firstly, I always try a data recovery software, but if it won't yield the expected results, then I look for options for hard disk repair near me.
Common Services for Local Data Recovery Center Near You
Here are some of the common services that a hard drive recovery company near me provided (and it can be the same for you):
Recovery of lost and deleted files under different scenarios
If you have formatted the drive, then they would try to retrieve the lost content from it.
They can also repair any viable physical damage (like damaged head, spindle, etc.) on the hard disk.
External hard disk, USB drive, SD card, or any other external device recovery
Restoring data from a backup, restore point, system image, etc.
Pick-up and drop-off services for certain locations
One-on-one customer communication to make the process seamless
How Much Does Data Recovery Cost?
This is something that a lot of people ask while looking for HDD recovery services. Ideally, the estimated price for data recovery would depend on several factors, like the following:
Whether it is an internal or external hard drive (or any other storage unit like an SD card or a USB drive)
The degree of damage or loss of data
How much data is lost and what can be recovered
The size of the hard disk and its file system
If the disk has been physically damaged, then the prices would be higher
Other factors like the company, add-on services, pick-up/drop, etc.
After considering all these factors, the estimated cost for hard disk recovery is calculated. On average, it can range from $200 to $500, but it might vary with your present situation. I would recommend getting an estimated cost in advance so that you would have your doubts cleared beforehand.
Local Recovery Service VS Data Recovery Software
Part 2: What Are Some of the Best Data Recovery Companies?
If you want to get positive results for hard drive deleted file recovery, then consider going with these options. These handpicked companies are globally known for their high recovery rates and reliable results. 
#1 Company: Ontrack Data Recovery
Ontrack is one of the oldest data recovery firms, which has been active since 1985. It provides three different schemes to its customers - standard, priority, and emergency. The turnaround HDD repair time for them is 7 days, 3 days, and 24 hours respectively.
It provides a free evaluation of your hard disk (in 4 hours) with an estimated cost to recover its data in advance.
The company has over 20 centers in different parts of the world and also provides a pick-up and drop facility (extra pricing for that).
There are services to recover data from internal/external hard disks, APFS systems, RAID, CCTV, SSD, HDD, and more.
Some major services are data recovery, data destruction, server maintenance, etc.
Presently, Ontrack has a success rate of over 90% and is known for its dedicated customer support.
Website: https://www.ontrack.com/
Certifications: Certified ISO-5 Class 100 Cleanroom
Overall Features: Emergency services to get faster results, 90% success rate
Locations: 20+ international centers in Europe and North America
Supported Devices: SSD, HDD, RAID, CCTV, HFS, DVR, etc.
Overall Rating: 9/10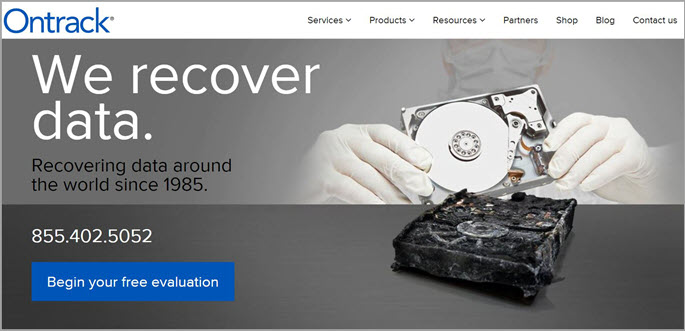 #2 Company: DriveSavers Data Recovery
If you are looking for one of the best firms to perform formatted hard drive recovery, then consider exploring DriveSavers Data Recovery. The company is based out of California but has its drop-off centers all over the world.
It provides three different services - Economy, Standard, and Priority with a turnaround time of 5-7 days, 1-2 days, and 10-24 hours respectively.
Apart from data recovery, the company is also known for its data security and data forensics services.
It offers a free evaluation and pick-up service with an option that users only have to pay if they get their data back.
You can take its assistance to recover data from your system's external hard disks, mobile phones, CCTV, and numerous other sources.
Website: https://drivesaversdatarecovery.com/
Certifications: Certified ISO -5 Class 100 Cleanroom, ISO-8 Class 100,000 Clean zone
Overall Features: Has one of the highest success rates, free shipping-free evaluation model
Locations: Based out in California with 30+ drop-off locations
Supported Devices: SSD, HDD, RAID, CCTV, HFS, smartphones, and more
Overall Rating: 8.5/10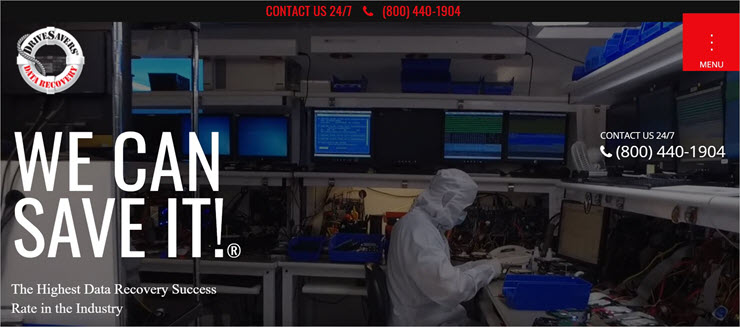 #3 Company: Secure Data Recovery
Secure Data Recovery is one of the most trusted disk data recovery services with a success rate of over 96 percent. The company is originally from the USA, but it offers pickup and drop-off in different parts of the world.
There are three different services for HDD repair - Emergency (less than 48 hours), Expedited (2-3 days), and Standard (3-7 days).
Apart from recovering data from your hard disk, it can also help you get back lost content from your mobiles and other storage units.
The company offers free evaluation and users only have to pay if they get back their lost data.
It is SSAE 16 Type II certified and is also known to provide its services to some of the biggest Fortune 500 companies in the world.
Website: https://www.securedatarecovery.com
Certifications: Certified ISO 4 Class 10 Cleanroom
Overall Features: Follows SAS and SSAE compliance, no charge on no data recovery
Locations: It has 40+ centers in the USA with global pick-up services
Supported Devices: Desktops, laptops, SSD, Mac, VM Ware, and more
Overall Rating: 8/10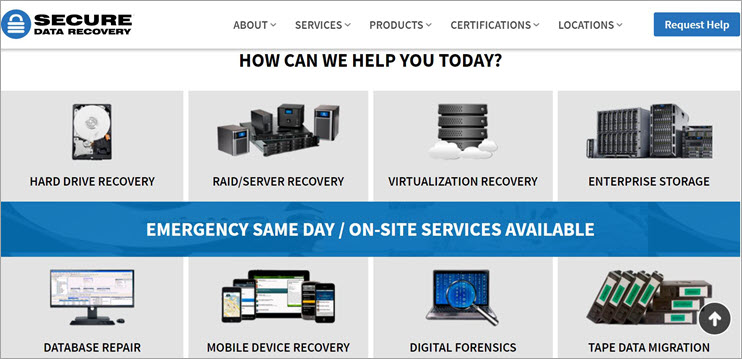 #4 Company: Salvage Data Recovery
Although Salvage Data Recovery is based out of Ohio, it provides pick-up and drop-off services in the entire country. If you don't live in the US, then you might consider skipping this HDD data recovery service though.
It has one of the highest success rates for data recovery (96%) and can extract data from numerous sources.
The company provides free evaluation and you don't have to pay anything if it can't restore your data.
It will first analyze the disk and then would send a quotation for disk recovery. In most cases, it can range from $200 to $1500.
The company holds numerous certifications and can recover data from RAID, SSD, SD Cards, USB drives, smartphones, and other devices.
Website: https://www.salvagedata.com/
Certifications: Certified ISO-5 Class 100 Cleanroom
Overall Features: 96% success rate, flexible data recovery services, no recovery-no charge policy
Locations: Based out of Cleveland with drop-off centers in the US
Supported Devices: Hard drives, RAID, SD cards, USB drives, virtual servers, and more
Overall Rating: 7.5/10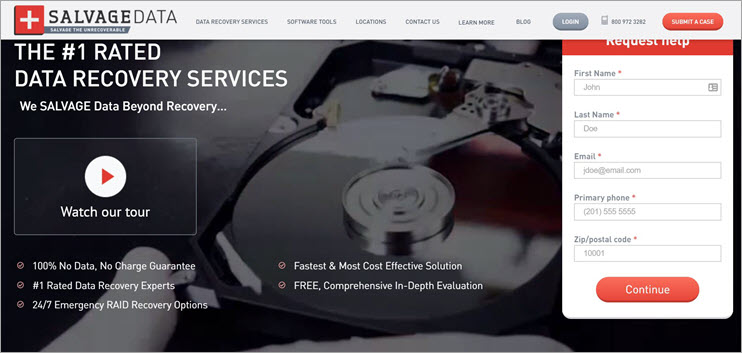 #5 Company: Data Tech Labs
This is the last company that we have on our list of hard drive crash recovery services. It is a certified firm to fix all kinds of hard disk and external devices with proven results.
The firm is based in Denver and has 25+ different centers in the country where you can drop-off or pick your hard disk.
It can retrieve data from your hard disk, RAID, Mac drive, smartphones, and even virtual disks.
The exact fee will depend on the current scenario and its evaluation will be done for free. The company will share a quote before working on your hard drive.
Their services are used by various Fortune 500 companies, but they have tailored options for personal users as well.
Website: https://datatechlab.com/
Certifications: Certified ISO 5 Class 100 Cleanroom
Overall Features: Priority service, certified to work on all hard disks so that their warranty won't be void
Locations: The company is based in Denver and has 25+ centers in the United States
Supported Devices: RAID, SSD, USB drives, SD cards, mobile phones, and virtual disk
Overall Rating: 7.5/10
Part 3: What Is the Best Data Recovery Center Near You?
A while back, when I looked for external hard drive recovery solutions near me, I got so many results. To make things easier for you, I have handpicked some of the best recovery services in different parts of the world that you can further explore.
Location 1: North America
ACE Data Recovery - It has multiple locations in the United States and Canada.
American Data Recovery - It is known for its presence in the United States.
Active Data Recovery - Based out of Toronto, it has multiple locations in Canada.
We Recover Data - The Company is present in most of the leading cities in the United States.
DriveSaver Data Recovery - It has its presence in Toronto and other prominent cities in Canada and the US.
Data Recovery - It has 4 different data labs in the United States.
Secure Data Recovery - It has its presence in over 40 different cities in the United States.
Salvage Data Recovery - The Company is based out of Cleveland, but provides nationwide pick-up and drop-off services.
Gillware Data Recovery - The Company has 3 centers in Wisconsin and Ohio.
Location 2: Europe
Stellar Recovery Centers - It has multiple centers in the Netherlands, Belgium, Switzerland, and other European nations.
Ontrack Data Recovery - It has based out of the UK and has multiple locations in Europe as well.
ACE Data Recovery - Apart from North America, ACE also has several data recovery labs in Europe.
Data Recovery Ireland - The Company is based out of Ireland and has a few centers in the UK too.
One Data Recovery - It is based out of Madrid and has multiple labs in Spain, Portugal, Italy, France, and the UK.
Location 3: Asia
ADRC Services - They provide dedicated data services in Singapore and Malaysia.
TechChef - The Company has go-to service centers in India, Nepal, Sri Lanka, and South Asia.
Stellar Data Recovery - You can find multiple service centers of Stellar in major Indian cities.
Dolphin Data Recovery - The Company provides recovery services in China, India, Thailand, Russia, Korea, Japan, and almost every Asian country.
Location 4: South America
Secure Data Recovery - The Company is considered as one of the best data recovery services in South America with dedicated pick-up and drop options.
US Data Recovery - Although the firm is based out of Michigan, it also provides its services in major South American cities.
NAS Data Recovery - You can find several data recovery labs from NAS located in Brazil and Argentina.
We Recover Data - Having a global presence, the company also has a few data recovery labs located in South America.
Location 5: Africa
East Africa Data Handlers - The firm is based out of Kenya and provides data recovery services in East Africa.
Tecleo Data Recovery - Tecleo is based out of South Africa and provides recovery services to a few other neighboring countries as well.
South Bit - This is another promising data recovery company that is based out of Cape Town and has centers all over South Africa.
CSSi Data Forensics - The Company operates from South Africa, but has its presence in multiple cities in the continent.
Seagate Recovery Centers - If you own a Seagate hard disk, then you can locate its data labs in South Africa, North Africa, and other prominent locations. But some simple problems can be solved by yourself like Seagate hard disk not showing up.
Cipher Wave - If you are from South Africa, then you can also explore the available recovery centers from Cipher Wave.
Location 6: Oceania
Australia Data Recovery - It is one of the most popular data recovery centers in Australia with multiple locations in all the metros.
Perth Data Recovery - As the name suggests, the company is based out of Perth, but it also provides remote services in other parts of the country.
Kroll Ontrack Data Recovery - This is a partnership by Kroll and Ontrack to provide dedicated recovery services in Oceania.
NZ Recoveries - The firm provides all kinds of recovery services in the leading parts of New Zealand.
Payam Data Recovery - Although the firm is based out of Auckland, it provides pick-up and drop-off services in all the major New Zealand districts.
Part 4: Useful Tips for Lost or Corrupt Data Recovery
Now when you know about some of the best recover data services nearby, you can easily take their assistance. Besides that, you can also follow these data recovery suggestions.
1. Use a DIY Recovery tool
Before you take any drastic measures, make sure that you use a DIY data recovery tool on your system. For instance, you can give Recoverit Data Recovery a try that runs on all the leading Windows and macOS versions. You can just select a source to scan and follow its click-through process to recover your data. The application is easy to use, has a high recovery rate, and supports almost all kinds of file formats. You can even preview your data beforehand and perform data recovery on external devices as well.
2. Maintain a backup of your data
When it comes to data recovery, it is just better to be safe than sorry, right? If you have some important files that you don't want to lose, then maintain their backup in advance. You can save them in the cloud or use native features like Time Machine or File History to maintain their backup.
3. Keep your SD card locked
In case if you use an SD card on your digital cameras, mobiles, etc. then consider keeping it locked in its idle state. There is a write-protect switch on the side that can lock your card from the accidental deletion or formatting. Whenever you wish to write something on it or delete any file, unlock the card from the side.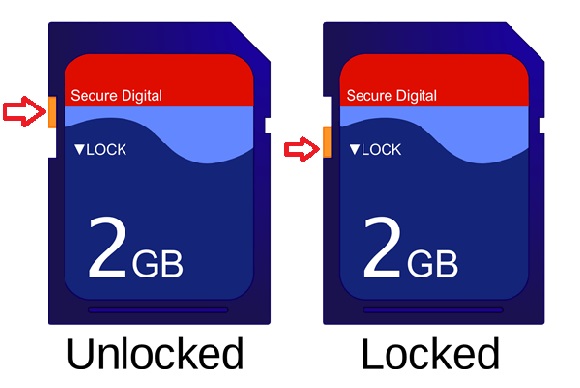 4. Repair the corrupt disk
Too often, the reason for an unforeseen loss of data is a corrupt or damaged disk. To avoid this, you can check and repair your system's disk on a regular basis. If you are a Windows user, then you use the "Check Disk" feature from its properties. Mac users can go to Finder > Applications > Utility and launch the Disk Utility app to run its "First Aid" feature.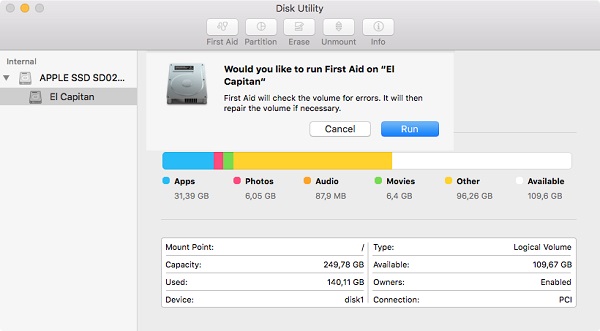 5. Keep an anti-malware tool installed
Lastly, keep an anti-malware application installed on your system and always use it before accessing an external device. Also, enable the real-time scanning on the app so that it would keep checking your system in the background. You can enable the inbuilt firewall on your system or use any third-party anti-virus tool as well.
Closing Words
That's a wrap, everyone! I hope that after reading this post, you would be able to know the best HDD data recovery service near you. For your convenience, I have listed the top hard drive file recovery options in different parts of the world. If you want, you can explore them furthermore or just keep a recovery tool like Recoverit handy. In this way, you can quickly perform data recovery on your own and can only visit an expert if all the other options are exhausted.
Frequent Questions on Data Recovery Services
Q 1: What is the Best Data Recovery Service?
It is hard to handpick a single data recovery service and call it the best. Therefore, I have listed some of the top picks in this guide like Ontrack, Data Tech Labs, Salvage Data, etc.
Q 2: Are Data Recovery Services Safe?
Yes, most of the reliable data recovery services are pretty safe and will keep your content secure and confidential. Nevertheless, you can do your bit of research before approaching any recovery center.
Q 3: How Long Does Data Recovery Take?
It would depend on the degree of data loss, your storage, and its damage. Mostly, it takes a few hours, but it can prolong to a handful of days or a week in some cases.
Q 4: What is the Average Cost of Data Recovery?
This will also depend on numerous factors that I have listed in this guide. You can expect around $200 to $500 on average to be charged by a reliable data recovery service center.
Q 5: Can I use a Tool like Recoverit, instead of visiting a Data Recovery Service?
Yes, of course - you are encouraged to keep a tool like Recoverit Data Recovery handy. Whenever you lose your data, perform an in-depth scan using Recoverit. The tool is pretty easy to use and will save a lot of money and time performing data recovery on your system (or any other source).
Free Recover Data
Top Recovery Freeware

Top Recovery Solutions