Audio Format EAC3 Is Not Supported? 5 Fixes
"I downloaded my favorite videos to my Windows computer. However, there is no audio with a message 'eac3 audio format not supported. Any way to fix this?"
It can be frustrating to realize that you can't watch your favorite video after downloading it to your Windows/Mac computer or Android device. This is not uncommon because most people encounter audio format eac3 not supported when using MX Player. In most cases, you will notice that the video is playing fine but there is no sound. Now let's learn how to solve this issue stepwise.
Part 1. How to Fix EAC3 Audio Format Not Supported Issue?
The good news is that despite the eac3 format not supporting error messages, you don't have to uninstall the MX Player or delete your video files. Instead, you can use various tested solutions below to fix audio format eac3 not supported in MX Player issue:
Want more vivid video tutorials? Play to find out 4 Solutions on How to Fix Eac3 Not Supported in MX Player Error. You can explore more from Tutorial Video Community.
Solution 1: Use VLC media player to fix eac3 is not supported
The VLC media player can also convert different video and audio formats. Well, if you have compatibility issues such as the audio format eac3 is not supported, you can convert it to MP3 or any other format. Here are the steps to fix the eac3 audio support video player problem:
On to the VLC menu, go to the Open Media option and click on the Add. Choose the video or audio file and click open.
Click the Convert/Save button to get to the settings where you can change only the Profile.
Now, choose the audio format that you want to convert to. You can give a name to the converted file and click on the Start to start the conversion process.
After completion, your converted audio file which had the audio format eac3 not supported is saved.
Solution 2: Add the custom codecs
To make sure you download and install the right custom codecs, you should check the version of your MX player that is running in your media player. After seeing the version, then take the following steps to choose and download the custom codec:
First of all, open your MX player. Click the settings on the main menu.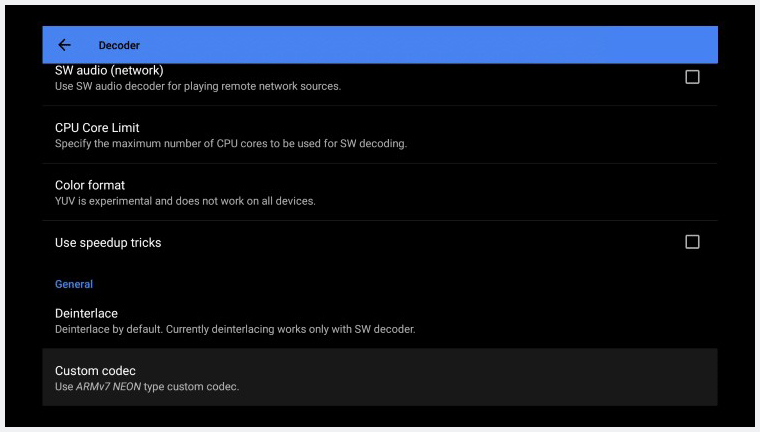 Select the Decoder and scroll down to the Custom Codec.
Once here, you will view the codec that you need to download to fix the eac3 audio not supported in the MX Player.
After downloading, then you can reopen the MX player and the device will detect the downloaded codec automatically. If it's compatible, click the OK button.
Solution 3: Add the custom codec manually
If your MX player doesn't detect the custom codec automatically, consider adding the codec manually by assigning it the right path. For the eac3 audio format player, here is how you can add the correct codec:
Open the MX player and click on the Settings.
Navigate to the Decoder option and scroll down to the Custom codec.
Click the Custom codec and select the right path for your downloaded custom code.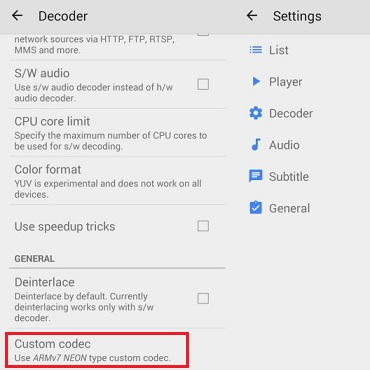 Having found the correct new code, your MX player will load it automatically and then you can restart.
That's all! Now, you can play your videos that have eac3 not supported in MX Player.
Solution 4: Convert EAC3 MX player supported MP3 or MP4 format
This is another quick solution to fix the MX Player eac3 audio not supported error. You see, you can encode MX player eac3 audio not supported to more compatible formats, such as MP3 and MP4. All you need to do is to use any professional video or audio converter.
You can find some free video or audio converters, but you need to choose the best one that is available. In this case, you can convert video and audio files to digital formats in a straightforward way to fix audio format eac3 not supported MX Player.
Solution 5: Use an EAC3 Audio Format Supported Player
If the methods introduced above don't work, another great option to fix the eac3 not supported error is to use a different audio player that supports eac3 audio format, such as VLC media player.
---
Part 2. How to Recover Lost or Deleted EAC3 Audio Files?
Sometimes, video or audio files are lost or deleted from your device, making it impossible to hear audio while playing. In such cases, you see a flashing message saying the MX Player eac3 audio format is not supported. You can use the solutions discussed above to fix audio eac3 not supported, but if they all fail, you need to utilize a professional audio recovery tool.
However, you can only recover lost or deleted audio files if you have not used the drive or storage media. Remember that playing the audio files on the faulty media might overwrite the original data. This means the audio files can be lost beyond recovery.
Recoverit can restore lost or deleted EAC3 audio files of any format, such as MP3, WAV, AU, AFF, MP4, and AVI. This audio recovery tool with an intuitive and user-friendly interface can recover lost or deleted files like audio files from memory cards, SD cards, hard drives, and USB flash drives. Simply put, the Recoverit audio recovery tool supports corruption in the sound section of the video files, audio and video sync problems, and many more.
Above all, this software works well in all audio file loss situations, whether you see this audio format eac3 is not supported, deleted, audio file transfer faults, or virus infection. It recovers lost or deleted files on both Windows and Mac computers or any Android device and allows you to save them at your desired destination on external media or drive. You can easily get the audio files by taking the following steps.
Step 1: Choose the location
Download, install and launch Recoverit Audio Recovery Software. Then select the location where you want to find the lost or deleted audio files.
In case you can't figure out the previous location of the audio files, use the "I can't find my Partition".
Step 2: Scan the location
Click on the Scan to begin the scanning process. The software will scan all the audio files located in the storage device. You can also opt for the Advanced option if you don't see the lost or deleted audio files.
The scanning process might take some time depending on the amount of data you stored on your device.
Step 3: Preview and recover
After completion, you will view the deleted files listed on the left panel of your screen. Recoverit allows you to select multiple audio files simultaneously and preview all of them. Best of all, there is no limitation on the size of audio files to repair, meaning you can repair multiple corrupt audio files.
Lastly, click on the Recover button to recover your lost or deleted audio files. Note that it might take a while to recover the audio files. However, you should always consider saving the recovered files in another location.
---
Part 3. Tips to Prevent EAC3 Audio Not Supported Issue
As explained earlier, because of the patent licensing issues, you might encounter errors, such as audio format eac3 is not supported in the MX player. The good news is that you can do the following if the video has audio eac3 not supported MX Player:
Use desktop audio or video converter to encode MX Player unsupported EAC3 to a more compatible audio format. Most converting tools can convert audio without affecting the video and it takes just a few minutes to convert.
If you are playing the video from a mobile Android device, you can use a third-party tool like VLC Player on iOS and Android devices to playback all the unsupported formats.
For computers, map a network drive before playing the video from your Windows or Mac computer. Then you can use a video player such as VLC to watch videos with audio eac3 not supported in MX Player.
---
Part 4. Common Questions about EAC3 Files
MX player is undoubtedly one of the best video players for android devices with plenty of features. But with the removal of its audio codec supports like DTS, AC3, and MLP due to some licensing problems, you may notice an error message that states the eac3 audio format is not supported in MX Player. Unfortunately, sound problems can make your experience quite annoying. Thus, you need to understand some basic knowledge of EAC 3 files.
1. What Is EAC3 Audio Format?
EAC3 which is also called the enhanced AC-3 is a digital audio compression format that was developed by Dolby Labs to store and transport digital audio. It succeeded AC-3 which is another format developed by the same company. The coming of EAC3 saw various improvements, such as an increase in channel count and support for a wider range of data rates.
2. Which Apps Support EAC3?
It's easy to consider installing other apps when you're experiencing this eac3 not supported error. After all, it makes sense to have the best video player that can play all or most of the video formats together with audio without getting any single error. Some of the video players with eac3 audio codec support include VLC multimedia player, MX player, video player for Android, Video Player HD, and Video Player All Format.
3. Why Is EAC3 Format Not Supported?
Playing your favorite videos was all smooth until a couple of last updates started rolling out. With these updates, you might have observed that some video files had MX Player audio format eac3 not supported, meaning the video file doesn't have audio. Below are what transpired for you to lose audio in your video files:
Because of the licensing issues, MX Players no longer supports DTS & Dolby audio codec.
Videos with AC3, DTS, EAC3, DTSHD, and MLP codecs can no longer give out audio while playing. Instead, an error message, like MX Player eac3 not supported prompts out, meaning your video will play without the audio.
---
Closing Words
Some of your audio files can inevitably be lost or deleted due to audio format eac3 not being supported. Thankfully, you can use Recoverit Audio Recovery Software to salvage your files. With this tool, Windows and Mac computer users can recover audio files safely and without a problem. Having gone through such a bad experience, you can rest assured that any lost or deleted files will be recovered as quickly as possible.
People Also Ask
1. Does MX Player support eac3?

MX Player is a popular video and audio player that supports eac3. Its free version is designed to play all or most of the video formats. However, if you see that a video file is not supported, you can download a free custom codec pack for your MX Player.

2. Does VLC support eac3?

If you use a Windows or Mac computer, perhaps you are aware of the VLC Media Player. You can also use VLC on your Android device. VLC supports most video and audio formats including MP4, AVI, MOV, AAC, and AC3. even if you have compatibility problems like MX Player no sound, you can convert the video or audio files to any other compatible format

Dolby Digital also popularly known as Enhanced AC-3, which is abbreviated as EAC3 or EC3 is a digital encoding technology owned by Dolby. It's commonly used in home theaters, video games, and movie theaters.

4. How do I fix eac3 not supported?

When you see eac3 audio support in MX Player while playing a video, it means there is a missing codec needed to play the video. Here is how you can handle eac3 not supported MX Player fix.

Stop playing the video or audio file to prevent overwriting it.
Download and install the custom codec.
Choose the right custom codec that the MX Player needs because custom codecs can be different for different apps.

5. Can Recoverit recover deleted EAC3 files?

Once you see eac3 audio support in MX Player and your files are deleted, you will be in safe hands using Recoverit audio recovery software. This tool is safe, reliable, and fast and it allows you to recover files regardless of their size. This is because it allows free scan for video files no matter their sizes, it has a simple user interface, it's secure, fast, and reliable.
Fix Media File Issues
Recover & Repair Photos

Recover Videos

Repair Videos

Recover & Repair Audio

Recover & Repair Cameras