When your hard drive does not respond to any request anymore, we could say it is dead. You may hear vibrating noises when you attempt to boot your computer. Shortly after, the booting attempt may stop and nothing will be accessible anymore. Before you go to fix the dead hard drive, you can get a hard drive data recovery program to recover data from dead hard drive first.
What Causes a Dead Hard Drive?
Computers have many problems that affect their normal functioning. The most common dead hard drive Symptoms is as below:
Corrupted areas on your hard drive - If you ever try to access files stored in these areas, your computer might respond by freezing. When frozen, a computer will not respond for several minutes. Its hardware devices such as the mouse and keyboard keys and all the active programs on the task bar might get dormant. If you shut down and restart your computer, the problem should resolve itself to indicate that your disk is fine. But if the computer freezes again when trying to access files on the drive, the drive could soon fail.
Irregular computer maintenance – One thing that will indicate a rarely maintained computer is slow processing speed and lengthy boot sessions. It is imperative to run a disk defragmentation program once or twice a month to boost your computer. If you always do this and your computer is getting slower every day, your hard drive may die any day.
Mechanical damage – If your hard drive's head crashes, it will no longer read, write or store data properly. You can tell that your disk has a mechanical fault by listening to the noises it makes when running. If you hear grinding, clicking or scraping noises, that's a sign that the read-write head is scratched and damaged.
How to Recover Data from Dead Hard Drive
Recoverit data recovery is a professional dead hard drive recovery software,it is a safe and effective data recovery software, recover your lost videos, photos, music, documents, emails, etc. from your PC's hard drive as well as from USB drives, external hard drives, and other storage devices. It also can recover data from dead hard drive, or damaged hard drive.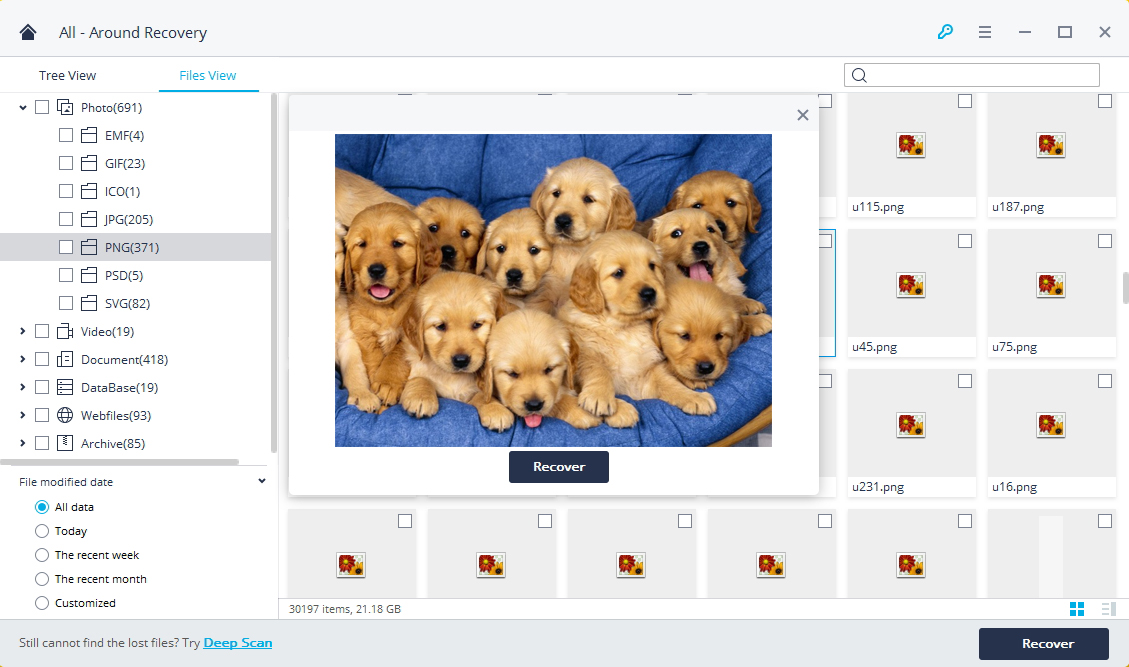 Recover lost or deleted files, photos, audio, music, emails from any storage device effectively, safely and completely.
Supports data recovery from recycle bin, hard drive, memory card, flash drive, digital camera and camcorders.
Supports to recover data for sudden deletion, formatting, hard drive corruption, virus attack, system crash under different situations.
Launch this dead hard drive recovery software and select "Deleted Files Recovery" option.

Select the hard drive where you want recover data from. And then click the "Start" button.

Start scanning your hard drive to find your data. After a few seconds, it will show you the scan result.

Note: This hard drive data recovery will start a quick scan first. If the quick scan can't find your data from hard drive, go to deep scan with "All-Around Recovery" mode which will deeply search more data from hard drive.

You can preview the recoverable data and choose the desired files. Finally you just need to click "Recover" button. It will get your data back from your dead hard drive.
Tips for data recovery
If you discover that your hard disk is unresponsive, try to plug it on another computer to establish if it's really dead.
Find reputable and effective data recovery software like Wondershare. Follow simple instructions to recover your data.
If you cannot manually troubleshoot your dead hard drive, and recover data from it, consult a computer technician in your area.
But if you can do-it-yourself, obtain every tool you will require before you start the process.
A dead hard drive can be worrying, as some of the lost data may be extremely important. However, you should not worry unless the lost files were corrupt. Your can recover data from dead hard drive in full. These files can be retrieved in full. But if you are currently not facing a dead hard disk drive, backup your data to be on the safer side. The easiest way to recover your data from a dead disk is via a bootable CD/DVD of Recoverit data recovery software.