How to Recover Deleted Photos from Samsung Phone
Samsung Phone is one of the largest selling Android phones in the market. This phone has some great specs that make it popular, like huge storage space, which is enough to save loads of photos or pictures. Albeit it has a huge storage space, you may run into some unforeseen instances like any other technologically advanced device. It could be either a human error or a slight problem with the device. Sometimes, there are some SD card errors when you use a card on the Samsung phone.
In such a mishap, you may end up losing the photos you saved on your Samsung Phone or any other vital data. Through the article today, we shall learn how you can recover deleted pictures from a Samsung Phone. So, without any more wait, let us move on to retrieve Samsung photos.
Part 1 Samsung Phone Photo Storage Location
Samsung Phone, as you all know, is utilized worldwide. This is because it has some great specs, and many people prefer using the Samsung brand of phones only.
Big Phone internal storage capacity. In fact, the new Samsung phone comes with 64 GB of onboard storage space. Though this might be small for some users, it is a great spec for developers and photographers who may need additional space on the Phone.
SD card storage. It also supports the input of an SD card capable of storing data to a tune of up to 2GB. Though most SD Card manufacturing companies haven't yet come close to creating such an SD Card, it proves that the phone's expandable memory can support loads of data.
However, while the phone comes with massive storage space, it is still liable to unprecedented outcomes, some of which may lead to data loss. So, before you start thinking about how to recover deleted photos on Samsung, a few things are worth noting.
To recover deleted photos on Samsung, the picture file storage location should be judged, ROM (phone memory) or SD card, and only then you may proceed as below to perform a Samsung Photo Recovery.
---
Part 2 How to Recover Deleted Photos from Samsung SD Card
To recover deleted photos from your Samsung phone, you need to figure out a method that will work for you the best. Especially for a Samsung SD card recovery, a piece of software that can easily recover deleted photos will be the best bet. This section shall introduce one of the best Samsung recovery tools called Recoverit Photo Recovery.
Please note that this method is useful for performing a recovery on an SD card.
1. Recoverit Photo Recovery - Secure Samsung Recovery Software
Recoverit Photo Recovery - Secure Samsung Recovery Software The above mentioned was the use of Samsung Recovery Software to get back deleted photos. One sure way to do so and still be the best method available is through Recoverit Photo Recovery. It has been engineered to perfection to help you with all data recovery cases. To understand how this tool can help you retrieve deleted photos from Samsung, you will first need to look at some of the software's features.
Advanced Scanning Engine
The software has been engineered with utmost perfection and keenness to detail. This is because it is designed with a special algorithm.
This algorithm helps the software execute and perform deep scans in just seconds to find and retrieve the lost data.
For this reason, the software has been noted to have a very high success rate of 96% when it comes to data recovery.
Sturdy Execution
Recoverit Photo Recovery can even scan large external storage spaces such as those of a Computer hard disk and can even be used at higher levels by companies to retrieve lost data.
The scanning process takes a short time, and with a powerful scanning engine, one can get back the lost data soon.
Incredible Versability
There are also a few things of significance when it comes to photo recovery.
Recoverit Photo Recovery supports all image file types, including BMP, CRW, CR2, DCR, DNG, ERF, GIF, JPG, MRW, NEF, ORF, PNG, PSD, RAF, RAW, SR2, TIF/TIFF, WMF among many others.
It also supports recovering photos from any Android phone with an SD card, including Samsung Galaxy S, Samsung Note, Samsung Galaxy A-Series, Samsung Galaxy J-Series, etc.
It can also be used to recover video, image, audio files from different internal or external devices, including hard drives, SD card, pen drives, USB flash drives, etc.
2. Video Tutorial on Samsung Photo Recovery
Recoverit Photo Recovery is an easy and effective tool for Samsung recovery. Now, let's take a look at how to do the job.
3. How to Recover Deleted Photos from Samsung Phone SD Card
Recoverit Samsung recovery software comes with Windows and Mac versions. This guide will introduce you to how to recover deleted photos from Samsung on a Windows computer. For Mac users, this page may come in very handy: Recover Data from Android on Mac.
Firstly, download and install Recoverit on your computer.
You need to confirm whether your Samsung SD card has been connected to the Windows computer and can be recognized.
Then you'll find many hard disk drives displayed. Select the SD card of your Samsung phone that originally stored your photos. And then hit on the "Start" button to proceed.
With the recovery mode and device selected, move on to perform an all-around scan. This will be the way through which you get back data. It will search through the entire SD Card to find the deleted data for recovery.
Preview and Recover Selected Files
Once the scan is over, the deleted files will have been retrieved. You can then preview the files or photos for this case and decide which ones you wish to keep. Once you have found the files you want to save, select them, and hit the "Recover" button to save the retrieved files.
---
Part 3 How to Retrieve Deleted Photos on Samsung
There are other methods that can be used to restore deleted photos from Samsung. These methods, though not the most effective, will provide results. They can also be done in a short time and are very simple to execute.
Note: Before you undertake any of the steps given below, it is advised that you take some of the precautionary measures listed in Part 5. The methods given below to retrieve deleted photos from Samsung strictly dwell on how to restore recently deleted photos on the Samsung device. Let us learn about each of these methods one by one:
1. How to Restore Deleted Photos on Samsung via Samsung Cloud
How to Restore Deleted Photos on Samsung via Samsung Cloud The first method is to try and restore your deleted photos on Samsung using Samsung Cloud. This method can be generalized by simply going to the backup and restoring the photos. However, there is a more precise way how to recover deleted photos from Samsung, as discussed above.
Visit the Gallery on the Samsung device.
In the Gallery, tap on the 3 dot menu icon and select "Settings."
With "Settings" open, tap on "Cloud Recycle bin."
Deleted photos appear in this section, and all you need to do is select the ones you wish to restore. With all the desired photos selected, hit "Restore" to get back the photos to your device.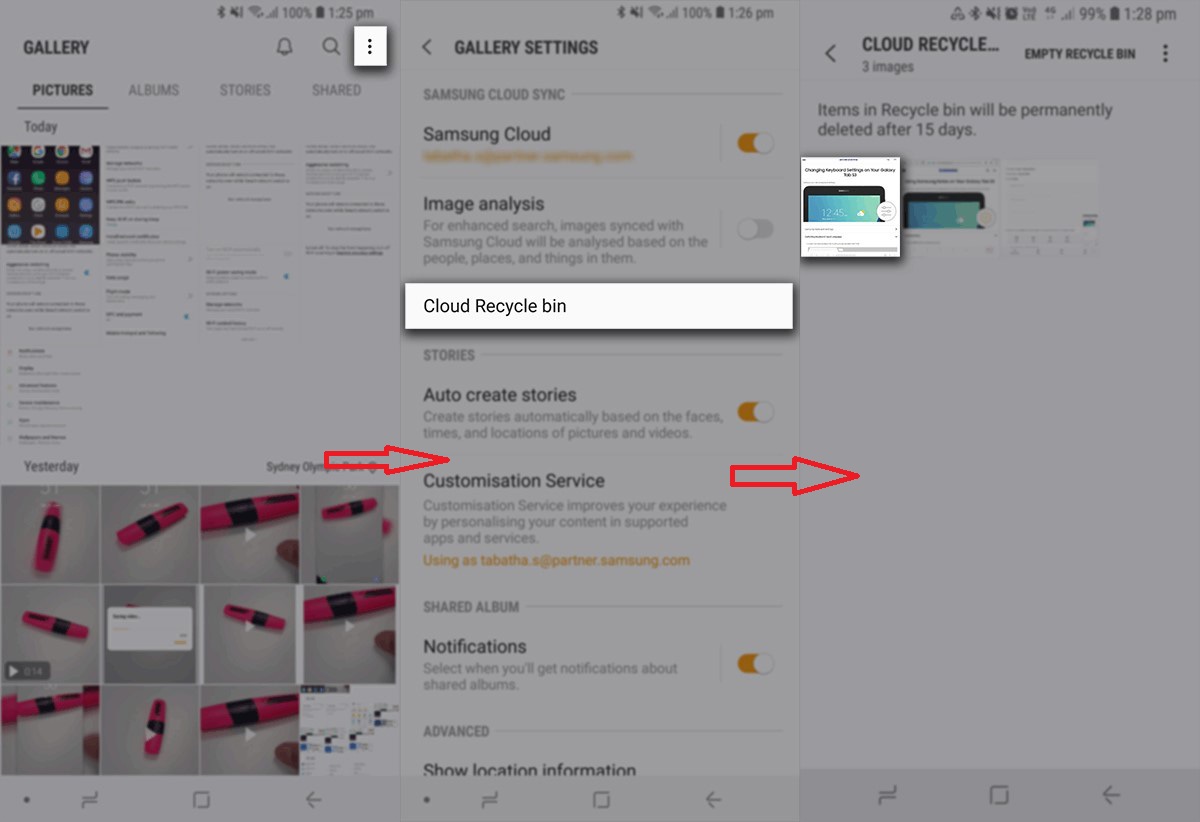 In this method, you will have to enable your phone gallery to sync to Samsung Cloud to save the multimedia files on the Cloud. Usually, recovering deleted pictures from Samsung using this method is easy.
Note: The only issue with this method will be if you want to recover your photos after 15 days of deletion. This is so as the files are saved on the Cloud recycle bin for 15 days before they are permanently deleted.
2. How to Get Deleted Photos Back on Samsung via Google Photo
How to Get Deleted Photos Back on Samsung via Google Photo While this is again another helpful method to recover deleted pictures from Samsung, you will need a few mindful options to consider. With this method, you will need to have a backup of the photos saved on Google Cloud Back-Up Service.
If you haven't done it, a precautionary method will be to do so by following these steps.
Configure photo backups on Google Photo
First, log in to your Google Account.
Go to Settings, Google, on the phone, then Back Up and Sync, and hit "Done" to finalize the process.
This will back up your photos and videos to Google Drive on the Samsung Phone.
Note: However, this method comes with a shortcoming. The deleted photos on Google Drive can only be stored for 60 days before they are permanently deleted.
Guide to Retrieving Deleted Photos on Samsung
If you have a Google Drive Back-Up of your photos, here is how you can retrieve deleted pictures on Samsung.
Open the Google Photos or Photos app on the Samsung Phone.
You will need to tap on the drawer icon-three parallel dashes- on the top left of the app.
While here, select trash and preview the files.
Once decided, select the photos you wish to restore and hit "Restore" to get them back to your phone.

---
Part 4 Feasibility of Samsung Photo Recovery
This is a mind-boggling question that bothers some. Well, it will depend on your approach. Although some may find it hard while others are easy, the baseline is that it can be achieved. To guide you on how to retrieve deleted photos on a Samsung phone, we give you many methods in detail. In addition, some reasons that make the entire process possible have been given below.
The process is possible since there is external storage from which the files can be retrieved.
Certain cloud services offer the option of storing the files after deletion for a certain period before they are completely deleted.
Technology has advanced, and some creative tools can reap the hidden, missing, or assumed to be lost data from a storage device and get it back to you in still good condition.
How restore deleted photos on Samsung is possible and this, therefore, comes with many more advantages. Besides the fact that the recovery options are many, the method you choose should help you, though you also can use either of the methods as you please. But to carry this out effectively, care and some precaution need to be taken beforehand.
---
Part 5 Tips on Samsung Deleted Photos
Here, some tips will be provided regarding the entire process of getting deleted photos on Samsung.
1. What to do when Finding Photo Loss:
Photos can accidentally get deleted. When this happens, you are to take care of any move you make when recovering them.
Do not overwrite the SD Card where the photo loss happened.
You can also make a prudent move and scan your SD Card for corruption to avoid corruption of the photo if this is the problem.
Make sure the methods you use will not completely delete the photos you deleted, making it impossible to recover them.
You can also take a precautionary measure by properly maintaining the SD Card. This can be done by safely storing it to avoid any form of damage.
2. How to Avoid Another Photo Loss:
Again, properly maintain the SD Card since it is prone to damage.
When recovering files, it is recommended to stick to one method at a time. You are liable to a phone crash when executing each method simultaneously, though in the rarest circumstances.
Of utmost importance is always to Back Up your data.
Running regular anti-virus scans to detect and do away with any malware detected so as not to affect or corrupt the phone or SD Card is helpful.
It is recommended to seek the advice of a professional when things seem as if they are getting out of hand.
---
The Bottom Line
Hence, if you accidentally deleted photos on Samsung, there is no need to worry as there are some brilliant ways to get the photos back. Restoring your deleted pictures on Samsung is very easy if you carefully follow the steps given above.
We have listed one of the best Samsung Recovery methods: the Recoverit Photo Recovery Software. It is a highly recommended software from Wondershare. Also, follow the tips and preventive measures to avoid photo loss on your SD card and keep your SD card safe and healthy to prevent any data loss.
Find the photos stored on the Samsung SD card damaged suddenly? Check out the guide and get 5 ways to
repair corrupted pictures
.
Fix Media File Issues
Recover & Repair Photos

Recover & Repair Videos

Recover & Repair Audio

Recover & Repair Cameras