All About Hard Drive Partition Recovery
Sometimes, we need to partition a hard drive to install multiple operating systems, make effective use of storage, separate system files from user files, keep the system secure and protected, or back up the system files of the operating system. In this regard, it is convenient for us to create a Windows recovery partition. However, it can also bring about some issues, such as too many redundant partitions, important data loss, and the inability of finding data. To fix the issues, some of us decide to delete the Windows recovery partition. The bad news is that it can also cause the data stored on the partition to be lost during the deletion of the Windows recovery partition.
If you want to find out the solutions to recover deleted data from the partition. In this article, you can get the best hard drive partition recovery software and also learn how to recover deleted partitions easily and effectively with Recoverit Data Recovery.
Part 1: Top 5 Hard Drive Partition Recovery Software
While managing hard disk drive partitions, a small mistake can lead to the deletion or formatting of partitions. The result of losing a total partition of massive data will be devastating. These data cannot be retrieved by any utility included in the operating system. But here is some excellent software available to help you retrieve your data, as well as the total partition. Here are the best five hard drive partition recovery programs:
Top 5 Best Free Hard Drive Data Recovery Software in 2023
Hard Drive Partition Recovery Software
| | | | |
| --- | --- | --- | --- |
| Sl. No. | Name | Price | Operation System supported |
| 01. | Recoverit | $39.95 | Windows 8.1/8/7/Vista/2000/XP |
| 02. | 7-Data partition recovery | $39.95 and higher | Windows 7/8/Vista/XP |
| 03. | Active@ partition recovery | Free | Windows 7 /8/XP/ Vista/ 2003/2008/ 2012/WinPE |
| 04. | Stellar Phoenix partition recovery - Professional | $99 | Windows 7/8/Vista/XP |
| 05. | TestDisk, Data Recovery | Open-source | Windows NT4/2000/XP, 2003/ Vista/2008/ 7, Linux, Mac OSX |
1. Recoverit - Best Hard Drive Partition Recovery Software
Recoverit Data Recovery is the top hard drive partition recovery tool. It is the professional partition recovery software
The partition data recovery program can easily recover lost files from hard drive partitions, external hard drives, or USB partitions.
Advantages:
The interface is user-friendly.
The recovery process is like a step-by-step guide. 3 steps will get deleted files back.
It has the most file format support.
Files from mobile phones and MP3/4 players can also be recovered.
Disadvantages:
The software is a little big with 23.9MB.
How to Recover Deleted Partition Data on Hard Drive
Download Recoverit hard drives partition recovery tool for Windows, get it installed and launched, and then follow the simple steps to restore partition data in less than no time.
If you're using a Mac computer, please read the guide on how to perform Mac partition recovery.
Step 1. Launch Recoverit Data Recovery on your computer, then select the "Lost Partition Recovery" mode to get started.
Step 2. Select your hard drive partition where got the files lost, and then click "Start" to proceed.
Step 3. This partition recovery software will start scanning the hard drive to restore your data in minutes.
Step 4. All recovered data file display on the results after scanning, you can preview some recovered photo files and select your files to get them by clicking the "Recover" button.
Recoverit Data Recovery can easily get the lost data from the hard drive partition, download as follow and get back your lost partition for now.
---
2. 7-Data partition recovery:
7-Data partition recovery is designed to recover data from corrupted, lost, deleted, or formatted partitions with the same original structure as those deleted by accident. This hard drive partition recovery software also helps to recover data from corrupted hard drives, repartition a disk (Fdisk) or partition re-formatted disk, etc.
Key Features:
File systems supported by the program are NTFS, NTFS5, EXFAT, FAT32, FAT16, and FAT12.
Supports almost storage devices such as SATA HDD, SSD, USB HDD, USB flash drive, SCHI HDD, Hardware Raid, Compact flash card, Memory Stick Pro, iPod, and other storage devices.
Supports Windows 8/ 7/Vista/XP/Server Edition 2008.
Supports a wide range of reputed digital disks manufacturers like Digital, Seagate, Transcend, Silicon Power, Fujitsu, Samsung, HP, and others.
Supports SanDisk, Sony, Toshiba, Samsung, Transcend, Kingston, KingMax, Hitachi, and A-Data memory cards.
Supports search by Filename, Type, Location, Extension, Size, Date Created, etc.
Advantages:
It is very easy to use with step by step wizard process.
It can restore data from all kinds of partitions regardless of crashed, corrupted, lost, or formatted.
Recovered files are placed in the same structure as their previous location.
Disadvantages:
The interface is not user-friendly.
Users can not preview the files before recovery.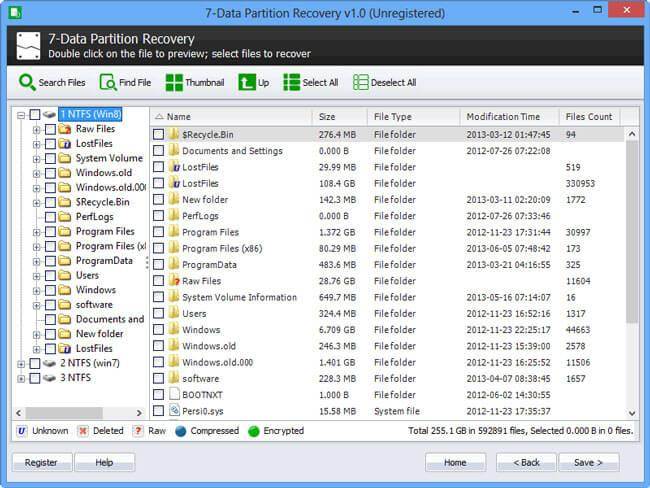 ---
3. Active@ Partition Recovery:
Active@ partition recovery is the ultimate hard drive partition recovery tool available as freeware along with its paid versions. This utility helps to restore deleted and damaged logical drives and partitions within DOS and Windows environments. The simple QuickScan feature recovers recently deleted partitions and the advanced low-level scan feature recovers partitions that were deleted long ago and re-formatted or re-partitioned.
Key features:
Supported file system: exFAT, Ext2/Ext3/Ext4.
QuickScan detects deleted but not re-formatted partitions.
SuperScan detects damaged and re-formatted partitions.
Backup or restore partition in case of data loss.
VMWare, raw or compressed disk data can be recovered
Advantages:
It not only recovers data from all types of partitions but also back up data by sectors.
The free version is available for users.
Disadvantages:
It sometimes has problems recovering re-formatted partitions.
It only restores non-system partitions.
---
4. Stellar Phoenix partition recovery - Professional
Stellar Phoenix Partition Recovery is the most-rated hard drive partition recovery program that accomplishes the recovery process quickly from all Windows hard drives and storage devices.
Key Features:
It has Raw Recovery that enables users to recover data from corrupted media files.
It will recover and restore deleted and lost emails in MS Outlook.
It allows users to preview files before clicking recover.
Before recovery, it will compress files automatically.
Advantages:
It is not just a partition recovery tool but an all-in-one data recovery tool.
Emails can be recovered.
Disadvantages:
The software is very expensive compared with other software.
---
5. TestDisk Data Recovery
TestDisk is OpenSource powerful hard drive partition recovery software. It is designed to help recover lost, deleted, or damaged partitions and also fix disks that won't boot. It can also recover the partition table. TestDisk works for both novices and professional data recovery experts.
Key Features:
The recovery works for the partition table.
It can recover from the backup FAT32 file system.
It will help users rebuild boot sectors.
Advantages:
It is an open-source tool so it is free to use.
It supports almost all operating systems.
Data recovery experts can combine this software with other programs to develop a new tool.
Disadvantages:
It has no graphical interface.
It is not suitable for less experienced users though it said so. To recover media files, users have to use the PhotoRec command.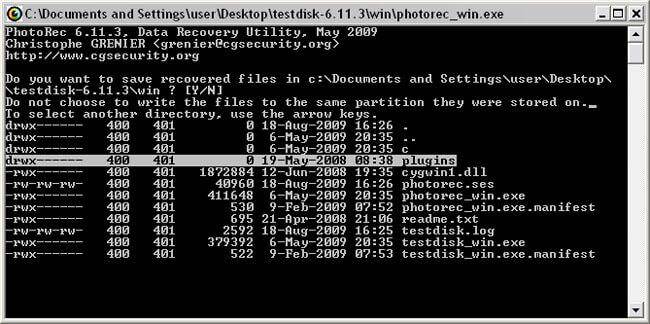 ---
Part 2: How to Delete Recovery Partition
1. What Is Recovery Partition
Partitions are divided into two types, one is Primary and the other is Secondary or logical partitions. The primary partition is used to install the operating systems thus they are called the active partition and the secondary partition is used as storage space. You can create four Primary partitions and 24 logical partitions.
A recovery partition is a separate storage space where the backup of the operating system is stored. It holds the backup image of the installed operating system as well as installed software, device drivers, and system settings. If the system crash for any reason the operating system can be reinstalled from the recovery image with all the software and settings together.
2. How to Remove Recovery Partition
If you are a Windows 8 user, you are already aware of the problem that after installing Windows 8 the storage space available is comparatively less than what it described. These could happen due to a couple of reasons. But mostly the reason is that the storage space is occupied by the Windows recovery image of several gigabytes or sometimes system supplier includes their recovery partition.
Most modern PC comes with at least 500 gigabytes of storage, and this is not a big problem for them. But for those who use Ultra-book PC with 64 gigabytes or 128 gigabytes of SSD storage, occupying 10 or more gigabytes of storage by the Windows Recovery Image is a big problem. The solution is very simple. You can move the recovery partition to an external media or drive and delete the recovery partition to free the occupied space.
Let's see how to delete the recovery partition in Windows 8. Now follow the steps:
Step 1: Connect a USB drive of at least 16 gigabytes of storage (You will need more storage space if your recovery partition size is larger). The USB drive will be formatted before moving the recovery partition. So, back up all the important data from the USB drive.
Step 2: Go to the Start screen and type "Create A Recovery Drive". Change the search filter to Settings and select "Create a recovery drive" to launch Recovery Drive Wizard. If the user account control prompt for permission, then click the yes button.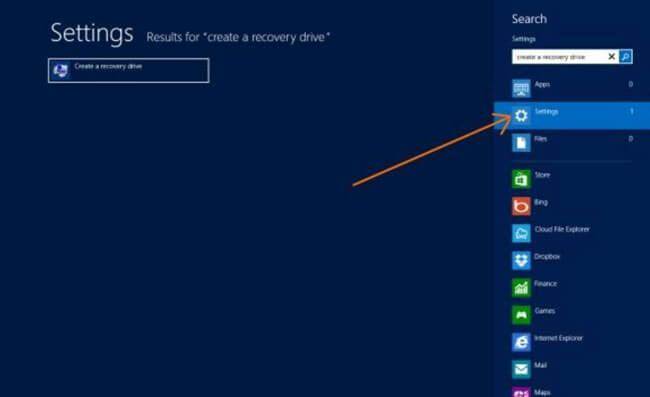 Step 3: Launch the program "Recovery Drive Wizard" Check the "Copy the recovery partition from the PC to the recovery drive" option and hit the Next button.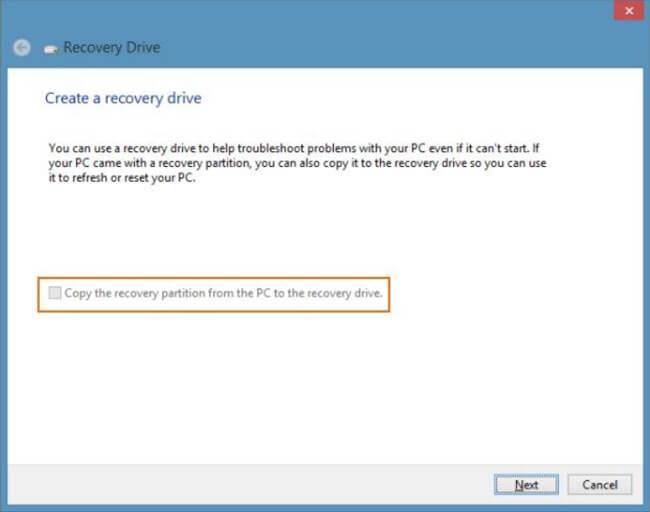 Step 4: On the next screen selects the USB drive and hit next.
Step 5: On the next screen a warning will appear saying that all the files on the drive will be deleted. If you have any personal files on the drive, make sure you have backed up the files." If you already backup your USB drive then hit next. If you forget to backup your data, back data from the USB drive first then hit next.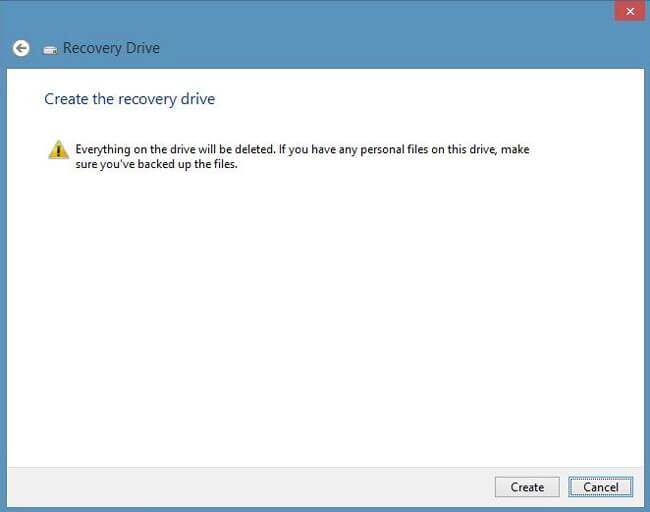 Step 6: After Windows completes copying the recovery partition to the USB drive, a message will pop up saying that you can regain some space by deleting the recovery partition. And also show an option to delete the recovery partition.
Step 7: Click on "Delete the recovery partition." It will show you a warning that says, by deleting the partition, you can free some drive space but without a recovery partition, you cannot restore the Windows. As you already moved your recovery partition to the USB drive, you need not feel any tension. You can now delete the recovery partition.
Step 8: Click the "delete" button to delete the Windows Recovery partition.
After completing the task, Windows will show you how much space you have regained by deleting the recovery partition.
The above step-to-step guide to remove partitions only work for Windows 8. If you want to delete recovery partitions in other operating systems, you may read how to wipe hard drive partitions.
Read this full guide to learn more about deleting recovery partition:
How To Delete Recovery Partition on Windows 11/10 Safely
---
Part 3: The Differences Between Windows 7 and Windows 8 Recovery Partition
1. Windows 7 Recovery Partition
Windows 7 has a built-in recovery feature. It is a great feature for those who have preinstalled Windows 7 and does have a Windows 7 installation DVD. Windows 7 creates a small separate partition on the hard drive while installing. Windows 7 stores boot system files and a complete set of recovery tools that include the Command Prompt, System Restore Startup repair, Complete PC Restore, etc. These options are available without having to insert the Windows 7 DVD and boot from it.
2. Windows 8 Recovery Partition
Windows 8's built-in recovery system is quite different from Windows 7. It is more advanced and provides lots of choices to restore your PC to the default or like the clean installation with your favorite and necessary apps. This option saves us from the time-consuming heinous process as the recovery partition contains the full installation. Windows 8 creates a recovery image of the operating system to a partition of the hard drive. If the operating system is damaged by viruses or spyware, then you just need to restore the image other than the installation of a whole operating system, and you will get the clean factory default Windows installation.
Sometimes we suffer from reinstalling Microsoft Windows due to nasty spyware attacks or reformatting the hard drive if the computer has no recovery partition. It is a painful and time-consuming and heinous process to reinstall Windows, reload all the applications, and reset all settings.
But you can skip this time-consuming process by simply backup your freshly installed Windows with the necessary applications and settings if you have created a recovery partition before. To create a recovery partition, read
how to partition a hard drive
.
---
Part 4: What Will Happen When You Delete a Partition
As we all know that hard drive partition is essential for every computer user. Suppose you have mistakenly deleted or displaced a partition from a hard drive or some other storage device. In that case, the disk space occupied by the partition once will become unallocated, and maybe there are some of your essential files in that partition will also be lost at the same time.
Also, deleting a partition erases its drive note and makes the OS recognize it as an unassessed free space that more than one partition can replace. The data may still be available and recoverable by using ordinary data retrieval tools, which also cover unintended partition loss. Even formatting or configuring is not a guaranteed way to remove the data from the hard drive. You can run these tools to just overwrite the data with some casual numbers after generating a new partition, and if you want to remove the data, use Windows programs like cipher and Diskpart.
---
Part 5: Is it OK to Delete the Recovery Partition
On the system hard drive, a superior partition is known as a recovery partition and is utilized to reestablish the system to factory settings. The recovery partition usually does not contain a drive letter to prevent the partition from being changed or deleted, and in Disk Management only a help option is provided. However, there are further two types of recovery partition.
After the installation of Windows on the GPT disk, the first one is created as it has the Windows Recovery Environment (WinRE). Moving on, the second one is created by the computer constructor, such as Lenovo, Dell, and HP, before the supply. It is to allow the system to be restored to factory default settings that include OS, drivers, and also numerous built-in applications. Now the question arrives: Is it ok to delete the recovery partition? Well, we have a positive answer on our desk.
Yes, without affecting the functioning operating system, you can delete a retrieval partition. The ideas surely depend on different computers. Yet, for general use, it is advised to keep the recovery partition as it does not acquire too much space. In case of any misadventure, where the system gets corrupted or starts performing poorly, users can restore the functioning system from the recovery partition rather than reinstall it. However, users with advanced computers may delete some recovery partitions electively only if they have a recovery drive or the backup of the recent system image and most importantly the Windows Installation CD.
It is certain that with time, more files and applications are saved on the system partition, making it burdened. Yet, the recovery partition can only aid in restoring the drive-in factory state, not along with your valuable data. In short, if you are facing any system problem, the first thing to do is to create a backup of your valuable data. Otherwise, you will have to use software to recover it after it disappears.
---
Conclusion
Creating or deleting recovery partitions can indeed help us in handling data storage and some Windows computer issues. But the actions always come along with data loss. To perform hard drive partition recovery, Recoverit Data Recovery can be your best option since it is the best hard drive partition recovery software. With a 96% recovery rate, you are empowered to recover deleted partitions from hard drives with consummate ease and without any hassle. Moreover, it allows you to preview all data to help you recover what you want.
FAQs
What happens if the recovery partition is deleted?
A recovery partition is a disc partition that allows you to restore the OS (operating system) to its factory settings in the event of a system failure. The "Launch Recovery Environment" option is unreachable after deleting the system's allocated recovery partition. Moreover, "Microsoft Windows Repair Disc" or "Recovery Media Creator" will not work because the deleted recovery sector is their common source.
Can't reset your PC if a required drive partition is missing?
Experts advise that if you want to reset your PC, regardless of whether you've encountered the 'a necessary drive partition is not a present problem. Instead, you should first determine which section is missing on your computer and then restore the missing files using reputable data recovery software.
How do I access a different partition on my hard drive?
By double-clicking on the partition's drive letter, i.e., New Volumes Z, you can access the partitioned disc you wish. The window for the drive you selected will appear, displaying the files and folders on the drive. You can access all other drives in "My Computer" at your convenience.
How do I recover a deleted partition in Windows 10?
We can undo the Diskpart clean operation to recover a lost partition. However, this strategy does not work in all cases of partition loss. In Disk Management, look for the missing partition. Open Disk Management, press "Win + R" type "diskmgmt. msc" within the Run window, and press OK. The disc space will be labeled as Unallocated if a partition is erased. Keep in mind the partition size. If a section is erased and then lost, you can also recover the missing partition using a designated recovery application.
How to recover a partition on a USB drive?
When recovering data from a USB partition, there are two options: restore data from a backup or employ partition recovery software. A recent backup can help you restore desired information quickly, but not everyone keeps backups, primarily when data loss occurs unexpectedly. In this case, you can opt for partition recovery software to recover the flash drive's partition.
What's Wrong with Drive
Recover Your Drive

Fix Your Drive

Format/Wipe Drive

Know Your Drive